The goodness of kitchen ingredients has been used for skin and hair care remedies for centuries. From highly valued Ayurvedic recipes to the best gharelu desi nuskhe by maa, these elements have proven to do great things for personal care. And that's one of the biggest reasons why skin and hair care brands with desi ingredients that promote #vocalforlocal climb to the top of the favourites list in the Indian market. One brand that perfectly understood this and incorporated the goodness of natural ingredients is mCaffeine.
TC46 connected with mCaffeine's Head of Brand Marketing, Vaishali Gupta to know more about the journey of the brand. Here, she shares how the brand used digital data to reach the Indian domestic market, building an appropriate office culture for women and the balance of IQ and EQ women leaders offer.
1. What's your educational and professional background?
An electronics engineer from IIT (ISM) Dhanbad by education, I was more interested in building brands than building microchips. After graduation, I started working towards fulfilling my dream by building mCaffeine as a brand for the bold and confident youth of India. To build this brand, we established caffeine as a new category in a market dominated by traditional ingredients such as haldi and neem. As a result, we have the highest revenue by product density of any challenger brand in India.
2. What prompted you to join mCaffeine?
The one thing that prompted me to join mCaffeine was creating unique and innovative personal care products with caffeine as the main ingredient. Throughout my years of working experience, I have enjoyed data analytics a lot since data speaks volumes. mCaffeine is a digital-first brand and through relevant data, we have been able to reach out to more than 15,000 pin codes within India and the domestic market.
My current role redefines the essence of Brand Marketing in a D2C brand. Brand Marketing is traditionally seen as a qualitative component but at mCaffeine I have integrated it with quantitative verticals based on our data-driven approach to building a brand. As a result, I head 5 verticals of Data Analytics, Digital Marketing, Technology, Brand, and Customer Connect under the umbrella of Brand Marketing.
3. How does mCaffeine's corporate culture reflect the strong female leadership that helms the company?
At mCaffeine, we have always made sure that there is a well-balanced corporate culture because we understand that people need to have a balanced personal and professional life in order for them to be productive at work. During the pandemic, we realised that a lot of the employees' mental health was getting affected due to the negativity around us and we decided to introduce a yoga program that is sponsored by the company for all employees. In case any employee needs personal assistance we also give them the option to take it up since this is the need of the hour.
Apart from this we also have period leaves for the women employees. One can take a few days off required to rest and recuperate during this period of time. In my opinion, in these tough times, we must support each other by being mentors since we all are affected by the pandemic in some way or the other and being flexible and understanding is something that we believe in.
4. As the Marketing Head, what's your advice for women who are climbing the corporate ladder
In my opinion in a competitive market especially for women, it is important to have consistency in staying yourself and staying confident, also trying not to let yourself down because someone thinks that you are a woman and cannot grow to a certain level should not let you down in any situations. All women have the potential and capabilities and hence being confident would help in a lot of situations while climbing the corporate ladder. Because of your high intelligence quotient and emotional quotient, women can emerge as better leaders in the world. As per my experience, one should not become conscious in circumstances where people think you are weak because you are a woman, in reality, women are stronger than all of them saying that or trying to doubt their capabilities.
5. What suggestions would you give to entrepreneurs who want to start an online business or want to shift their offline practices online?
As per my experience over the years when people are looking at having an online business, they should make sure they allocate enough budgets in Technology and Distribution. Firstly by investing in technology a brand can make their products more gullible for their customers, there needs to be a good hold on technology that is easy and customisable at the same time while consuming less amount of time spent but gives you a valuable return on investment which a high technology-driven product would give, this is where platforms like Shopify helps.
Secondly, since the mode of business is digital it is important to understand the target audiences a brand wants to reach out to. A lot of people may be on Instagram, but a lot of other target audiences could be on other platforms and channels as well, hence the distribution needs to be relevant to make sure you reach the right audience.
The D2C market has seen a major rise over the past year and businesses need to be well equipped and future-ready to make changes. During the pandemic even consumer behaviours towards trying and buying products have changed, it is important for a brand to reach out to the right audiences. For example, in the past few months, the brand has seen a lot of growth and we have made sure by being part of the digital space we also achieve our goals towards brand building. Technology solutions like Shopify help us with reaching out to the right audiences and help our products reach out to more people, and help with easy solutions whenever we face challenges. There is a drastic change in the way people are looking at things now, the ecosystem is becoming more open towards new products and ideas. We have technologies to build products and services and put Indian brands on the global map. Hence for a D2C brand, it is important to maximise the digital space just like mCaffeine does.
6. Which networking groups or events have helped you widen your network and generate collaboration opportunities?
There are a lot of platforms one can stay connected and network with people, LinkedIn is one of the strongest platforms to reach out to people in the D2C community – since one may come across people who have built D2C brands and by connecting with such people they would be able to share their experiences for a relevant understanding of business online.
Some of the other ways I would suggest would be to participate in virtual events and panel discussions. D2C community meet-ups or online sessions that happen across various platforms and sectors of businesses.
7. Are there any online/offline courses you recommend for growth and career enhancement?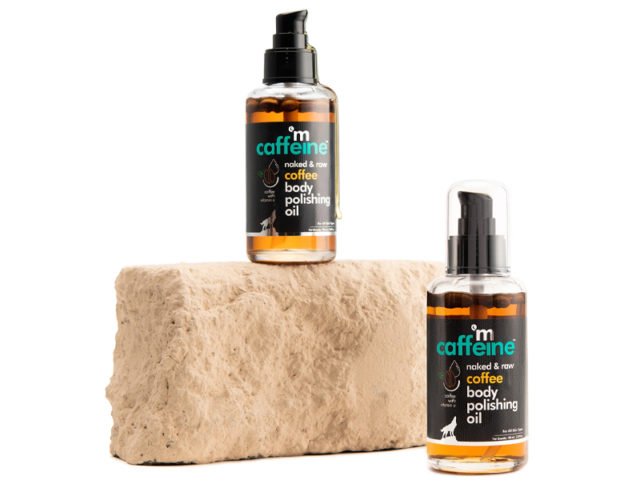 There are a lot of courses available now and people can do them in the comfort of their homes, the pandemic has taught us one thing that we must be more prepared for the future, a lot of brands and companies had to make changes overnight but in the course of this there have been a lot of learnings as well.
In my opinion, it is important for everyone to make sure they upskill themselves on a regular basis so that they can be aware of the trends in the market and would be more prepared to deal with dynamic changes in the competitive business environment.
8. What are some tips you can share with working moms about fulfilling career and entrepreneurial aspirations?
I haven't been in this stage of life but being a mom and entrepreneur is definitely difficult and can be challenging at times. A mother's zeal, confidence, and love can overcome any challenge. A woman is a stronger and more fierce leader after she becomes a mother, something I have learned from my mother. So, it's important to stay yourself and rock the world. 
Coffee Tip: See these amazing coffee benefits for skin, and how it works like magic on your skin.
Think you're a Self-Starter or know someone who is? Drop us an email to be featured on The Channel 46 at [email protected]
About Self-Starters
We spotlight inspiring women who are entrepreneurs or have skill-based passion projects and are willing to share knowledge, advice and tips about getting started in the space. Each Self-Starter's story will be highlighted in a prime slot on the Homepage for a whole week, after which their story will appear under the 'Work' category on The Channel 46.