During the summer season, our skin goes through a lot of changes. The harmful UV radiation and hot sun rays cause harm to the skin, leading to issues like severe tan, wrinkles, acne, and blemishes. Therefore, it's important to take more care of your skin during this season.
One of the precautions that people can follow is to apply sunscreens with a minimum of SPF 15, followed by other majors. The active ingredients of turmeric are the compounds that are being studied, and which have shown potential in protecting our skin from UV-induced damage.
The Channel 46 caught up with Dr Smriti Naswa Singh, Consultant Dermatologist & Cosmetic Dermatologist, Fortis Hospital, who shares interesting facts about turmeric and discusses DIY remedies for skin health.
5 Interesting Facts About Turmeric
Turmeric is medicinal – the plant Curcuma Longa is a gold-coloured spice, very commonly used in India. The active ingredient in turmeric is curcumin.
It is known for its antiseptic, anti-inflammatory, and anti-bacterial properties.
Studies are coming up proving how consuming Curcumin (in food or as tablets) and topical application of Curcumin (in nanoparticle form) can help skin in multiple ways.
As per a study, the worry of orangish yellow stain after the application of turmeric application does not hold true for curcumin nanoparticle topical formulation.
Turmeric can be used effectively too in sun protection cream and lotion in future.
7 DIY Remedies Using Turmeric For Skin Health
For decades, Indians have been using turmeric in ubtan to clear off the tan. Turmeric and sandalwood masks are used before weddings for brides and grooms for the glow of the skin. And now with the latest scientific evidence and improved delivery modes (of nanoparticle curcumin), turmeric as a sunscreen filter can become a sought-after ingredient in the sun protection basket.
1. Turmeric In Your Daily Meals
Turmeric can be consumed with daily food, which is a norm in Indian households. You can sprinkle turmeric in almost all of our cooked foods.
2. Turmeric, Wheat Flour, Honey & Milk Face Pack For Removing Sun Tan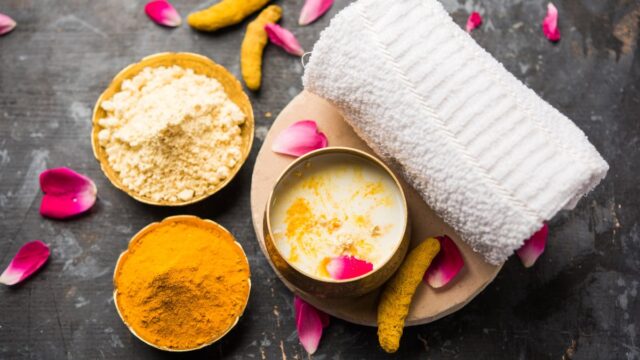 Turmeric can be applied on the skin in the form of ubtan made from wheat flour and haldi, mixed with milk and honey as a base. If you have oily skin, the base can be made in curd instead of honey and milk. Mix all the ingredients, make a fine paste and apply on the skin. This will help in removing the tan.
3. Turmeric Face Pack For Skin Radiance
Haldi is known for its anti-aging, hydrating, and anti-inflammatory properties, which boosts skin cells enough to make your face look fresh and radiant. Hence, turmeric paste is used during haldi ceremony before weddings.
4. Turmeric Face Pack To Treat Bacterial Infections
Turmeric is also known to work on bacterial infections. As summer is the weather for bacterial infection, if you or your children are getting boils all over the body, then you can apply the turmeric paste.
5. Turmeric, Fuller's Earth & Sandalwood Face Pack To Reduce Inflammation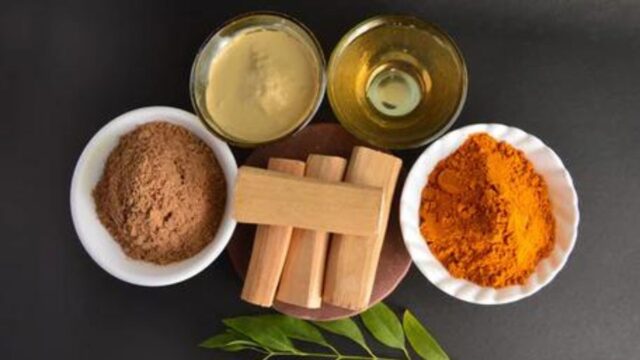 Mix turmeric with sandalwood, if you want, and your skin will thank you for treating it with care. Make a paste of sandalwood and fuller's earth, mix it well with water, make a pack, and apply it all over the face. It's a very good hydrating face pack for those feeling really dehydrated as a result of sunburn. It can also be a weekly ritual where you can just relax by applying this face mask after scrubbing. This is because scrubbing may lead to inflammation.
6. Turmeric, Sandalwood & Fuller's Earth To Treat Pimples
The combination of turmeric, sandalwood, and earthen clay is also a very good option to put on an emerging pimple. You can mix the three ingredients, apply the paste and just rinse it off with water when it is dry. You can apply it on the big pimple and leave it on overnight. By morning, the inflammation will subside and the puss will also dry up, making the pimple look smaller and dried up.
7. Curcumin Tablets For Treating Orthopaedic Pain
Even with the pains and aches in the musculoskeletal system, people with orthopaedic pain are given nano curcumin tablets to reduce the joint inflammation, bone inflammation, and pain in these areas. So, if you are experiencing pain and aches in your joint, you can just apply the paste and reap the benefits of this kitchen ingredient.
Turmeric has multiple benefits, and you should make the most of it not only during the summer season but throughout the year.
Open up like never before and participate in conversations about beauty, entrepreneurship, mental health, menstrual & sexual health, and more. Desi women, join our community NOW!