Moringa, or drumstick tree, is one of those super beneficial species where every part of the tree has some use or the other! Drumsticks are widely used as an ingredient in curries and soups. In India, it is most commonly used in South Indian delicacies or for making pickles! But while moringa does a great job of enhancing the taste of these dishes, that's not the only use it has. Moringa exhibits excellent medicinal properties and is also great for the skin.
Moringa consists of vitamins A, C and E, antioxidants, minerals and other nutrients your skin needs. From dry skin to acne and blemishes, it is a safe and natural solution to all your skin problems. That's why it is often used in creams, lotions, lip balms, and massage oils.
If you are interested in natural skincare solutions, moringa for skin is just the thing you need. Here is everything you need to know about this highly sought-after superfood for your skin!
4 Benefits Of Moringa
Here is why you should use moringa paste or powder as a part of your skincare routine.
One of the most important moringa powder benefits for skin is that it can be used to combat free radical damage and signs of ageing.
Paste prepared using moringa leaves can be used topically for treating blemishes and dark spots.
This paste can also be used for treating acne.
Consumption of moringa seeds or powder can be useful in purifying blood and removing toxins from the body. This will give you healthy and beautiful skin.
8 Moringa Oil Benefits For Your Skin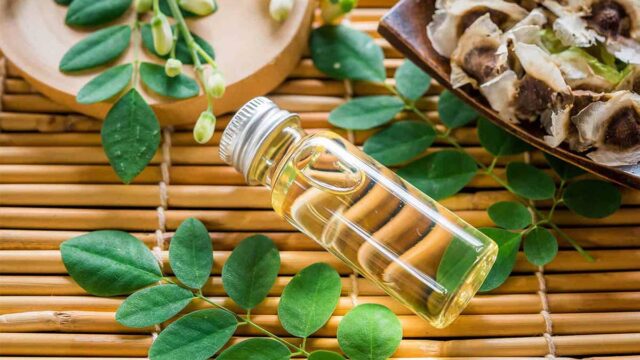 Out of everything obtained from the drumstick tree, moringa oil is perhaps the most useful. Here are a few amazing benefits of using moringa for skin.
It can help repair skin damage caused by harsh UV rays and pollutants.
Thanks to its antioxidant properties, moringa oil for face can help combat signs of ageing. It repairs skin damage caused by free radicals.
Rich in Vitamin C, this ingredient helps boost the collagen levels in your skin, giving you plumper and tighter skin.
Moringa can purify your skin and give it a healthy and natural glow.
Another way moringa oil benefits the skin is that the extract consists of fatty acids that can aid in maintaining the protective barrier of your skin. This can help keep damage at bay and lock in the natural oils in your pores.
This ingredient comes with anti-microbial and antiseptic properties and can help fight acne.
Moringa oil is hydrating and can help keep your skin nourished.
Moringa oil for face acts as a natural detoxifier for the skin, thanks to its oleic acid content.
3-Step Process To Make Moringa Powder
If you aren't too sure about using store-bought moringa powder or oil, you can prepare your own and enjoy moringa benefits for skin. Here is how:
Step 1: Leave fresh moringa leaves in the sun to dry.
Step 2: Once the leaves are completely dehydrated, put them in the grinder and grind to make a fine powder.
Step 3: Store in an air-tight container for future use, using clean dry hands or a scooper to take it out when you do.
10-Step Process For Preparing Moringa Oil For Skin
Step 1: Take out moringa seeds from the fruit.
Step 2: Wash and dry the seeds
Step 3: In a pan, roast the seeds until they turn brown.
Step 4: Now remove the pan from the heat and let the seeds cool down.
Step 5: Once cool, put the seeds in a blender to make a fine powder.
Step 6: Boil a pot of water and add the powder to it.
Step 7: Let the water boil for about 20 Minutes.
Step 8: After 20-25 minutes, you will see a layer of oil has formed on top of the water.
Step 9: Skim the oil.
Step 10: Freeze to separate oil and water. Your moringa oil for skin is ready for use!
5 Amazing DIYs With Moringa For Your Skin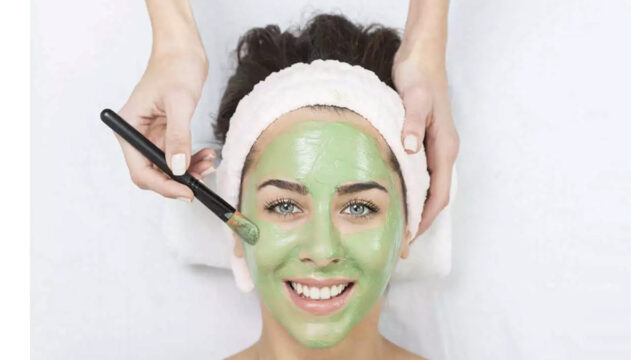 From acne and pimples to dullness and dryness, moringa can be used to address a variety of skin issues.
1. Moringa Face Mask For Oily Skin
One of the major moringa benefits for skin is its cleansing properties. This incredible face mask cleanses and moisturises your skin, leaving it radiant. It can also help prevent acne and soothe and nourish the skin.
Ingredients:
1 tablespoon moringa powder
1 teaspoon honey
Aloe vera gel, as required
2 teaspoon Multani mitti
Method:
Mix the ingredients to form a paste.
Apply the paste on a clean face and let it dry for about 15-20 minutes.
Wash your face with water and follow with moisturiser.
Use this face mask twice a week.
2. Moringa Body Scrub
Scrubbing is an essential part of maintaining healthy and supple skin. This homemade scrub made with all-natural and nourishing ingredients is a great alternative to store-bought, chemical-laden options.
Ingredients:
1 cup oats
2 tablespoons moringa oil
1 cup granulated sugar
½ cup coconut oil
Method:
Grind the oats to get fine powder
Add moringa oil, granulated sugar and coconut oil and mix.
Apply this paste to your body, massaging in a circular motion.
Rinse it off.
Follow with a moisturiser.
3. Nourishing Moringa Face Pack
Packed with the rejuvenating properties of moringa and rosewater and the nourishing properties of honey, this mask can help clean your skin, keep it hydrated and reduce acne breakouts.
Ingredients:
1 tablespoon honey
1 tablespoon moringa powder
Rosewater (optional)
Method:
Mix the ingredients to form a thick paste.
In case the mixture is too thick, add a few drops of rosewater to dilute it.
Apply the mask over clean skin and leave it on for about 20 minutes.
Once it's dry, wash it off using lukewarm water.
Follow with a moisturiser.
4. Moringa Face Pack For A Smooth Skin
This mask is a natural solution for maintaining radiant, nourished and smooth skin. Use this remedy on a regular basis to get rid of all your skin problems.
Ingredients:
1 tablespoon moringa powder
1 tablespoon honey
½ avocado (mashed)
Water, as required
Method:
Mix the ingredients to form a paste.
Apply this mixture on a clean face and let it stay for about 15 minutes.
Once dry, rinse off with lukewarm water.
Follow with a moisturiser.
5. Moringa Face Mask For A Clear Skin
This mask will not only help reduce pimples and acne but also give you that radiant nikhaar you've always wanted.
Ingredients:
1 tablespoon moringa powder
1 teaspoon honey
½ teaspoon turmeric powder
Lemon juice, as required
Method:
Mix the ingredients to form a paste.
Apply the mixture over a clean face and leave it on for 15-20 minutes.
Wash off with lukewarm water.
Use this remedy 3-4 times a week for best results. Follow with a lotion.
Since lemon juice can leave your skin a little sensitive to light, don't forget to apply your sunscreen before stepping out.
4 Moringa-Based Product Recommendations
1. The Body Shop Moringa Shower Gel
This incredible shower gel by The Body Shop will deeply cleanse your skin, making it smoother and softer with every use. Plus, its subtle, vanilla-ish fragrance keeps you feeling fresh throughout the day.
2. Kama Ayurveda Organic Moringa Oil
This organic, cold-pressed moringa oil can be used on its own as well as as an ingredient in DIY masks and face packs. It's loaded with vitamin A, vitamin E and antioxidants and works to make your skin radiant and healthy. The best part is, it absorbs pretty quickly so you don't have to worry about your skin appearing extra oily!
3. Franklin Herbal Aloe Vera And Moringa Gel
Infused with ingredients like moringa, Babassu, Vitamin E and aloe vera, this gel can help you achieve clear and radiant skin. It blends into the skin quickly and can help lighten marks, scars and blemishes.
4. Nykaa Skin Secrets Exotic Indulgence Avocado + Moringa Sheet Mask
Nothing can revive dull skin as easily or quickly as a hydrating face mask! This amazing face mask by Nykaa is rich in vitamins and can help provide your skin with all the nourishment it needs in just one quick step.
Possible Side-Effects Of Moringa
No matter in what form you use it, topical application of moringa doesn't really have any side effects. However, it is better to do a patch test on a small area to make sure you aren't allergic to it. It is also recommended to use this ingredient in low quantities.
Quick FAQs
Q1. What skin type is moringa good for?
A. This ingredient is beneficial for all skin types. Other than providing cleansing and moisturisation benefits, it can help in protecting sensitive skin by creating a barrier over it.
Q2. Can you frequently use moringa on your skin?
A. Yes, you can include this ingredient in your regular skincare regime and use it frequently. In case you are using it for making DIY masks or moringa face scrub, it's better to keep the frequency limited to 3-4 times a week.
Q3. Can moringa be used for skin whitening?
A. Moringa can help prevent blemishes and dark spots and aid in evening out skin tone. This way, it can be useful in improving complexion.
Maintaining healthy and glowing skin takes time and effort. But with natural ingredients like moringa, this task becomes so much easier! Whether you plan on preparing your own moringa powder/oil or settle for store-bought options, show your skin some love by including this ingredient in your skincare routine.
Open up like never before and participate in conversations about beauty, entrepreneurship, mental health, menstrual & sexual health, and more. Desi women, join our community NOW!