Almost every other week we hear about a new skincare product that beauty experts and influencers swear by! But very few of these manage to stand the test of time. And essential oils are definitely one of the top contenders on that list. From oily skin and acne to dry skin and signs of ageing, this wonderful ingredient is the perfect solution for all your skin woes.
For those of you who have somehow managed to stay away from all the buzz around essential oils, these are highly concentrated extracts derived from plants. They offer a slew of wellness and skincare benefits.
But to make the most out of the goodness of essential oils, you need to know the one that is the most suitable essential oil for skin for your skin type and needs. To help you out, we have curated a list of different essential oils that work on varied skin problems. Check it out!
3 Essential Oils For Oily Skin
Based on your skin type or the issue you are facing, here are the best essential oils for skin that you must include in your skincare regime. 
Oily skin is a result of overactive sebaceous glands and this condition can further worsen depending on factors like heat, hormones, and humidity. Include these essential oils in your skincare regime to combat oily skin problems.
1. Clary Sage Essential Oil
Thanks to its geranyl and linalyl acetate content, this essential oil is quite effective in controlling excess sebum produced by sebaceous glands of the skin. It can also help with problems like acne and signs of ageing.
2. Rosemary Oil For Skin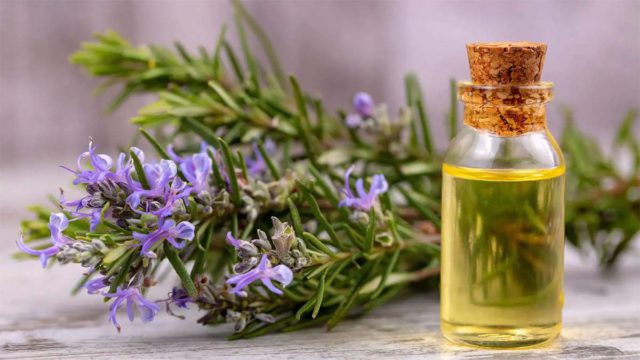 Rosemary benefits for skin are a result of its analgesic and anti-inflammatory properties. It also exhibits stimulating benefits. Rosemary oil for the skin can help control excess sebum protection.
3. Frankincense Essential Oil
Users swear by the effectiveness of this essential oil. Frankincense essential oil for skin is known to help with skin problems like excess oil and acne. It can also help tackle signs of ageing.
3 Essential Oils for Dry Skin
Dry skin is an extremely common issue, especially during winter. Other than seasonal change, it can also occur due to ageing or reduced sebaceous gland activity. These essential oils can help revive dry and dull skin. 
1. Lavender Essential Oil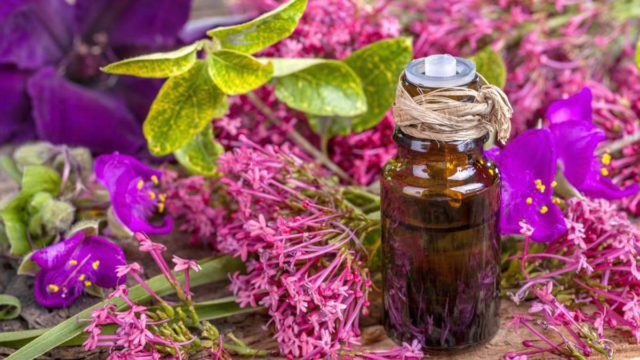 While the relaxing properties of lavender oil are no secret, not much is talked about lavender oil benefits for skin, especially its ability to balance out the moisture levels in the skin. It can naturally hydrate the skin and repair dry and damaged skin. It also exhibits anti-inflammatory beignets that come in handy in reducing redness. This is one of the best essential oils for glowing skin.
2. Chamomile Essential Oil
Chamomile essential oil benefits for skin, like its moisturising and anti-inflammatory properties, making it the right choice for dull and dry skin. 
3. Sandalwood Essential Oil
Sandalwood is also known to offer moisturising and anti-inflammatory benefits. A common ingredient in soaps and beauty products, it can help keep your skin hydrated, healthy and youthful.
3 Essential Oils For Acne-Prone Skin
Choosing the right skincare products becomes even harder if you have acne-prone skin. But with these essential oils, you don't have to think twice!
1. Tea Tree Oil For Skin
Tea tree oil benefits for skin come from its antiseptic, anti-bacterial and anti-inflammatory properties. This ingredient can help reduce various forms of acne including whiteheads, blackheads, pustules and papules. All these properties make tea tree oil for skin a common ingredient in anti-acne skincare products.
2. Lemongrass Essential Oil
This essential can be an effective spot treatment for acne owing to its anti-oxidant and anti-bacterial properties. It helps by reducing inflammation, inhibiting the growth of bacteria, and preventing acne breakouts.
3. Clary Sage Essential Oil
This oil offers anti-microbial benefits and can also balance out the skin's sebum production. These properties help clary sage oil fight acne formation effectively.
Other than these 3 options, peppermint oil benefits for skin also include fighting acne-causing bacteria and balancing sebum production.
3 Essential Oils To Treat Pigmentation
Who doesn't wish for even-toned, spot-free skin? Turn that dream into a reality by using these essential oils regularly.
1. Pomegranate Essential Oil
This ingredient is packed with anti-inflammatory and antioxidant properties. When used regularly, it can give you healthier and even-toned skin. 
2. Rosehip Oil
Rosehip essential oil can help tackle issues like acne scars, discolouration, and dull skin. It also aids in brightening your complexion by accelerating skin cell regeneration. Moreover, it exhibits hydrating properties and can help keep your skin nourished.
3. Sweet Orange Essential Oil
Citrus-based oils can effectively treat hyper-pigmentation as they help in Vitamin C absorption. Other than giving you even-toned skin, sweet orange oil can also be effective in reducing the appearance of dark circles and signs of ageing as well as protecting against sun damage. Alternatively, you can use lemon oil for skin instead of sweet orange oil.
3 Essential Oils For Wrinkles
While skin ageing is natural and cannot be prevented, you can take measures to delay the appearance of signs of ageing with the help of these essential oils for face:
1. Lavender Essential Oil
Owing to the long list of lavender oil benefits for skin, this ingredient is widely used in skincare as well as cosmetic products. Lavender essential oil can help reduce signs of ageing because it combats free radicals causing oxidative damage to the skin.
2. Citrus Essential Oil
Packed with antioxidants and Vitamin C, citrus oil can also help fight oxidative damage. Use it regularly to see noticeable differences in the appearance of wrinkles and fine lines.
3. Sandalwood Essential Oil
Sandalwood oil is another top contender in the list of the best essential oil for glowing skin. It can help keep your skin healthy and youthful by fighting oxidative damage and boosting skin cell turnover. It also helps keep your skin hydrated.
3 Tips To Know Before Using Essential Oil For Skin
Essential oils are quite potent. This is why it is recommended to use them in very small quantities and a diluted form. There are several answers to how to use essential oils on your face. Take a look:
You can dilute your essential oil with a carrier oil like olive oil, coconut oil, jojoba oil or almond oil before applying the mixture to your skin.
Alternatively, you can add a few drops of essential oil to your toner, serum or other cosmetic/skincare products. However, make sure to dilute the essential oils for your face before mixing them in with your cosmetics.
Always make sure to carry out a patch test to rule out possible allergies.
3 Tips On Amount & Frequency Of Use Of Essential Oils For Face
Essential oils are used in very small quantities. You can dilute your pure essential oil by adding 3 drops of it to 1 teaspoon of carrier oil. A 3 per cent solution of essential oil is considered safe for topical application.
A 1 per cent solution (1 drop of essential oil per 1 teaspoon of carrier oil) is more suitable for larger topical applications like a massage.
Thoroughly follow the instructions given on the packaging to get a better idea of how to use an essential oil on skin. It is also recommended to seek the advice of your dermatologist before including essential oils in your skincare routine. 
10 Dos & Don'ts Of Essential Oils 
5 Dos Of Essential Oil
Always carry out a patch test first. Apply the oil to your forearm and wait for 24 hours to see how your skin reacts.
Always use essential oils in a diluted form.
Always check for the expiration date before purchasing essential oil.
Store your essential oil bottle in a cool, dark place to maintain its therapeutic value.
Make sure you are using the right essential oil for the skin condition you're dealing with. Consult your dermatologist or do thorough research before use.
5 Don'ts Of Essential Oil
Don't use essential oil on damaged skin.
Stop using the essential oil if your skin reacts to it.
Avoid overusing essential oils. Too much of it, even in diluted form, can end up damaging your skin. 
Don't use essential oils if you are pregnant without consulting with your doctor first.
Avoid using essential oils on children.
3 Possible Side Effects Of Essential Oils
Before you start using essential oils for skin issues, here are a few things you should know. 
A few essential oils may cause allergies or phototoxicity, leading to skin reactions or burns. Phototoxic essential oils (like citruses and bergamot) must be used in very small amounts on skin that will be exposed to sunlight.
Essential oils may irritate the skin or cause rashes. Make sure to use them after proper dilution. It is also recommended to carry out a patch test first.
If you are pregnant or breastfeeding, it is advised to consult your doctor before using essential oils.
From alternative medicine enthusiasts to beauty experts, essential oils have got everybody talking. So, if you are suffering from skin problems like acne, dryness, and early signs of ageing, this magic potion is all you need for healthy and glowing skin. All the best!
Open up like never before and participate in conversations about beauty, entrepreneurship, mental health, menstrual & sexual health, and more. Desi women, join our community NOW!