As soon as you stepped out of school rules, you knew you had the freedom to paint your nails and colour your hair. And you sure have tried it all, from bold reds to creating nail art, and French manicures to acrylic nails. Yes, you deserve to pamper those pretty claws. You need to have a perfectly manicured nail that looks great in those OOTD pictures and Instagram stories. It elevates the entire look. And having chipped nail polish would just ruin that aesthetic picture.
If you are looking to get manicured nails at home or make your usual nail paint look better, then here are a few products you need to invest in. We can help you figure out how to grow nails fast. Read the article now.
7 Nail Care Products That You Need
1. Base Coat
Bold colours like dark pink or red, often leave your nail stained by the polish. And when you need to let your nail breathe, or even going to a clear/ no paint nail, the stain stands out. Hence at times like these, you need to apply a base coat to protect your nail. This process might take longer, but it is worth it when your manicure lasts a couple of extra days longer, and it prevents staining on your nails from the bold paint. This not only protects your nails but also strengthens them. You can also say goodbye to brittle nails using popular home remedies. Click here to know more.
2. Cuticle Oils & Lotions
Another thing that ruins your nail look is dry and peeling skin near your nails and palms. And since we are on the topic of strengthening nails, investing in cuticle oils, lotions and hand creams, ensures you don't have any dry hands. Click here to know how you can use basic kitchen ingredients to strengthen your nails.
3. Cuticle Pusher
You remember those weird nail kits would have strange tools and you never figured out what is what! Well, one of those tools was a cuticle pusher. They push back the skin that creeps over your nail and ensures a smooth surface for your nail paint. Also, pushing back your cuticles regularly will keep your nails clean, healthy and even prettier than usual.
4. Curved Nail File
Filing your nail gives your nail a defined shape and a cleaner look. It smoothes out the rough cuts by the nail clipper. And when buying a nail file, look for one that is curved. A curved nail file is easier to use. It avoids mess-ups and follows your nail's natural shape.
5. Nail Clippers
Small nail clippers are good for travel purposes. But when looking for a nail clipper, buy one that is sharp and strong. It shouldn't break when you try to clip your nails and also shouldn't damage your nails. Please do not use scissors to cut your nails, especially if you have short nails. You might cut yourself.
6. Matte Top Coat
After you finish your nail art, add the last layer of matte topcoat for a clean and solid look. This will make sure that your nail colour does not chip off. It also gives your nail polish a matte finish that looks pretty!
7. Anti Chew Treatment
Biting your nails may be a sign of impatience, frustration or pure boredom. And the results ruin your nails. Keep your teeth and nails separated with an anti-chew nail treatment. The treatment is a liquid formula that is unpleasant to taste and strengthens your nails.
Tips & Tricks To Get Strong & Healthy Nails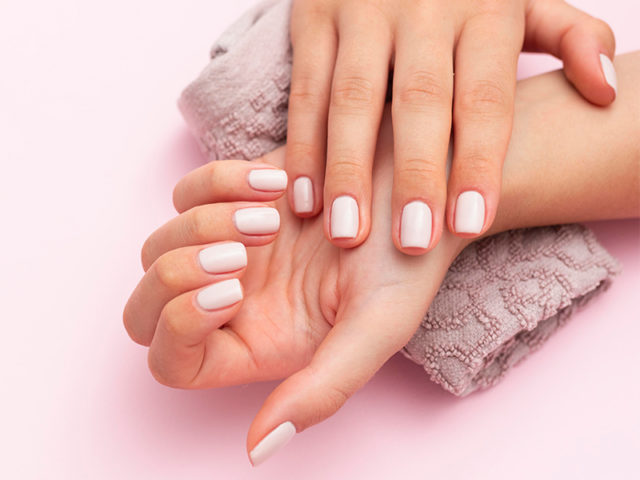 If you have the habit of biting your nails and need a few tips to kick the habit out, here are a few!
Apply a bitter flavoured nail paint. If you don't like the taste, then you will stop putting it in your mouth.
Keep hand moisturizer with you and use it when the impulse to bite kicks in. This will not only distract you, but you'll also keep the skin on your hands soft and moisturized.
Putting nail polish on your nails may help to discourage you from nibbling on them since a vibrant colour can catch your attention and snap you out of your nail-biting habit.
Ready-to-wear nail art not only looks great but also does a great job of preventing you from nibbling away at your nails and is extremely less time taking.
Getting fake nails put on your tips can also do the trick. They are too thick and solid to bite.
5 Nail Arts For Beginners
Similar to makeup, you can experiment with your nail art. And now, the lockdown is the perfect moment to do so. If you want to get started with cute nail arts, here are a few options.
1. Daisy Flower Nails
You Will Need:
Any pastel nail paint for the base
White and yellow nail paint
Toothpick
Topcoat
Method:
For your base, paint your nails with pastel nail polish.
Once it dries, using the toothpick, dip the flat part in your white nail paint and dot your nails in a flower pattern.
After it dries, do the same thing with the yellow nail paint. But this time dot the middle of the white dot flower. Wait till dry.
Apply a coat of topcoat nail polish. Allow it to dry and apply a coat of clear polish to finish.
2. Strawberry Fields Forever Nails
You Will Need:
Red nail polish
Dark green nail polish
Light green nail polish
A mellow-yellow shade or white nail polish
Method:
Apply two coats of red nail polish for your base.
Using a thin brush, create dots over your nail with either white nail polish or a dull yellow shade.
At the base, create the head of the strawberry using dark green nail polish with a thin brush.
For a 3D effect, outline the dark green nail polish with a lighter green. This will instantly make the colours pop.
Apply a coat of clear polish, and you're done!
3. French Manicure
You Will Need:
Any light pastel nail paint
Topcoat polish
Basecoat
Method:
Prep your nails using a cuticle pusher.
Apply two coats of the base coat and let it dry completely.
Once it dries, take your pastel nail paint and only the tips of your nail.
Apply a coat of clear polish or topcoat, and you're done!
4. Starry Nights
You Will Need:
Any Nail Polish (preferably darker)
Glitter
Clear nail paint
Method:
Prep your nails using a cuticle pusher.
Apply two coats of your preferred nail polish and let it dry completely.
Add one coat of clear nail paint, and while it is wet, sprinkle glitter on your preferred finger or section.
Once it dries, add another coat of clear nail polish to seal the glitter. And you're done!
5. Dual Toned
You Will Need:
2 different colours of nail paint (make sure they match)
Matte topcoat
Method:
Prep your nails using a cuticle pusher.
Apply two coats of your preferred nail polish and let it dry completely.
For the dual-tone, take the other nail paint and paint half of your nail.
Wait for it to dry and repeat the process. You can paint vertically or horizontally.
Once it dries, add a coat of matte topcoat. And you're done!
Painting nails and getting your nails done, later posting them on social media is a fun process. But as you take care of your skin and hair, your nails too need a little nourishment. Remember to moisturise and pamper your nails. Here are some tips for healthier nails.