A refreshing bath in the morning can set the right tone for the entire day. And what better way to maximize that experience than using a mood-boosting body wash! Of course, your regular soap bar gets the job done. But did you know that using body wash comes with an array of benefits? Hop on this pocket-friendly DIY train and get smooth, soft and nourished skin in a jiffy!
Benefits Of Using A Body Wash
Although bar soaps and body wash use the same cleansing mechanism, the latter often comes with a mix of ingredients that are effective in treating common skin conditions.
Body washes may prove to be more effective against skin flaking, dryness and clogged pores.
Bar soaps may end up drying out your skin. On the other hand, body wash cleanses your skin and restores its moisture.
Body washes are a better choice if your skin feels flaky or dry after a shower. It often contains hydrating ingredients that can seal in the moisture and keep your skin from drying.
Body wash often contains finely milled down exfoliant ingredients. Other than this, body washes are mostly used along with loofah and washcloth and that offer an additional level of exfoliation.
Now that you know why you need to switch to using a body wash, the next question is which product you should pick. Those who want to steer clear of using chemical-laden skincare products may also consider making their own body wash using natural and safe ingredients. Here are 5 DIY body wash recipes to get you started. 
5 Homemade Body Wash Recipes For Nourished Skin
1. Coconut Milk & Glycerin Body Wash
This DIY body wash is a combination of several power-packed ingredients. Coconut milk is very healthy for the skin, especially if you have an oily or acne-prone skin type. It comes with antibacterial properties, does not clog pores and helps remove dead skin cells. It is also useful in maintaining the skin's elasticity and prevents signs of premature ageing. Honey keeps your skin moisturized. It also has antibacterial and anti-inflammatory properties.
The next in the list is glycerin. Commonly used in soaps and body washes, this ingredient effectively keeps your skin moisturized and hydrated. You may also add in a few drops of lavender essential oil. It is gentle on the skin and may be beneficial for mature skin, acne, itchy skin, psoriasis and eczema. The shelf life of this natural body wash is about a year.
You Will Need:
½ cup of castile soap (unscented)
½ cup of coconut milk (unsweetened)
1 teaspoon of raw honey
2 teaspoons of glycerin
3 teaspoons of jojoba oil
A flip bottle
Method:
Pour the coconut milk into the bottle
Add in the castile soap.
Add honey, jojoba oil and glycerin. You can also add 4-5 drops of tea tree and lavender essential oils if you want.
Close the lid of the bottle and give it a good shake so that the ingredients are mixed properly.
Pour on a loofa or a bath sponge for use.
2. Olive Oil & Honey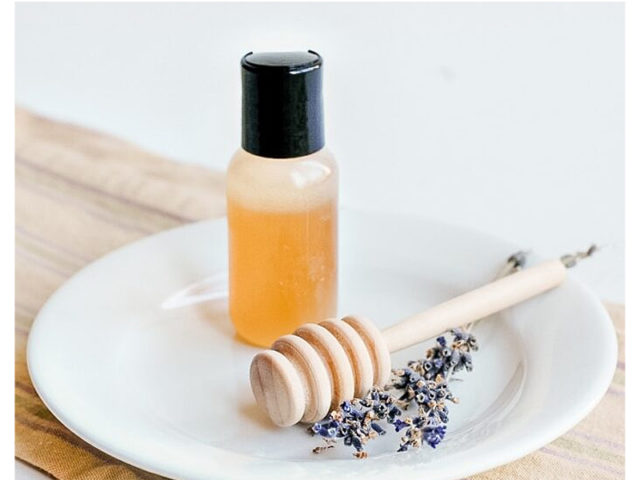 The highly effective moisturizing abilities of olive oil makes it a great ingredient for DIY beauty and skincare remedies. Castile soap is required to make the body wash froth without using chemical-based foaming agents. This recipe also contains raw honey, which is a boon for damaged, dry and itchy skin! It offers healing properties and works well on sunburnt and blemished skin. You may also add a few drops of essential oils to boost the effectiveness of your homemade body wash. The shelf life of this body wash is 1 year.
You Will Need:
½ cup of raw honey
½ cup of castile soap
⅓ cup of olive oil
30-60 drops of essential oils (a blend of lavender, vanilla and sweet orange)
A pump soap dispenser
Method:
Pour the honey, olive oil and castile soap in the bottle.
Add in the essential oils.
Close the cap and give the bottle a good shake. Your homemade body wash is ready!
3. Green Tea & Shea Butter Body Wash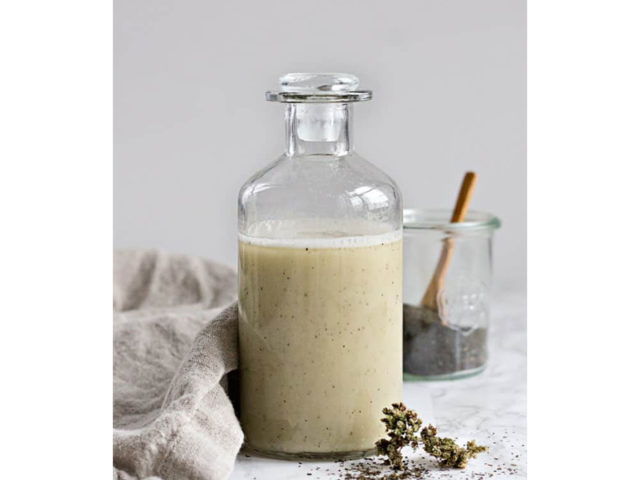 The next DIY body wash recipe uses ingredients like shea butter, green tea and coconut oil to make a gentle yet effective body wash. Packed with healing antioxidants, catechins and flavonoids, green tea helps protect the skin from free radical damage caused by sun exposure and toxins in the environment. It aids in soothing inflammation and can make the skin appear smoother.
Nothing beats shea butter when it comes to moisturization. It also possesses healing properties and works well for rashes, skin allergies and sunburn. Fractionated coconut oil is commonly used as a carrier oil in DIY skincare remedies. It is used (along with essential oils) to fade skin spots, reduce stretch marks, and treat acne wounds. It also acts as an effective skin-hydrating agent. Coconut oil is easily absorbed by the skin and can be used by people with varied skin types.
Together these ingredients work to soothe and repair your skin and keep it looking fresh! Here's how you can make this green tea-based antibacterial body wash.
You Will Need:
¼ cup of coconut oil
2 tablespoons of shea butter
2 tablespoons of green tea leaves
¼ cup raw honey
½ cup castile soap
10-15 drops of essential oil
Liquid pump dispenser
Method:
Melt the coconut oil in a small saucepan.
Add tea leaves and stir.
Let it simmer on low for about 25-30 minutes. Remember to stir frequently.
Now add in the shea butter. Stir until it melts.
Turn off the heat. Let the mixture sit for about 5 minutes.
Once the mixture has cooled a little, add the remaining ingredients. Whisk to mix well.
Pour the solution into the soap dispenser.
Shake the bottle well before every use.
Buy all-natural vegan shea butter soap here from the Red Dot Shop, TC46's e-commerce website.
4. Citrus Body Wash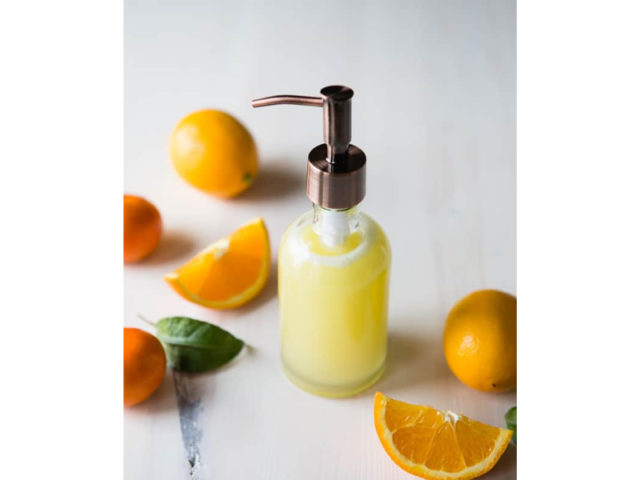 This DIY body wash remedy combines the anti-inflammatory and soothing properties of jojoba oil with the anti-ageing benefits of Vitamin E oil. Both vegetable glycerin and fractionated coconut oil are highly effective in keeping the skin moisturized and preventing dryness.
Orange, lemon and grapefruit essential oils can be used for making citrus body wash! Other than their revitalizing and refreshing fragrance, citrus essential oils are also known for their antibacterial, antimicrobial and antioxidant activity. These properties are especially useful if you have acne-prone skin. Citrus essential oils are also effective in dealing with hyperpigmentation.
You Will Need:
½ cup + 2 tablespoons of castile soap
2 tablespoons of coconut or olive oil
1 tablespoon Vitamin E oil
1 tablespoon jojoba oil
2 tablespoons vegetable glycerin (optional)
20-40 drops of citrus essential oil (sweet orange, grapefruit and lemon oils)
A pump dispenser
Method:
Put all the ingredients in a bowl and stir.
Transfer this mixture to a pump dispenser.
Make sure to shake the bottle well before every use.
5. Rose Water & Almond Oil Body Wash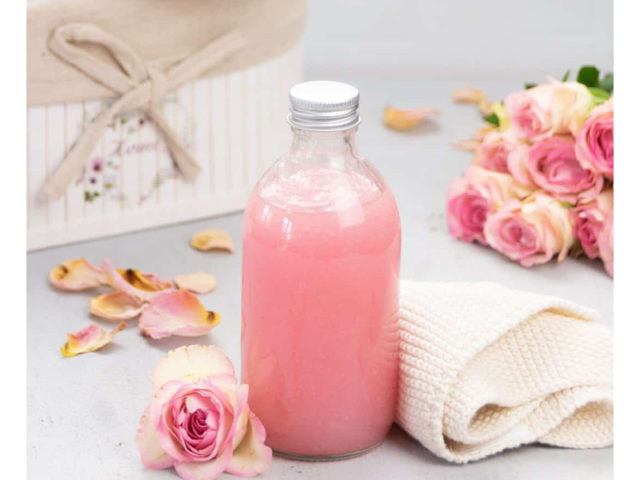 This recipe contains castile soap, rosewater, lime juice and almond oil. Castile soap is incredibly gentle on the skin and is great for sensitive skin. Another nourishing ingredient in this DIY body wash is almond oil. This carrier oil is extremely moisturizing and may help loosen dead skin cells, soothe the skin and give it a youthful glow!
Rosewater comes with astringent and anti-inflammatory properties and helps maintain skin pH levels. It is used as a toner and can help reduce the puffiness of the eyes. Rosewater is also used for soothing the skin and keeping it hydrated and healthy. Being a natural bleaching agent, lime juice can be effective in treating dark spots. It is also useful in treating acne and blemishes and works well on oily skin. Other than this, lime juice is also known to offer anti-ageing benefits, remove tan, treat open pores and give the skin a natural glow!
Mix these ingredients and you have the perfect remedy for dry and dull skin!
You Will Need:
3 tablespoons of almond oil
2 cups of castile soap (unscented)
1 cup rose water
1 tablespoon of lime juice
15-20 drops of lavender essential oil
Method:
Put all the ingredients in a pump dispenser and shake to mix.
Your DIY body wash is ready to use. Don't forget to give the bottle a good shake before every use.
Note: Homemade rosewater has a shelf life of up to 2 weeks while its store-bought variant may last for a few months. If you are using homemade rosewater, finish the body wash within 2 weeks. If you are using a store-bought option, use it up within 6 months.
Top 7 Body Washes For Women Recommended By TC46
Choosing the right body wash depends on various factors such as your skin type, preferred brand, budget etc. Here is a carefully curated list of the best body wash for women you might consider investing in.
1. Dove Deep Moisture Nourishing Body Wash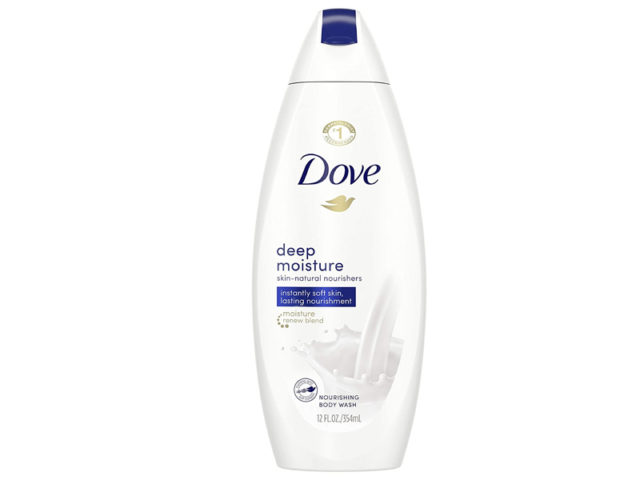 The unique NutriumMoisture technology of dove body wash works from within to replenish and revive the skin. The formula does not disturb the natural microbiome of your skin and maintains the skin barrier. This body wash is gentle, pH balanced and sulfate-free! I Dove body wash is highly recommended for people with dry or sensitive skin. All these qualities make this product one of the most popular body wash for women.
2. Aveeno Daily Moisturizing Body Wash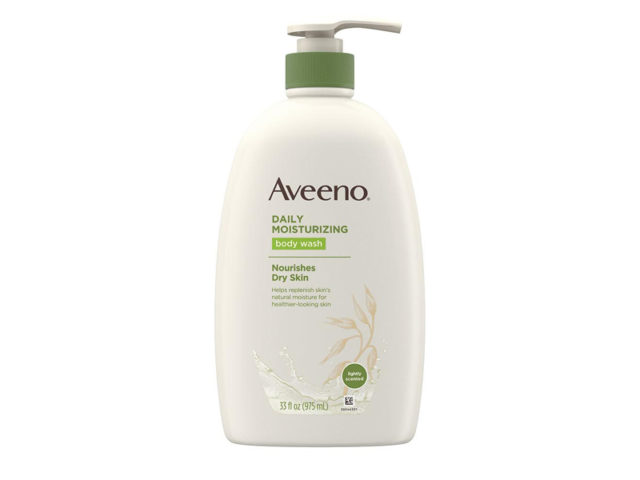 Aveena body wash delivers exactly what it claims…a whole lot of moisturization! It replenishes your skin's natural moisture content, makes it healthier and improves its appearance. Packed with emollients, natural oils and oatmeal extracts, this gentle body wash will leave your skin smooth and cleanse after every wash! Aveeno body wash is soap-free, dye-free and hypoallergenic and works well for sensitive skin.
3. Fiama Di Wills Blackcurrant & Bearberry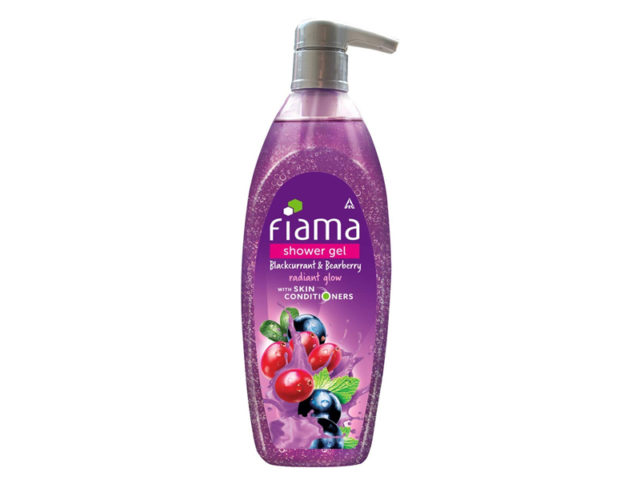 Another top contender in the list of the best body wash for women is Fiama Di Wills Blackcurrant and Bearberry. This Fiama body wash comes with skin condition agents that will soothe and relax your skin after every use. It is gentle and effectively cleanses the skin of all impurities and pollutants. Its bearberry and blackcurrant extracts keep the skin looking fresh, young and radiant! Fiama body wash has a pleasant fragrance and is quite easy to rinse. The product works well to hydrate all skin types.
4. Biotique Bio Apricot Refreshing Body Wash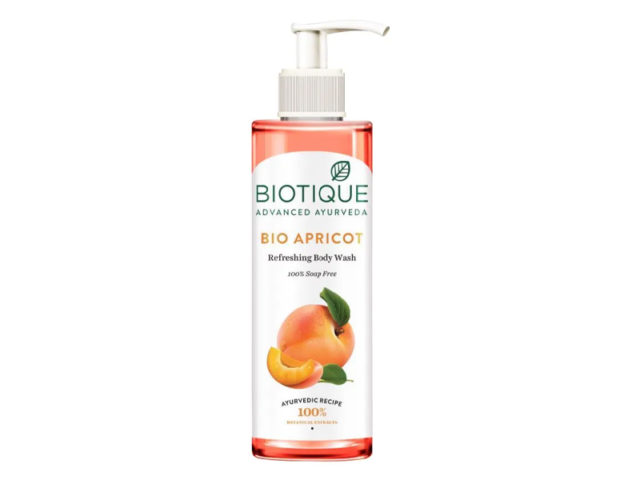 Go natural with this refreshing biotique body wash! It comes with ingredients like apricot, wild turmeric, and kernel oil that are extremely beneficial for the skin. This amazing product will cleanse the skin thoroughly and remove traces of harmful pollutants. The best part is, biotique bio body wash does not dry out the skin and works for most types of skin! The product is 100 per cent soap-free and contains all-natural ingredients. Biotique body wash is preservative and chemical-free!
5. Nivea Frangipani & Oil Shower Gel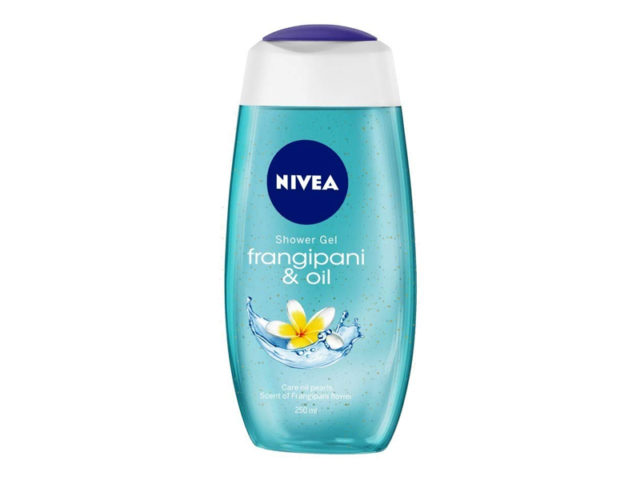 Developed with Hydra IQ technology, Nivea body wash will keep your skin refreshed and moisturized. It gently cleanses the skin without drying it out. The moisturizing sunflower oil pearls and the amazing tropical fragrance of Hawaiian frangipani flowers will make showering an enriching experience! Nivea body wash is a dermatologically tested product that is suitable for all skin types.
6. Palmolive Thermal Spa Skin Renewal Shower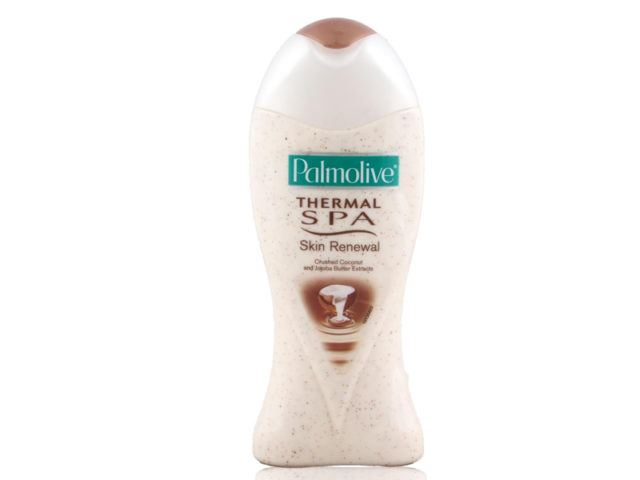 Bring that spa-like treatment to your homes with this Palmolive body wash! Its rich formula consists of ingredients like jojoba butter and coconut extracts that are very effective in keeping the skin hydrated and moisturized. It gently exfoliates and removes dead skin cells, revealing fresh and soft skin. Palmolive body wash is dermatologically tested.
7. Pears Pure And Gentle Body Wash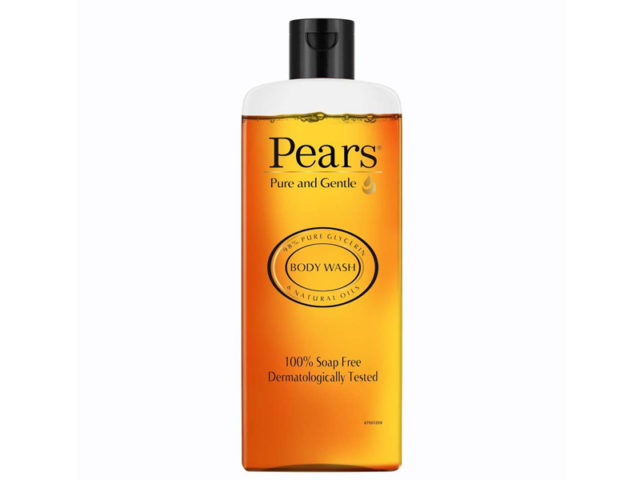 Pears body wash is one of the best options for you if you have sensitive and dry skin. It gently cleanses and moisturizes the skin without causing any damage or irritation. Composed of 98% pure glycerin and natural oils, this product keeps your skin soft, supple and healthy. Pears body wash has a pH-balanced formula and is suitable for all skin types. It is also hypoallergenic and non-comedogenic.
Be it a quick shower or a luxuriously long bath, a suitable body wash is what you need to make the experience more rejuvenating and refreshing. While soap bars get the job done, they may end up drying out your skin in the long run! Body washes come with highly effective ingredients that help lock in the skin's moisture and keep it fresh and hydrated. You can also go natural and make your own body wash using these simple recipes!