With November almost rolling in, garba nights are just around the corner. Navratri ke aate hi everyone is ready to flaunt their brightest lehengas and smooth moves. 9 dazzling days of dandiya and fabulous fashion! The festival is an emotion in itself.
As the sun sets, the festive vibe of Navratri comes alive. "Ayy Haalo" ki gunj ke saath, everyone is all set to make their star entries. But wait, are you still struggling to complete your look? Your outfits are laid out but makeup for Navratri ka kya? Let us take some thakaan off your shoulder and help you out. 
Whether you want to look sundar aur sushil, or you want to make a spicy bold statement, we've got all the moods covered. Because girls like to swing. Here are 9 Navratri makeup looks you can steal this festive season:
9 Makeup Looks You Must Try This Festive Season
1. Glowing Goddess
Nothing screams divine like an ethereal glowing face. To get the perfect glowing face makeup, follow these steps:
Step 1: Prime your face using the most hydrating moisturiser and then go in with a tinted primer. This will act as a barrier for your other makeup products and make application super easy.
Step 2: Use a face mist to set the makeup in between the steps, this will help products blend easy and smooth.
Step 3: Now for the glow, mix a small amount of highlighter with your foundation. A cream-based or liquid highlighter will work the best. Apply this mix like you would apply your foundation and, voila! you have a dewy face all ready.
You can go in with a little bit of a concealer under your eye to bring the look all together.
2. Monochrome For The Win
In the fashion world, monochrome has been winning hearts forever. This is perfect for when you want your outfit to shine and be the star of the show. Here's how you can do it:
Step 1: Use a creamy foundation to set the base.
Step 2: Go in with your blush of the day, based on your colour of choice you can opt for a pink, red or brownish shade. Give your cheeks a healthy glow.
Step 3: For the eyes, follow the colour theme and apply your shimmery eyeshadow. You can also play around with graphic eyeliner of the same colour to bring something unique to the table.
Step 4: Finish the look by smacking on a complimenting lipstick.
There's so much you can do with a single colour for your picture perfect Navratri makeup look.
3. Golden Magic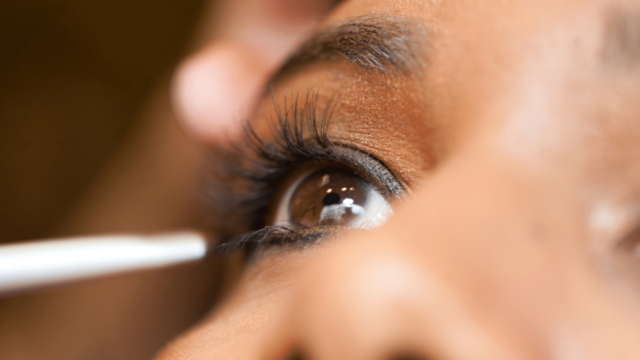 Ah, now who can go wrong with gold in festive times? To get this inna sona garba makeup look, follow the steps:
Step 1: Pick a gold that compliments your skin tone, after a subtle base of your usual makeup, done your gold. Apply a small amount in the inner corner of your eyes and at the centre of your lids and blend it well.
Step 2: Go with dramatic lashes to bring out the golden colour.
Step 3: Apply a warm bronzer to go with the gold, sweep it on your cheekbones, temples and forehead to bring it all together.
Step 4: Pick a nude matte lipstick shade to finish the look.
Your Instagram feed is going to look all glazed up after this garba night.
4. Smoking Hot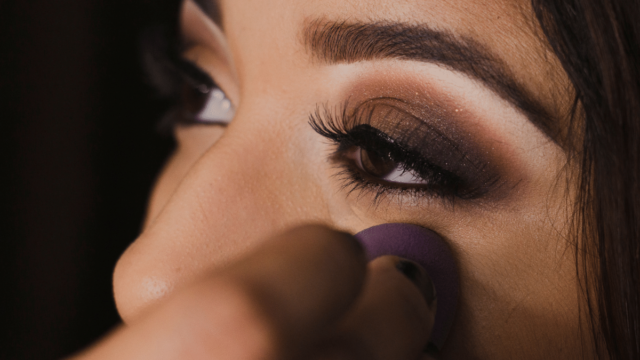 Name a more classic makeup look than smokey eyes, we'll wait. While we wait, you should go and try this makeup look if you haven't already.
Step 1: Start with a clean base using a primer. This will help in keeping your makeup long lasting. To even out any flaws, use a concealer under your eyes and eyelids.
Step 2: Apply your black eyeshadow on the outer corner and blend it in. Make sure there aren't any harsh lines. Using eyeliner, draw along your natural lash line.
Step 3: Trust your fingers and smudge it to create the smokey eye look. Now apply your favourite mascara and you're good to go.
To add a pop of colour, wear your statement red lips.
5. Rolling Reds
The colour red is the jaan of all celebrations, why not base your Navratri makeup look around it?
Step 1: Start with a dewy base makeup and contour your face with a bronzer.
Step 2: Use a long lasting kajal on your lower and upper eyelid to highlight your eyes. Apply some volumising mascara to finish your eye look.
Step 3: The centre of attention is going to be your red lips, choose the boldest red you own and flaunt it.
Want to go a step further? Apply a subtle red blush on your cheeks to give your face a healthy colour.
6. Bring Back The 90s
Turn into a 90s diva with your garba makeup by bringing back the old traditions.
Step 1: Bold eyeliner was the talk of the show in the 90s, pair your wings with mascara to bring out your eyes.
Step 2: What will make this look 90s is the brown lipstick. Pick a shade of brown that will go with your skin tone and your makeup is done.
Easy to do and no extra kich kich, this look is perfect for dancing away your night with garba music.
7. Rock The Colours
Want to stand out in a full crowd? Then this makeup look for dandiya nights is the perfect fit for you. Follow the given steps:
Step 1: After your base makeup, tweak your eyebrows. Fill it in if needed and make it flawless. Use black eyeshadow to bring all the attention to your eyes.
Step 2: Match your outfit with your eyes and dust come colour on your eyelids.
Step 3: Close the look with a deep and ravishing burgundy lipstick.
Using eyeliner or pencil you can adorn your face with black dots around your eyebrows and chin to complete your makeup look for garba.
8. Turn On The Glam
Follow the steps below to get a glamorous garba makeup look for the glamorous dandiya night.
Step 1: After some concealer under and over your eyes, pick a deep brown or bronze shade to colour your lids. Blend the eyeshadow smoothly and add some shimmer if you feel like it.
Step 2: Get dramatic with the kajal and smudge it to get a stunning eye look. Don't forget our waterproof mascara!
Step 3: Complete the look with a delicious brown or red lipstick.
Dust some highlighter on your cheekbones and nose, and level up your navratri face makeup.
9. No-Makeup Makeup
Looking for the easiest makeup look for dandiya nights? Look no further, for those who want their outfits to do the talking, here's the best makeup for Navratri season:
Step 1: Use a dewy primer to set your face and skip the foundation altogether. Apply some concealer to maintain the natural finish.
Step 2: Apply the smallest amount of blush to bring some colour to your cheeks. Use the same blush on your eyelids and blend it with your fingers.
Step 3: Wrap up the look with a tinted lip balm and ta da, your makeup is on point.
If you want to add some character to this look, you can add some colourful eyeliner to match with your outfit. 
5 Styling Tips For Navratri
1. Jewellery is going to be the game changer when it comes to Navratri. Invest in versatile items that can be crossed with other items to create new looks everyday. Here are some pieces you should own:
Silver Choker Necklaces
Chandali Earrings
Classic Jhumkas
Statement Rings
Bangles Set
2. Mix and match your lehenga cholis to get fun and creative outfits. You can also play around to give your garba nights a modern touch by pairing a silky shirt with lehenga.
3. Experiment with your hair colour. Add a pop of red by highlighting a few strands. If you're afraid of damaging your hair, you can opt for coloured hair extensions.
4. Try something new by ditching the lehenga choli for an embroidered kurta or a slip-on saree.
5. Go for bold blouse designs to spruce up your Navratri outfit and make a statement.
With these 9 makeup looks under your belt #BeALittleMore garba ready this season. What are your go-to makeup looks when you're in a time crunch?
Open up like never before and participate in conversations about beauty, entrepreneurship, mental health, menstrual & sexual health, and more. Desi women, join our community NOW!