Most women are pros when it comes to dealing with smudged makeup. With a tissue or wet wipe in one hand or a q-tip in the other, we've mastered the art of fixing that lipstick and kajal that's run out from the crease—in the back of a car, or even in a crowded bar!
But, what if you didn't have to be a makeup-fixing ninja? Wouldn't that be great?
The Channel 46 caught up with Sheil Jain, founder of Gush beauty to find the secret to smudge-proof makeup that looks flawless right through the day. Given the humidity in this rainy weather, we couldn't think of a better time to make note of these expert tips.
Tip 1: Skip The Foundation
Don't forget, the more you layer on, the more likely it's all going to melt off! So, stick to the basics. Apply a light, targeted concealer to touch up areas that need brightening and on any problematic areas like zits, hyperpigmentation, dark spots, scarring etc. Use matte cream, and potted concealers with high coverage so they get the job done right, set with a powder foundation of the same shade to prevent creasing and smudging.
Tip 2: Remember, Less Is More
Learn how to use dewy weather to your advantage. Once you're done with a cream concealer, use a powder blush to accentuate your natural glow. Follow up with a touch of highlight only on areas that don't sweat the fastest! Tip and bridge of your nose and your cheekbones should suffice, the humidity will take care of the rest for you! You can opt for an all-in-one face palette that you can stash in your bag if you need to amp up your blush for an event or night out.
Tip3: Smudge-Proof Your Kajal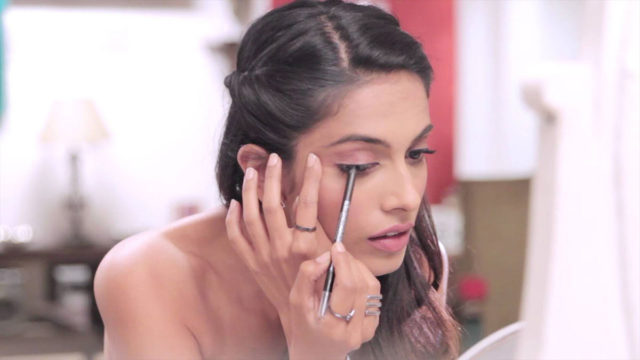 If you like a nice kohl (kajal) liner look that doesn't give you panda eyes at the end of the day, try this out. Apply some waterproof kohl on your waterline and follow it up with some black eyeshadow on top to set that waterline! Another great trick is to opt for gel-based kajals and eyeliners. They glide on like butter which helps make the application very smooth, easy, and precise. They also tend to be more smudge-resistant than other formulas. You can also set your under-eye area with some loose powder so that if the kajal starts dragging below the under-eye lash line, you can clean it up by simply dusting off the powder.
Tip 4: Matte Lips For The Win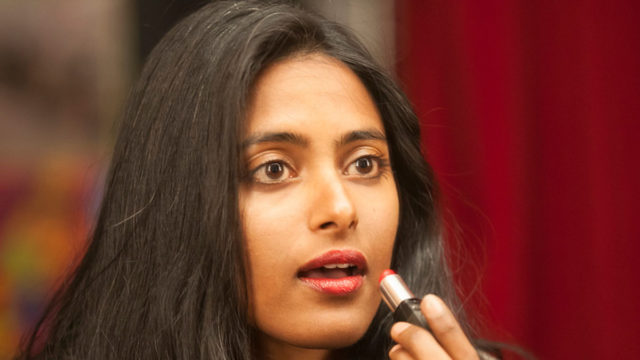 Matte finish liquid lipsticks are your best friend. They require minimal touch-ups and offer maximum longevity. For added insurance, tap on some setting powder and blot with a tissue for a pout that lasts all day long! Opt for pop colours to beat the blues during the rainy weather and also, look out for lipsticks that have skincare built into their formula. From vitamin e oils to hyaluronic acid, makeup has come a long way when it comes to not just how it looks, but how it performs too.
Tip 5: Set It Straight With Powder
Finely milled setting powder is your holy grail. Make sure you set your entire face with setting powder and give some extra love to your under-eye area. Feel free to bake your T-Zone with powder as well. This will prevent any makeup from melting and smudging, right through the day. Use a powder puff to gently top up your setting powder using small tapping motions whenever your skin begins to feel oily or you begin sweating during the day.
Tip 6: Blot EVERYTHING!
Oil blotting sheets are the secret to makeup that stays set in place, despite the humidity, excessive sweating, or even if you have oily skin. It's the easiest way to lift the unwanted moisture and excess oil that sits on your skin or is a result of the makeup you apply (yes, makeup formulas have oils, too). Blot your face, and especially your T-zone whenever you do a touch-up.
Tip 7: Use A Makeup Fixing Spray
We repeat, makeup fixing spray! Not setting spray, not a makeup refreshing mist. None of that. What you want is something that seals all that makeup in place while also being weightless on your skin! And a makeup fixing spray will do just that for you!
Setting sprays only help with melting all your makeup so it looks seamless, it's a great hack for when you want to blend your powders and creams and reduce the overall texture of your makeup look.
And on the other hand, makeup refreshing mists are great to spritz on your face in between each step of your makeup routine to help add hydration and keep skin fresh in between each layer of your makeup routine. All three have very different roles to play and you mustn't confuse one with the other.
With this little handy guide, you'll be able to ace that smudge-free, transfer-proof makeup look every single day.
Open up like never before and participate in conversations about beauty, entrepreneurship, mental health, menstrual & sexual health, and more. Desi women, join our community NOW!