The rising humidity and monsoon go hand-in-hand in making your hair frizzy. Whether you're at home or have stepped outside, there's no escape from seeing your tresses becoming all tangled up and looking out of their place almost as soon as you brush it. You can do anything about the season, but you definitely can do a lot about the hair to keep it devoid of the frizz. And the answer is using the right homemade remedies and the right hair care products to give it the TLC your hair needs during this season. In this article, we'll also discuss what causes frizzy hair and some preventive tips.
5 Home Remedies For Frizzy Hair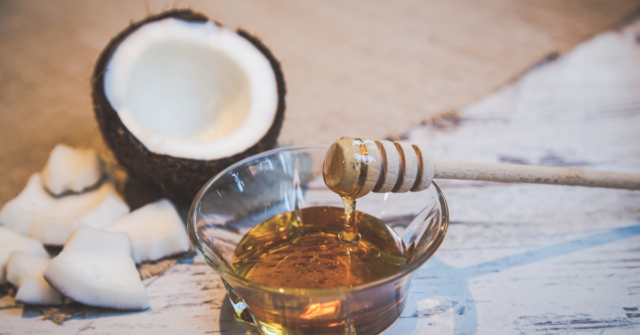 Here are 5 home remedies for frizzy hair who may be keen on trying:
1. Honey & Coconut Oil Anti-Frizz Mask
Honey is known as a natural humectant that captures moisture from the air around and makes it available to your hair, beating the frizziness and frizzy hair causes. It will also impart shine and bounce to your hair. Coconut comprises antioxidant, antibacterial, antifungal properties that is what your hair needs to stay nourished and in place. If you're looking for a home remedies for frizzy hair after shower, you can use a little amount of coconut oil oto act as a hair serum.
Ingredients
1 tbsp coconut oil
1 tbsp honey
How To Use It
Mix the ingredients in a bowl thoroughly.
Heat the mixture.
Apply this on your hair.
Leave it on for about 30 minutes.
Wash it off with a mild shampoo and then dry it with a towel.
2. Lemon & Egg Mask For Frizzy Hair
One of the best home remedies for dry and frizzy hair, both the ingredients will hydrate your hair, keeping away frizz.
Ingredients
How To Use It
Crack open the egg and separate the egg white from the yolk. You need to use only the egg white for this hair mask.
Blend the lemon juice to the egg white and mix it thoroughly to get an even paste.
Make sections to your damp hair and apply the hair mask along the hair partings.
Let this stay for an hour.
Wash it off with a mild shampoo and conditioner.
3. Yoghurt & Banana Anti-Frizz Hair Mask
All the ingredients are known for going wonders in keeping your hair well-moisturised, keeping frizz at bay. Ingredients. Looking for a hair mask for frizzy hair in monsoon? This is one home remedy you can check out.
1 banana
2 tbsp yoghurt
1 tsp honey
How To Use It
Chop the banana into pieces and then mash it with your fingers or with the opposite side of the fork.
Mix the other ingredients in a blend to get an even paste.
Damp your hair and apply the paste.
Let this stay for about 30 minutes.
Wash it off with a mild shampoo.
4. Gram Flour, Yoghurt, & Olive Oil Anti-Frizz Hair Mask
Olive oil and yoghurt gives your hair shine while gram flour does the job of strengthening the hair roots. Try this frizzy hair treatment at home over some time for best results.
Ingredients
2 tbsp gram flour
1 tbsp yoghurt
2 tbsp olive oil
How To Use It
Apply the mask on completely dry hair.
Leave it on till the time it dried completely.
Wash it off with a mild shampoo.
5. Coconut Oil, Honey, & Avocado Anti-Frizz Hair Mask
A superb anti-frizz mask to keep your hair strands deeply hydrated and in place.
Ingredients:
1 tbsp coconut oil
1 tbsp honey
1 egg
1 avocado
How To Use It:
Mash the avocado with the other side of the fork to get a paste.
Beat the egg till bubbles appear.
Mix all the ingredients together and apply on your hair.
Keep it on for about 30 minutes.
Rinse it off with a mild shampoo.
7 Tips To Prevent Frizz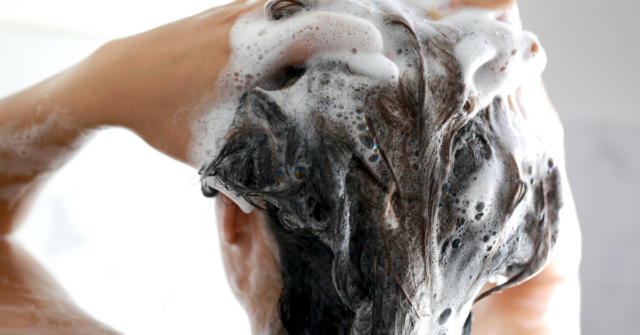 Does brushing wet hair cause frizz? It causes hair breakage but not frizzy hair. Does air drying hair cause frizz? The answer is yes. So, what else causes frizzy hair? Let's find it out here.
1. Don't wash your hair more than twice a week
Washing your hair too frequently can damage the hair fibres by enabling cuticles to absorb moisture, leading to frizziness. As a result, washing your hair twice a week is sufficient to maintain its overall health.
2. Explore Different Hair Styles
Leaving your hair open leaves it more susceptible to moisture, raising its chances of becoming even more frizzy. So, what you can do is protect your hair by wearing a hat or scarf or wearing a headband. Or better still, braiding your hair or bun and trying out other exciting hair styles too.
3. Don't Skip Conditioning Your Hair
Not that can afford to not condition your hair during the other seasons, but you will have to make peace with frizzy hair if you skip this step during the monsoons. Applying a condition keeps your tresses sufficiently hydrated and locks in moisture in the newly grown tresses.
4. Use A Microfibre Towel
If you have been using a cotton towel to dry your hair after a shampoo-conditioner session, that's one of the primary reasons why your hair is frizzy throughout the year. And it'll be more so during the monsoon. Shift over to a microfibre towel that dries your hair after and minimises damage and frizz.
5. Make Sure to Use A Hair Serum
Investing in hair serum is of utmost importance throughout the year, and more specifically during monsoon. Ensure that you use a few drops of this product from the mid-length to the tips of your hair to add shine and smoothness to your tresses.
6. Avoid Getting Wet In The Rain
Rain water causes more damage to your hair than what you can probably imagine. They lose moisture when they dry up after getting wet, which is why they turn frizzy.
7. Don't Oil Frequently
Oiling your locks would mean you have to wash your hair, which in turn, will sap your hair off moisturise that is indispensable in controlling frizz. Hair your hair not more than twice a week and leave it on overnight or half an hair before washing your hair.
8. Stay Away From Chemical Treatments
Chemical treatments rip off the natural moisture from your hair, leaving it looking dull, lifeless, and frizzy. It may be a good short-term solution for your hair, but your hair will end up looking damaged over the long term.
4 Anti-Frizz Hair Care Products
If you're wondering – "how to control frizzy hair in monsoon?", here are some anti-frizz hair care products you can bank on.
1. Khadi Natural Honey & Almond Hair Cleanser
A natural potion for frizzy hair, especially during monsoon, it helps your strands retain moisture. It also strengthens the roots from deep within, thus, arresting hair fall.
2. WOW Skin Science Coconut Milk Hair Mask
Embalmed with the goodness of bioactive ingredients like coconut milk, shea butter, and gluten-free wheat protein, it breathes life into your bejaan, rukhe baal, which is typical during monsoon. It also repairs damaged hair and protects the hair from harmful sun's rays and rainwater.
3. TRESemmé Keratin Smooth Deep Smoothing Mask
Enriched with frizz-fighting and hair-nourishing ingredients like keratin and marula oil, the soothing mask weaves magic on your precious locks. Apply it on your hair after a thorough shampoo and conditioner regimen, leave it on for 3 to 5 minutes before rinsing it off with water. And, voila, you've fought off the frizz in just a few minute's time!
4. The TIGI Bed Head Control Freak Frizz Control And Straightening Serum
The serum does justice to what it mentions in its name. Apart from keeping frizz at bay, it imparts a natural sheen to your hair strands and a look of good overall health. Time to bid goodbye to your damaged, frizzy hair with this ultra-effective serum.
Frizzy hair in monsoon is commonplace. And don't worry, there are enough home remedies for dry and frizzy hair. If you don't have the time for DIYs at home, simply invest in the anti-frizz hair care products that we have mentioned above, and the hair concern wouldn't be a reality for you anymore.
Open up like never before and participate in conversations about beauty, mental health, menstrual & sexual health, and more. Desi women, join our community NOW!