What is hair serum? Hair serum prevents sun and environmental damages like dirt, grime, and pollution. It serves as a protective layer on the cuticles, helping you maintain well moisturised, smooth, shiny, and voluminous hair that is difficult to go unnoticed, for all the right reasons. Serums for your hair can be of two types – one that can be applied to your hair as well as the scalp, and secondly, the one that is meant for your hair only. While the store-bought ones are usually meant for applying on clean, freshly-washed hair, the homemade ones are generally crafted to be applied pre-wash.
Before moving on to discussing the recipes for DIY hair serums, followed by a list of product recommendations, let's take a brief look into the undisputable benefits of a serum.
5 Benefits Of Using A Hair Serum
What does hair serum do? Now that you have a fair idea about what is hair serum, let's dive into talking about hair serum benefits.
Hair serum is beneficial for preventing frizz and making it more manageable.
It makes detangling your hair easy, without causing breakage.
It deeply hydrates your hair strands and adds shine to your strands.
It makes your hair appear and feel silkier, smoother, and shinier.
Hair serum works as a heat protectant, protecting your strands against sun and other environmental damages.
5 Homemade Hair Serum Recipes You Can Try Your Hand On
Moving on from discussing hair serum benefits, here are 5 homemade hair serums that are worth crushing on. What is the use of hair serum? Let's find out.
1. Aloe Vera & Coconut Oil Hair Serum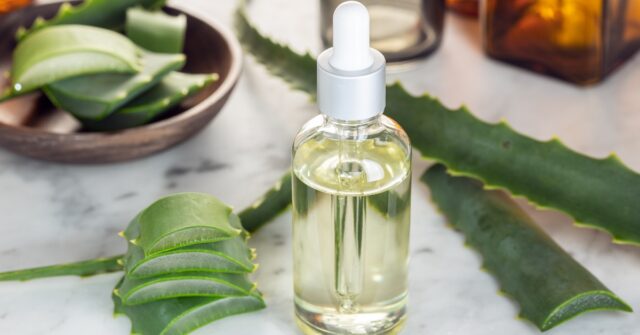 Aloe vera is blessed with antioxidant and antibacterial properties, while coconut oil keeps your hair well moisturised. Rose water and vitamin E oil too offer hydrating and anti-frizz benefits, which are exactly what you look for in a reliable hair serum.
Ingredients
¼ cup pure aloe vera gel
2 tbsp coconut oil
2.5 tbsp rose water
1 tsp Vitamin E oil
12 drops jasmine essential oil (for fragrance)
Technique
Add the aloe vera in a grinder and blend it well.
Add rose water, vitamin E oil, and rose water, and blend again you get a smooth mixture.
Pour this solution into a spritz bottle and then add the jasmine essential oil.
Give the bottle a good shake and the DIY serum is ready to be used.
2. Grapeseed & Vitamin E Hair Serum
This DIY hair growth serum is curated with the combination of these two potent ingredients that protect your strands from sun damage and pollution. On the other hand, lavender oil promotes hair growth and treats scalp problems effectively. Wonderful for dry and damaged hair, this is one of the best hair serum recipes you can make at home to keep frizz at bay.
Ingredients
Grapeseed Oil (4 tablespoons)
Vitamin E Oil Or Vitamin E Capsules (1 tablespoon or 1 capsule)
Lavender Oil (5 drops)
Technique
For making this DIY hair serum for frizzy hair, take a small bowl and mix the ingredients thoroughly.
Transfer it to a spritz bottle.
Shake well every time at the time of its use and use it along the lengths and tips of your strands.
3. Almond Oil & Aloe Vera Hair Serum
The benefits of aloe for your hair are well known – antioxidant, anti-inflammatory, antibacterial, et al – everything you need for boosting hair health. Lavender oil ensures hair growth and reverses scalp issues. The serum also includes argan oil and almond oil, both of which have deep moisturisation properties in them will save your hair from breakage, damage, and frizz. The serum is easy to wash off and can be effectively used as an alternative for shampoo.
Ingredients
6 tbsp aloe vera gel
2 tbsp argan oil
2 tbsp almond oil
5-7 drops tea tree / peppermint essential oil
5-7 lavender essential oil
Technique
Put the aloe vera into a blender till it becomes a smooth gel.
Empty out the gel into a small bowl.
Add all the other ingredients in the bowl and mix them thoroughly.
Transfer it to a spritz bottle.
Shake well every time before you use this hair serum at home.
4. Coconut Oil & Olive Oil Hair Serum
Looking for a homemade hair serum that's perfect for hair straightening? This one's just for you. The ingredients create magic on your tresses.
Ingredients
3 tbsp coconut Oil
3 tbsp soy Oil
3 tbsp jojoba Oil
3 tbsp olive oil
Technique
Mix all the ingredients till you get a smooth solution.
Pour it into a dark coloured spritz bottle.
Place the bottle in warm water every time you want to use the serum. This will warm up the oils, thus enhancing their effectiveness.
Apply this from the roots to the tips of your strands and then comb your hair slowly, making sure there are no curvy strands.
Rinse it off with a mild shampoo.
5. Coffee & Honey Hair Serum
For this homemade hair serum for dry, frizzy hair, coffee is closely associated with strengthening your hair right from the roots. It also boosts the natural colour of your locks. Honey is a natural humectant that captures moisture from the air, making it available for your hair. It also adds shine to your hair. So, you can imagine what a potent anti-frizz serum this will be!
Ingredients
4 tbsp coffee powder
2 tbsp honey
4 tbsp hot water
Technique
Take a small bowl and pour the coffee powder into it.
Add honey and boiled water.
Mix well to get a smooth paste.
Wet your hair a bit to make the application easier.
After applying it, let this stay on your hair for 15 to 20 minutes before washing it off with a mild shampoo.
5 Hair Serums You Can Take A Pick From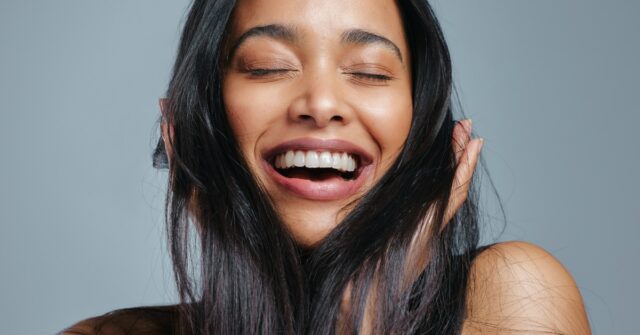 1. Livon Anti-Frizz Serum
As the name suggests, the serum keeps frizz away by boosting your hair with much-needed hydration, thanks to Moroccan argan oil. This adds shine and smoothness to your precious strands. To top that, vitamin E oil protects your hair from heat and environmental damage. Suitable for all hair types, this product is sulfate-free. Although some may find its texture to be a little oily, it is non-sticky in nature.
2. Biolage Smooth Proof Deep Smoothing Serum
The key ingredients list comprises avocado oil, sunflower seed oil, grapeseed oil, and rosemary extracts. One of the most in-demand hair serums for quite a few years now, this product keeps your hair frizz-proof for as long as 72 hours. It makes detangling your hair easier and protecting your locks from heat, and environmental and free radical damage. The paraben-free product imparts instant shine to your hair and becomes a head turner the moment you step out.
3. Streax Hair Serum
A combination of walnut and vitamin E, this serum works wonders in offering moisturisation to your hair for a long duration. It also serves as a heat protectant when you are outside. Being sulfate-free, it is an added advantage for those who prefer their beauty products to be chemical-free. What's more, it also has a non-greasy and non-sticky texture that doesn't make your hair look limp and bejaan in its effort to keep your hair frizz-free.
4. L'Oreal Paris Extraordinary Oil Serum
The lightweight, non-greasy formula makes it one of the favourites among all hair serums, irrespective of your hair type. Fortified with the goodness of chamomile oil, lotus flower oil, coconut oil, glycine, soybean oil, soja oil, and Tahitian gardenia flower extract, it works wonders in preventing sun damage. To top that, you can also use it as an overnight hair treatment.
5. Mamaearth Onion Hair Serum
Now that we have woken up to the goodness of onion oil for our overall hair care, here is one chemical-free, vegan hair serum that is likely to work wonders in controlling frizz. Devoid of sulphate, SLS, silicone, petroleum, mineral oil, and artificial colours, it introduces shine, volume, and a much-improved texture. Although it has a sticky texture, the plethora of pros of this product overdo it.
6 Additional Tips Post-Hair Wash That You Should Remember
Do a hot towel treatment by wrapping your hair up with a towel. The heat captured in the towel here helps your tresses capture moisture, working as an anti-frizz for your hair and adding a natural sheen to it.
Use a hair wrap to soak the extra water in your hair after shampooing it rather than using a towel to dry your strands. The roughness of towels rips your freshly washed hair of its natural moisture, making it look limp, frizzy, and unhealthy after the hair has dried up.
As helpful as a hair wrap is, don't let it stay on for too long because it might have the opposite effect on your hair. Using it for more than a few minutes may make your hair frizzy, defeating its purpose.
Don't comb your hair right after a hair wash as you are likely to lose tufts of hair. Your hair is the most vulnerable to breakage at this time since your hair is still nimble after you've shampooed your hair.
Use a wide-toothed brush so as not to hurt the hair follicles, untangle the knots with ease, and avoid breakage.
Use your serum from the middle of the strands down to the tips, making sure it does not come in contact with your scalp. The product buildup on your scalp has a more damaging effect than what you can probably imagine! What is the use of hair serum, if you aren't applying it right.
A little more TLC for your hair, part of the shampoo-conditioner routine does so much more for your tresses than what you can perhaps imagine. So, make your very own homemade hair serum for hair growth & frizz-free hair or invest in a store-bought product to do the trick for you in keeping your locks shiny, smooth, and frizz-free, and contributing to its overall health.
Open up like never before and participate in conversations about beauty, mental health, menstrual & sexual health, and more. Desi women, join our community NOW!