Even the strongest and the smoothest nails tend to become rough and show cracks at certain times. This may be the result of seasonal changes, a bad manicure, corrosive substances that may have come in contact with it like detergents, or a sign of an underlying medical condition. Unless your rough and cracked nails are due to an underlying medical condition, your problem has a simple solution – nail cream. Here's discussing the benefits of nail creams, how to use cuticle cream, home remedies, and product recommendations for you to fall back on.
3 Benefits Of Nail Creams & Oils
1. Moisturisation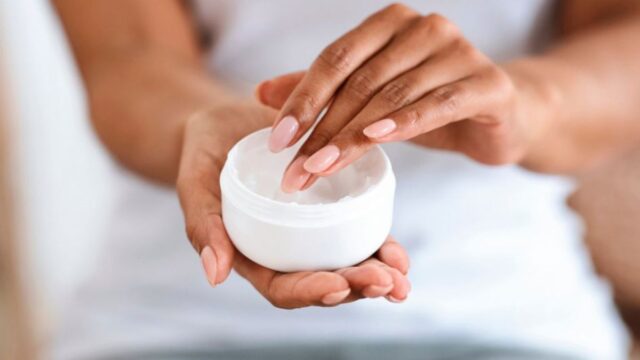 The Holy Grail of nail and cuticle cream use is moisturisation. This is a must for keeping the cuticles of your nails hydrated for quite some time. While oil is sufficient to give nails a boost of nutrition, creams are necessary if your cuticles are dry and rough – a clear sign of dehydration. Moisturisation your nails is also essential to save them from brittleness and cracks. 
2. Better Strength Of Your Nails 7 Cuticles
One of the factors behind chipped nails is their lack of strength. Therefore, using an oil or cream is essential to impart enough strength to keep brittleness at bay.
3. Fewer Chances Of Infections
Cracks on nails are an ideal breeding ground for bacteria, which is most likely to lead to bacterial infections. What's more, pushing back your cuticles without moisturising them with an oil or a cream may lead to their breakage, making them bleed. Using an oil or cream makes them soft and supple enough for them to be pushed back easily with minimum skin breakage, while also reducing the scope of infections.
How To Use Nail Cream: 3 Things To Remember
About a pea size is sufficient to moisturise your nails, unless you know you'll require more.
Massage the oil or cream onto the nails, cuticles, and the skin around the nails.
Apply it on bare nails or over nail polish to make the most of its benefits. Don't use it just before applying nail colour as the latter won't sit on the nails.
5 DIY Nail Cream & Oil Recipes You Can Try At Home
The DIY remedies that we will discuss next aren't just for the nails and cuticles of your hands. These remedies will work well as ingrown toenail cream as well. Let's get started with talking about 5 such home remedies.
1. Coconut Oil & Aloe Vera Gel Nail Cream
Aloe vera gel is enriched with antioxidant, anti-bacterial, and anti-fungal properties that not only moisturise nails but also keep bacterial and fungal infections away.
Ingredients
1 tbsp coconut oil
1 tbsp aloe vera gel
How To Use It
Mix the ingredients together.
Massage the nails and cuticles with the oil mixture.
2. Almond Oil & Jojoba Oil As Nail & Cuticle Moisturiser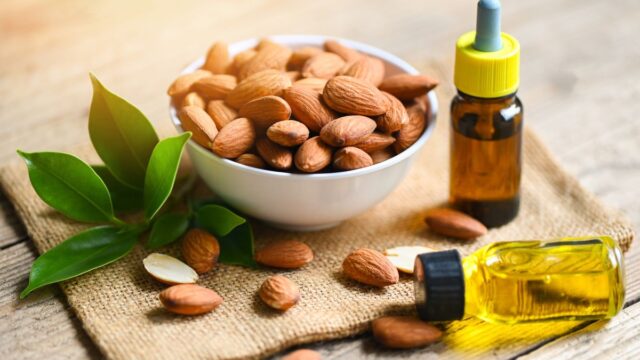 Almond oil is known for its deep hydration benefits, which is exactly what's expected from a cuticle oil. On the other hand, jojoba oil enables vitamin E to penetrate the nails and cuticles, helping you make the most of the ingredients.
Ingredients
2 ml of sweet almond oil
2 ml jojoba oil
1 ml rice bran oil
2 drops of vitamin E oil
1 drop of lavender essential oil
How To Use It
Mix the ingredients together.
Massage the nails and cuticles with the oil mixture.
3. Coconut Oil & Lavender Nail Oil
Coconut does wonders in healing the brittleness of nails and healing other nail concerns. Lavender oil is also closely associated with treating various nail problems. 
Ingredients
2 tbsp Coconut oil
1 tbsp of lavender oil
How To Use It
Mix the ingredients together.
Massage the nails and cuticles with the oil mixture.
4. Coconut Oil & Cocoa Butter Nail Moisturiser
Both ingredients are known for their deep hydrating benefits.
Ingredients
2 tbsp coconut oil
1 tbsp cocoa butter
How To Use It
Mix the ingredients together.
Massage the nails and cuticles with the oil mixture.
5. Petroleum Jelly & Olive Oil Nail Moisturiser
One of the best DIY nail creams is well known for its deep moisturisation benefits.
Ingredients
2 tsp petroleum jelly
½ tsp olive oil
How To Use It
Mix the ingredients together.
Massage the nails and cuticles with the oil mixture.
3 Product Recommendations For Nail Oils & Creams
1. Vaadi Herbal Nail & Cuticle Oil With Jojoba Oil
Enriched with the goodness of jojoba oil, shea butter, and vitamins A and E, and apricot kernel oil, this cuticle oil weaves magic in deep conditioning your cuticle and nails. It imparts strength to weak nails and protects your nails from cracking and peeling. The result? Smooth and well-nourished nails. 
2. St. Botanica Moroccan Argan Oil Hand and Nail Cream
Embalmed with the benefits of ingredients like argan oil, olive oil, jojoba oil, shea butter, and cocoa butter, it soothes rough nails and heals cracks and brittleness. It intensely hydrates the nail, leaving it feeling healthy from the outside and inside.
3. Vedic Line Cool Mint Massage Cream With Mint & Lavender Oil
Mint oil, olive oil, shea butter, and lavender oil in this massage oil is a blessing for your cracked, peeling, and rough nails. The hydrating benefits impart your nails and cuticle with a dash of health, giving it a healthy glow that's hard to miss.
5 Tips To Commit To Memory If Nail Care Is On Your Mind
There is no better remedy for strong, happy nails than keeping them well moisturised.
Do not ever cut your cuticles.
Don't be rough during a manicure.
Wear gloves while using detergents and washing powder.
Refrain from sticking your nails and cuticles into your mouth.
Nail and cuticle cream use features last in our list of self-care activities and, most of the time, not even that. Although it deserves every bit of your attention. Refer to these easy-to-follow DIY home remedies or invest in a store-bought product and see your nails gleam with health and happiness.
Open up like never before and participate in conversations about beauty, mental health, menstrual & sexual health, and more. Desi women, join our community NOW!