If there's any outfit that can be styled to suit any event or occasion, it's a lehenga! This must-have traditional ensemble can be transitioned from bridalwear to partywear or even festive wear. And let's not forget the dozens of pre-wedding celebrations! Be it the engagement party, haldi, mehendi or the reception, you can never go wrong with a lehenga. And with so many lehenga styles available out there, it is not really that difficult to what you are looking for. 
And can your traditional outfit be complete without a pretty dupatta that goes perfectly well with your outfit? In fact, you can completely transform your look by trying out different lehenga dupatta styles, even if you plan on repeating your outfit this wedding season.  
Keep reading to know how to wear a lehenga dupatta for creating different looks with the same outfit! 
6 Types Of Dupatta That Are Commonly Paired With Traditional Lehengas
Here are a few common types of dupattas that are generally paired with lehengas. 
1. Banarasi Dupatta
Banarsi dupattas have a very special place when it comes to the Indian wedding fashion scene. Try out contemporary Banarasi dupatta draping styles for lehenga to give your look a classy but modern appeal. 
2. Chanderi Dupatta
Chanderi dupattas are graceful and elegant and are quite lightweight. They have a translucent texture and feature gold zari motifs. The luxurious appeal of Chanderi dupattas goes perfectly with heavy lehengas. 
3. Chiffon Dupatta
The light and transparent chiffon dupatta can be used with heavily embellished outfits. These look best with lehengas with aari, zardozi or chikankari work. 
4. Brocade Dupatta
Brocade dupattas feature woven and raised motifs that are usually made with gold or silver yarns. These drapes are heavy and glamorous and have a vintage vibe. This style works best for light outfits. 
5. Net Dupatta
This graceful dupatta is made with see-through, thin fabric that is tough enough to hold heavy sequin work or embroidery. It goes well with lehengas with a lot of details so that the focus can be on the lehenga and choli. 
6. Organza Dupatta
This thin and sheer silk fabric is quite comfortable. This lehenga dupatta goes well with lehenga skirts and blouses that are highly embellished. 
10 Different Ways To Wear A Dupatta With A Lehenga
Confused about how to wear a lehenga dupatta this wedding season. Here are a few lehenga dupatta draping styles for you to try! 
1. Front Flow Drape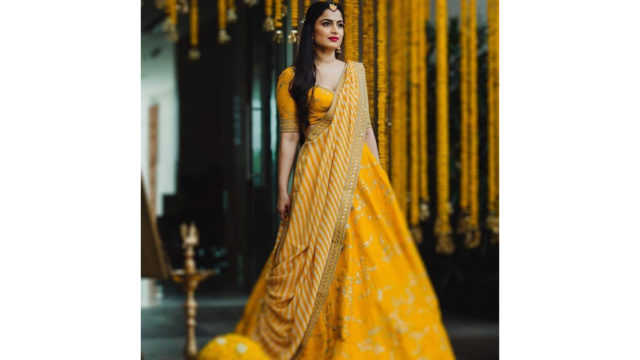 This super classy dupatta draping style will add a subtle feminine touch to your look. Here is how to achieve this style.
Method:
Pleat your dupatta.
Pin the pleated dupatta at the left shoulder.
Your dupatta should be falling behind, reaching up to the back of the knees. 
At the front, allow it to reach the floor.
Now fold up the dupatta and bring it over the forearm.  
2. Saree Drape
This drape is the right choice when you don't want to go through the hassle of wearing a saree but still want to achieve that look! The best part is that it's pretty easy to style and carry. Let's see how to do a proper saree drape! 
Method:
Take one end of your dupatta, tuck it in at the right side of your waist and let it fall downwards. 
Now drape the rest of the dupatta from under your left arm then bring it over the right shoulder. 
3. Cape Style Drape
Next up on our list of lehenga dupatta styles is this contemporary drape. This convenient drape style makes your silhouette look absolutely beautiful. Cape-style drapes are pretty in-trend this season. 
Method:
Wrap and pin your dupatta over each shoulder like a shawl or cape. 
You can leave the dupatta hanging.
Alternatively, you can tuck it over your wrists. 
4. Gujarat Style Drape
Mimic the unique Gujarati saree pallu style with your dupatta by draping it this way. One of the most favourite lehenga dupatta styles, this drape will give your outfit a chic and traditional look. This works best for heavy dupattas. 
Method:
Pleat and pin the dupatta to your right shoulder in a way that 3/4 of it is flowing towards the back. 
Now bring in the free end of the dupatta on the backside to the front, from the left side. Pleat it and tuck it in your lehenga. 
5. Around The Elbows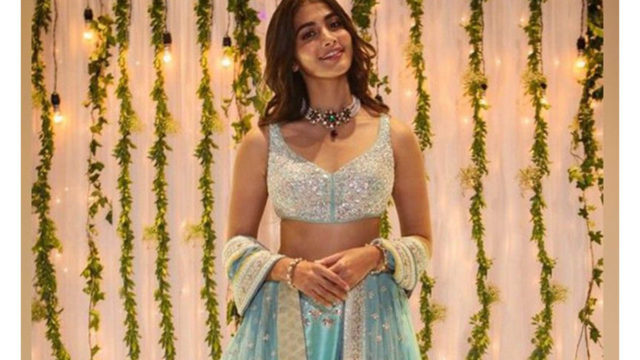 If you are in no mood to let anything come in the way of letting people see how gorgeous your lehenga is, just carry your dupatta around your elbows. This drape style works best for light dupattas. But mind you, this style may make it a little inconvenient for you to move around with ease. 
6. Around The Neck Drape
One of the chicest and most comfortable lehenga dupatta draping styles is to simply wear it around your neck. This is the perfect choice when you want to show off your outfit without any obstructions. 
Method:
Simply fold the dupatta and wear it around your neck. 
Alternatively, you can pleat the dupatta on one side and leave it open on the other before putting it around the neck. 
7. Over One Shoulder Drape
Another classic draping style that allows you to move freely without worrying about settling your dupatta again and again. This drape is highly recommended if you are wearing a designer dupatta that you wanna show off. 
Method:
Pin your dupatta over one shoulder. 
Let it fall freely.
Alternatively, you can pleat your dupatta before pinning it at the shoulder. 
8. Styling Two Dupattas
Another style similar to a saree drape, this drape will make you stand out among the crowd. All you have to do is make sure the two dupattas you choose complement each other. 
Method:
Pleat the heavier dupatta diagonally over one shoulder. 
Place the lighter one over your head. Pin it up to keep it in place. 
9. Cowl Gather Drape
Here is another solution to how to drape a dupatta on a lehenga. This classic dupatta draping style is the right pick if you want to keep it simple. It works well for all lehenga styles. 
Method:
Gather your dupatta like a cowl and pin it at the shoulders to secure it in place.
Alternatively, you can leave it open. 
10. Asymmetrical Drape
Here is how to drape a dupatta on a lehenga in a contemporary way. This drape style is the right choice for you if you are in the mood for some style experimenting and don't mind not showing off your blouse.
Method:
Make a pleated central drape at your right shoulder. Let the front end flow freely.
Now bring the other back end of your dupatta to the front. Let your left arm be covered under the dupatta. 
Drape it in off-shoulder cowl style. It should be wrapped around and finally secured at the right shoulder. 
8 Styling Tips To Transform Your Lehenga Look
Use these lehenga styling tips to slay at the next event you attend:
You don't have to stick to the set they come in. don't hesitate to change the blouse according to your preference. You can experiment with different styles, go for a contrasting colour code or choose a simpler blouse to bring down the bling factor. 
Fusion trends are in again so don't think twice before pairing your lehenga with a shirt. Lehenga skirts in pastel hues go extremely well with neutral-coloured blouses. For a more classy look, go with golden or copper silk shirts. Add a brooch to your collar to make your outfit look more festive. 
You can also create a fusion look by pairing your lehenga with a peplum blouse or adding a jacket to your outfit. 
Team up your lehenga with an asymmetrical kurta for a contemporary look. 
Lehengas with flared skirts work well for bottom-heavy women by balancing out the entire silhouette.
Darker-coloured lehengas with smaller patterns have a slimming effect. 
If you are on the taller side, try designer lehenga with heavily embroidered jackets and kitten heels. 
If you want to appear taller, go with lehengas that have short and thin borders, slim vertical pleats and come in light but popping colours. Pair your lehenga with shorter blouses. 
Choosing the right dupatta and draping it in a trendy way can transform your entire look! Whatever style you choose, the most important thing is to carry it with confidence! 
Open up like never before and participate in conversations about beauty, entrepreneurship, mental health, menstrual & sexual health, and more. Desi women, join our community NOW!