V-day is all about looking and feeling good. Wondering what to wear on Valentine's Day and make yourself stand out from the crowd? You may be suffering from the classic case of your wardrobe being full and yet you have nothing to wear on this day of love. Don't worry, you got this.
Whether you want to make do with something you already have or plan to go shopping, we've got you covered.
14 Makeup & Outfit Ideas for Valentine's Day
1. Paint The Town Red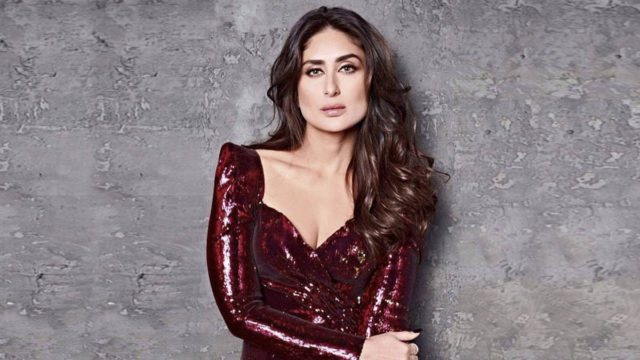 As cliche as it may sound, red is definitely your go-to colour on Valentine's Day. No, you cannot go overboard with red on this day! It's just the right day to wear the colour of love on this occasion. Well, that does not mean that you will accessorise your sultry red dress with bags, footwear, and lipstick of the same colour. In that case, you will run the risk of going way overboard with the colour. Go for a nude or black bag and heels, and nude makeup to look no less than a bomb.
2. The Evergreen Little Black Dress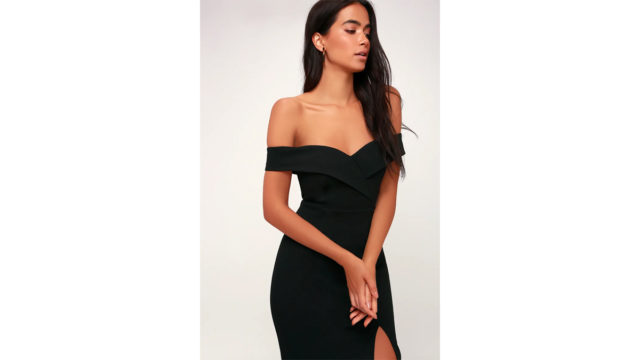 The list of Valentine's Day outfits will remain incomplete without the mention of the coveted LBD or Little Black Dress. Made famous by the ace American actress, Audrey Hepburn, wear it if you want it, or if you feel like you're confused about your outfit. After all, when in doubt, wear black.
3. Cute Li'l White Dress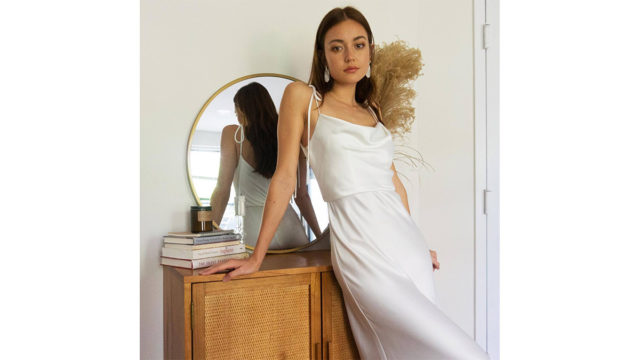 Ah, you've had enough of your Little Black Dress. This Valentine's Day, set yourself apart with a classy little white dress and see the magic that it will weave for you. Spice up your accessories with some chunky gold or silver jewellery to complement your dress, and you are all ready to strut out in style.
4. Playful Jumpsuits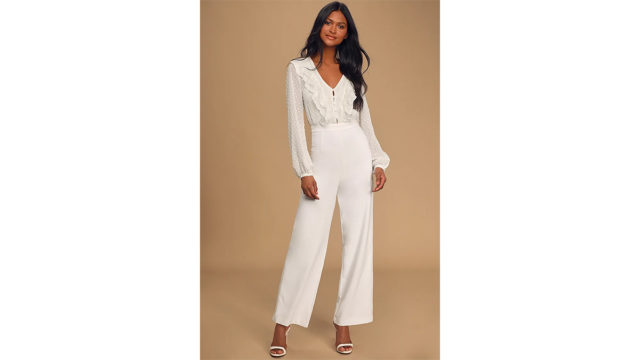 Jumpsuits have been around for quite some time now and are definitely here to stay. Wear a monochrome jumpsuit, or select a printed or floral one—this one's a definite winner for a classy dinner.
5. Boho Maxi Dress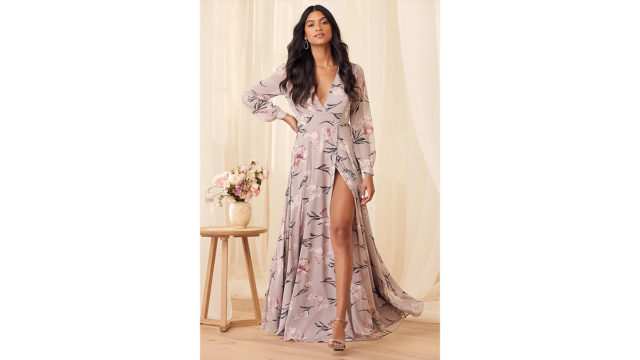 A maxi dress is well suited for women across ages and body types. It is very versatile and with a boho vibe make, it looks fun, flirty, and feminine.
6. Fashionable Twinsies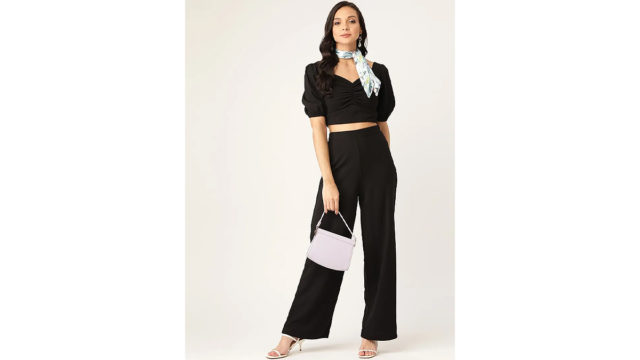 The matching crop-top-and-pants trend is grabbing the limelight this year. Opt for a well-fitted bustier top or a comfortable croptini, and match it with a coordinated bottom. You can break up the monotone with a colour block bag in red, or white.
7. Skirty, Flirty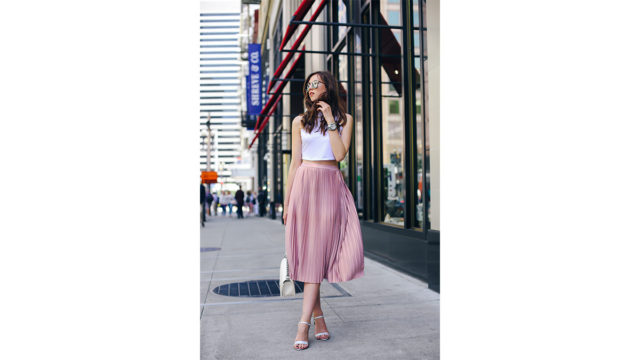 Yet another one of those versatile fashionable choices, you can never go wrong with a pretty pleated skirt. You can also opt for other styles like high-waisted skirts, pencil skirts, or skater skirts, depending on your body type.
8. Trendy Casuals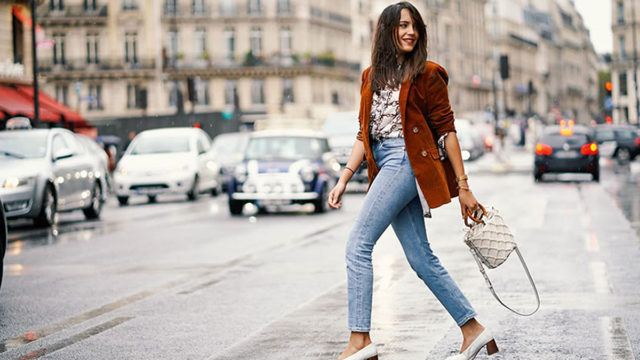 Who said that you cannot flaunt your chic denim on V-Day? It is a safe option that will always be in vogue. If you are not sure about what to wear for Valentine's Day dinner, denim is your answer. Complement your denim with an absolutely gorgeous shirt or blouse, along with cute makeup and footwear. Girl, you're ready to set the stage on fire!
9. Red, Red Lips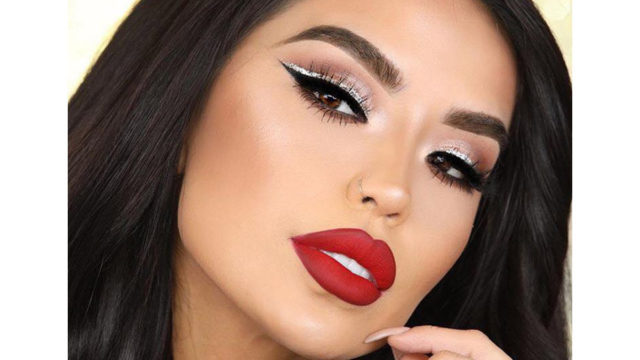 You cannot go OTT with even the reddest of all reds for your Valentine's Day makeup look. Balance the red of your lipstick with natural dewy makeup for the rest of your face.
10. Perfect Cat Eyes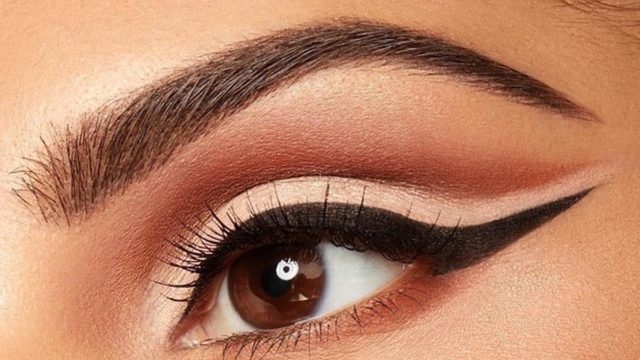 Painting a perfectly shaped cat-eye is no less than an art. Try it out innumerable times before V-Day to perfect the art, if you haven't mastered it already. Now you are ready to go out feeling like a million bucks.
11. Colour-Me-Bright Eyeliner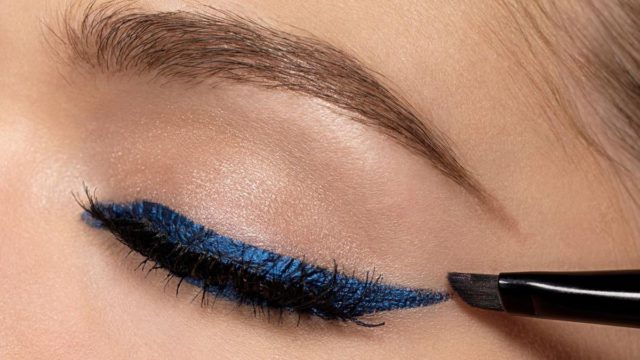 A good way to make your eyes pop or have them complement your outfit is to opt for coloured eyeliner. Blue, green, gold, pink, orange, all work well and in fact, you can skip the eyeshadow altogether when you're wearing a coloured eyeliner. Just create a nude or shimmer base before you draw it on.
12. Pop-up Dark Lipstick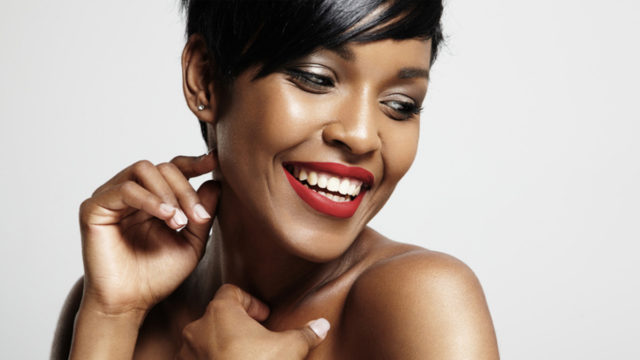 Stand apart from the crowd with a blackish-red lipstick that almost appears to be black lipstick. Complete the look with nude makeup to introduce the right balance.
13. Sultry Smokey Eyes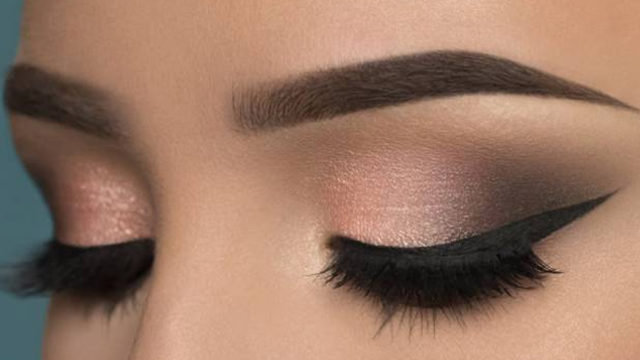 Planning to bowl over your partner with a sultry look? Smokey eyes are the way to go. Combine the black and gold shades to perfection on your eyelids to get a smouldering look. 
14. Nude, Barely There Lipstick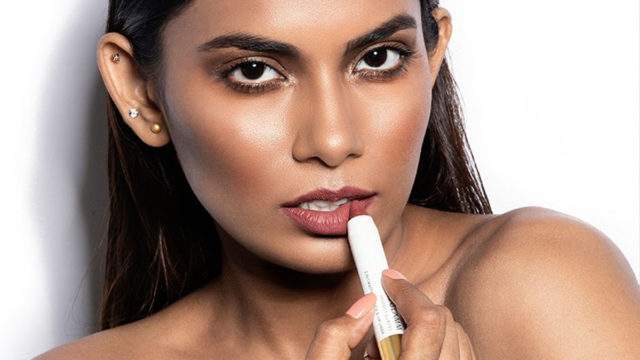 Make a fashion statement by hopping onto the 90's trend of bold nudes. Be it night or day, nude lipstick can make you the centre of attention, especially if you plan to wear dark coloured or shimmery outfits. Nude lipstick can help balance out heavy eye makeup, too.
7 Makeup Tips For An Impressive Valentine's Day Look
1. Use Foundation Before Concealer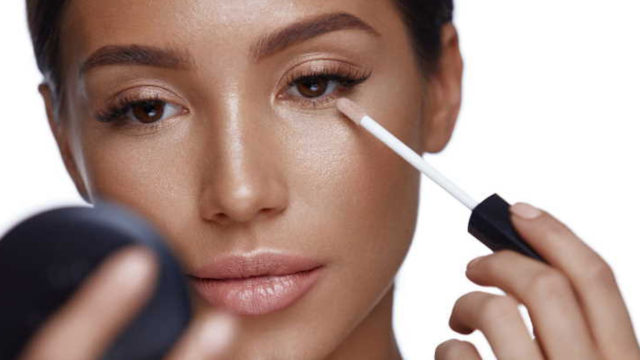 Applying foundation evens out the parts of your face that are red or discoloured. It serves as a smooth base for the rest of your makeup. Next, a concealer can be used to reduce any remaining redness. What's more, applying foundation before concealer acts as a quick fix for preventing your face from appearing cakey and full of creases.
2. Exfoliate Your Lips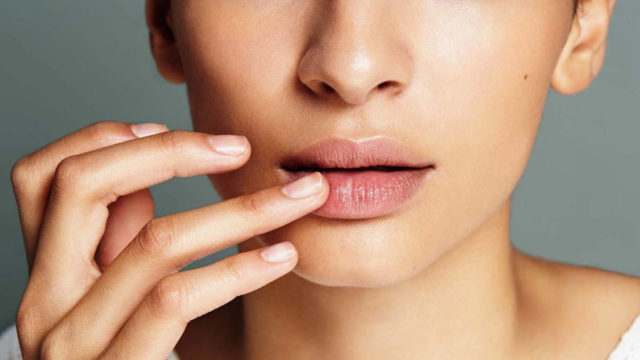 Imagine you are given a rough canvas to paint on. It would be difficult for you to make smooth strokes, right? Your lips are the canvas for your lipstick and you would be able to put on lipstick like a pro if you have chapped lips. Exfoliating your lips buffs away dry skin, helping the colour of your lips to appear even and smooth on applying lipstick. 
3. Highlight Your Eyes With A White Eyeliner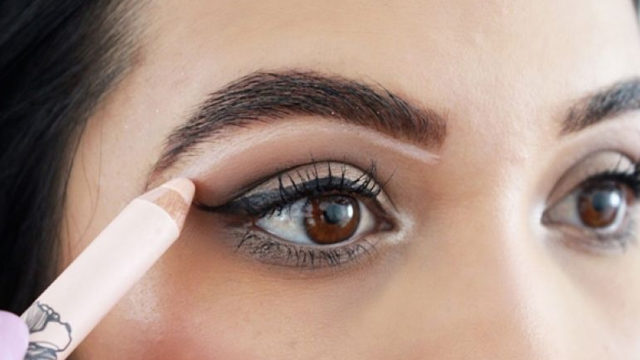 Apply a white eyeliner over your eyes and then dab on some eyeshadow on top. This will make a less pigmented eyeshadow appear vibrant, making the colour pop.
4. Melt Your Kajal On Flame For A Smooth Stroke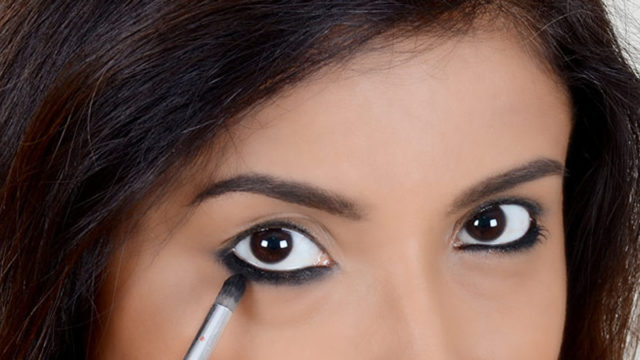 Your kajal or pencil liner is not smooth as a liquid liner. It usually takes multiple strokes for you to get a prominent colour. What can you do about that? Hold your kajal over the flame of a lighter for about one second, leave it aside for it to cool down, and then apply it for a smooth stroke.
5. Apply Heat To Your Eyelash Curler With A Blow Dryer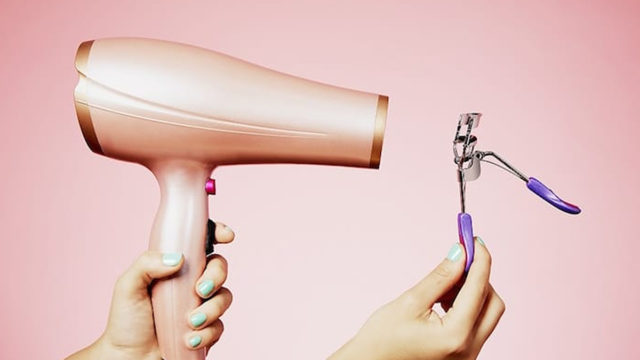 Blow hot hair on your eyelash curler and allow it to cool down a bit. Use this to curl your eyelashes, so that the heat makes your lashes curl faster and make it stay that way for long. Before applying the hot curler on your lashes, make sure that you test the temperature to prevent your eyelids from getting burned. 
6. Use Saline Solution To Revive Your Mascara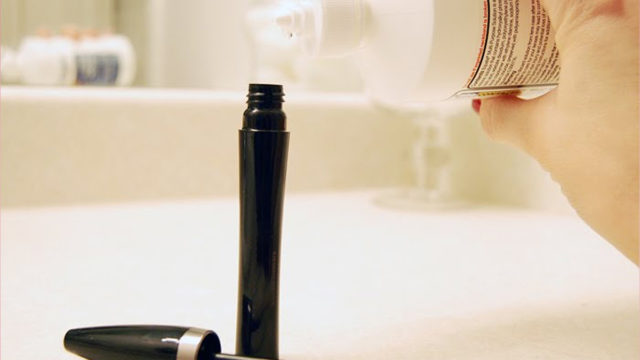 A tube of mascara is best used within a maximum of 3 months. After that, it gets dry and becomes a breeding ground for bacteria, which can cause eye infections. However, if your mascara, unfortunately, dries up within the first 3 months, fret not! Simply pour a few drops of a saline solution into the flaky mascara to get back its gel-like consistency. 
7. Prop Up Your Lashes With Translucent Powder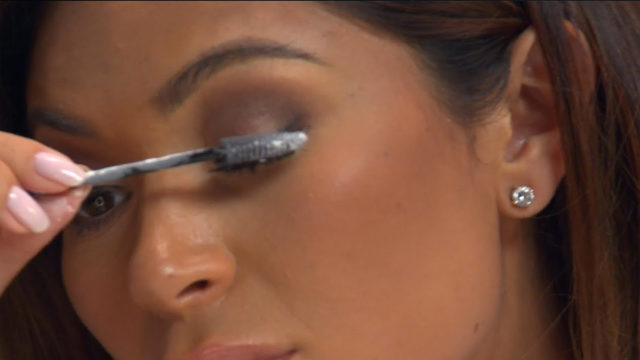 Shhh! Here's a secret tip for you to plump up your eyelashes. Apply translucent setting powder between coats of mascara. This holds the several layers of mascara together, making your lashes look more voluminous.
Get creative with the above Valentine's day outfit and makeup tips and make memories with your partner or single friends.