Woh din gaye jab shaadi ka poora tamjham had to be done by your family, especially the elders in your parivaar. That left you and your family with no time to enjoy the special day and moments, and the days leading up to D-Day. No wonder, all those days culminating to the final day of the wedding seem no more than a blur. Welcome to the time when wedding planners have fortunately taken away the immense stress involved in planning and organising weddings and all the pre-wedding ceremonies immaculately and well within time. So that you can indulge in some self-love and self-care and make beautiful memories.
Here are 10 online wedding planning sites that can come to your rescue when you're planning your D-Day.
1. WeddingSutra.com
One of the most renowned apps in planning weddings, roka and other pre-wedding events, the experts are trained to guide you through hassle-free wedding preparations. All they need is guidelines regarding your vision about the special days and traditions you want to follow for them to curate a package as per your plans and budget.
2. WedMeGood
WedMeGood is yet another popular choice that you can consider bringing your D-Day to life. To help you steer clear of the enormous responsibilities of putting a wedding together all by yourself, along with all the pre-wedding festivities, they are equipped with A to Z of wedding planning. Right from best-in-business event planners to photographers and makeup artists, they'll assist you with all of it.
3. Shaadionline.com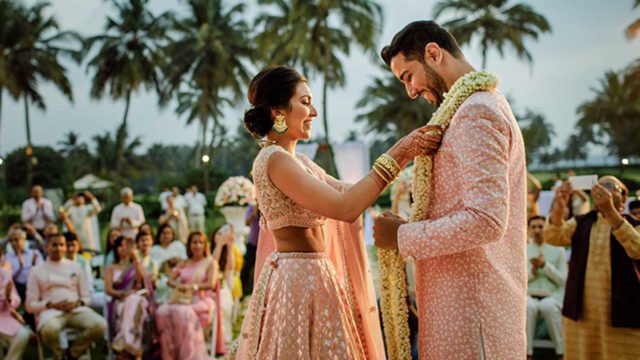 Shaadionline.com makes your wedding dream a reality with its immaculate organisational skills. With its offices spread across various Indian metros like Delhi, Mumbai, Bengaluru, and Hyderabad, they will be with you throughout the journey. Whether it be finalising the venue, mulling over the menu as per your tastes, trousseau shopping, decoration, photography, getting the havan kund in order, sending out the invites – they'll be there all along the way.
4. My Wedding Planning
They aren't one of India's most popular wedding planners without a reason! Armed with in-depth awareness about the rapidly evolving sensibilities of the Indian wedding industry and creative innovation, they bring art to fruition on your special day. With their global exposure, they plan your day exactly as you have imagined – completely contemporary, a blend of modern and traditional, or purely traditional. The choice is yours.
5. MyDreamShaadi.com
A personalised wedding website – sounds unique, doesn't it? That's exactly what MyDreamShaadi.com does. The website comprises every bit of information related to your D-Day – directions to the wedding venue, way to reach the exact location within the wedding premises, and every plan that you make for your day. This enables all your near and dear ones with access to the website to be an integral part of the process, be at par with the decisions being taken, and participate actively in the decision-making process. How wonderful is that?
6. ExoticIndianWeddings.com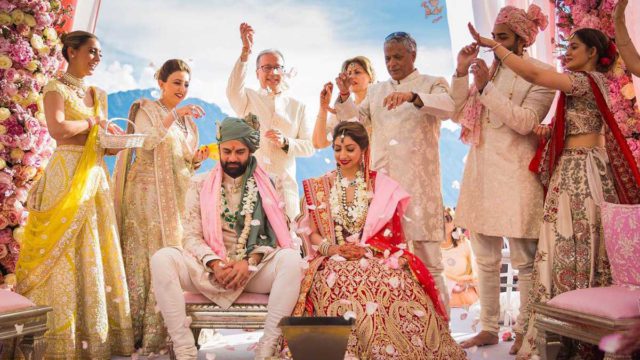 If you're looking for a destination wedding, ExoticIndianWeddings.com may be the ultimate find for you. A subsidiary of GeTS Holidays, the wedding planning experts here put their knowledge, skills, and energy to best use to organise an event that is straight out of your dreams. Want the feel of luxurious royalty at a plush Rajasthan palace? You have them. A beach wedding by the lashing waves of the ocean? You have their back. A mountain destination that enables you to celebrate among its grandeur? They can make that happen for you.
7. IndianWeddingPlanners.com
Whether you want a cosy intimate wedding or a glamorous wedding resplendent with all the glitz, this wedding planner is adept at planning your special day in exactly the way you want it to turn out. Whether you want a magnificent extravaganza or are looking for a day when you want to honour your traditional roots through a simple affair, or want a day when the play of firecrackers raises eyebrows, IndianWeddingPlanners.com helps you realise all your wedding dreams.
8. WeddingsInIndia.com
Watch your dreams of a fairytale wedding come true with WeddingsInIndia.com as you embark on a new, exciting journey of married bliss. Aim for the stars or plan an intimate affair, the wedding planner will turn it all into an overwhelming reality. From the major decisions like the wedding venue and food spread to the little nitty-gritties like mehndi artists, they are there to sort it all for you.
9. IndianWeddingSite.com
Looking for a wedding in the US? Your search probably ends here because IndianWeddingSite.com is specifically dedicated to planning weddings for South Asians in America. Keeping themselves updated with the latest trends in the global wedding industry, with special emphasis on Indian preferences, they can make your ethnic Indian wedding a truly global affair.
10. The Big Fat Indian Wedding
If the name of the wedding planner reflects how you want your wedding to be, der kis baat ki? To add to the perfect planning and execution to create those special moments of magic for you, you'll have a wedding website that will be curated to resemble a magazine. Now, how cool is that! Imagine a magazine made just for you with you featuring on the cover with your partner. Couple goals, ha? So, photography, writer, editor, et al. – you'll get the entire entourage.
Open up like never before and participate in conversations about beauty, entrepreneurship, mental health, menstrual & sexual health, and more. Desi women, join our community NOW!