While life is all about accepting changes and forging ahead, it's comforting to know there are a few special things you could always hold on to…like the bond you share with your father. If you have been missing out on opportunities to remind your dad how much he means to you, you get once special day every year to make up for it!
Every year, the third Sunday in June is dedicated to our dear fathers, celebrating the indispensable role they play in our lives. Make this day more special by showering your ol' man with a lot of love and a thoughtful gift! And if you are not sure what to bring him, here are 9 Father's Day gift ideas for you to #BeALittleMore and make things a little easier for you.
4 Best Gift Ideas For Your Dad On Father's Day
Add a personalised touch to your present with these ideas for handmade gifts for dad.
1. Theme Clock
Surprisingly, making a DIY clock is easier than you think. All you need are the right supplies. Themed DIY clocks are a great way to capture and represent a special moment or feeling you share with your dad and make amazing father's day gifts. If your dad is an adventure lover, he is going to love this adventure themed clock. But this is a basic guide. You can play around with ideas. Choose your own theme and personalise your clock your own way.
Things you need:
Old maps
Clock mechanism
Drill
Wood plaque (round, about 11 inches)
A colored printout of a picture of you and your dad
Glue
Method:
Drill a hole right in the middle of the plaque. The hole should be large enough to fit the clock mechanism.
Paint the rim of the plaque with a colour of your choice. You can also add a golden tinge along the edges once the pain has dried up.
Now cut out a circular piece from the map, big enough to cover the plaque.
Now cut the photo copy of your picture into a circle. It should be smaller than the surface of the plaque.
Now stick the cut out from the map on the plaque and let it dry.
Once dry, stick the cut of the picture (photocopy) and stick it in the centre, on top of the map cut out. Let it dry.
Now poke hole through the cutouts and attach the clock mechanism.
Attach the hands of the clock.
If you want, you can put a sequence around the photo cutout.
Your adventure clock is ready!
2. Pre-Shave Oil
Searching for simple and useful gift ideas for dad? This DIY pre-shave oil is just what you are looking for. Your super dad deserves everything the world has to offer…including soft and healthy skin! This amazing pre-shave oil can be used as an alternative to shaving gel. While this recipe is pretty basic, don't hesitate to experiment with different carrier oils and essential oils. Choose whatever works best for your ole man!
Things you need:
Grapeseed oil
Olive oil
Sandalwood essential oil
An empty bottle
Method:
Mix 1 part grapeseed oil and 1 part olive oil.
Add in a few drops of sandalwood essential oil.
Pour the mixture in the bottle. Your pre-shave oil is ready!
You can put on a customised label on the bottle to make your little git extra special.
3. Tie Rack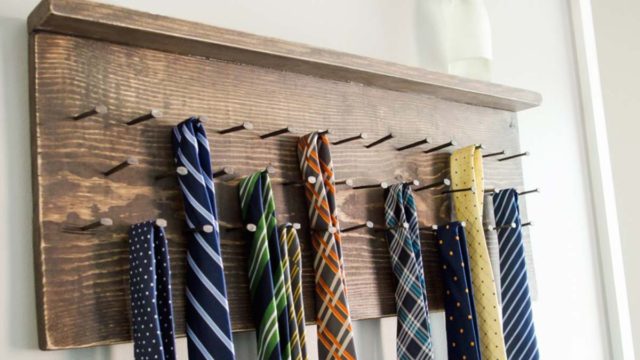 If most of your father's day gifts have been a tie so far, stir things up this year and give him this DIY tie rack instead. Here is how you can make a personalised tie holder for your main man!
Things you need:
2 boards (main piece 1 X 12 inches and ledge 1 X 3 inches)
Wood stain
Wood glue
Brad nailer
Antique styled nails
Hammer
Pencil
Tape measure
Spray sealer (clear matte)
Method:
Cut your boards to about 27 inches long pieces. If you do not know your way around a saw, you can get it done by a professional.
Now sand the edges of the piece lightly.
Apply wood stain and let it dry. If you want, you can apply paint instead.
Apply glue along the top long edge of the main board piece. Make sure to spread it out.
Now press the ledge piece on top of the main piece so that the two pieces create an L.
Now use your brad nailer to place brads at equal distance across the top of the ledge, this should hold the pieces in place.
Leave the glue to dry for a few hours.
Now evenly mark the places on the board where you will be putting the nails.
Using your hammer, drive the nails into the main piece. Drive them in just enough to make sure they are secure. Remember to be careful and keep the nails as straight as possible.
Make a hole at both the top edges of your tie rack. If you want, you can add two hooks at the back instead.
Spray one coat of clear matte sealer over your tie rack to give it a finished look.
4. Trail Mix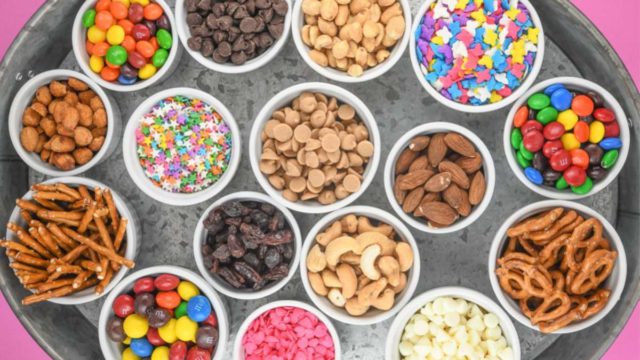 Here is a simple, no-fuss father's day gift idea for a no-fuss dad. Give your dad the gift of healthy snacking by making a customised trail mix, adding everything he loves. Put it in a customised jar and you are good to go.
Things you will need:
Nuts, dried fruit, chocolate, and seeds
Mason jar
Craft supplies for decoration.
Method:
Mix together the nuts and seeds. Choose what you think your dad will like. If you are not too sure, buy a readymade trail mix instead.
Print out a customised label and stick it on the mason jar. Add a cute message or a quirky brand name. Use ribbons (or anything else you prefer) to decorate the mason jar.
Your customised trail mix jar is ready.
5 Non-DIY Gift Ideas For Father's Day
Not too good at DIY? Don't worry. We've got you covered. Your dad is going to love one of these thoughtful Father's Day gifts.
1. Wireless Charging Station
This is the perfect gift for all the tech-savvy dads out there. With a wireless charging station, your dad will never have to waste time looking for his charging cable or plugging in all his devices one by one. Look for a powerful and sleek device that is compatible with all his gadgets including smartphone, smartwatch and wireless headphones.
2. Magnetic Wireless Power Bank
In today's time, one can never have too many gadgets. Right? A magnetic wireless power bank is free from the fuss and confusion of wires and cables. It simply attaches itself to the back of your phone and juices it up in no time. This useful and convenient present will surely make this special day a little more special for your dad.
3. Massage Gun
Everybody needs a little TLC every now and then, including your pops! Massage guns with a range of attachments to fit all his massage needs. Whether it's for muscle strain and pain or some much needed post-workout relaxation, this could just what your dad' needs.
4. Sleep Aid Device
While you can't make up for those nights your father spent awake worrying about you, you can give him a sleep aid device to help him sleep better. If your ol' man is having sleep issues, this device could help him fall asleep naturally in a matter of minutes. From light based technologies to white noise machines, there are so many options for you to choose from. Do a little research and read customer reviews to find out what works best.
5. Coffee Maker
What's a better start to your dad's day than treating himself with a hot and flavourful cup of coffee? These amazing ideas for best father's day gifts will make it easier for your dad to prepare his morning cuppa and remind him how much you care for him every morning!
At the cost of sounding cliche, let's not forget that the best thing you can give your daddy dearest is your time. Make the day more special by spending it with him, doing what he likes! A thoughtful father's day gift idea is just an added bonus!
Open up like never before and participate in conversations about beauty, entrepreneurship, mental health, menstrual & sexual health, and more. Desi women, join our community NOW!