Lord Shiva is believed to be partial to the month of Sawan or Shravan. As a result, he is worshipped throughout this month and devotees also observe fast out of respect for him. The day is important for both married and unmarried women, and they observe the day for different purposes. This year, in 2023, Mangala Gauri will be celebrated between 29th July, Thursday to 3rd July, Monday.
Let's discuss the origin and significance of the day, vrat vidhi, and how it is celebrated.
Significance Of The Day
Worshipping of Lord Shiva, also referred to as Rudra, holds great importance for women, both married and unmarried. According to folklore, Goddess Gauri or Parvati observed various fasts to get Lord Shiva as her husband. From among these fasts, Mangala Gauri Vrat holds great significance and auspiciousness.
Mangala Gauri Vrat Vidhi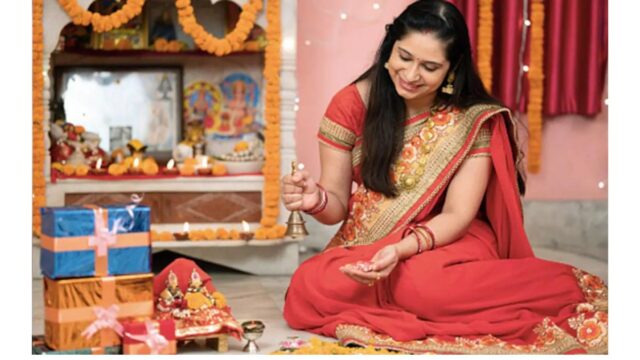 On the day of the fast, devotees wake up early in the morning to take a refreshing bath and then wear clean clothes. Most preferably, red clothes.
Pictures or idols of Lord Shiva, Goddess Gauri, and Lord Ganesha are established at the puja place after cleaning it thoroughly. The pictures or idols are wrapped in a clean, red cloth.
A lamp with 16 cotton wicks is lit.
Women should then take a vow to keep the fast with all their devotion for the long lives and happiness of their husbands. The Goddess is worshipped through the performance of a puja with Shodoroshopochar rituals.
Women should make nine heaps of rice as a symbol of Navagraha, on a clean red cloth placed on a clean plate.
Next, 16 heaps of wheat is made, which represents Matruka.
The kalash is then placed on the opposite side.
Lord Ganesha is worshipped first, after which he is offered Bhog in the form of naivedya, which includes Haldi, kumkum, Akshata, water, sandalwood, vermillion, betel nuts, rice flowers, cardamom, bael leaves, fruits, nuts, and alms.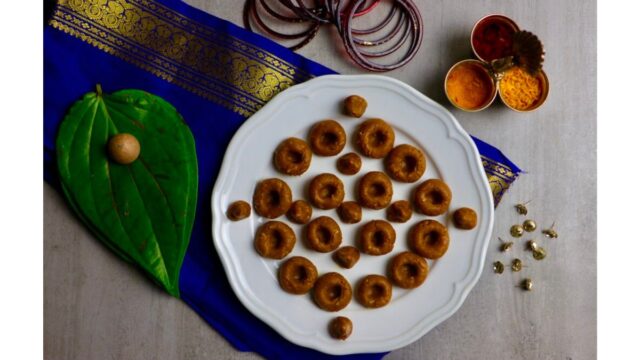 9. The navagrahas are worshipped next, followed by the 16 Matrukas, wherein puja is offered to 16 goddesses.
10. After this, the pictures/idols of Goddess Gauri and Lord Shiva are dipped in a mixture of milk, Ganga jal, and curd.
11. The Goddess is offered vermillion, turmeric, henna, mirror, comb, bangles, and fruits, while Lord Shiva is offered Bhog.
12. After the puja, women listen to the story of Mangala Gauri or Mangala Gauri katha.
13. The first should be observed in 5 consecutive years. After the last puja, the pictures / idols should be immersed in a pond or river.
14. Thereafter, turmeric, vermillion, and prasad is distributed to other married women
Mangala Gauri Vrat Katha
As per the scriptures, there was a wealthy merchant and his beautiful wife who were childless. They performed penance and , finally, they were blessed with a son. However, their blessing was supposed to be short-lived because the son's death in his 16th year due to snake bite was predicted by astrologers. Having forgotten all about this prediction, the couple married off their son with a girl. This girl used to keep the Mangala Gauri vrat, due to which Dharmapal and his wife had completely forgotten about the astrological prediction. It was also because of this fast that Dharmapal's son's death prediction was eliminated. The young couple lived for a hundred years and enjoyed a happy married life. This is the Mangala Gauri Vrat katha that is enumerated towards the end of the vrat vidhi.
Benefits Of Mangala Gauri Vrat
Married women are blessed with a long and prosperous married life.
Protects devotees from medical conditions related to blood.
It helps in reducing financial debts, enemies, lawsuits, and brings wealth.
The rituals aids in minimising the adverse effects of Mars, especially in those who have Mangala Dosha in their horoscope.
Manglik Dosha in the horoscope is also reduced by keeping this vrat.
Unmarried women observe the fast wishing for a good husband.
It boosts peace of mind and brings about a spiritual awakening.
Mangala Gauri Popular Dance Moves
After the puja, women participate in games as a part of the celebrations. In Maharashtra, these festivities are known as mangalagauriche khel. This involves singing, dancing, and games like pinga, jhimma and fugadi. Some of the game ideas are as below:
Form a circle with your group of women of nine, while one of you stands in the middle of the circle. Tie a dupatta around the waist of the person in the middle and 9 more dupattas – one of each of these dupattas will be held by the 9 women surrounding her. These 9 women represent the 9 Durgas. The women sing and dance in circular movements.
One devotee holds another devotee's big toe finger in between her big toe finger and the second finger.
Games with the rolling pin.
Women stand in two queues, with a distance of a hand to separate them. This serves as the tunnel for other women to pass through it. And games are played involving this idea.
Mangala Gauri puja is a much sought after by married and unmarried women, praying for the long-life and contentment of their husbands and for seeking out a good husband respectively. You can follow the puja vidhi by waking up early in the morning and having a bath to purify yourself, and then do Mangala Gauri decoration for the puja place. You can then start fasting as per the rules and in the anime of Lord Shiva. Next, you need to strictly abide by the vrat vidhi and know the Mangala Gauri vrat katha to look forward to a happily married life.
Being aware of the vrat katha helps you understand the meaning behind keeping the fast and performing the puja, amidst the Mangala Gauri decoration at home. If you decide to keep the fast for 5 consecutive years in pursuit of a good husband, do it with all your sincerity and piousness, without which you will not be able to reap the benefits of the fast. So, search for some Mangala Gauri decoration ideas online or let your creativity fly, and perform the fast and puja mindfully.
Open up like never before and participate in conversations about beauty, mental health, menstrual & sexual health, and more. Desi women, join our community NOW!