Durga Puja, also known as Durgotsav, is a grand festival dedicated to Goddess Durga, a divine feminine force who symbolises strength and the triumph of good over evil! Spanning a whopping 10 days, Durga Puja involves Durga Ashtami, elaborate decorations, cultural performances, and prayers offered to the goddess in beautifully crafted pandals. This 10-day celebration comes to an end with the immersion of Durgaji in water bodies.
Navratri is a vibrant festival that's celebrated across India, and even in other parts of the world. The word Navratri means "nine nights," and is a nine-day festival devoted to Goddess Durga in all her various forms. Each day is dedicated to a different avatar of the goddess, and people fast, perform prayers and enjoy traditional dances like Garba and Dandiya. Navratri represents the battle of Goddess Durga against the demon Mahishasura and is celebrated with fervour, music, dance, and gorgeous colourful attire.
Durga Ashtami Significance
Also known as Maha Ashtami, it's quite a significant day in Durga Puja celebrating the divine feminine energy of Goddess Durga. Durga Ashtami significance is on the eighth day of Navaratri, when special prayers, offerings, and rituals dedicated to the goddess are performed, along with Kanya Pujan symbolising the presence of the goddess in innocence. The significance of Ashtami is the triumph of good over evil.
How To Perform Durga Ashtami Puja At Home?
Durga Ashtami is also known as Maha Ashtami and is an important festival dedicated to Goddess Durga. Ahoi Ashtami puja is celebrated on the 8th day of Navratri, and you can easily do the puja at home following these directions:
Preparation:
Before beginning the puja, take a bath and wear clean and new clothes.
Set up a clean and dedicated space in your mandir for the puja. Place Goddess Durga in the middle and decorate the area with flowers, agarbatti, and diyas for the Ashtami puja decoration.
Durga Ashtami Puja Vidhi:
1. Pran Pratishtha:
Begin the Ashtami puja by chanting prayers and mantras dedicated to Goddess Durga.
2. Kalash Sthapana:
Place a Kalash (a pot filled with water) and decorate it with mango leaves, haldi, and sindoor to represent her presence.
3. Ganesh and Kalash Puja:
Perform Ganesh Puja and Kalash Puja to seek their blessings and remove all your obstacles.
4. Invocation of Goddess Durga:
Chant Durga Suktam, Durga Chalisa, or any other specific prayers for the goddess.
5. Naivedya (Offerings):
Offer a prasad of fruits, sweets, and other vegetarian dishes to the goddess as Naivedya on Ahoi Ashtami puja.
6. Durga Ashtami Aarti:
Perform Durga Aarti with singing/chanting, an aarti, and lots of bells.
7. Chanting and Mantra Recitation:
Chant Durga Mantras such as "Om Dum Durgayei Namaha" or any other preferred mantra for a specified number of times (usually 108 times).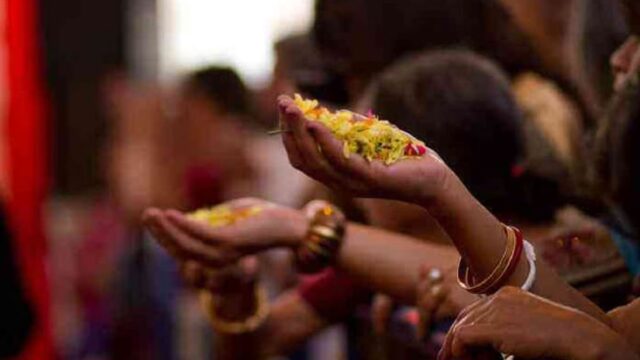 8. Pushpanjali (Offering Flowers):
Offer flowers to the goddess while chanting her name or mantras.
9. Seek Blessings:
Pray to Goddess Durga for health, prosperity, and protection, in addition to seeking her blessings for you and your family.
10. Distributing Prasad:
After the puja, distribute the prasad among your family members and guests.
11. Visarjan:
Thank Goddess Durga for her presence, bid her farewell, and then pour the water from the Kalash in your garden or a sacred place.
5 Other Traditions Followed On Durga Ashtami
Apart from Kanya Pujan and bhog, there are several other rituals, traditions and customs that are followed on this day additionally:
1. Sandhi Puja
Sandhi Puja is performed at the end of Ashtami Puja (eighth day) and the start of Navami (ninth day) during Durga Puja. It is believed that during this specific moment, Goddess Durga killed the buffalo demon Mahishasura, and that's why sandhi puja is a powerful ritual that lasts for 48 minutes and combines the tithis of Ashtami and Navami. Devotees perform elaborate offerings and prayers during this time.
2. Recitation of Chants and Mantras
All the devotees often gather to read sacred texts, chants, and mantras dedicated to Goddess Durga on Ashtami. The recitation of Durga Saptashati (also known as Devi Mahatmya or Chandi Path) is considered auspicious during this time.
3. Homam and Yagna
Some devotees perform havan (fire ritual) or yagna (sacred fire ceremony), which is also an offering to Goddess Durga, seeking her blessings and protection.
4. Events and Celebrations
In many places, events, dance performances, and music concerts are organized to celebrate the occasion of Durga Ashtami.
5. Fasting
Many devotees take a fast on Durga Ashtami, called a vrat, and they only consume specific foods and abstain from grains and non-vegetarian items.
How Is Kanya Pujan Performed?
Also known as Kumari Puja or Kanjak Puja, it's a ritual that is usually performed during festivals like Navratri and Durga Puja. It involves worshipping young girls who have not yet reached puberty, symbolizing divine feminine energy. Here is how it is usually performed:
Preparation:
Invite a specific number of young girls (usually nine, representing the nine forms of Goddess Durga) to your home for kanjak puja.
Cleanse the space where the ritual will be performed, and decorate the area with flowers, rangoli, and other festive decorations.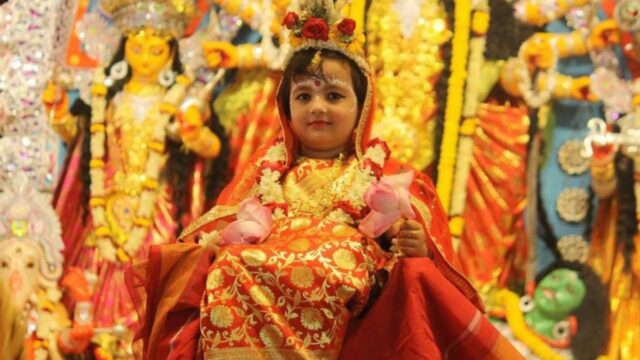 Kanya Pujan Ritual:
1. Welcoming The Girls:
Greet the young girls warmly as they enter the space, and after that offer them seats and wash their feet as a mark of respect and purification. Arrange seating for the girls in a row, on a platform or mat. The girls are often dressed in traditional attire with bangles and bindis, along with flowers.
2. Abhishek:
Perform a small abhishek (ritualistic bath) for each girl using water, milk, yoghurt, honey, and ghee. This symbolic purification ceremony is done just on their hands.
3. Tilak And Offerings:
Apply a tilak (vermilion mark) on the girls' foreheads and offer each girl new clothes, sweets, fruits, and other gifts. Not only do the offerings symbolise respect and blessings, but sometimes also include a small token amount of money.
4. Feeding And Aarti:
Serve a meal of puri and channa with halwa, or prasad to the girls. It's considered highly auspicious to feed them and is a must. Before that, perform an aarti for the girls, and sing devotional songs for Durga Maa.
5. Seeking Blessings:
Seek the blessings of the young girls by touching their feet as a gesture of respect and humility for kanjak puja.
6. Distributing Prasad And Farewell:
After the ritual is over, distribute the prasad among family members and guests, and thank the girls for their presence and participation. It usually is a common practice to give small gifts or money as a token of appreciation to the girls, which can be accompanied by the prasad.
10 Bhog Items Offered On Durga Ashtami
The bhog items that are offered on Durga Ashtami are different in different areas, as everybody has their own customs and personal preferences. However, here are a few common Ashtami puja bhog items offered to Goddess Durga:
Kala Chana:
Black chickpeas cooked in a spicy and tangy gravy are a popular bhog item offered to Goddess Durga.
Poori:
Deep-fried bread made from wheat flour is often prepared and offered as part of the bhog.
Suji Halwa:
A sweet semolina pudding made with ghee, sugar, and water, garnished with nuts and cardamom.
Paneer Ki Sabzi:
Paneer cooked in a rich and creamy tomato-based gravy.
Kheer:
A traditional rice pudding made with rice, milk, and sugar, and flavoured with cardamom and nuts.
Alu Dum:
Spicy and tangy potato curry cooked with various spices.
Nariyal Ke Ladoo:
Sweet coconut balls are made with grated coconut, condensed milk, and cardamom.
Khichdi:
A one-pot dish made with rice, lentils, vegetables, and spices, often served with ghee and pickle.
Puri Sabzi:
Deep-fried bread (poori) is served with a spicy potato curry.
Besan Ke Ladoo:
Sweet gram flour balls are made with roasted gram flour, ghee, sugar, and cardamom.
As we know, Durga Ashtami is quite important in Hindu traditions and also represents the victory of good over evil, along with the worship of divine feminine energy. This wonderful festival is celebrated with many rituals, pujas, dances, and celebrations, in addition to bringing communities together in tradition and joy. These traditions not only deepen the connection but also remind us of our great culture and its richness during this auspicious occasion.
Open up like never before and participate in conversations about beauty, mental health, menstrual & sexual health, and more. Desi women, join our community NOW!