Flaxseeds ke health benefits are known to everyone. From health bloggers to fitness influencers, they're all raving about it. But did you know flaxseeds can work magic for your hair as well? That's right, ladies.
Flaxseed or linseed or common flax is an old crop grown in colder regions that is rich in fibre, omega-3 fatty acids, antioxidants and protein. Despite being high in nutrients, whole flaxseed is not easily absorbed by the body. As a result, it is ground into a powder or cold-pressed to make it easily digestible. There is currently limited study on the benefits of flaxseed, but there is no doubt that it is high in nutrients and filled with crazy goodness.
Here are 6 flaxseeds benefits for hair.
6 Benefits Of Flaxseeds For Hair
1. Increases Hair Elasticity
Flaxseeds are high in short-chain omega-3 fatty acids, notably alpha-linolenic acid, which is essential for hair follicle health. It improves the suppleness of the hair fibre, making it healthier, stronger, and more lustrous, as well as preventing breakage. If your hair lacks shine, is prone to breakage, and appears dry and brittle, these seeds can be of great help. Consuming or applying flaxseed to your hair can significantly alter the texture of your hair. You can use flaxseed for hair growth, strengthening and nourishing.
2. Prevents Split Ends
Flaxseeds are high in vitamin E and proteins, both of which are beneficial to the hair. It keeps the hair hydrated and nourished from root to tip, preventing split ends. Some experts call it a superfood for hair since frequent consumption of these seeds can give your body calcium, magnesium, manganese, iron, zinc, copper, and selenium, all of which are required for good hair growth. If split ends are a problem for you and trimming your hair isn't working out, try flaxseed for your hair in addition to a healthy diet and a good hair care routine to notice improvements.
3. Stop Premature Greying
Premature greying of hair is a prevalent concern these days, with women as young as in their early twenties suffering from it. Flaxseeds are high in nutrients such as proteins, minerals, vitamin B, and vitamin E, making it a hair-nourishing superfood. It keeps your scalp moisturised, inhibits premature greying, and addresses a variety of other hair issues. Who knew the solution to your grey hair problem has been sitting in your kitchen all along?
4. Say Bye-Bye To Itchy Scalp
Are dandruff and itching scalp making you nervous when you go outside? Ab aur nahi! One of the best flaxseeds benefits for hair is that it reduces infections such as dandruff, itchy scalp, cicatricial alopecia, and other scalp issues. Flaxseed's omega-3 fatty acids prevent flakiness in the scalp, creating a healthy environment for new hair strands to grow.
5. Prevent Hair Thinning
At times, it seems like your hair growth has become stagnant, and no amount of hot oil massages or hair packs seem to help your precious hair. If you are in a similar scenario, flaxseed can be of great help. Hair thinning can be caused by a variety of circumstances, but in women, hormone imbalance and menopause are the most common. Lignin, which is abundant in flaxseeds, functions as an antioxidant that controls hair loss and thinning caused by hormonal imbalance and menopause.
6. Makes New Hair Stronger
Eating flaxseed, which is high in soluble and insoluble fibres, can aid in hair development. It stimulates circulation on the scalp, which aids in hair development and avoids hair breakage. Flaxseed hair gel is commonly used to promote growth of new hair follicles. So, not just your existing hair, it nourishes and strengthens new hair too right from the bud stage.
Now you know why are flaxseeds good for hair. One of the best ways to use flaxseed for your hair is to use flaxseed gel. Here's how to use flaxseeds for hair:
4-Step Process To Use Flaxseed Gel For Hair
Step 1: Add two cups of filtered water to a pot, then 1/4 cup flaxseed and keep it on medium heat.
Step 2: When this liquid begins to thicken, add a tablespoon of lemon juice and continue to whisk.
Step 3: When the liquid has reached a gel-like consistency, take it from the heat and set it aside to cool.
Step 4: Once completely cool, filter and store the gel in a container. If you're wondering how to apply flaxseed gel on hair, it's nothing different from your usual hair gels.
Now you know how to make flaxseed gel, you can use this flaxseed gel for hair growth, hair taming.
5-Step Process For Using Flaxseed Oil For Hair
Another way you can use flaxseed oil for hair. Here's a step by step guide on how to make flaxseed oil for hair growth.
Step 1: Warm two teaspoons of flaxseed oil in a bowl; it is widely available in markets.
Step 2: Massage it into your scalp with your fingertips while it's still slightly warm. Apply to the lengths and tips as well.
Step 3: Wrap your hair in a warm, damp towel (soak the towel in hot water for a minute or two and wring out the excess water).
Step 4: Leave the cloth on your head for approximately 30 minutes. It allows the oil to penetrate deeper into the follicles.
Step 5: Lather up with a gentle shampoo. For best results, repeat two to three times each week.
5 Flaxseeds DIYs That You Need To Try
1. Flaxseed & Banana Hair Mask
Things you'll need:
Flaxseeds
Banana slices
Honey
Oil of your choice
Method:
Grind flax seeds into a fine powder and then combine it with cut banana slices.
Mix in honey and any oil of your choice to the flaxseed and banana mixture, and your mask is ready!
Part your hair into pieces and apply the mask to your scalp.
Leave the hair mask on for at least 2 hours before rinsing with lukewarm water.
For lush, nourished hair, use this hair mask at least once a week.
2. Lavender Oil & Flaxseed Mask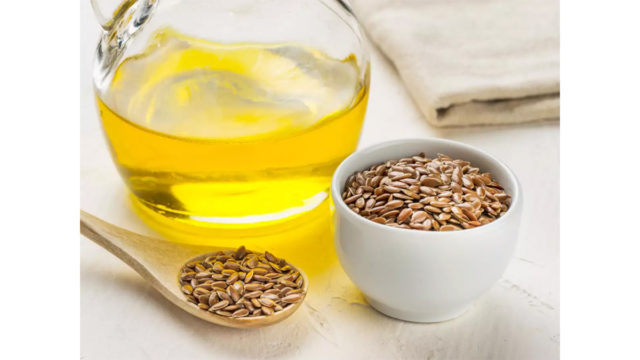 Things you'll need:
Method:
Mix 1/4 cup flax seeds with 2 cups water and boil this until a white froth appears and the mixture thickens.
Pour the mixture through a strainer into a bowl and let it cool.
Mix with warm lavender oil, and then apply it to your hair.
Allow this to sit for 2-3 hours to absorb into the hair.
Rinse your hair with a gentle shampoo and conditioner, and you're done!
3. Honey & Flaxseed Hair Mask
Things youll need:
Method:
Add half a tablespoon of honey and two tablespoons of yoghurt to a tablespoon of powdered flaxseed powder.
Mix it well and then apply this solution to your hair.
After 30 minutes, rinse with shampoo and conditioner and repeat once or twice a week.
4. Olive Oil & Lemon Juice Flaxseed Hair Mask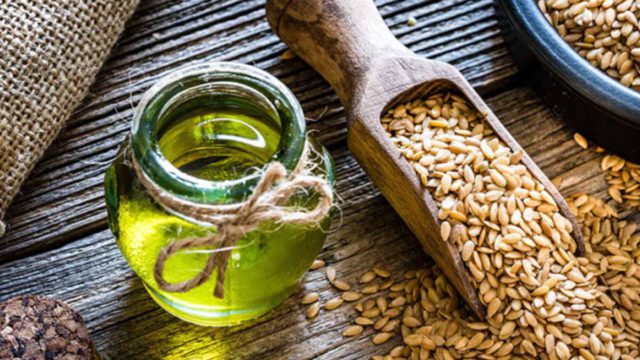 Things you'll need:
Olive oil
Lemon juice
Flaxseed powder
Method:
Apply two tablespoons of olive oil and mix it with half a teaspoon of lemon juice.
To this mix add one tablespoon of flaxseed powder.
Work it through your hair. After keeping it on for 30 minutes, wash it off with a gentle shampoo.
5. Flaxseed Hair Conditioner
Things you'll need:
Method:
Heat up one cup of water and allow it to gently boil before adding the flaxseeds.
Stir it constantly while it's boiling to achieve a gel-like consistency.
After 5 minutes, remove from the heat and set aside to cool.
Get a sieve to separate the seeds, now this liquid can be used as the hair conditioner.
5 Flaxseed Products You Shouldn't Miss Out On
After telling you about all the ways you can use flaxseed at home, it's time to share 5 great products that you should definitely invest in.
1. Crushed Tri-Leaf Winter Hair Oil
In this oil, elements are specially blended for winter and cold climates. Dasabuti oil has been infused for over 10 hours with fresh hibiscus leaves, neem, curry leaves, amla, shikakai, kapoor kachri, nagarmotha, harad, flax seeds, vetiver, kalonji, and more in a variety of oils including castor, sesame, and mustard.
2. The Pure Story Flax Seed Oil
The Pure Story Flaxseed Oil is 100% pure and natural cold-pressed flaxseed oil. This oil nourishes and conditions hair, making it smooth while soothing dry and irritated scalp. It also strengthens and volumises your hair.
3. KAYOS Flaxseed Gel For Curly Hair
The flaxseed gel helps you tame your dry and frizzy hair. You can style your wavy and curly hair with ease. It is cruelty-free and flaxseed's unique nutrients will also help you with hair growth and maintenance.
3 Possible Side Effects Of Using Flaxseeds
Although consuming and using flaxseed in any form doesn't usually cause any adverse effects, there are some possible side effects such as:
Digestive issues such as cramps, bloating, gas, diarrhoea, and constipation
Toxicity from unripe seeds resulted in lower blood pressure, an increased risk of prostate cancer, and a rise in oestrogen levels.
Blood thinners, cholesterol medicines, and insulin skin sensitivity to topical oils are examples of drug interactions.
FAQs
1. What are the benefits of flaxseed gel?
Flaxseed gel promotes faster and longer hair growth by nourishing the hair follicles. Flaxseed contains vitamin E, which nourishes the scalp while also reducing free radical damage. It is especially good for curly and wavy hair.
2. How should flaxseed be eaten?
It is best to consume flaxseed in powdered form. It can be used to provide a nutty flavour to daily foods like oatmeal, salads, and grains. Flaxseed, like any "superfood", is best consumed as part of a well-balanced diet.
3. Is it safe to consume flaxseed during pregnancy?
It is okay to consume a sizeable amount of flaxseeds during pregnancy because excessive amounts can mimic oestrogen in the body, causing hormonal disruptions. Because there has been limited study on the effects of flaxseeds during pregnancy, you should check with your doctor before incorporating it in your diet.
That was your guide to using flaxseed for your hair. #BeALittleMore closer to achieving your perfect hair with the power of flaxseed. Which DIY hair mask is your go to?
Open up like never before and participate in conversations about beauty, entrepreneurship, mental health, menstrual & sexual health, and more. Desi women, join our community NOW!