When was the last time you changed your curtains? We bet it has been quite a while. You must have sang parde mein rehne do, parda na khulwao (the parody of the old song, remember?) and missed changing the drapes for what feels like eons now. They are so often overlooked and yet they are one of the most important elements of your home. So much so that, without them, you complain of too much sunshine bearing down upon you, especially during the summers.
If you totally relate to not having changed your pardas for ages, it's time for you to take a relook and update them. And #BeALittleMore with your ideas for your home decor.
6 Popular Types Of Curtain Styles
There are hundreds of different types of curtains to choose from, in terms of designs and style. With so many types of curtains available, how can you choose suitable ones for your living room and dining room? Or for your bedroom? Some curtains serve just aesthetic purposes, while others have their uses in blocking light or creating section partitions.
Single panel curtain covers the entire window in one drape
Panel pair curtains take two separate curtains to cover the entire window
Blackout curtains completely block sunlight, giving you a restful sleep
Insulation curtains help in preventing energy such as heat and cold to escape or enter the room
Blinders have strings attached to the curtain rod or pelmet and these strings can be pulled to draw the curtains upwards
Grommets are curtains with circular holes in them to go into the parde ka rod
Phew! And these are just a few of the most popular styles of curtains.
If you're overwhelmed by these options and are looking for new curtain ideas, look no further as here are 7 different curtain decor ideas for your home.
Read 15 Pretty Ideas To Decorate Your Flower Pots & Plant Pots
7 Hatke Curtain Ideas
1. Dyed Curtains
Shibori-dye is a Japanese dyeing that is very popular these days. They have a clean, modern design that works nicely in any part of the house. Especially when you are looking for cotton curtains, which allow enough light to enter your rooms. Choose a bright or neutral colour for the dye that compliments your room well, and you'll be sorted in adding some quirk to your home decor
2. Sheer Curtains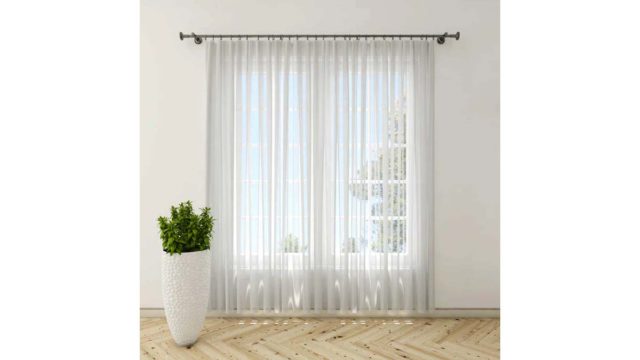 Sheer and semi-sheer pardas are the trend these days. To control the amount of light that comes through into your room, you can use a mix of light filtering and opaque drapes. You can upgrade to any type or combination of types based on your needs. Sheer curtains let in as much light as possible, which is like a breath of fresh air for homes where the weather is good all year.
3. Bold Patterns
If you want your curtains to be an eye-catcher, opt for bold patterns like bright geometrical, floral, colour-blocked or polka dot prints. These curtains can be used for making a statement. The designs will add another dimension to your windows. Throw along matching throw pillows and keep the other elements in the room as subtle as possible and you'll have a clean, elegant but dramatic room at your hand.
Read 10 Innovative Ideas Using Mason Jars To Spruce Up Your Home Decor
4. Frilly, Layered Curtains
Yes, this is the newest 'in thing' among curtain trends. These have horizontal lines of frills attached to a sheer curtain every few inches in regular intervals. These frills usually start halfway down the curtains. Unique, isn't it? Hang them in whichever room you want to and they will add their touch of quirkiness wherever they are. These impart a vision of space and make the room look larger than it is. Be mindful of the overall look of your room. You don't wanna overdo the decor with too many curtains of this kind.
5. Pom Pom Curtains
Pom poms are everywhere nowadays – on your clothes and on curtains as well. These are sewn along the hems of curtains to add a dash of cheer and quirk to them. Poms and be of the same colour as that of the base of the curtain or in complementary colours, or a riot of colours. If you fancy curtains with poms of a mix of colours, you can go for white, neutral or pastel-shaded curtains to allow the colours of the pom pom to pop out.
You can even try to add these pom poms at home all by yourself, taking on the challenge of a DIY project. Buy easy-to-sew laces and pom poms from a nearby art store. Get your glue guns and sewing machines and get working. Overnight you'll have brand-new curtains to flaunt in your room. They are easy to make and also affordable.
Read Mom Blogger Roopika Shares 10 Easy Home Decor Ideas For Busy Moms
6. Hippie-Printed Beaded Curtains
Curtains aren't just for covering windows and protecting the rooms from excessive sunlight. They are also used to divide spaces. Do you recall the beaded curtains from your old movies? Here's an idea! Choose hippie-themed or printed curtains to introduce a modern yet hatke twist to it. If you are the one to keep your room closed at all times, you can consider hanging some of these beaded curtains instead of locking your door to make your space appear larger.
7. Experiment With Accessories
If you don't want to change your curtains, or maybe all the curtains in one go, here's what you can do to introduce a fresh feel to the existing ones. You can go further than just getting different types of curtains by adding accessories like holdbacks and tie-backs. The sky's the limit to your imagination when it comes to exploring the styles, designs, and colours of your curtain accessories.
Curtains that are perfectly in sync with your personality and utility breathe fresh life into your home. They have the ability to completely transform the appearance of your room in a matter of seconds. So think about these above possibilities and see what works best for you. Have other quirky ideas that you would like to share? Leave a comment down below.
Open up like never before and participate in conversations about beauty, entrepreneurship, mental health, menstrual & sexual health, and more. Desi women, join our community NOW!