The new wave of 'vocal for local' proved to be a boost for Indian entrepreneurs. It has promoted local businesses during COVID-19 and given customers the ability and motivation to shop locally with ease. This rebranded version of 'Made In India' has our support, and every month, TC46 will spotlight small businesses and ventures you can champion and back easily through online and offline purchases.
Artists, entrepreneurs, visionaries and experts, Indian women are shattering glass ceilings and breaking out of boxes. Success, tied with skills and hard work, is what makes those featured in our list today an inspiration for many. And the journey, for these women of incredible talent, are stories that must be told.
This week, here are some brands we're cheering on; check them out!
Brand: Happy Puppy Organics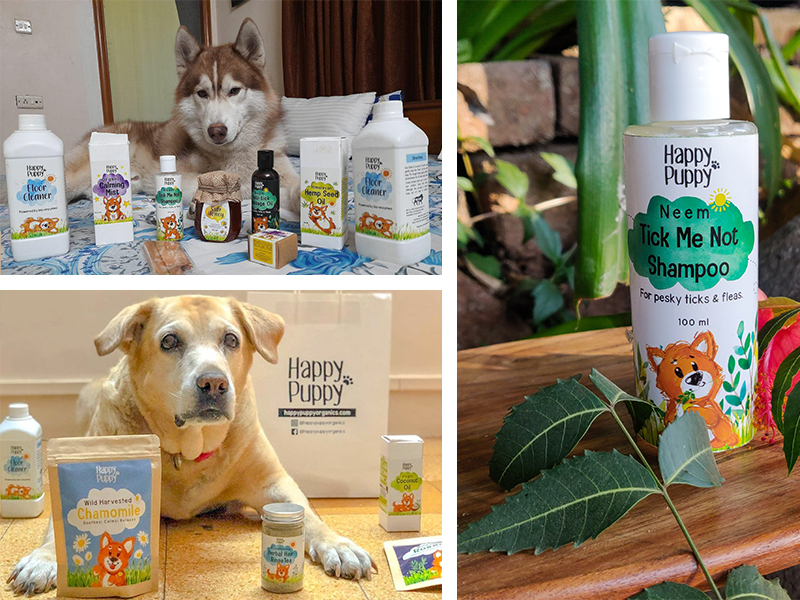 Founder Name: Drishti Brahmania
What They Offer: A range of handmade grooming, wellness and nutritional products for pets, including hemp.
TC46 Loves: Drishti's goal to ease her Indie dog Tiger's condition, who was suffering from atopic dermatitis, led to the creation of Happy Puppy Organics. With research, she learnt how horrifying the ingredients present in store-bought pet products are. She studied and took up courses on cosmetic formulation, aromatherapy and herbalism to create her own products that were all-natural, contained certified organic botanical ingredients and nothing toxic. Tiger's dermatitis healed in absolutely no time, like so many of the brand's clients! The target audience is anyone with a pet that wants them to have a better life and is looking for natural solutions.
Price: The average price point of the products is about Rs 299.
Availability: Get these pet products at the brand's official website, on Qtrove, SustainKart and other pet e-commerce sites or at the store in Prabhadevi, Mumbai.
Brand: Accessorize By Nidhi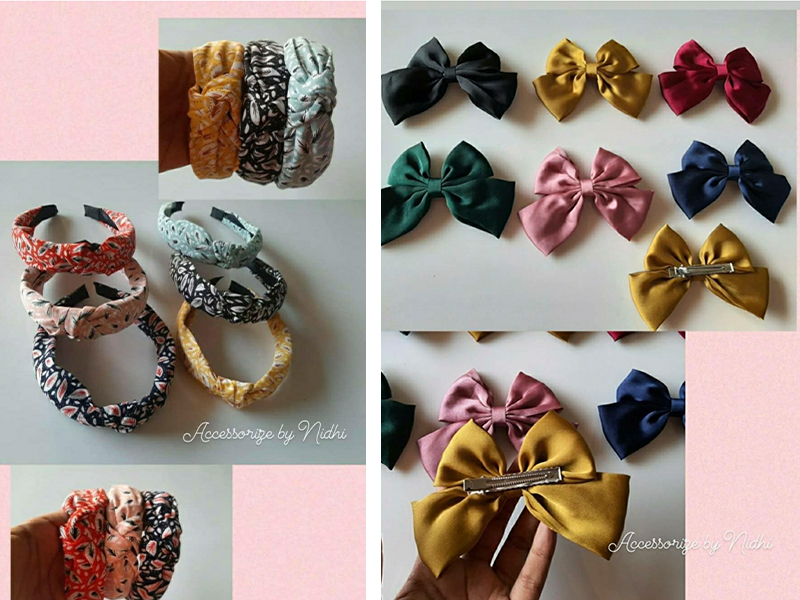 Founder Name: Nidhi Setia
What They Offer: Different kinds of hair accessories like hair bands, clips, scrunchies and bows.
TC46 Loves: During the initial phase of the lockdown in 2020, Nidhi was looking for some hair accessories at reasonable rates but she didn't find any that were within her budget. It then struck her that there could be many people like her who would want the latest or trendiest hair accessories at affordable prices. So she invested some money she had saved to start her own small business. Today, Accessorize By Nidhi has crossed more than three thousand followers on Instagram and also completed more than 450 orders. The brand is perfect for women of all ages and teenagers on the hunt for fun accessories on a budget.
Price: The products range from Rs 30 to Rs 350.
Availability: You can purchase the products via DMs on Instagram and WhatsApp and get them delivered anywhere in India.
Brand: Off The Platter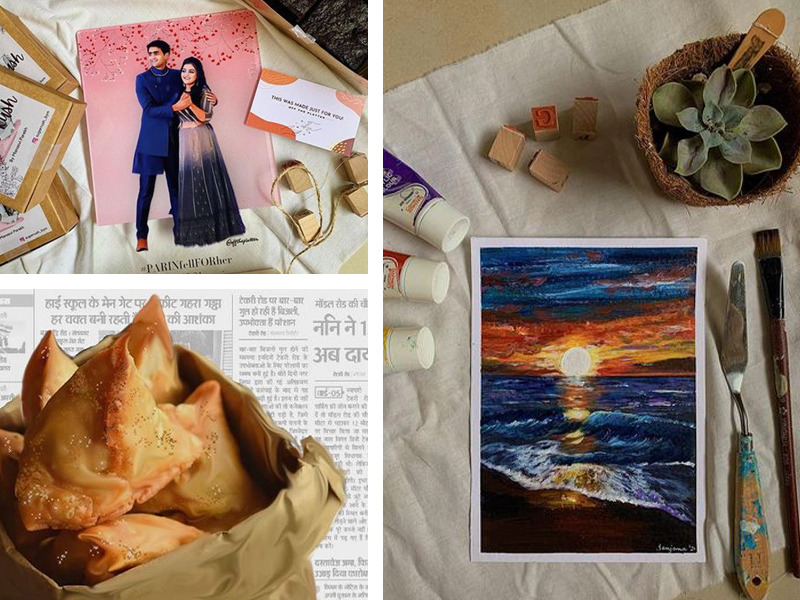 Founder Name: Sanjana Gandhi
What They Offer: Customisable illustration printed on a range of products like plaques, frames, MDF wall hangings, desk décor, stickers, phone covers and more.
TC46 Loves: Off The Platter is a project that Sanjana, a Clinical Neuropsychology student, started during the lockdown as an amalgamation of her passion for cooking and art. Essentially, it was a space to share her experiments with the palette as well as the palate. She recreated recipes in the form of varied food illustrations and later started experimenting with portraits. The key feature of the brand is to transform memories and pictures into personalised illustrations. The Spotify plaques were a best seller – capturing the essence of a bond with a customised illustration and a dedicated song. The brand grew to offer different products whilst maintaining the personal touch to each gift! As of now, the brand is based on Instagram and Facebook but it caters to anyone who wishes to add a personal touch to their gifting
Price: The best-seller Spotify plaques start at Rs 850 and the Easels at Rs 650.
Availability: You can place your order via Facebook and Instagram and get it shipped across India.
Brand: Paint Bee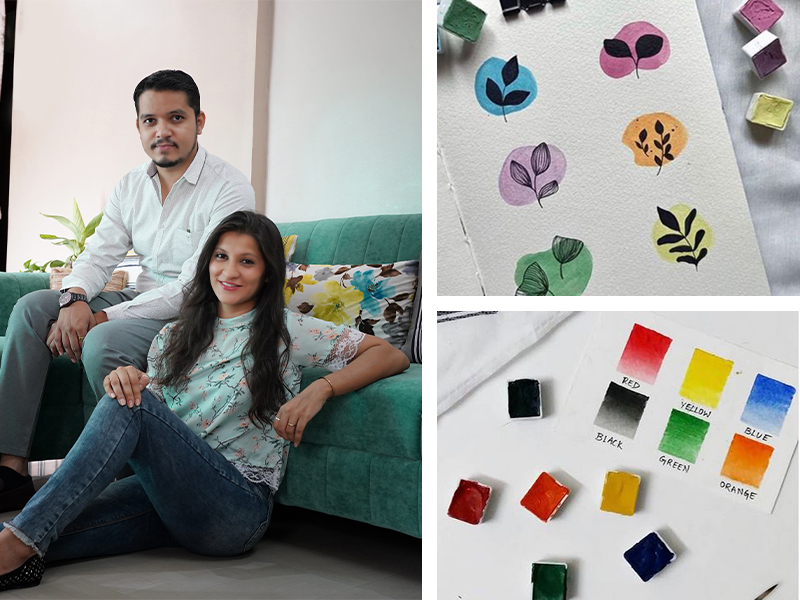 Founder Name: Akshata Kawdia
What They Offer: A wide range of products like artisanal watercolours to sketchbooks and dot cards along with portable and handy Bumblebee and Honeybee Palettes.
TC46 Loves: Founded by Akshata Kawdia and Kedar Jadhav, two childhood besties, in 2019, the whole idea behind this brand was of having an art supply that is portable, easy to use and fun to play with. Akshata is an Interior Designer by profession and a fabulous artist. Kedar is a Graphics Designer by hobby and a Real Estate Entrepreneur by profession. Akshata, an artist, made a list of things that she wished she had in any art supply, which was available in the market. This zeal and motivation to have a perfect solution led to the foundation of Paint Bee. The brand checks the lists of everything that a wanderlust, as well as enthusiastic artist, may desire to have in an art supply. From beginners to professional artists, from hobbyists to travellers, from students to working professionals, Paint Bee tries to cater for the whole stratum of the artist community. Paint Bee hasn't only targeted professional artists, but they have created their products keeping in mind the anxious beginner, professional artists, hobbyists, travellers, and students. Paint Bee caters to the whole stratum of the artist community.
Price: Paint Bee products range from as low as Rs 150 to an affordable peak of Rs 1,300.
Availability: Shop at the brand's official website. Or reach out on their interactive and user-friendly Instagram handle.
Here is a list of office desk decoration ideas, try these and see how your teams work with full enthusiasm.
Want us to be VocalForLocal for your brand or know someone whose work you'd like to cheer on? Drop us an email to be featured on The Channel 46 at [email protected].