Giving women a slice of the entrepreneurship pie is, really, the highest form of female empowerment today. Because let's be honest, is there anything more liberating than financial independence coupled with a sense of ownership?
We all know that women often have to hand over the financial reins to their partners or parents on and off, throughout their lives—it could be a variety of reasons. But whether you're a stay-at-home mom or on maternity leave, or maybe you're a newlywed who is left feeling unsettled and unemployed in the city your husband works. It could even be that your kids are all grown up and you have the time, but don't know where to start.
If you're looking to take back the reins and make some money of your own, you should check out Naario. A community-driven organic food brand that's helped many women become micro-entrepreneurs, micro-influencers, and even micro-sellers, Naario partners can earn anywhere from Rs 5,000 to Rs 35,000 a month.
Naario—Where Lijjat Papad Meets Tupperware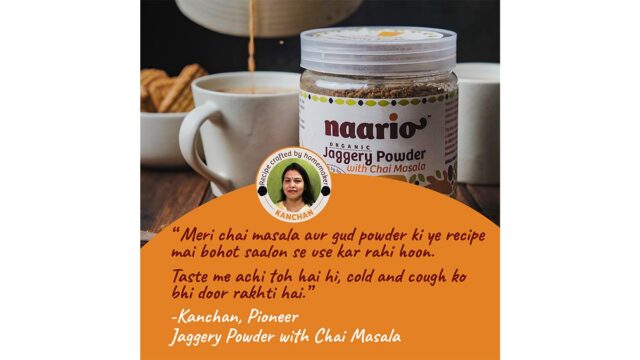 "How to achieve financial freedom and earn money?" Something part-time, preferably, and something that can be done from the comfort of your own home and at your convenience.
Well, Naario is the answer to all this… and more.
For the uninitiated, Naario is a platform that aggregates food products by women in women-run cooperatives. It could be a special pickle recipe, a spice mix, or even your signature coffee blend that you 'batch made' at home and sell through Naario.
Community-created and community-marketed, Naario is an organisation of women and by women, who are passionate about food and cooking. The platform helps you monetise this passion right from product ideation to marketing and distribution. Naario is known for its all-natural organic foods that are wholesome and healthy, which makes it a great place for customers, too.
For those of us who have lived through the Lijjat papad, Amway and Tupperware entrepreneurial revolution, how Naario works may be easier to understand. The biggest differentiators that make Naario so attractive to women who are looking for a way to make their own money are:
☑ No upfront investments
☑ No minimum targets
☑ No need to buy and stock products (the platform offers drop-ship)
☑ No need to worry about expired stock (the brand takes it all back so long as you request pick up, minimum 15 days before expiry)
☑ No long, tenuous onboarding process. 10 minutes is all you need to register to become a Naario partner or affiliate
It's a self-sufficient, end-to-end community of women who are driven by the entrepreneurial spirit. Naario partners are usually between the ages of 45-60, while their affiliate program is a huge attraction for 30-45-year-olds. Naario acts as a bridge between women who make the products, women who sell the products, women who promote the products, and the final customer. The brand offers their micro-entrepreneurs upskilling opportunities, learning and developments courses, and workshop training to improve their skills as small business women.
3 Ways Naario Helps Women Become Financially Independent
Here's everything you need to know about how to sell products on Naario, partner with them, or become a distributor:
1. You Can Become A Naario Partner & Work As A Distributor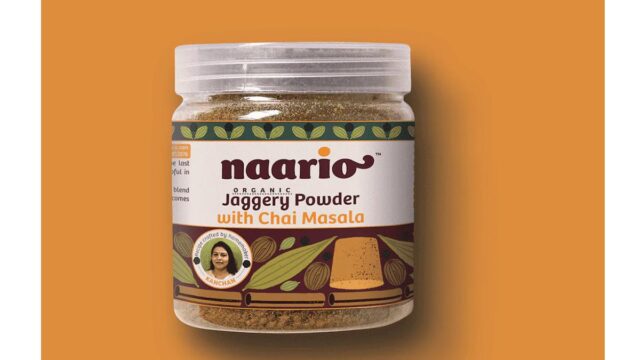 If you have the knack to sell, nothing beats becoming a Naario partner. You can directly sell products made by Naario vendors to customers. Get creative and sell through Whatsapp, word of mouth in your group, when you have your friends over for chai-time, or even on Facebook—you're only limited by your hustle to sell. Naario offers the option of drop-ship if you don't wish to stock the products at your home.
As a partner, you can expect to earn anything between Rs 25,000 and Rs 30,000 a month, without any upfront investments. The platform provides you with an extensive guide on how to gain financial independence through weekly training workshops to make you a confident, quick-witted seller. They will also send you prompts about events and trunk shows where you can sell to customers, and they help you set up the stalls and pop-up stores for the events.
2. You Can Become A Naario Affiliate & Work As An Influencer & Lead Generator For The Platform
If you have a following on social media and want to earn some money with minimal investment in terms of time, become a Naario affiliate. The platform will provide you with a unique code to track sales and leads and pay you a commission for influencing and mobilising your followers. It's like you're a mini brand ambassador and, are getting paid for it!
Naario supports you through monthly training sessions where they will help you turn the gift of the gab into compelling influencer marketing skills. You can expect to earn between Rs 5,000 and Rs 7,000 every month.
3. You Can Become A Naario Vendor & List Your Products On The Platform, For Free!
If you're wondering how to become a micro-entrepreneur through Naario, all you need is a good product; a recipe you can batch make at a Naario women-run cooperative. Naario has their own facility through which they help you manufacture your product at scale more efficiently. The platform allows you to list your products for free and only makes money when you make money. They mobilise marketing and promotions to get your product in front of customers and also promote you as a Naario micro-entrepreneur on their social media platforms. As a Naario vendor, you get paid a royalty for every product sold which you can use to extend your product line or increase your product volumes.
5 Ways Being Financially Independent Will Change Your Life—Other Than The Obvious!
Financial independence doesn't just buy you nice things, it buys you choices. The choice to design your life as you see fit. The choice to not feel stressed about how you're going to pay for your personal needs and for those you want to help monetarily. And the good news is, you don't have to be a millionaire to feel financially independent. As long as your income covers your expenditure, you are free, you are independent! Here are five things money can't buy but financial independence can give you:
Peace Of Mind: This goes without saying. Money isn't everything but it ensures a certain comfort in life that is unmissable. You can live stress-free and feel lighter and happier knowing that you're prepared for any challenges life may throw your way financially.
Independence: Making your own money reduces your dependence on someone else. You may choose to consult them about what you want to do with your money out of love and partnership, but you're not forced to do so out of obligation or because it's their money that is being used to pay for your wants and needs.
Freedom To Pursue Other Passions: You're already making the best use of the skill you have and enjoying a steady flow of income from it. But you may have other interests that you may like to work on or a new hobby that you are eager to hone. Some income at hand will enable you to learn a whole new skill and invest in it if necessary. Over time, this initial investment may fructify to become a separate source of income altogether.
Spread The Love: Who doesn't like to give gifts and assist dear ones in their time of need? From financial aid to happy surprises, you can bring joy to the lives of those you love from the money you're making.
You Can Invest In Your Future: Without income, there's no saving. And without saving, there's no investment in your future. And you should invest. Whether you choose to do it in a kitty, in an FD, or a SIP, the smartest way to have your money make money for you is to invest so that you can secure your future.
If you've been looking for a sign and wondering how to become a micro-entrepreneur, this is it! Sign up to be a Naario partner and get started on your journey to financial independence.
Open up like never before and participate in conversations about beauty, entrepreneurship, mental health, menstrual & sexual health, and more. Desi women, join our community NOW!