Do you know someone who smiles half-heartedly in pictures? Goes out of their way to cover their teeth? Is it someone you know or is that someone you? Your smile is one of the most (if not always the first) things people notice. And impressions matter.
It's very common for people to be embarrassed of their smiles because of their teeth. If you're not, good for you! But if you fall under the first group and have always wished to have that red carpet smile, this one's for you.
But the dazzling effects of smiles aside, taking care of your dental health is very important. Because your mouth is literally the gateway to everything that enters your body. Hence, it becomes super necessary to take extra care while dealing with oral hygiene. On this World Oral Health Day (20th March), read on to find out how to get white teeth and excellent dental health.
What Causes Yellow Teeth?
Before you jump to know how to get white teeth, let's talk about what your teeth are actually made of. (C'mon, it's actually interesting). There are two layers present, one is the outermost enamel, which can vary in thickness and has a natural white hue. The second layer under it is dentin, which has a slightly yellowish colour. And it's very common for people to have teeth with a slight yellow hue visible through the enamel layer.
Here are some factors that cause yellow teeth:
Plaque accumulation
Tooth decay
Eating a lot of sugar-based foods
Chewing tobacco and smoking
Brushing too vigorously
Grinding your teeth
Drinking dark-coloured sodas

Fikar not, here are 5 effective home remedies on how to get rid of yellow teeth
5 Home Remedies To Get White Teeth
Here are 5 tips and tricks to get started with teeth whitening at home:
1. Brushing With Baking Soda
There are few other household items as versatile as baking soda. It's a gentle polishing agent that can help remove surface stains from teeth. In addition to that, it also creates an alkaline environment in your mouth, which prevents bacterial growth. This isn't how-to-whiten-teeth-at-home-in-one-day-scheme, you'll have to invest some time to see the outcome. Toothpastes that contain baking soda are your answer to how to remove stains from teeth more effectively. (Check your toothpaste's ingredients). The more, the better.

How to whiten your teeth with baking soda? To use baking soda directly, mix one tablespoon of it with a little water to get the paste-like consistency. Use this paste as an alternative to your toothpaste a few days per week to get the best results.
2. Hydrogen Peroxide 
Now, beware while using this one. You might not know, but you've been using this chemical agent for years. How? It has antiseptic properties and thus has been helping you prevent wound infections. But how to remove stains from teeth using it, you ask? Alongside its healing powers, it's also a natural bleaching agent. Ah, now you get it! Hydrogen peroxide is an integral part of many commercially produced whitening products. Though the concentration you'll be using is far far less.
You can find 3% hydrogen peroxide solutions in chemical stores around you. Be really careful with it, dilute the chemical with equal parts of water. You can also use it with baking soda, by mixing two tablespoons of diluted hydrogen peroxide with one tablespoon of baking soda and using it to brush your teeth. Use it once or twice a week to see if you develop any side effects. Discontinue using it if so.
3. Oil Pulling
A desi mouth remedy, it originates from ayurvedic medicine. Followers claim that not only does it improve oral hygiene but also overall health. What exactly do you have to do? The practice involves swishing oil in your mouth and then spitting it out, something you'd do with your mouthwash. Traditionally til ka tel (sesame oil) is used to do it. But you can choose any other oil like coconut or sunflower.

Although no scientific evidence backs that it helps whiten your teeth, some studies have shown that it significantly reduces bacteria in your mouth that cause plaque and gingivitis. After all, try karne mein harz kya hai? For oil pulling, you simply have to take one tablespoon of oil at room temperature and pull it through your teeth. Make sure to discard it soon after.
4. Change Your Diet
Prevention is better than cure right? So before your teeth are stained by food items you consume, eliminate or reduce the intake of such. Food that contain tannins should be avoided are:
Coffee
Tea
Wine
Chocolates
Black coloured sodas
Food that contains acids wear down your enamel and make your teeth appear more yellow. So if you're very concerned about your teeth's appearance, you should keep a check on the consumption of citrus and coffee.
Additional tip: How to remove tobacco stains from teeth? Quit smoking. Stop using tobacco products as they're responsible for nicotine stains (Dont forget its other harmful side effects too!)
5. Brushing And Flossing
You'll probably say duh, you do that everyday and yet your teeth aren't white. It's probably because you're making some mistakes while doing so. Before jumping the brush, take a look at the do's and don'ts of how to clean teeth at home.
Here's an illustration for you to understand the do's and don'ts of brushing and flossing.
DO'S
DON'TS
1. Use toothpastes that contain sodium bicarbonate and fluorides

2. Brush twice daily (especially at night)

3. Tilt the brush at 45 degree against the gum line to remove all the plaque.

4. Replace your toothbrush every 3 months and make sure to use a soft/medium bristled brush
1. Don't brush too hard or you'll wear off that enamel before you're 80

2. Brush after 30 mins of eating (or wait longer)

3. Avoid brushing side to side to prevent gum scraping.

4. Don't rinse after brushing, let the fluoride in the toothpaste sit on your teeth.
Looking after your teeth is a lifetime task, you can't just do it once and leave the rest at the mercy of the tooth fairy. Here are some important tips to keep in mind after you've learned how to make your teeth white naturally for overall good dental health.
Tips For The Best Oral Hygiene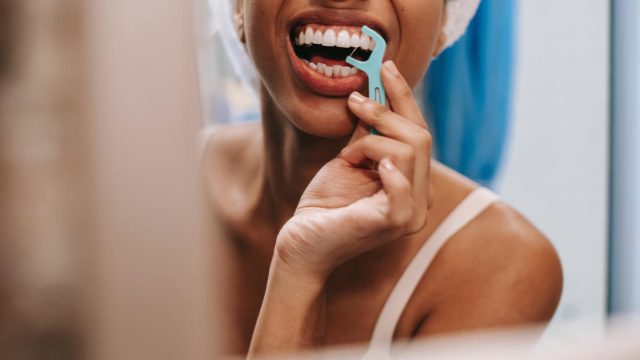 Brushing every night before you sleep
Don't neglect cleaning your tongue
Flossing is as important as brushing
Consider getting a regular mouthwash
Eat crunchy veggies and fruits
Restrict sugary and acidic food from diet
Go to your dentist every 6 months (yes, even if you're all good)
There could be varied reasons for your yellow teeth because of your genetic enamel makeup and lifestyle, or just lack of proper care. But hey! Now you know how to get rid of yellow teeth, and make your teeth healthier and whiter than they are now.
While most dental procedures for teeth whitening will involve vigorous bleaching (that can affect your teeth in the long term). If you see something like "how to whiten teeth at home in one day" or "how to whiten teeth with lemon" turn to the other side, because it's not going to happen overnight. Besides, you should stay away from using acidic items, as already mentioned previously. Home care remedies will do the work gradually but eventually.
Till that happens, don't let that come in the way of your smiling. #BeALittleMore confident and don't let anyone stop you from shining that dazzling smile.
Read A Complete Guide On How To Maintain Good Dental Hygiene
Open up like never before and participate in conversations about beauty, entrepreneurship, mental health, menstrual & sexual health, and more. Desi women, join our community NOW!