Be it the bride brigade or the groom's entourage, everybody considers haldi to be the most fun and enjoyable pre-wedding ritual. This vibrant part of the Big Fat Indian Wedding roster is all about fun, frolic and having a good time with your loved ones. As a bride, your stress is not yet off the charts (let's save that for the wedding day) and you just want to look good and dance your heart out!
But for the perfect haldi ceremony, it is of utmost importance to nail that perfect look and make it memorable! If you are still exploring your options, let us help you out. Here is a step-by-step guide on how to nail your haldi ceremony look.
Significance Of Haldi Ceremony
Haldi ceremony is the ultimate pre-wedding celebration. But before we discuss how to rock your haldi look, let's talk a little more about this fascinating ritual. In our culture, the colour yellow is closely associated with prosperity and happiness. Covering the bride and groom with the traditional haldi paste is giving their new journey together with a happy and fortune-filled start. Moreover, traditionally, the popular opinion is that turmeric has the potential to protect one from buri nazar! And who can be more susceptible to evil eyes than a beautiful blushing bride! 
Plus haldi or turmeric comes loaded with skin and health benefits and is the perfect ingredient to give you that envious glow on your big day!
4 Outfit Ideas To Ace Your Haldi Look
Your haldi look can be divided into 4 broad categories – outfit, makeup, hair and accessories. Let's talk about all these categories one by one to create that show-stopper haldi look for the D-Day. Here are a few haldi outfit ideas you may want to explore!
1. The Evergreen Anarkali
Celebrate your haldi in style in a stylish, comfy and swirly Anarkali dress. This haldi function dress is ideal for those who want to save more elaborate looks for the wedding day. Go for bright colours with minimal sequins work or delicate hand embroidery for a simple but regal look. Complete the look with suitable jewellery and floral hair accessories. 
2. Shine In A Sharara
This haldi function dress for the bride is certainly a hot trend and if you are planning to break the monotony of traditional suits or lehengas, shararas seem like a great choice. Keep up with the theme of the event by picking a yellow shade or be experimental with other soothing hues, the choice is yours. 
3. Graceful Gown
This is one of the best haldi outfit ideas for brides who want to ditch the traditional shararas, suits and lehengas and experiment with uber-modern and super hatke! Consider going for an elegant and ethnic gown with subtle embellishments and a flared bottom. Pair your one-piece outfit with delicate jewellery and you are good to go. If co-ords are more your style, go for a pair of ruffled skirt, preferably in shades of yellow) with a stylish top. Do away with the hassle of keeping your dupatta in check by going for a cape-set instead. All hail the modern bride! 
4. Sexy In A Saree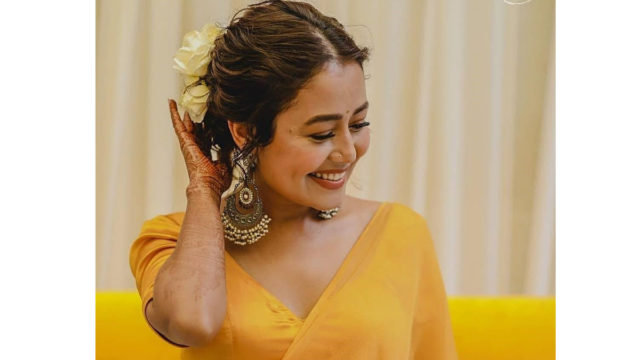 If you think you can manage all that chasing, haldi rubbing and dancing with hopeless abandon in this outfit, then a saree for haldi ceremony is a great option for you The trick is to use the right draping style, which is convenient as well as in trend to add a modern touch to your look. Go with more contemporary styles like a ruffled saree with breezy, floral prints. While a yellow saree for haldi function seems like a great plan, don't hold back on experimenting with other shades. To amp up your stylish haldi look in saree, pair your saree with a designer cut sleeves blouse.
4 Ideas For Accessories For Your Haldi Function 
1. Choker Sets
When it comes to women's fashion jewellery, choker sets never really go out of style. You can go with a multicolour choker set, floral choker set, pearl choker set or something with intricate gold design details, depending upon your outfit and the look you are aiming to create.
2. Polki
If going big is on the cards for your haldi day, perhaps a luxurious polki set is what you should go with. If your outfit is rather simple, this jewellery will add that elegance and glam to your entire look! Polki jewellery is also a great option if you plan on wearing a saree for haldi ceremony. 
3. Seashell, Cowries & Flower Power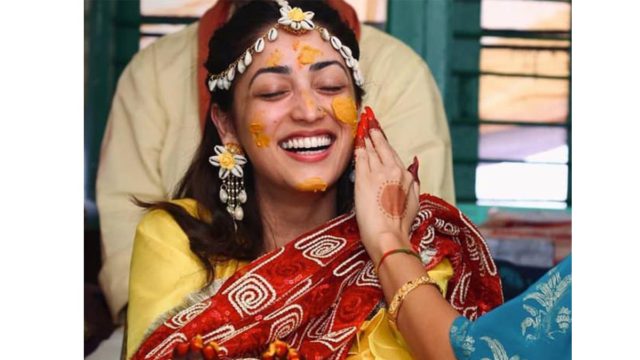 Wearing floral jewellery on your haldi is not exactly a new trend but this trend has certainly stood the test of time. Besides looking absolutely gorgeous, these are comfy, lightweight and quite manageable. Fresh flower jewellery, dry floral jewellery or faux flower pieces…this category has tons of options for you to choose from. You can go with vibrant and lively colours or keep it classy with white floral jewellery pieces (P.S. white and red will pop excellently against your haldi smeared face and complement the yellow colour at the same time!)
4. Statement Pieces
If you are a minimalist at heart, you can skip going for entire jewellery sets and opt for unique, singular statement pieces that compliment your dress and complete your look. You can leave out the neckpiece and pick a pair of big earrings and a classic bracelet or cuff to go with it. Or perhaps just an out-there necklace is what you need to complete your outfit. 
8 Makeup Tips For Your Haldi
If you plan on doing your own makeup for the haldi ceremony, here are a few tips that can help you create that perfect look!
Since haldi rituals are generally held outdoors, do not forget to apply sunscreen to all the uncovered parts of your body.
If you are not aiming for a heavy makeup look, avoid using mascara.
Don't forget to use your concealer for dark lines, spots and other trouble areas to get a flawless look.
For a minimalistic look (especially for daytime functions), go with neutral colour eye shadow and nude lipstick.
Don't forget to use a strobing cream or cream-based highlighter to get that natural glow. Start by covering the high points of your face and then blend it in for a subtle shine.
A setting spray can help make your makeup last longer. With so many hands touching your face to apply haldi, you surely don't want to skip this step.
If your attire is entirely yellow, pink and bronze eye makeup will go perfectly with your look.
A sun-kissed look works extremely well for outdoor ceremonies, especially during winters.
4 Hairstyle Ideas For Your Haldi
1. Braided Loose Hairstyle
It's simple, elegant, feminine and goes well with almost all outfits. One popular idea is to make messy braids all along your crown, with a parting in the middle, leaving the rest of the hair open. This look works best for women with straight or wavy hair. Don't forget to add floral or pearl hair accessories to accentuate the look. 
2. Floral Puffy Braid
Tie your hair into a puffy braid style and then decorate it with fresh marigold flowers. You may also use faux floral hair accessories and flower hair clips instead. This style is best suited for women with medium to long hair.
3. Loose Hair Look
If tying up your hair in fancy braids seems like too much hassle, go for this no-effort elegant look. Start by parting your hair right from the middle. Then braid or twist a hair strand on each side and secure each strand with a flower hair clip at the back of the head. Let the rest open. Add more flower hair pins, and matha patti or a maang tika to complete the look.
4. Hairstyle For Short Hair
For this hairstyle, start by parting your hair. Now, add sleek braids on one side and secure with a floral hair clip. Let the rest of the hair open. For best results, make sure to get a blowout before making this hairstyle. You can also elevate the style further by using floral accessories or a tiara! 
4 Unforgettable Tips For Haldi Ceremony
Now that you know all about assembling the right look for your haldi, here are a few additional tips to help you out:
Don't shy away from experimenting with your looks. Let the diva in you take the centre stage.
Dull hues and neutral tones may not be very on point according to the occasion. Make sure your look is balanced. For instance, if your outfit is simple, accessories with heavier jewellery.
Do not compromise on your comfort. Haldi is all about dancing and having a good time, you sure don't want to miss out on that!
Team your outfit with a funky flower hair pin and quirky statement accessories to look chic.
Whether you are a bride who loves traditions or likes to give everything a contemporary touch, there is something for everyone! What matters the most is to feel comfortable and confident in your choice. Your haldi ceremony is your time to shine! So #BeALittleMore open to trying new ideas and experimenting with your look. All the best!
Open up like never before and participate in conversations about beauty, entrepreneurship, mental health, menstrual & sexual health, and more. Desi women, join our community NOW!