Diwali is all about dhoom dhadaka and endless celebrations all day long. Not only do people get to cleaning their houses and redecorating them, we're also presented with the perfect opportunity to put on glamorous outfits and glam up for the festivities.
While our dear ladies start prepping their outfits in advance with their Diwali shopping, it is no easy task. There's so much that goes in! Makeup, jewellery, shoes, clothing and what not! It is easy to get distracted from all the glitter and colours and lose track of the vision you had in mind.
We've put together a chef's kiss list of 10 gorgeous and simple Diwali outfits you can put together during this time of the year to amp up your style and presence. Ready to leave everyone in awe? Let's get started!
10 Diwali Outfit Ideas To Try This Year
1. The Sensational Saree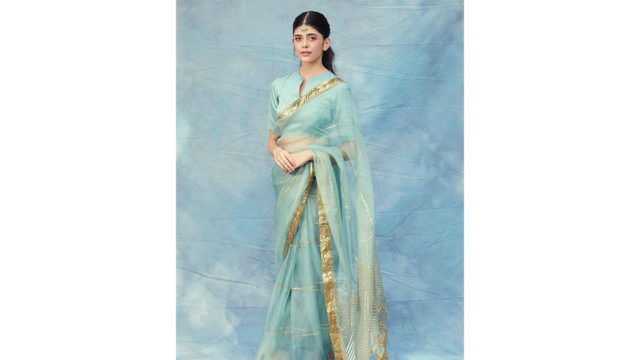 Saree seems to be the best Diwali outfit idea to level up the charm when it comes to looking glamorous and sundar on D-day without foregoing your traditional roots. If you don't want to wear heavy sarees, take a pick from the lightweight ones and mix them with heavy blouses to balance the festival special appearance.
Pair It With: There is no end to accessories when it comes to sarees. You can pair your outfit with large statement earrings or a beautiful neck piece to complete the look. Put on some sweet smelling mogra in your hair and voila!
2. The Knockout Kurta Palazzo
Put your best foot forward when it comes to Diwali dress ideas. If you want to look like a patakha on Diwali without sacrificing comfort, then choose kurta and palazzo as one of your exquisite Diwali dress ideas. These ethnic dresses come in a variety of hues and patterns that will make your outfit look picture-perfect. You may also pair up the ensemble with a dupattas of the same or a contrasting hue to complete the look.
Pair It With: Sundar jhumkas will add spice to your simple outfit while highlighting your face. Put on your traditional juttis and you're ready to fly through the day looking chic and classy.
3. The Lovely Lehengas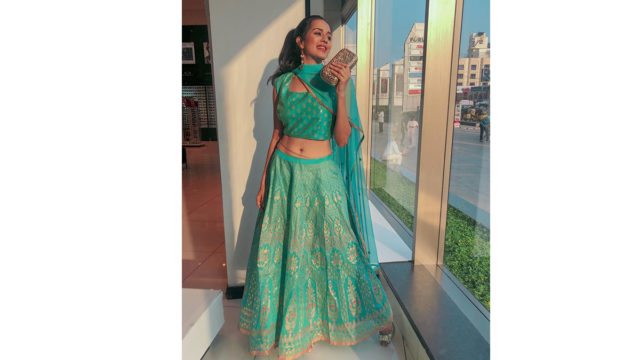 You can't think of festivities and not imagine a glorious lehenga in your head. Going for a lehenga is one of the best Diwali ethnic wear ideas. Imagine wearing a bright pink lehenga with a gold toned sequin choli. Without a doubt, you will be the focus of attention.
Pair It With: A stunning maang tikka will be the perfect addition to this get up, add a little bling and carry your favourite clutch to complete the outfit!
4. The Rich Anarkali Suit
One of the best ethnic Diwali outfit ideas are traditional anarkali suits. Wearing anarkali suits is a timeless fashion trend, which is why you never fall short of choices on online and offline stores. If you want to keep things light, opt for lighter, printed Anarkali suits instead of a heavy one. There's no way you can go wrong with an anarkali suit.
Pair It With: Heavily embellished earrings are the perfect partner for your anarkali. To add the cherry on top, go with your favourite shimmery heels and you're ready to shine!
5. The Simple Salwar Suit
Want simple Diwali outfits that are in your comfort zone? Wear a straight salwar suit with palazzos, leggings, or slim fit pants this Diwali. Though this may not sound as experimentative, it will make you appear both elegant and sleek, provided you accessorise it like a pro. And simplicity does shine through.
Pair It With: Pair your simple salwar suit with a mirror work jacket to bring the bling. Match your footwear in the shine section and go for statement heels that will compliment your look.
6. The Crop Top & Skirt
Looking for Diwali party outfit ideas? The crop top and high waist skirt style has your back. Choose a skirt with golden designs on it. If you choose a printed skirt, try to keep the crop top design simple. To bring out the best in your colours, go for an eclectic colour block.
Pair It With: Put on some simple gold hoops and designer flats to compliment the attire perfectly.
7. The Enchanting Kurti
Want to try simple Diwali outfits? Nothing goes better with that than a kurti. It has a very simple yet sophisticated appearance and will look great whatever be the occasion. You can, however, experiment with the pattern and cut of the kurti. Pair this look with palazzos, denims, a skirt, leggings, cigarette pants, or dhoti pants for the Diwali bash!
Pair It With: Kurti means large oxidised earrings and intricate matching bracelets. A simple bindi on your forehead and nothing can beat this look.
8. The Glamorous Gown
Instead of wearing sarees or salwar suits this Diwali, show off your magnificence in a traditional gown. Gowns are easier to wear and handle. Just slip into an intricately embroidered one and you will appear just as stunning as you would in a saree. Indian traditional clothing ideas have evolved significantly, so be daring and you won't be disappointed.
Pair It With: Get beautiful statement rings to accessorise your outfit, go minimalistic on the earrings to let your gown do the talking.
9. The Majestic Maxi Dress
Maxi dresses, whether western or ethnic, can never go wrong when appropriately styled. It looks great on everyone and is really comfortable to puff off. Wear this style with ethnic scarves or long shrugs to steal the show.
Pair It With: Choose maxi dresses with traditional designs for Diwali and combine them with hefty earrings like jhumkas or chandbalis.
10. The Layered Jacket Style
Layering jackets will give a little spice to any ethnic ensemble this holiday season. Jackets look stunning and have become a symbol for current fashionistas. Choose a short jacket with a mild traditional design and combine it with brightly coloured kurtis. Pair it with palazzos or well-tailored pants.
Pair It With: Do not overdo the makeup; a dab of bare lipstick and some blush. Pair your jacket with long earrings and skip the necklace altogether.
Diwali outfit ideas? Check. Time to move onto diwali makeup.
5 Diwali Makeup Looks That You Need To Bookmark Right Away
1. Gorgeous Glam
This diwali makeup look is perfect for poojas and when you're wearing your stunning sarees. To get the look, follow the steps:
Step 1: Apply moisturiser and primer on your face.
Step 2: Then begin with the eyeshadow. Clear the base with concealer, then apply the nude shade all over the eyelid. Make a stroke on the eyelid with the bronze hue, then blend it in with the brush.
Step 3: Apply foundation and concealer. Then, using a blush, accent the cheekbones, forehead, and nose tip.
Step 4: Choose a pink or vivid red lipstick.
2. Bold Dewy
The subtle yet bold makeup look is perfect for nighttime celebrations. You're bound to be the star of the night.
Step 1: Begin with priming your face as usual, then proceed to the eye makeup.
Step 2: Choose copper, brown, and maroon colours. For your eyes the inner side is copper, the outside side is brown, and the crease line is maroon. Blend it thoroughly.
Step 3: Choose a winged eyeliner and a bright red lipstick.
Step 4: Apply foundation to mask any faults. Draw attention to the cheekbones, forehead, chin, nose tip, and collarbones with a highlighter.
3. Drama Queen
Want to stand out? This is one of the finest Diwali special makeup you could go for. Bring out your makeup arsenal and let's get started.
Step 1: The first step is to apply concealer to form a base, followed by the darker brown hue until the crease on your eye.
Step 2: Blend in a maroon or crimson colour over the crease line.
Step 3: Then, to achieve that dramatic appearance, apply gold eyeshadow. Before applying eyeshadow, make sure you've shaped your brows with a brow pencil.
Step 4: Finally, finish the look by using the nude toned liquid lipstick.
4. Minimalistic Might
Don't want to carry heavy makeup on hectic days? These steps are all you need to do:
Step 1: After priming your face, shape your brows before applying eye makeup.
Step 2: The eye makeup is simple to do, begin with applying primer and moisturiser, followed by a subtle shade of your choice.
Step 3: After that, apply the coral lipstick and some blush on your cheeks to finish the look.
5. Glitter Glow
On the contrary, do you want to be bold and be the talk of the show? Then follow the steps given below:
Step 1: Do your base as usual followed by perfecting your brows.
Step 2: The eyes are going to be the star so after applying some concealer, opt for a classy colour like pink.
Step 3: To add to the extraness, stick shiny beads around your eyes.
Step 4: finish the look with a simple nude lipstick and set your face with a mist.
5 Jhakaas Diwali Styling Tips
These 10 Diwali outfit ideas for women and 5 makeup looks are all you need to get ready for the show, although if you want to add something to the look yourself, the world is your oyster. Here are some styling tips you can follow:
1. Choose deeper lip colours or those with a shiny/glittery finish.
2. Opt for smoky eyes. They are never out of style.
3. Geometric designs and traditional prints are perfect choices when looking for outfits.
4. Large oxidised chandbalis are a must!
5. Simple matching kurta sets are the go to if you can't decide what to wear.
That was your detailed guide to #BeALittleMore this Diwali season. Have you finalised your Diwali outfits and makeup routines yet? Happy Diwali to you and your family!
Open up like never before and participate in conversations about beauty, entrepreneurship, mental health, menstrual & sexual health, and more. Desi women, join our community NOW!