The Parineeta actor, Vidya Balan had been at the receiving end of merciless body shaming right from the beginning of her career. She was bullied when dresses revealed her ample curves – curves that were considered ugly by the standards set by the Hindi film industry. And then she started embracing herself for being just the way she is, draping the graceful 6-yards, at a time when doing so would get a Bollywood actor being branded a behenji. And that's exactly what happened… until she made the nay-sayers look up to her for the grace and confidence with which she wore the desi ensemble. And literally made the saree fashionable, single-handedly. 
Know more about these 5 saree looks that the diva, born on 1st January, has rocked to date and read up on some fashion hacks on how you can create similar looks by adding your own touch to them.
1. Sabyasachi Saree From Cannes 2013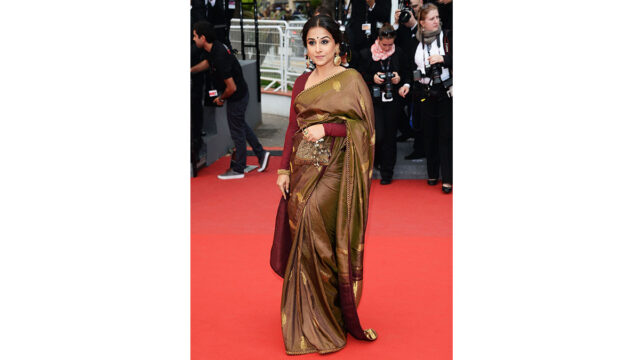 Vidya Balan let her love for understated fashion shine through at the global event in the saree of a unique copper hue, a brainchild of none other than the ace designer Sabyasachi himself. Replete with traditional paisley designs in intricate zari and an equally unique narrow border in gold, this naari stood out in the crowd for sure. She cut the monotony of the monotoned saree with a full-sleeved blouse in maroon and a loosely tied-up bun. The heavy jhumkas were accessorised to perfection with a gold-toned batua and a tiny black bindi.   
What You Can Do
Go for a unique coloured silk saree with gold or silver zari work and let it do all the talking. Keep your accessories and makeup minimalistic. If you're opting for a heavy pair of earrings, give the neckpiece a miss, and vice versa. Wear your hair down or tie it up into a messy bun, and you're good to go.
Read: 5 Sabse Flattering Saree Styles Based On Your Body Type
2. Coral Wedding Saree
The Kahani star had made a style statement way back in 2012 when she got married – a time when wedding attire was usually always strictly red, albeit in different shades of the colour. Way before Anushka Sharma made ivory and pastels a trend. The coral Kanjeevaram is accentuated with three layers of neckpieces, earrings, and bangles – all inspired by temple jewellery designs, which celebrated her South Indian heritage. She balanced these with bright red chura to embrace her husband's Punjabi roots. A red bindi completed her look.
What You Can Do
Give the red Benarasi or Kanjeevaram a skip, and go for a bright colour of another hue, anything that catches your fancy. Decide on the makeup depending on the time of the daylight makeup for a day wedding and a comparatively more elaborate one for an evening occasion (duh!). For jewellery, go for traditional designs that are a reflection of your culture and personality – whether you decide to purchase it, especially for your D-Day or stick to your heirloom jewellery. 
3. Beige Silk Saree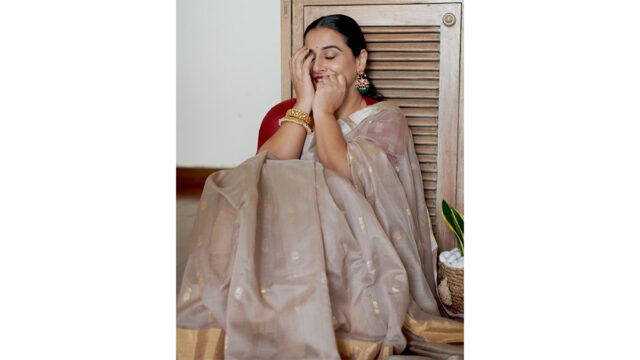 Vidya Balan turned heads in a monotone beige silk saree that looked resplendent on her. The broad gold border cut the monotony of the beige ensemble, lined with intricate gold booti work all over. The elaborate gold chandbalis embellished with emerald green gemstones and a couple of bangles on her right hand were the only accessories she decided to go for. The dewy makeup added impeccable glamour to the day's look. She wore her hair in a low bun and finished the look with a red bindi that matched her lips and a blouse of the same colour.
What You Can Do
Nothing like white, ivory, beige, or cream to be the cynosure of all eyes wherever you go. Pair it with pearls, gold, or diamond and let your jewellery determine how elaborate your makeup should be. If you love dark lips, go light on your eye makeup and vice versa. Pull your hair up into a traditional low bun or wear it down straight or curled.
Read: 5 Must-Have Sarees From Teejh To Kickstart An Enviable Personal Collection
4. Indigo Tie & Dye
The Rajasthan-inspired tie-n-dye saree drenched in indigo dye, with a white border, made her look every bit of the diva that she is. Crafted by designer Punit Balana, Vidya paired the saree with a plain three-quarter blouse of the same colour, dotted only at the rim. She accessorised the saree with her trademark silver jewellery – a pair of earrings that almost graced her shoulders and a broad bangle. She let the saree enjoy the limelight by keeping her makeup natural and dewy, with a little emphasis on her eyes. Wavy hair lay down her shoulders, completing her bohemian avatar.
What You Can Do
Explore the different hand-woven crafts of Rajasthan. There's leheriya, bandhej, sanganeri, bagru, et al. and zero in on one that is a perfect extension of your personality. Pair it with silver tribal jewellery, the flavour of a significant population of the desert state. Focus on your makeup if your saree is of bright colour and keep it natural if the 9-yards is of a subdued hue. Wear your hair wavy, whether you tie it up into a bun or keep it flowing, to complete the banjara look.
5. Black Saree With A Western Twist
Vidya Balan rocked yet another awards function in a saree, except this time she gave her beloved Kanjeevarams and traditional weaves a skip, and went for one with an Indo-western-inspired striped saree. The black base perfectly completed the broad white border with multiple narrow black stripes, finished off with a matte golden border. She kept her makeup minimal yet again to balance the deep colour of her desi outfit. Accessorised in gold, she wore her hair up in a clean bun with a red gajra. Ah, the combination of black with a tinge of red – perfect!
What You Can Do
If you want to experiment with a saree with some nuances thrown in, this is your opportunity. Explore different drapes and accessorise them differently with a broad belt for flaunting a hatke silhouette. Want to go bold? Give other accessories a complete miss and go for elaborate makeup instead. Darken your lips, give character to your lashes with a curler, and work with your mascara. And, bam, you'll create a completely unique look for yourself that is an interesting balance of desi and Western influences. 
Open up like never before and participate in conversations about beauty, entrepreneurship, mental health, menstrual & sexual health, and more. Desi women, join our community NOW!