Silk sarees ka naam sunte hi, your mind conjures up images of extravagant and shaahi looks. And why wouldn't it? Every year people go gaga over new trends that seem to pop up every other day. But there's something evergreen about silk. It has ruled the hearts of women (and men!) for years and continues to dominate the fashion scene still.
Every woman wants to own a wardrobe full of gorgeous silk sarees. They're perfect for weddings, poojas and all the traditional chote-mote events that you attend throughout the year. Silk sarees are considered sacred and are even offered to goddesses as a sign of obeisance and to other women as valuable gifts. Who wouldn't be awed by such a gift, right?
Aapke mann ki khwahish ko pura karne ke liye, we have put together a list of the 7 best silk saree brands in India! 
1. BharatSthali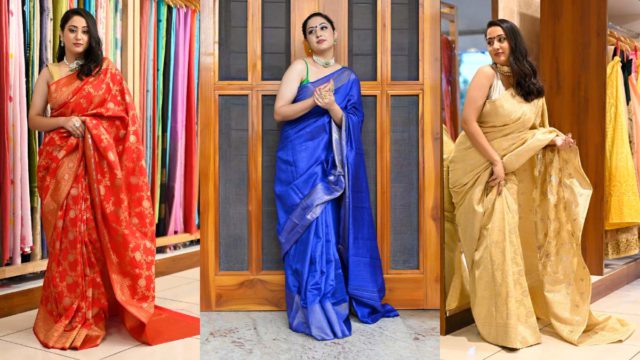 BharatSthali, an ethnic saree brand based in Chandigarh is one of India's finest. Launched by Sumati and Pulkit Gogna, back in 2017, they promote living with tradition and believe in preserving the diversity and richness of Indian culture by hand. Their sarees are hand-loomed with love and care by local artisans. 
Their collection ranges from raw silk, Kanjivaram, Banarasi, and printed ones to Mysore and Kosa silk sarees. They have different collections of cotton and linen sarees too! You'll be amazed by the variety of choices they present to you. The brand also sells numerous other Indian ethnic clothes, such as lehengas and kurtis. 
2. Desi Butik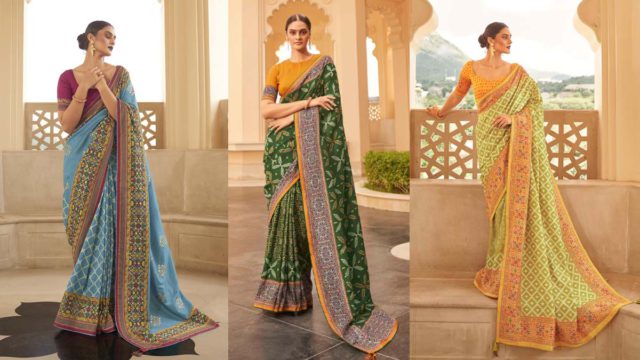 Apeksha, a Surat-based designer, founded Desi Butik as a mission to put  Indian fashion on the global fashion map. With thousands of loyal and returning clients, the mission was a huge success. It has become one of India's most popular ethnic fashion businesses with a range of clothing options available at your fingerprint. The company is based in Nanpura, Surat, but you can check out their collections on their online store. Desi Butik has printed silk sarees, silk dupattas and whatnot. You name something ethnic and they have it. What are you waiting for? Go and check out their sarees before they sell out. 
3. Mimosa
We only say the truth when we say that Mimosa is one of India's most successful silk saree producers. The company's headquarters are in Bangalore, and its online stores serve customers all around the country. Not just silk, their collection offers you ethnic wear in cotton, chiffon, silk, and a variety of other fabrics and vibrant designs. Quality ke saath saath, the good news is that the sarees won't burn a hole in your pocket.
The Kanchipuram silk saree by Mimosa is composed of art silk and is one-of-a-kind. With the unstitched blouse, you can tailor it in any trendy cut to fit your needs. The sarees they have will look gorgeous no matter the occasion you choose them for. What's more, you wouldn't be able to resist their collections considering the price tag. 
Read: !0 Tips To Get The Perfect Saree Look
4. Fabindia
John Bissell, the creator of Fabindia, launched this Indian garment and textile retail company, back in 1960. Since then, the company has attracted a lot of eyeballs thanks to its cutting-edge designs created by Indian artists. Fabindia works hard to promote local artists by giving increasingly more work opportunities for people living in rural areas.
Their cotton silk hand-printed sarees are to die for! Perfect for a light breezy summer day, they're irresistible. Coming in a variety of subtle and soft colours as well as dark and bright hues, they can be styled for parties and office wear alike. 
5. Kalanjali
Kalanjali is the glory and pride of South Indian ethnic dresses, with a large following all over the country. The Ramoji Group has been running this brand since 1992. If you think they're only active in India, you're wrong. They have a good number of international clients who love to return to them for repeat purchases. Kalanjali has a large selection of top-notch silk sarees that suit every occasion. If you're seeking for the best silk sarees in India, look no further.
Kalanjali's Kanchipuram silk saree collections are woven from beautiful silk and include a separate blouse piece that you can style according to the event. There are golden zari weavings all over to give the saree a rich and luxurious look. You'll not find such quality at this price anywhere else. 
Read: Fashion Icon Rekha's Silk Saree Collection
6. Nalli
Nalli is one of India's oldest textile brands, having been in the market since 1928. It's a well-known name in every Indian family, and many people buy their silk sarees from here. The brand has expanded its branches in every corner of India over the last few decades, as well as flaring out in the United States, Canada, and Singapore.
Not just silk sarees, the lightweight cotton sarees are ideal for summer. Although it might appear as if it was a heavy one, don't worry, you won't feel the weight at all. The sarees have an elegant feel that will make you feel like a diva effortlessly.
7. Koskii
Young women who're looking for vibrant and trendy silk sarees, this is your destination. The word "koskii" means girl, and the brand believes in celebrating the girl in you. They've crossed a long, albeit hard journey to come this far. Today, they boast of nine stories all over Indian megacities and a thriving online community that loves what they put out every season. 
Your needs and their collections are a match made in heaven. From designer silk to pure silk..they have it all and more! Shopping for an auspicious festive occasion? Find all your needs in one place. 
Are you still contemplating whether or not to make purchases from the above brands? Let us help you clear the doubt by giving you 5 solid reasons why you should own at least one statement-making, jaw-dropping and lavish silk saree this year.
Tip: Here's a guide on how to reuse an old saree and transform your look completely.
5 Reasons To Buy Silk Sarees
1. Suits Every Sky
No matter if the sky is dark blue with clouds or bright blue during garmi, silk sarees are bound to keep your body happy. Silk is a natural fibre and lightweight in nature. And, in winter, it will keep you warm as well due to its low conductivity. 
2. Shaahi Look
Who doesn't want to look like a maharani when all decked up in silk? Silk sarees have this dazzling appearance and a soft feel that never fails to make heads turn. When you know how to style it, they look nothing short of stunning and regal.
3. So Many Options!
These silk sarees are available in a wide range of styles from around India. Silk sarees are available in a wide range of styles, primarily in handlooms. Banarasi, Kanjeevaram, Kanchipuram, and Guledgudda Khana are among the most well-known handloom sarees in India.
4. Sasta As Well
If you're looking for affordable options, that is. Otherwise, silk saree costs can hike up to lakhs!
5. Long Lasting
The most important thing to remember about silk sarees is that they are very durable. A silk saree can last years if properly cared for. These sarees can still look new and elegant even after several years if you know how to look after them well.
Sab style ka khel hai. If you know your ABCs of fashion, silk sarees are a game changer. #BeALittleMore with a new silk saree in your collection and slay your shaahi looks.
Open up like never before and participate in conversations about beauty, entrepreneurship, mental health, menstrual & sexual health, and more. Desi women, join our community NOW!