Bandhani ke baare mein suna hi hoga. Bandhani also referred to as Bandhej, is one of the most popular traditional textile art forms of India, tracing its way back to Gujarat. This tie-dye art form creates a distinctive pattern or design by manually plucking on the light fabric with fingernails to form bindings of different sizes. One of the best ways to soak in the unique culture and vibrant heritage of a city is to indulge in some shopping that introduces you to its indigenous art forms. Therefore, you cannot visit Ahmedabad in Gujarat and not initiate yourself to some shopping for Bandhani sarees. 
Here Are 9 Bandhani Saree Shops In Ahmedabad You Can Choose From To Complete Your Visit To The City:
1. Bandhej
The name speaks volumes about what this shop is all about. One of the most popular places for Bandhani saree shopping in Ahmedabad, Bandhej should definitely make it to your must-visit list when you are in the city. Especially when you want to introduce an authentic Bandhani saree to your wardrobe or plan to add more of these to your saree collection. Apart from Bandhani and other cotton sarees, Bandhej also boasts a fabulous collection of tunic skirts, kurtas, dupattas, and everything related to Gujarati traditional wear.
Founded by Archana Shah in the year 1981, this shop is the city's first 'designer' store. It is closely associated with sustainable fashion as it makes use of eco-friendly natural dyes and handwoven fabrics, curated by the artistic craftsmanship of artisans from in and around Ahmedabad.
2. Mangalya Bandhani Sarees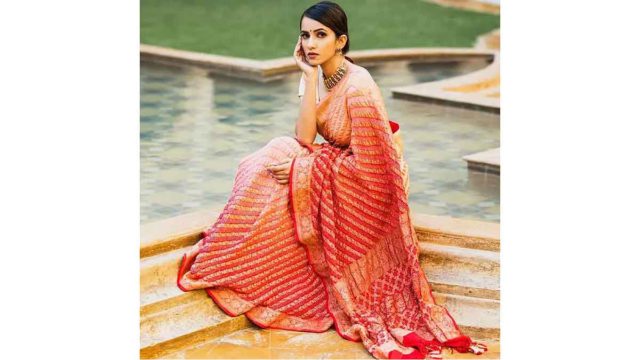 As evident from the name, this shop especially specialises in Bandhani sarees. One of the most reputed saree shops in the city, it is also one of the favourites of the city-dwellers and tourists alike. Drop in for a look and you are sure to loosen your purse strings to shop for at least one.
3. Kalpana Traditional Sarees
Kalpana Traditional Sarees started as a humble home-grown business before taking the epic proportions that it has reached today. Not only bandhani sarees, but it will also leave you spellbound with its expansive traditional saree collection. From Bandhanis, Leheriyas, and Paithanis to Muga and Kota silks, it has it all. The shop offers you a vast range of sarees that you can pick from according to your style, comfort, and occasion. 
Read:10 Sarees From Fashion Icon Rekha's Saree Collection
4. Asopalav
Asopalav is one of the most renowned saree shops in Ahmedabad that is synonymous with a vast range of sarees, right from cotton and handloom sarees to traditional silk sarees. And when an Ahmedabad saree shop has cotton sarees, Bandhani cannot be far behind. At this time, traditional cotton and silk sarees seamlessly blend with modern designs, ensuring that three is something for everyone and every occasion. Apart, the shop is also known for its traditional Viraasat sarees. 
5. Nutan Vastra Bhandaar
Nutan Vastra Bhandra is a trusted name in Ahmedabad for cotton sarees like Bandhani. It also has an envious stock of traditional silks, designer wear, and a wedding collection. Some of them include Paithani Silk, Silk Banarasi Patola, Double Ikat Patola, Tussar Silk, and Tissue Silk with self Bandhej design. Anything that suits your comfort and style, irrespective of the occasion, you can find it right here. 
Read: Recreating 5 Rani Mukerji Saree Looks
6. Ekaya
Ekaya deals in hand-woven and handcrafted sarees with a contemporary twist. It specifically targets modern women with a penchant for our deep-rooted indigenous crafts. Their sarees can be worn as much at ease at festive and traditional events as they can be worn as daily wear. You can simply mix and match the sarees with similar or colour-block blouses, and you'll be all ready to step out in style. 
7. Garden Vareli
This saree shop introduces you to a whole world of contemporary sarees. Cottons like bandhani, chiffon, crepe, georgette, satin, and pure silk, just to name a few. Browse through the mesmerising collection of sarees and be prepared to be spoilt for choice. The sarees are perfectly wearable for festive and occasion wear as much as they are for everyday fashion.
8. Kala Niketan
Kala Niketan is a celebration of traditional wear. And Bandhani definitely makes it to their list of traditional sarees. You can bring in a contemporary touch to these sarees by pairing them with crop tops and shirts, or by draping them differently. Wear them to work or grace a party in these sarees to #BeALittleMore hatke, and you are sure to wow everyone around you.
9. Vanza Bandhani Saree
Another Ahmedabad saree shop that specialises in Bandhani, this offers the people of the city and its tourists a wide range of options to select from. Don't get misguided by the name. It doesn't only boast an enormous stock of Bandhani sarees, it has an extensive collection of other traditional and contemporary sarees as well. Although Bandhani is its main attraction, which attracts visitors in flocks. 
Heard of any other Bandhani saree shops in Ahmedabad or have visited one before? Leave the name of the shop in the comment section below and add it to the above list. Here are some easy and simple ways how to use old sarees to turn them into a whole new outfit.
Open up like never before and participate in conversations about beauty, entrepreneurship, mental health, menstrual & sexual health, and more. Desi women, join our community NOW!