Right off the bat, women (plus size or not) can flaunt ANY outfit as long as they love what they are wearing and feel good about themselves in it!
The most beautiful thing about fashion is how versatile and inclusive it can be. Irrespective of age, size, colour and gender, nothing can stop a confident person from pulling off anything with style.
From a "size zero" culture, we are progressing to a point where we not only love our bodies but also flaunt them like a badass. Body positivity and plus-size inclusivity movements have been gaining traction in the fashion world over the last few seasons, and their impact has been growing in leaps and bounds. With so many conversations evolving into discussions about self-acceptance and self-love, the fashion industry has taken notice.
In collaboration with The Channel 46, the brother-sister Founder of Reistor, Mehma Singh & Harjas Singh, lists 7 fashionable outfits that plus size women can ace with aplomb.
1. Breezy Kaftans
Fashionable and fluid, drawstring kaftan-style dresses are the ultimate style and comfort statement. The adjustable cinch at the waist enables them to create the perfect silhouette without forcing you to give up on comfort. For days when you want to go easy, opt for kaftans in breathable materials like cotton and hemp. These outfits are one-of-a-kind outfits that are not only comfortable but also don't compromise on the chic element. Get your hands on kaftans with traditional embroidery or desi prints, and in monochrome or chequered ones, as you cannot have enough of these in your wardrobe. To enhance, add minimal and dainty jewellery, and you're good to go!
2. Blazers
Classic yet carefree, blazers flatter every body type. And it is no different for the plus sized divas. This experimental piece of fashion isn't meant just for the boardroom and other formal events, they have carved a place for themselves far beyond that in recent years. They are as perfect for a business meeting as much for a casual lunch! This timeless piece is versatile and can be styled in numerous ways to give a new look every time. Available in varied styles, waist fits, and shoulder cuts, you should definitely stock up on some of these in a wide range of colours to suit the occasion, your outfit, and your mood. 
3. Flowy Dresses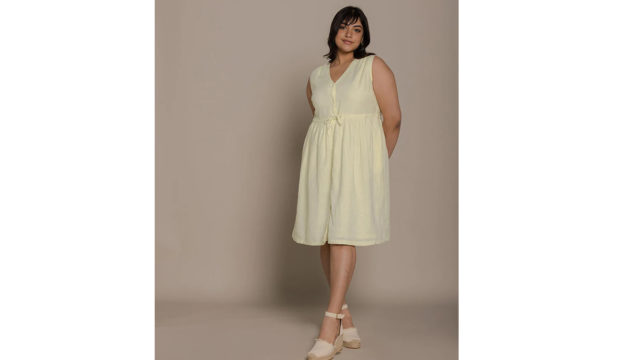 Ah! Whoever said dresses make plus size women look plumper cannot be further away from the truth. Dresses are for everyone, provided you know how to wear it well to perfectly accentuate your curves. Make an effortless style statement in an exciting array of cuts and fits to shine wherever you set your foot. Fun and flowy, add a belt for a cinched, experimental look to each dress in your closet.
Read: 10 Outfits To Pair With Jean Jackets For A Hatke Look
4. Jackets
Jackets, unlike blazers, aren't for a formal do. But they are a wardrobe essential nonetheless. A perfect accessory to make the same outfits look different in an interesting way. Slip a jacket over a shirt, tee, crop top, a dress or even a saree, to wear your confident personality on your sleeve. Quite literally. And can you even think of having a comfortable flight without one of these travel staples?
5. Angrakha Dresses
Very much in vogue now with no signs of making an exit from the fashion scene anytime soon, you don't need to think twice about these. Wear it to work, on a hangout with friends, a date, or a visit to the grocery store, simply put this wrap dress on and take on your day in style. 
Read: 7 Heel Styles That Mix Fashion & Comfort Like A Pro
6. V-Neck Dresses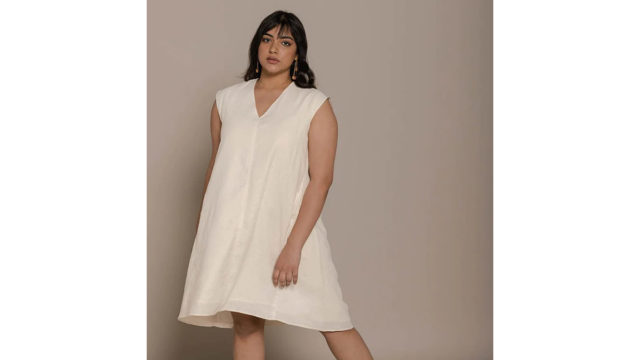 Oh, we know what you;re thinking! v-Neck and a buxom woman. No way. But listen out. A relaxed V-neck dress is as much for plus sized women as it is for women of any other size, provided you are comfortable in it. Opt for the ones with in-seam side pockets to make it more functional. These are dresses you can twirl in, dresses that will definitely bring a smile on your face every time you slip in them. Throw in some accessories to go with these V-necks and voila, you're all dressed up to set out in style.
7. High-Waist Comfy Trousers
Cotton trousers are such a boon for a stylish wardrobe. And when they are high-waisted ones, you can expect them to work like a magic tummy-tucker. To add to that, a trouser with a tapered hem makes these a flattering and comfortable pair. Pick up ones in neural shades like black, brown, dark blue, off-white, and even pop colour if that's what's true to your personality and be ready to make them your best friend. Pair them with a tee, T-shirt, or crop top you own and sashay down in style. 
In conclusion, one can pull off anything and everything they love, don't let anyone tell you otherwise. Garments are meant to fit you, and not the other way round. Don't shy away from being your most confident self over some irrelevant comments. You do you and just wear the damn dress!
Open up like never before and participate in conversations about beauty, entrepreneurship, mental health, menstrual & sexual health, and more. Desi women, join our community NOW!