Getting your first bra when you reach puberty is almost like a right of passage for women! There are several things you need to consider to ensure your bra offers the right support and comfort. No matter what your age or body type is, knowing how to wear a bra the right way and choosing the right bra types is essential. But what makes a bra so important for women? The right bra can help you carry the weight of your breasts so that you don't end up with issues like incorrect posture, shoulder pain and back pain. A well-fitted bra provides ample support and comfort and keeps your boobs from sagging. If you wish for a flattering silhouette, a good bra is your best bet!
Wearing the right bra is a form of self-care that every woman must indulge in. Wondering how to use a bra? For this, you must know the different options available as well as the right way to put on a bra.
How To Choose Your Bra Size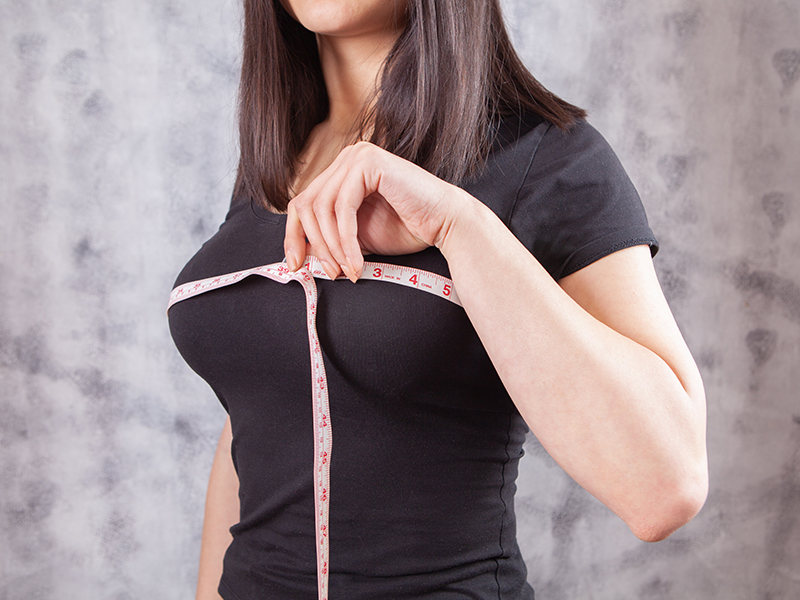 Your bra size is a combination of the measurements of your cup size and your band size. To know how to choose a bra that fits you well, you must know your bra size.
Step 1: Determining The Band Size
Use a measuring tape to measure the area under your bust. Make sure the tape is levelled and snug. Now round the measurement up to the nearest whole number if required. If the whole number is even, add four inches to the measurement. If the number is odd, add 5 inches.
For instance, if you get 32 inches, your band size will be 36(32+4). On the other hand, if you get 33 inches, your band size will be 38 (33+5).
Step 2: Measure Your Bust Size
Wrap the measuring tape around the fullest part of your bust. Make sure it's neither too tight nor too loose. Round up the measurement to a whole number if needed.
Step 3: Calculating The Bra Size
Now that you have the final band and cup size, it's time to calculate your bra size. For this, you have to subtract the band size from the bust measurement. The cup size A, B, C and so on) is the corresponding letter to the difference between the bust and band measurement.
For example, if your band size is 34 inches and your bust is 37 inches, your bra size will be 34 C (37-34= 3 and 3 corresponds with C).
Now that you have your bra size, it's time to know your options!
Different Bra Types That You Should Invest In
Depending upon factors like construction, function and neckline, a bra can be divided into various categories. Here are the different types of bra you must know about.
Based On Construction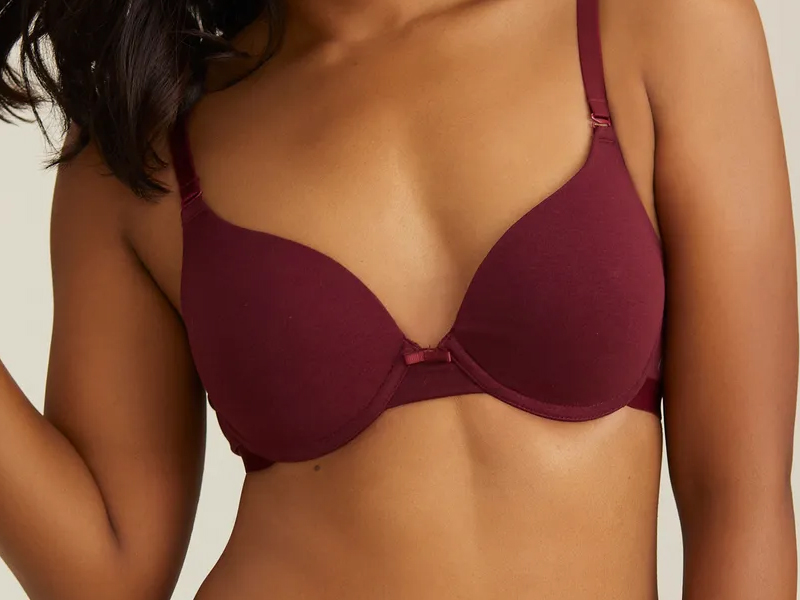 Here are the different types of bra options based on construction.
1. Padded Bras
A padded bra comes with padding throughout the entire cup and can effectively create a curvier silhouette. The smooth moulded cups lift the bust and offer a seam-free look.
2. Non-padded Bras
This type of bra does not come with additional padding in the cups. The cups in a non-padded bra often have 2 or more layers of fabric. If you have fuller breasts and don't want your bra to overly accentuate your bust, a non-padded bra is what you need. This type of bra is comfortable and offers all the support you need as you go about your day!
3. Wired Bras
Wired bras come with a metal underwire sewn into the cups. The wire helps provide better lift and support. This bra is designed to create the perfect silhouette by shaping your breasts. An underwire bra is most suitable for people with larger breasts or those who seek maximum support.
4. Non-Wired Bra
Without a metal wired sewn under the cups, a wireless bra is more flexible and easier to move in. It offers a soft fit and natural shape and can be worn comfortably for long hours. Non-wired bras work best for pregnant women, developing teens and women with delicate skin.
Based On Neckline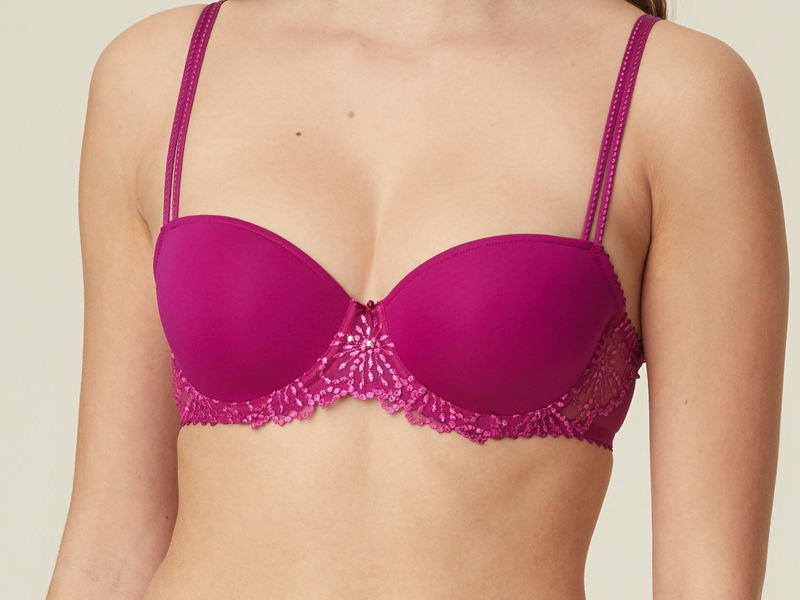 Depending upon the types of bra cups, a bra can be divided into demi-cup and full-coverage.
1. Demi-Cup Bra
A demi-cup bra offers the same level of comfort as a T-shirt bra but it has a partial cup. It covers only half the breasts. This bra lifts the bust, accentuates the cleavage and gives a natural look to your bust. It is a great choice if you do not have much volume at the top of your breasts. A demi-cup bra is usually worn under low-cut garments.
2. Full-Coverage Bra
Another popular option based on the types of bra cups is a full-coverage bra. Unlike demi-cups, a full-cup bra offers more coverage for the top of your breasts. It provides ample comfort and support and prevents 'spillage.' All these qualities make full-coverage bras a great option for those with larger breasts. This type of bra gives a smooth outline under outfits and is made from more durable material.
Based On Function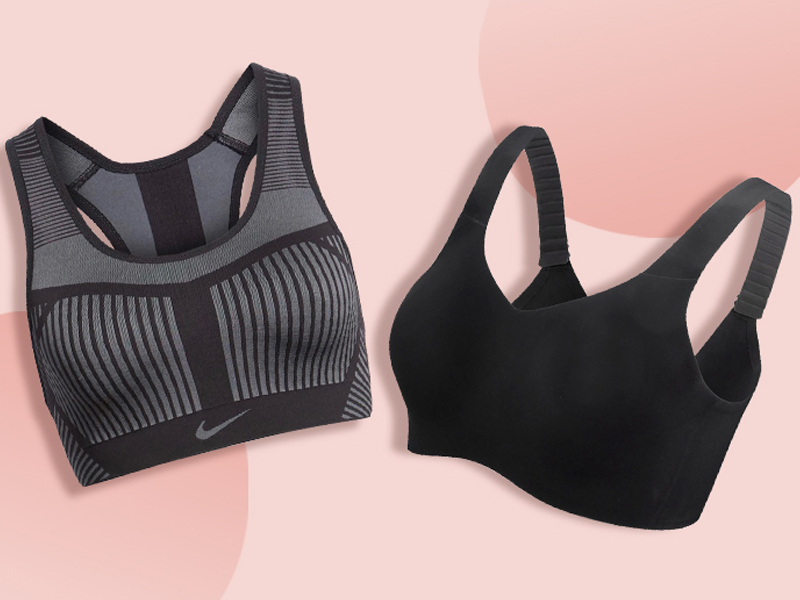 Bra types can also be determined depending upon the function of the bra.
1. Sports Bra
One of the most common types of Indian bra, a sports bra is designed to offer the right support to your breasts and back during workout sessions or other physical activities. It works by holding your breasts close to your chest, allowing maximum hold and minimum movement.
Sports bras are usually stretchy, full-cupped and non-wired and help reduce the juggling of breasts as you work out. Wondering how to wear a sports bra? For that, you need to select a suitable style and ensure that the bra offers the right amount of support. It is best to try on a sports bra before you settle for one.
You can also choose your sports bra according to your activity level. Depending upon the intensity of the activity, a sports bra can be categorised into-low impact sports bra, medium impact sports bra and high impact sports bra.
2. T-shirt Bra
This staple item is a must-have in your bra collection. T-shirt bras come with smooth, moulded cups that are seamless, making them an ideal choice to wear under fitted clothes and thin fabrics.
One of the most popular types of Indian bras, a T-shirt bra gives your bust a natural and rounded look. This bra disappears under your clothes without causing bumps, lumps or uneven textures, providing a smooth silhouette.
3. Push-up Bra
A pushup bra shapes, centres and accentuate your breasts, giving them a more 'full' look. If you have an asymmetrical breast shape, this bra can give them a more uniform appearance. Push-up bras come in several options including wired, non-wired, demi-cups and full-coverage. Seamless options can be worn under T-shirts and fitted clothes.
4. Strapless Bra
A strapless bra offers ample support (just like a regular bra) but without shoulder straps. This comfortable and flattering bra is usually worn under an off-shoulder, strapless or halter-neck outfit for that perfect look. Strapless bras come with moulded cups and a silicone grip to keep the band in place.
5. Bralette
When fashion is a priority, go with this wire-free and mould-free bra style. You can level up your style game by knowing how to wear a bralette the right way! A bralette does not offer maximum support or coverage like a regular bra. It is easy to slip on and does not restrict your movement.
Wondering how to style a bralette? You can wear it along with sheer outfits, sundresses, button-downs, blazers, and tops with plunging necklines. It can even be worn on its own, teamed with a pair of trousers.
The Right Way To Wear A Bra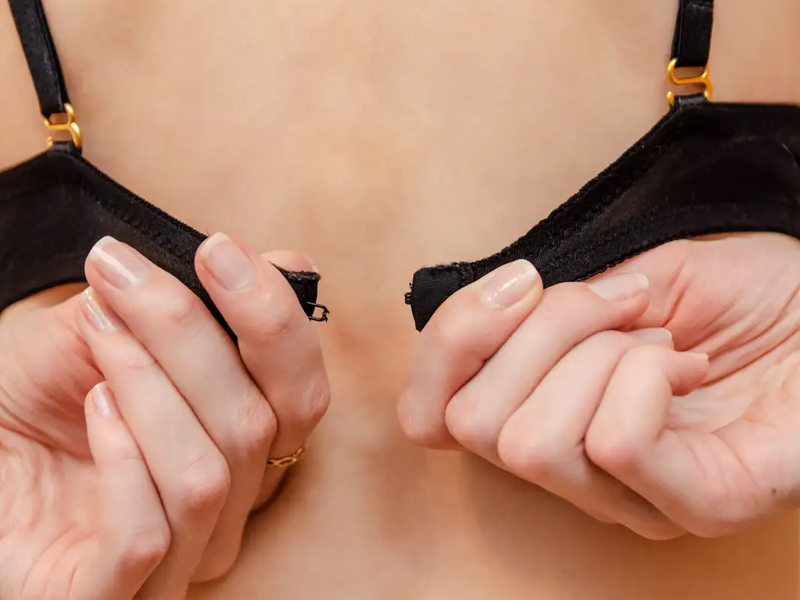 Want to know how to wear a bra the right way? Follow these simple steps to put on your bra with ease.
Step 1: Lean Down
Leaning down while wearing the bra allows your breasts to fit into the cups naturally. Jiggle your breasts slightly to fully fill the cups and settle down with ease. Make sure your nipples are in the centre of the cups.
Step 2: Hook The Bra
Now hook your bra and stand up straight. Make sure you hook all the clasps as hooking a single clasp offers only partial support. You may also end up with rashes and aches. Also, make sure that the bra isn't too loose or too tight.
The band of the bra must be straight across your back. If it seems to be riding up, the bra hasn't been clasped properly. Alternatively, you can lean down, hook the bra and then use your hands to guide each breast into the cups.
Step 3: Adjust The Strap According To Your Shoulders
The bra straps play a vital role in providing support and lift. Adjust the straps according to your shoulders. They should gently press against your skin. Make sure the straps are snug and not too tight or too loose. Tight straps may give you back and shoulder aches while loose straps may keep falling off the shoulders.
Step 4: Gentle Lift
Underwired bras, when they fit you correctly, will make your breasts appear rounder and fuller by giving them a gentle lift. The underwires of the bra should sit comfortably under the breasts while the centre gore must lie flat at the centre. The underwires should not dig into your skin. If worn the wrong way, underwire bras may make you feel uneasy.
How to wear a tube bra?
Tube bras are made of stretchy fabric and do not have straps and hook-and-eye closures. Simply slip them on and adjust to ensure they sit perfectly over the bust area.
How to wear a strapless bra?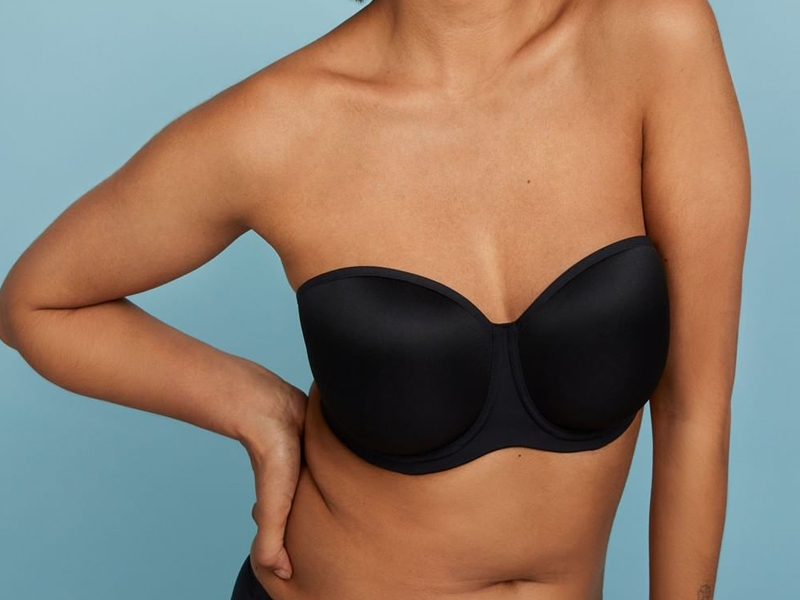 A strapless bra features hook-and-eye closures but no shoulder straps. Keep these tips in mind while purchasing and wearing a strapless bra:
Make sure the band of your strapless bra is at least 3 hooks wide so that it offers ample support and remains in place
It helps to go down a band size and go up a strap size while choosing a strapless bra
Make sure your strapless bra fits you best at the tighter hooks. Gradually move to looser hooks as the bra gets older
Go with bras that have a rubber or silicone lining at the helm
Avoid moisturizing your skin before you put on a silicon-based strapless bra
Wearing tight outfits that fit you well over the bust area will also aid in keeping the bra in place
How to wear a backless bra?
Use the following tips to wear an adhesive-based backless bra:
Make sure your body is dry. Do not apply moisturiser before putting on a sticky bra.
If the bra has clasps in the front, separate the cups for better positioning.
Stand in front of the mirror and place the cups over your breasts to get an idea of how to position them.
Now remove the plastic backing. Flip the cup inside out to get rid of air bubbles.
Place the bra cup over your breast and use your hand to smooth it out. Repeat at the other side.
Connect the front clasp or ties ( if your bra has that option)
How to wear bra pads?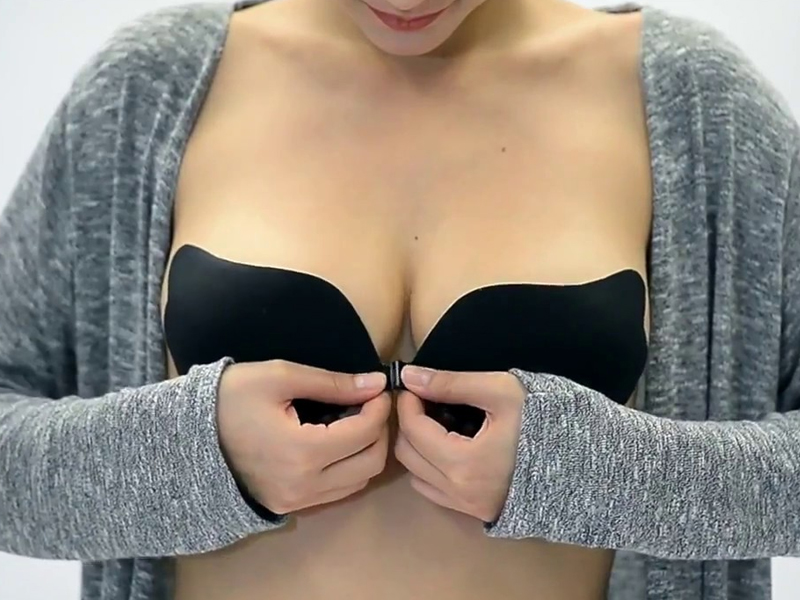 Here is how you can wear bra pads or inserts the right way:
Put on your bra
Slip the inserts into both the cups of your bra Make sure they sit well at the bottom.
Get dressed and stand in front of the mirror. Examine the sides and shape of your breasts. You will know if the bra pads need adjustment
Now that you know how to wear a bra properly, let's take a look at what are the most common mistakes people make while wearing or buying a bra.
Common Mistakes To Avoid While Choosing And Wearing A Bra
Mistakes To Avoid While Selecting A Bra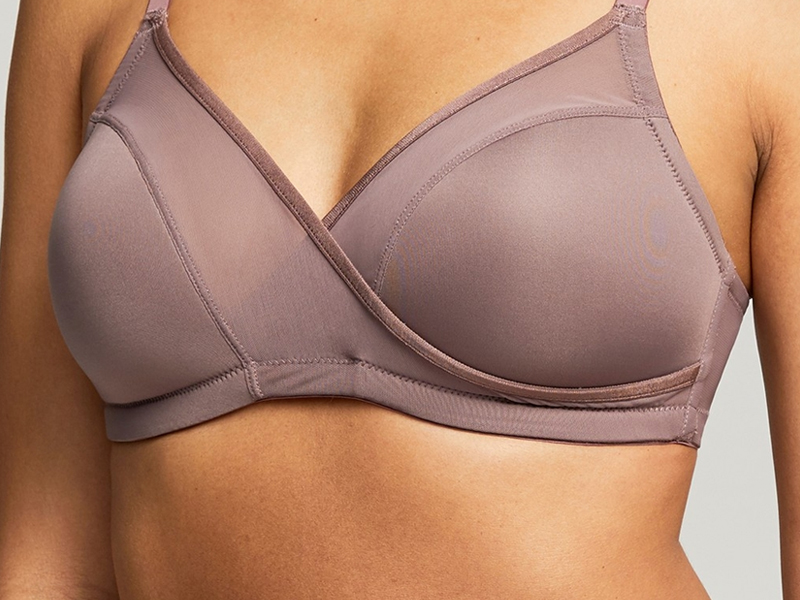 1. Choosing The Wrong Band Size
Choosing a larger band size is one of the most common mistakes that women make while buying a bra. If the band is too loose, your bra will not give you the right amount of support or lift. Moreover, the shoulder straps will dig into your shoulders and be utterly uncomfortable.
2. Choosing The Wrong Cup Size
Women often tend to select bras with smaller cup size. The right cup size helps you avoid spillage, bumps and lumps, giving you a smooth fit.
3. Sticking With The Same Style For Too Long
Our bodies keep changing with time. To keep up, it is important to keep trying new bra styles, cuts and textiles.
4. Not Considering Your Body Type While Choosing A Bra
It is also important to consider the rest of your body in order to choose the right bra. For example, if you have narrow shoulders, you may want to go with multiway or cross-back styles. People with border backs often prefer balcony shapes. If your breasts are close-set, you may like to try a plunge or a push-up bra
5. Not Choosing The Right Fabric
It is crucial to make sure that the fabric of your bra feels comfortable against your skin. For instance, people with sensitive skins may prefer softer fabrics. Also, make sure to check for seams inside the bra-cups as this could end up irritating your skin.
6. Buying The Same Style Of Bras
You need to invest in different styles of bras so that you have the right bra for every outfit.
7. Choosing The Wrong Style For A Bigger Bust
If you are wondering how to choose a bra for a big bust, this can help.
Make sure the bra has a supportive back. Opt for styles with wide and firm back and wide sides
If comfort is your priority, opt for a full cup for maximum coverage and support
Go with options where the bra-cup offers lift support or side support
Choose bras with wide shoulder straps as they can help relieve your shoulders. Padded shoulders straps are also a great option as they offer extra comfort
Mistakes To Avoid While Wearing A Bra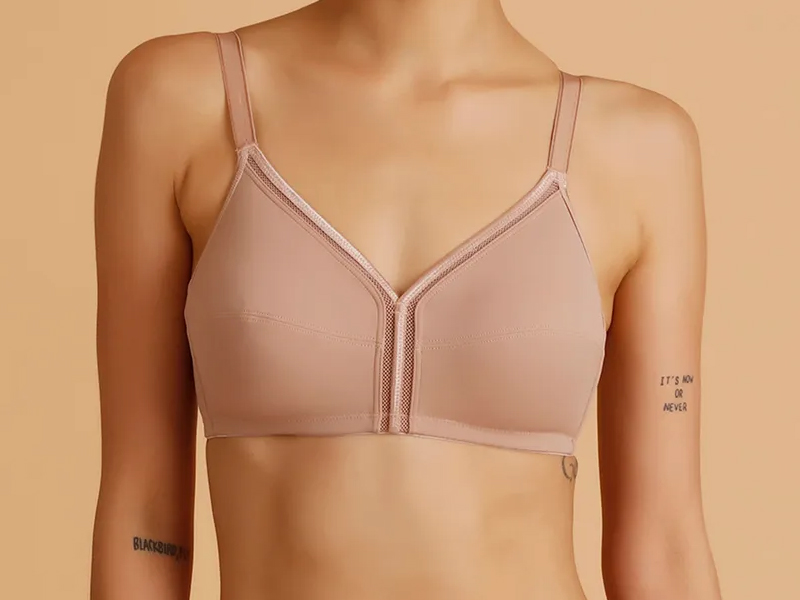 Make sure there are no spill-over or gaps in the cup. If that happens, it may mean that you are not wearing the correct size.
Don't hook up your bra from the front and then slide it across to the back. This may affect the elasticity of the bra. Use the steps given earlier to wear the bra correctly.
The band of your bra should not ride up your back. It should be on the same level in the front as well as at the back.
Don't wear the same bra two days in a row. This may hamper the longevity of your bra. Wearing the same bra for 48 hours or more will make it hard for the elastic to reset itself.
Do not use the tightest bra hook. Ideally, you should start by using the looser hooks and gradually move to tighter ones as the bra stretches with time and use.
With so many bra types available, choosing the right bra can be a daunting task. Options like bralette come in handy when you want to up your style quotient. Essentials like sports bras and t-shirt bras are a must-have. Backless and strapless bras are vital if you wear a lot of backless or sleeveless outfits. Knowing how to use a bra the right way can save you from a lot of discomforts. It is also important to know how to select bra size. Other than the measurements of your overbust and underbust, you also need to consider factors like your body type, your bust shape and how far apart your breasts are before buying a bra. The type of bra you must invest in largely depends on the purpose you want it to serve. Make sure you know all your options before you go out there to buy a bra!