With heavy downpour, the struggle of finding a perfect pair for monsoons is real! The regular rain showers can destroy your footwear in no time and which is where your footwear closet for this season requires shoes that are water-resistant, sturdy, and comfy. So, in order to help you find shoes that are rain-friendly and the ones that can be your ultimate travel companion, here's a list of 5 footwear styles perfect for the monsoon season.
In collaboration with The Channel 46, Laksheeta Govil, Founder of Fizzy Goblet, shares fashion tips on 5 footwear styles that you should experiment with this monsoon.
5 Footwear Styles To Ace This Monsoon
1. Vegan Sliders
Slipping your foot into vegan sliders is a comforting thought and there's nothing better than a pair made out of rubber base for monsoon season. You can wear sliders while travelling, shopping, and for many other activities. With a plethora of gorgeous designs readily available nowadays, sliders can actually brighten your dull monsoon day.
2. Sneakers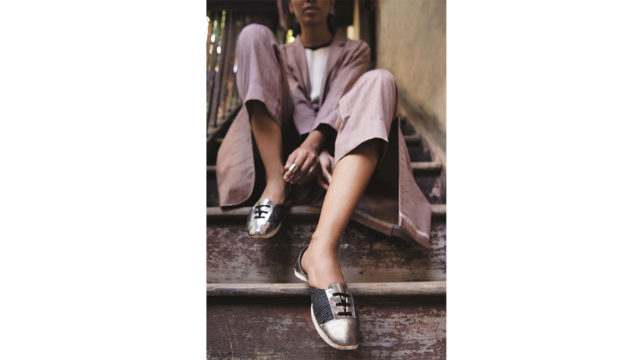 This monsoon, sneakers beckon you to walk in style. So, you should opt for comfy sneakers that feature rubber soles and are double-cushioned. Be it café outings or a leisure trip, sneakers make for great wear in the rainy season. You can also buy open sneakers or brogues for this season.
3. Sandals
Sandals are perfect for the monsoon season as they can be comfy and you can wear them to many occasions. That apart, they are super-easy to maintain, which makes these pairs monsoon-worthy. However, for the rainy season, you can choose sandals that are neutral-toned.
4. Criss-Cross Slides
If you are looking for double-cushioned pairs for the monsoon season, criss-cross slides is definitely your kind of footwear for the monsoons. The slides are great for walking in the rain and they are versatile enough to be paired with almost every western wear – both denims and dresses.
5. Loafers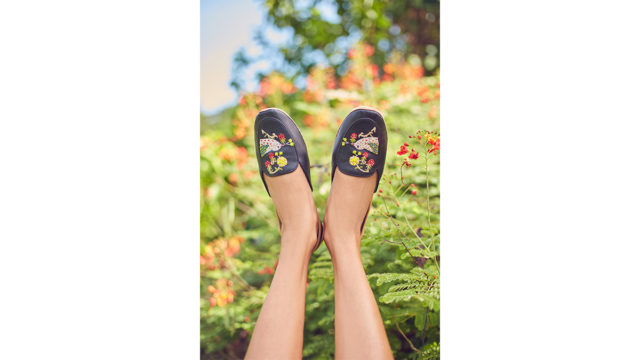 Been raining hard and you have to step out for work? Well, then slip into a pair of neutral-toned loafers. These are so versatile that you can even wear them to meetings and with your formal wear.
5 Tips To Take Care Of Your Footwear During Monsoon
1. Don't Dry Your Footwear In The AC
When you return home after being caught in a monsoon shower, dry your shoes completely before you put them back into your shoe rack. Otherwise your feet may be susceptible to infections when you wear them again on some other day. But how should you dry them? Definitely not in the AC. Contrary to your belief that the AC will dry up your footwear, it doesn't. Your footwear remains damp, irrespective of how long you keep your shoes near it. Place it under the fan or in some place that is breezy, where it can dry up naturally.
2. Clean Your Footwear Regularly
Remove mud and dirt from your footwear frequently to make them last long. Because dirt adversely affects the texture and quality of your shoes over time. Isn't that what you want from your favourite pairs? Use a toothbrush or scrub brush to scrape the dirt off footwear like sneakers. You can even clean your white sneakers with toothpaste using a toothbrush. But remember to wipe the toothpaste off with a clean, damp cloth immediately after.
3. Save Your Footwear From Moisture
It's a challenge to maintain footwear that you haven't worn for long. Despite you keeping them clean every now and then. This is because the excess moisture tends to result in a build-up of fungus and other germs that can wreak havoc to your footwear. So, ensure that your shoe rack is moisture-resistant. Or, even better, wrap each of your pairs in a piece of newspaper or tissue paper for them to soak the moisture and keep your footwear dry at all times.
4. Keep A Dehumidifier Handy
If you feel your footwear closet is damp, you should invest in a dehumidifier to act as a supplement to the newspapers or tissue papers. It will further help you in absorbing humidity from your shoes, keeping them away from getting ruined by fungus during these monsoon months. What's more, a lot of dehumidifiers give out a mild fragrance, eliminating bad odour from shoes, which is so typical to this season. So, say 'hi' to shoes that smell fresh even in this season.
5. Invest In A Wax Polish
It goes without saying that leather shoes are best avoided during this time for obvious reasons. But if there's no escape from these shoes for you, a good wax polish will work its magic. Not only do they make your leather shoes shine, but they also act as a protective top layer preventing rainwater from coming in contact with the leather.
Open up like never before and participate in conversations about beauty, entrepreneurship, mental health, menstrual & sexual health, and more. Desi women, join our community NOW!