The wedding season is here again. The stores are full of brides enthusiastically going from one shop to another, looking for the perfect outfit and jewellery for her big day. While most women have a good idea of which shop they will buy their lehenga from, buying jewellery is often a challenge. Every bride wants a completely different look for all her functions. This means that many different kinds of jewellery styles are required. Fortunately, it is now possible to buy all kinds of jewellery online without having to take the trouble of going to various shops looking for a particular piece of jewellery.
10 Online Stores With Wedding Season Appropriate Jewellery For Brides
1. Carma Online Shop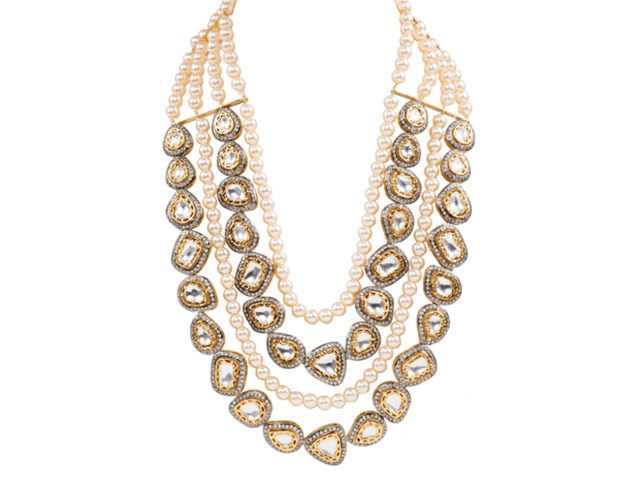 Carma Online is one of the most popular designer online stores in India. They have a very wide variety of wedding clothes, footwear, bags and jewellery. Once the bride-to-be has narrowed down on her dress, she can browse through the many kinds of jewellery available on the website and she is sure to find something that matches her taste and preferences. This website stocks jewellery from many top bridal jewellery brands, allowing its customers to choose from a wide array of jewellery types.
TC46 Loves: The pick from Carma online shop is this elegant kundan and pearl necklace which is a great choice for a haldi or mehendi function. This necklace is suitable both for a small get together or a big fat family event because of its classic multilayered design. The bride-to-be can use this gorgeous necklace to glam up her simple outfit or choose to wear it with a heavy lehenga. The best part about this jewellery piece is that it will make for a very wearable piece even after the wedding festivities are over.
2. Nykaa Fashion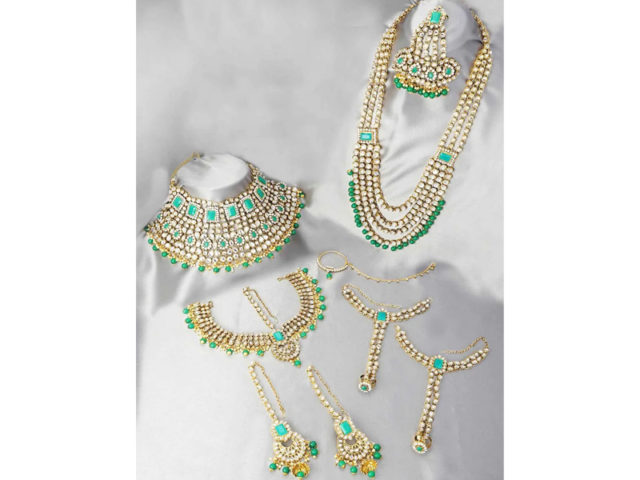 Nykaa is a big name in India as far as makeup and skincare is concerned, but not many women are aware that Nykaa Fashion, which is the clothing and accessory subsidiary of Nykaa has some amazing jewellery options for brides. The bridal jewellery collection on thai website is so extensive that choosing amongst them becomes a task. There are jewellery sets in all the possible colours so that the brides can match them with their outfits.
TC46 Loves: Nykaa Fashion has many options for wedding day jewellery. However, this kundan set is a sure winner because of its intricate design and royal look. The best part about his set is that it comes with a short necklace, long necklace, earrings, nose ring, maang tika, side maang tika and haath panja. All these pieces pretty much sum up the bridal look. All the bride needs to do is add her bangles and rings and she will be ready to look like a queen on her big day.
3. Krafted With Happiness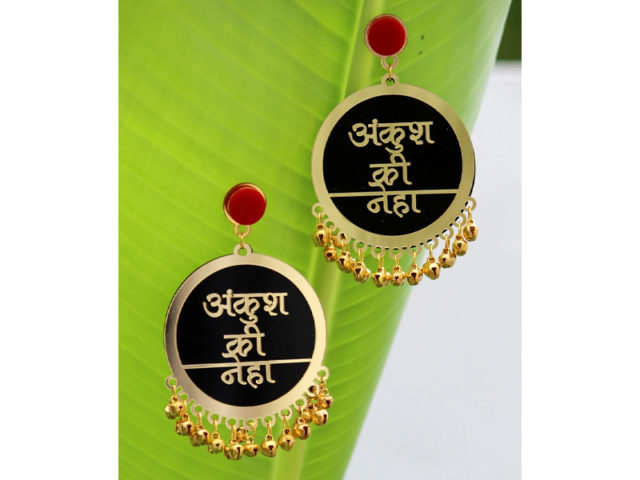 While all other jewelry brands are making conventional wedding jewellery that can be worn for all the elaborate wedding functions, Krafted With Happiness is providing customised jewellery options for fun brides. Their quirky jewellery pieces are ideal for small functions and intimate get-togethers. Fun brides who want their jewellery to be simple but eye-catching can check them out for some out-of-the-box jewellery ideas.
TC46 Loves: There is nothing more special than having the names of the bride and groom incorporated in the wedding jewellery. These customised earrings from Krafted With Happiness are a great way to add the fun element to the wedding. The bride can choose any colour combination and text to make these earrings unique and memorable for her and her partner.
4. Joules By Radhika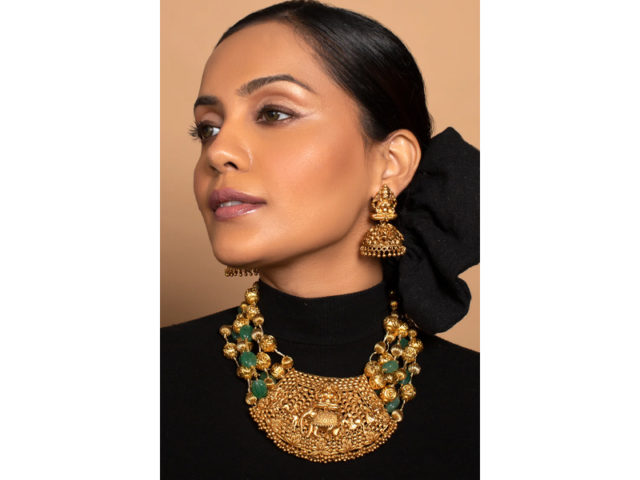 Joules By Radhika is a premium jewellery provider that specialises in high fashion Indian jewellery. They have a wide variety of traditional as well as contemporary jewellery that can be used for all kinds of occasions. The bridal jewellery on this website is very unique and scores very high on craftsmanship and intricacy.
TC46 Loves: We are in awe of this earring and necklace set from Joules By Radhika which is perfect for the poojas and rituals after the wedding. This uncommon piece comes with an elephant motif necklace and temple jewellery earrings. Both these pieces complement each other beautifully, but will also look great individually or when paired with other jewellery.
5. Amazon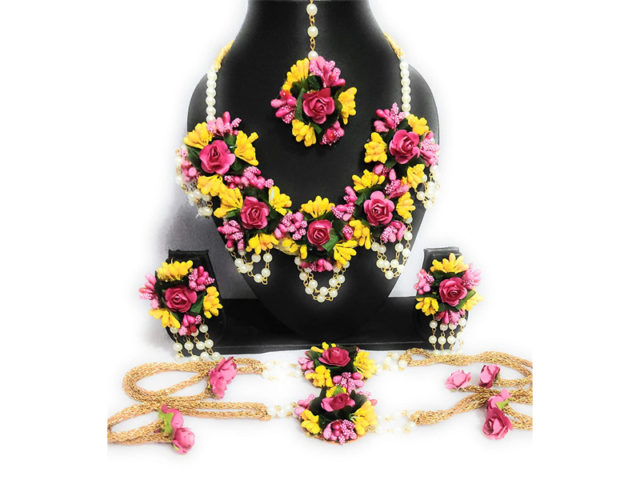 Still using amazon only to buy electronics and everyday essentials? When it comes to bridal jewellery, no other site in India can offer the number of choices Amazon does. This is because every big wholesaler and retailer in the jewellery business has their presence on Amazon. While looking at bridal jewellery on this site, the bride-to-be has access to bridal jewellery that is being sold in all parts of the country.
TC46 Loves: Flower jewellery has been associated with pre-wedding festivities for a very long time. Many women are choosing to wear this kind of jewellery not only for their haldi and mehendi, but also for the pool parties which are a common event in the wedding festivities. This flower jewellery set comes with a necklace, earring and bracelets that are comfortable, light weight and stunningly beautiful.
Click here to shop for floral jewellery on Amazon!
6. Pernia's Pop Up Shop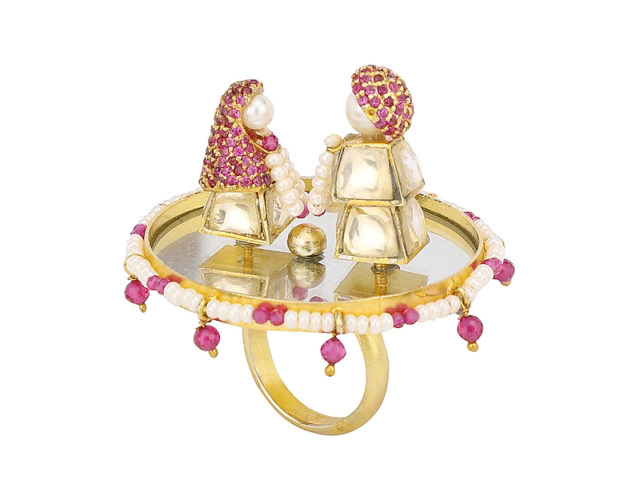 Most people associate this website with unaffordable designer labels. However, Pernia's Pop Up Shop has some great bridal jewellery pieces that have the potential to completely transform your look. A lot of India's top jewellery brands sell their merchandise on this website and it is not uncommon to find some great designer jewellery at very affordable prices.
TC46 Loves: This Raabta ring which portrays a bride and groom exchanging garlands is a great addition to any bride's wedding look. It is a chunky ring that can be used to replace all the other rings brides wear because it has the potential of being a real show-stopper. This silver jewellery piece is very versatile and can be used for almost all wedding functions and even after the wedding.
7. Myntra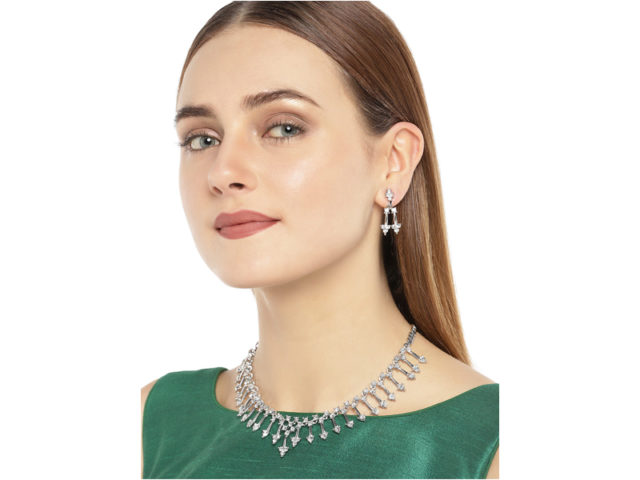 Myntra has been synonymous with great quality at reasonable prices. Their bridal jewellery collection is no different. The website has a wide variety of jewellery which will appeal to all kinds of brides. The options available here range from simple to elaborate, classic to trendy and conventional to experimentative. The brides-to-be are sure to become spoiled for choice when they decide to pick up their bridal jewellery from Myntra.
TC46 Loves: Our favourite from amongst the extensive range of bridal jewellery options available at Myntra is a dainty diamond set. It is a silver-plated set consisting of a necklace and earrings and is ideal for the reception function. After the elaborate wedding look, many brides prefer to wear a lighter outfit for the reception with elegant jewellery and light makeup. This necklace set is a perfect fit for such brides.
8. Flipkart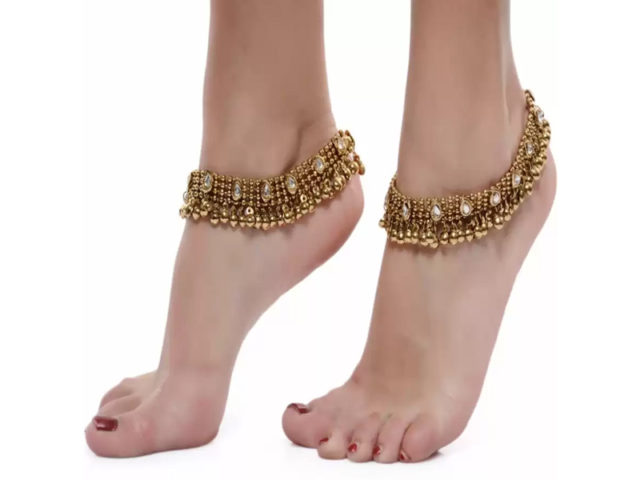 When you are looking at bridal jewellery options in India, Flipkart is one website you should definitely consider. With an exhaustive range of jewellery of all styles, this website is a bride-to-be's jewellery haven. Even if a bride is unsure of the look she wants to go for, she can get a lot of styling ideas simply by looking at the different types of jewellery available on the site.
TC46 Loves: Our favorite from the many kinds of bridal jewellery options available on Flipkart is this wonderful gold plated anklet (payal). Since anklets are included amongst the solah shringar of a bride, they cannot be eliminated from the bridal jewellery list. These anklets are not only beautiful, but also have a very classic design, allowing them to be worn with a wide range of outfits.
9. Aza Fashions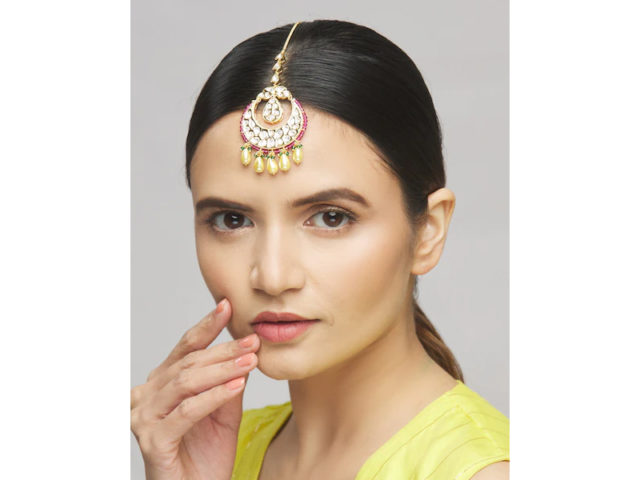 Aza Fashions is a great website for brides-to-be because it has clothes, shoes, bags and bridal jewellery from various designers. This website can provide some great ideas to women when it comes to making unusual fashion choices on their wedding day. Along with the conventional pieces of jewellery which are a requisite for all weddings, the website also features innovative and one-of-a-kind jewellery options that are guaranteed to make heads turn.
TC46 Loves: This maang tika from Azaa Fashions screams luxury and opulence. Encrusted with kundan, ruby, pearl and emeralds in a crescent moon shape, the maang tika rests perfectly on the forehead and gives the bride-to-be princess-like feels. The colours of the maang tika perfectly complement each other and can easily match the other pieces of jewellery that the bride chooses to pair it with.
10. Aashni + Co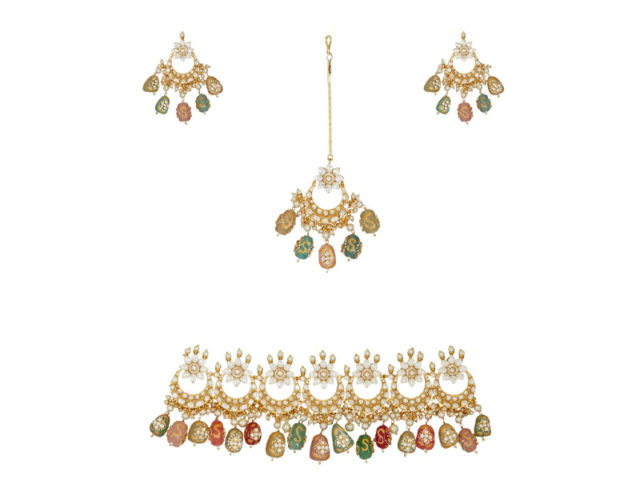 Another premium fashion website of India, Aashni And Co is a great place to go looking for exclusive bridal jewellery. All the celebrities are often seen wearing merchandise from this website, which proves that they stock the best kinds of jewellery. Since this site is so actively involved in providing fashion solutions to A-listers, there is no doubt that brides-to-be can find the latest jewellery designs here.
Top Product: this set from Aashni And Co is a great choice for an engagement party. It comes with a necklace, earrings and maang tika in beautiful pastel colours. The set consists of kundan, pearl and coloured stones which complement each other beautifully.
Style Tips for Brides While Choosing Bridal Jewellery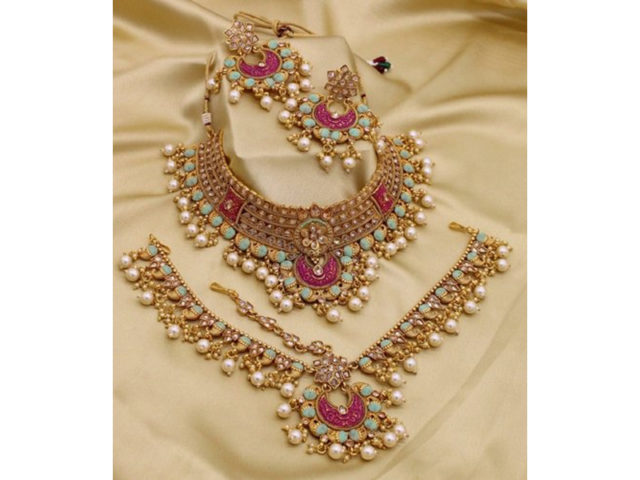 Always ensure that your jewellery matches your dress and vice versa. If you have bought your outfit in advance, choose to buy jewellery in complementing colours. The adventurous brides can also choose jewellery in colours contrasting to the ones on the bridal dress.
Make sure that your jewellery does not have sharp or loose ends that can get stuck in your bridal dress and cause discomfort to you or damage to the outfit.
Always try the jewellery along with the outfit beforehand to make sure that the dress and jewellery look good together.
Check the clasp of the earrings before the wedding day. If it is too loose, there is a risk of the earrings falling off mid function. If it is too tight, you will be uncomfortable throughout the function.
Remember to secure your maang tika with multiple pins so it stays in its place all throughout.
Online shopping has made life very easy for brides-to-be as everything they need is now available right at their fingertips. However, there are so many websites selling bridal jewellery online that it gets very difficult to choose amongst them. While there are many websites that sell this kind of jewellery at very cheap prices, buying bridal jewellery from credible websites is very important. After all, no bride wants to end up with cheap-looking defective jewellery on the most important day of her life.