Saree is one such outfit that can be both classy and sassy depending on how you style it.
When it comes to pairing jewellery with sarees, the possibilities are endless. The key is to choose pieces that complement the overall look and feel of the saree, rather than overpowering it. If you find the process overwhelming or are unsure about how to put a good look together, jewellery brand Ink Lime is here to share their top 10 tips to pair the right jewellery with your saree.
1. Consider The Occasion & Dress Code
Pairing jewellery with a saree should take into account the occasion and the dress code. For professional occasions, opt for subtle and simple, lightweight pieces that are not too busy. For a casual event, make sure your jewellery has some character and makes a statement. For parties and weddings, you can never go wrong with classic and elegant options like pearls, a kundan set, or even coloured gemstones in green, blue or red.
2. Match The Metal
Match the metal of the jewellery to the saree. For example, if the saree has gold detailing or a border, opt for gold-toned jewellery. On the other hand, if the saree has silver embellishments or work, silver or oxidised jewellery can be your go-to option. For a boho chic look, try pairing your cotton sarees with oxidised or silver replica jewellery, or even coloured stones.
3. Consider The Saree's Colour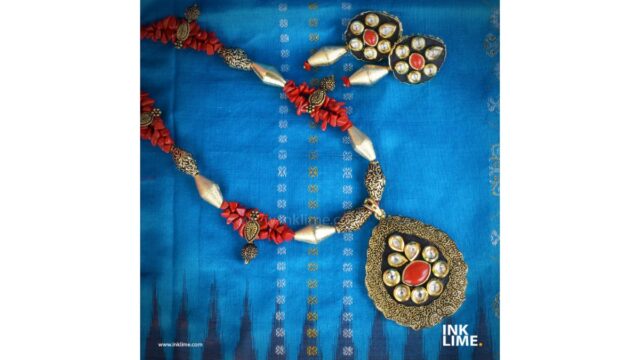 Choose jewellery that compliments the colour of the saree. Before choosing jewellery, decide if you wish to ace the monochrome game or want to go for a contrasting look. For example, if the saree is red, opt for jewellery with emerald green stones for a contrasting look. For the same saree, wearing a choker of pearls with a red ruby centrepiece will create an understated monochrome style.
4. Think About The Saree's Design
If the saree has a lot of bling, detailing or embroidery, opt for simpler jewellery to avoid overwhelming the final look. You could even consider ditching a neckpiece altogether and just opting for stud earrings. If the saree is more understated, go all out with layered neckpieces and earrings to match.
5. Choose Earrings Based On The Neckline
For example, if the saree has a lot of detailing around the neckline, opt for stud earrings that are not too busy. When going minimal with your neck jewellery for a gorgeous saree, bring out your striking long chandeliers and jhumkas or chaand baalis to adorn your ears.
6. Choose Your Neckpiece Based On The Neckline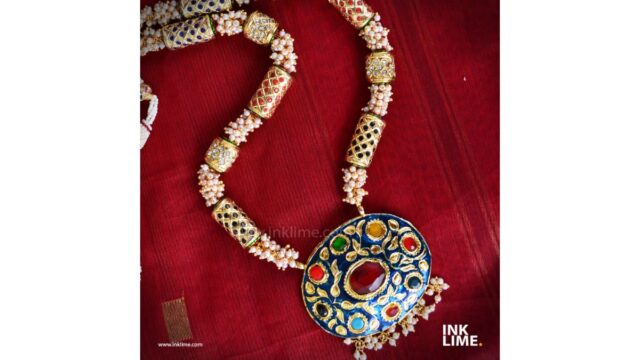 A statement necklace can be a great way to add visual interest to a saree. Choose a necklace that complements the saree's neckline. For example, a wide-spread bib-style necklace works great with a scoop or off-shoulder neckline. A plunging V-neck lends itself well to a longer chain or multiple lightweight layered chains. If you have a busy high neck, ditch the jewellery altogether, but if you have a plain high neck, a statement mid-to-long neckpiece can really complement your outfit.
7. Opt For A Bracelet Or Bangles
A bracelet or bangles can be a great way to add a pop of colour to a saree. Think about adding a stack of plain red bangles on that monotone beige saree of yours. Alternatively, if you choose to keep your overall look unassuming, you can pair them with a stack of bracelets. While wearing a traditional saree, opt for traditional bangles to set the look right. While draping a saree with a modern and minimal design, think about pairing it with an elegant bracelet.
8. Add A Ring Or Two
Rings can be a great way to add visual interest to a saree. Choose rings in-line with the saree's character. You might want to add a chunky ring to add some definition to a subtle saree. On the other hand, an already intense saree needs only subtle midi rings to go with it.
9. Think About The Draping Style
The way the saree is draped can affect the jewellery that is worn. For example, if the saree is draped in a traditional style, opt for traditional jewellery. If the saree is draped in an offbeat indo-western fashion, go for unconventional or contemporary jewellery.
10. Don't Overdo It
Remember, less is more. Avoid overwhelming the overall look by choosing jewellery that complements the saree, rather than overwhelming it. If you are sporting a gorgeous choker, ditch those large chaand baalis and go for simple stud earrings. If you are sporting statement bangles and finger rings, make sure you keep the necklace and earrings extremely easygoing. Always follow the thumb rule—draw attention to one area at a time.
Pairing jewellery with sarees is all about balance and having fun experimenting with different styles and pieces. Remember to consider the colour, pattern, neckline, and overall style of the saree, and have fun with it.
Open up like never before and participate in conversations about beauty, entrepreneurship, mental health, menstrual & sexual health, and more. Desi women, join our community NOW!