Zero-waste and low-impact living are no longer alien concepts. Finally! Fortunately, the human race has started realising the long-term implications of carbon footprints on our environment and initiatives like mandatory use of single-use plastic is a step toward the right direction. The reality remains that embracing an entirely zero waste lifestyle is an immense challenge owing to the resources that we are exposed to every day of our lives. However, the minimum that we can do is to be mindful of the repercussions that our lifestyle has on the environment and make a conscious effort to lead a sustainable lifestyle, as much as it is realistically possible.
In collaboration with The Channel 46, Sahar Mansoor, Founder of Bare Necessities, talks about fostering the cause of zero waste living, her milestones, and what it takes to build a brand in the space. She also shares expert tips for entrepreneurs passionate about the same field.
1. What is your educational and professional background?
I studied at Sophia High School in Bangalore, where I was awarded Outstanding Student of the year in 2007 and 2009. I pursued my undergraduate studies from Loyola Marymount University in Los Angeles, USA, where I did my Bachelor's in Political Science & Environmental Planning in 2013. During my term there, I received the LMU Academic and Leadership Scholarship granted to the top 2% of the international students and also won the Interdisciplinary Scholar of the Year Award in 2013. Further to this, I was awarded the full-ride Rotary Global Grant Scholarship and attended the University of Cambridge, UK for my MPhil in Environmental Economics & Law in 2014. Besides this, I pursued my INSEAD Social Entrepreneurship Program in 2018 in Singapore.
I was a project assistant with HEAL Africa in Goma, the Democratic Republic of the Congo, in 2011. During my time there, I monitored and evaluated the effectiveness of HEAL Africa programs to be considered for a USD 1 million endowment by the Opus Prize Foundations. Additionally, I worked on evaluating HEAL Africa's Gender and Justice, HIV Psychological and Social Recovery, and Safe Motherhood Micro Insurance Programs.
I had the opportunity to work as a Mobile Health Researcher at the World Health Organisation (WHO) in Geneva, Switzerland, in 2014. My primary duties at this job included creating proposals for a mobile app for non-communicable diseases (NCDs).
On return to Bangalore, India, I joined as a Policy Analyst at SELCO Foundation, a solar energy social enterprise. One of the earliest grid-integrated mini-grid initiatives was what I worked on here, both in terms of design and execution. Through this, I was working alongside Gram Panchayats, CSR Funders, local electricity distribution providers, and technology partners. I collaborated with Farmer Producer Organisations (FPO) on comprehensive technological and financial innovations that ranged from using solar power to power agri-processing plants.
2. What prompted the idea for Bare Necessities?
In 2012, when I was in my third year of college, I watched a video of Bea Johnson in Professor Chris Chapples's World Religions and Ecology class. While I was blown away by her lifestyle, I remember conclusively dismissing it too. How could she afford to shop at 'Whole Foods'? Was she free enough to make her own products? How could I have possibly lived a zero-waste lifestyle while juggling three jobs, maintaining grades for my scholarship, having a fun social life, and exploring a new city I came to call home?
Nevertheless, this course was a turning point in my environmental journey. It left me wanting to learn more! To fulfil my thirst for knowledge, I worked with my Dean to add environmental planning as my second major and took some amazing classes in environmental engineering, and environmental ethics and policy. This nudged me to think deeper about our trash problem. It made me realise that we are subjects of an urbanisation-globalisation era, which is coupled with being caught in a web of convenience. Owing to these factors, we don't think of personal trash and attribute it to a larger global problem that we have no control over.
My Cambridge and WHO (World Health Organisation) perspectives taught me that waste was an environmental issue, which it is. However, moving back home made me acknowledge that waste is a social justice issue as well. Working with SELCO Foundation gave me the opportunity to work with a community from West Bengal, who were waste pickers. I spent time shadowing them and what I was most confronted by was the social justice issues of our waste problem! Every day thousands of waste pickers segregate broken glass, sanitary napkins and needles all with their bare hands. When I first faced the facts, I couldn't believe how something as innocuous as our garbage could be negatively connected to so many of my personal and political concerns.
I wanted to stop being a part of the problem. My solution was to live a lifestyle that best reflects the values I cared about. I called myself an environmentalist and had studied the subjects, but I needed to live a life more congruent to my environmental and social justice values.
I started taking my first few steps in April 2015. The transition was incremental. When I ran out of soap, I learnt how to make my own, instead of buying store-bought ones. However, I am still not zero waste – and I doubt I will ever be. It is good to know your boundaries.
In my zero-waste journey, I realised we lived in a world with LANDFILL destined products. In response to this problem, I wanted to create a company that mirrored the values of zero waste, ethical consumption and sustainability. I wanted to make it easy and accessible for other people looking to consume more mindfully and to encourage others to produce less waste. Thus, Bare Necessities was born.
3. Did you always know you wanted to work in this space?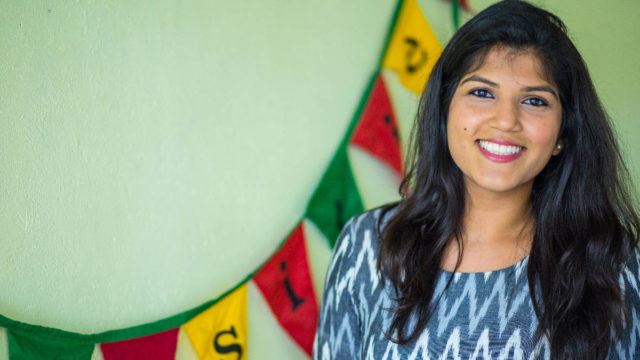 I think I have subconsciously been an environmentalist since I was a little girl. Growing up in the garden city of Bangalore, my love for nature was fostered by spending weekends in Cubbon Park with my Dad and two big sisters, climbing trees and mostly falling off of them. My Dad would never miss his morning walk in Cubbon Park. Holidays for our family meant road trips, jumping into waterfalls, swimming in the beach, early morning walks, and soaking in the sunsets and sunrises. Having lost him when I was very young, being in nature continued to be one way of remembering him.
My educational and work experiences helped me realise what a deep-seated problem waste was. It enabled me to think of possible solutions for the problem as well. Being an environmentalist since I was young made me hungry to offer solutions in the best way that I could. Well, I probably didn't know if I wanted to become an entrepreneur when I was young, but I sure did know that I had to do everything to protect the planet that we call home.
4. What was your first milestone and how did you get there?
The first milestone was perhaps, setting up the entire woman-run manufacturing team and constantly training them to upskill and improve their skills. Bare Necessities has a 99% women-run manufacturing team, who handcraft our personal care products. We seek to work with women from tough backgrounds to bring them into the circular business workforce. Much like the women in our manufacturing team who had no form of employment prior to joining Bare Necessities.
When I started creating Bare Necessities, my kitchen served as my laboratory. My househelp generously offered to help me out and I went on to recruit a few ladies from the neighbourhood. Further to this, I was successful in recruiting more women to join the manufacturing team. Currently, our manufacturing team comprises six wonderfully talented women, who work immensely hard to ensure we are consistent with our deliverables.
5. What are your tips for an aspiring entrepreneur who wants to enter this space?
Firstly and most importantly, maintaining discipline. It's necessary to establish boundaries; essentially, the balance between personal and professional lives is critical. Only if you have a good personal life, will it reflect positively on your professional life, and you will feel present at work. It will ensure a good work-life balance.
Secondly, a strong morning routine has helped a great deal. On the days I meditate, I make decisions clearly, and I am less irritable. Solitude in the morning reserved for yourself alone sets the stead for the day.
Lastly, I cannot emphasise enough on the importance of building resilience. You have just got to keep at it. As an entrepreneur, you are going to face a lot of rejections, so building all kinds of resilience – emotional, financial, and mental – is of paramount importance.
6. What were the 3 best business/financial decisions you made?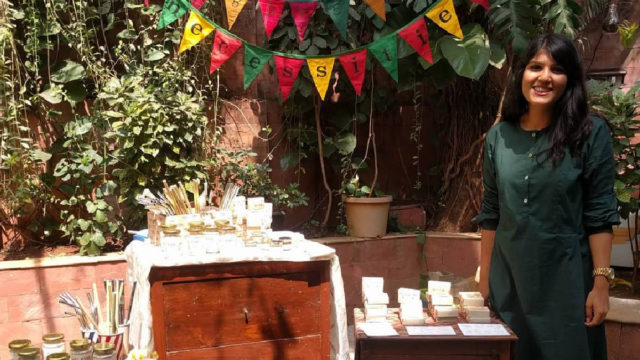 Hiring a formal accountant early was a wise decision that I took early into starting Bare Necessities. It's important to know cash flows and keep a culture of bookkeeping early into the startup. However basic the accounts may be, it's important to have a formal accountant to do the job.
In addition to hiring a formal accountant, I have realised the value of hiring the right team to build the company. The team that I surround myself with should have complementary skills while challenging me to think differently. They should be enablers to take the company to the next orbit.
Lastly, I lead with the end in mind. I perceive the company in a holistic fashion, where I think not just about economics alone, but also about the people and the planet. In doing so, I have been cognizant of the multiple facets of running an enterprise.
7. How long did it take you to monetise your venture? What was the turning point?
I have been monetising the business right from the get-go. Bare Necessities has been featured on pop-ups, sales and other revenue-generating models right from the beginning.
8. Are you looking for funding/have acquired investment/intend to bootstrap your business?
We have raised a small seed round from impact investors. We have raised funds from individuals, with whom our values resonate.
9. Who are the key employees/vendors you need to secure to work in this space?
The CEO, CFO and CMO are the most important partnerships to work in the place. Since I have always perceived Bare Necessities as holistic, keeping constant tabs on these fronts has helped us grow in a well-rounded manner.
10. How do you intend to scale up/expand your business in the next 5 years?
As the founder of Bare Necessities, I wish for it to become a hub for zero-waste or low-impact living in India. Through this journey, I have re-learned new definitions of leadership. My leadership can be distinguished into two chapters. One, as a 'thought leader', spearheading the zero waste movement in India; challenging citizens, legislators, manufacturers, and product designers to re-imagine our waste problem. Second, within the organisation, I have been challenged to think about what values I want to install in the organisation and what value-based leadership means to us. I learned it is important to lead individuals (irrespective of age) while still giving them the autonomy to thrive and develop their own leadership style within the organisation.
In 10 years, I envision myself spearheading a brand that has found increasingly sustainable solutions – resulting in highly innovative, green products. I hope to continue to be a thought leader in this space and build a scalable model of production and distribution that has a low environmental impact. I hope to also make this model accessible to other people to provide them with sustainable solutions that they can replicate, and with well-documented learnings from my past.
In the future, Bare Necessities seeks to become an interdisciplinary hub, a home for product designers to design products with a cradle-to-cradle philosophy. It must be a place for policy analysts to work with local governments on policy recommendations to manage our waste better, to reduce our waste. A place for behavioural economics, ecologists, researchers and consumers alike to build the ecosystem toward a circular economy. Not just that, Bare Necessities also seeks to collaborate in new geographies, new industries providing zero waste consultancy services, leveraging technological products for synergy gains on product and serving to ultimately co-creating with our collaborators and community.
11. How has your business pivoted after the lockdown and in the light of the pandemic?
In 2020, I am proud to have managed my team and enterprise to adapt to the pandemic. Right before the pandemic escalated, we released an Online course titled 'Zero Waste in 30' on 27 January 2020. I think our ZW30 course is groundbreaking because it is the first Zero Waste context-specific course offered by an Indian enterprise/organisation/institution.
The course has now 600+ students registered and we have been getting terrific feedback from the learners that this course has been impactful in their journey to learning about waste. Especially during a time of crisis when the world is turning to single-use plastic items in fear of COVID-19. The course has contributed to my business growth during the pandemic and continues to do so. I was also featured on the cover of Verve magazine for their June 2020 issue titled "Shaping the Future-The Environment Issue".
Open up like never before and participate in conversations about beauty, entrepreneurship, mental health, menstrual & sexual health, and more. Desi women, join our community NOW!