Although the healthcare system in India is taking baby steps in terms of infrastructure and services, unfortunately, the same is yet to apply for women's healthcare. And a very large part of it has got to do with social stigmas and taboos related to it, which acts as a barrier for women and their family members to seek the guidance of gynaecologists. Add to that, the sky-high prices attached to these healthcare services. But not when they can get the same help without revealing their identities and that too at heavily concised charges. And that's exactly what Pinky Promise, a women's healthcare app, seeks to achieve.
The Channel 46 caught up with Divya Balaji Kamerkar, Founder of Pinky Promise, who sheds light on the existing scenario with respect to women's healthcare in India and how her organisation strives to change the despicable reality. She discusses her milestones, monetisation strategy, experiences, and much more from her entrepreneurial journey so far.
What is your educational and professional background?
I have completed a B.S. degree in Biology from Yale University and an MBA from Wharton. I am a Wharton Forte fellow and a Director's list holder. I received scholarships in both of these institutions to meet 100% of the cost of attendance. I also have a fellowship in Global Health from Yale.
I have a decade of work experience in healthcare and gender. I have worked in Tanzania and published the first-ever report of gender-based violence acting as a deterrent to healthcare access there. This had several suggestions on restructuring healthcare systems which were taken up in Russia, Australia and so on.
I spent some time in the state of Bihar after that, on a nutrition and public health-focussed project and then moved to Delhi, my hometown, after the Nirbhaya incident to work with the Delhi Government as a senior consultant with the zeal to make the city safer for women. Here, I was involved both in policy-level changes with senior bureaucrats and legislators, as well as with the police and judiciary. I also helped in several human trafficking rescues and worked to make the healthcare system the primary access point for the well-being of women.
Thereafter, I worked with the Bridgespan Group, a management consultancy company for mission-driven organisations. Here, I advised governments, philanthropists as well as other mission-driven organisations in Asia, Southeast Asia, India, the Middle East and Sub-Saharan Africa on several healthcare strategy issues.
What prompted the idea for Pinky Promise? Did you always know you wanted to work in this space?
When I was working in Bihar and then in Delhi, I have come across hundreds of cases of women suffering from easily treatable issues like debilitating period pain, urinary tract infections, repeat yeast infections and so on. They were sceptical of consulting a doctor because they have been too scared or worried about social stigma and their privacy, to seek medical help.
There is one incident that is etched in my mind. I was in rural Bihar and someone knocked on my door at 5 am to ask for help because a girl had nearly fainted. It turned out her periods hadn't stopped for 20 days and their district hospital had one "lady doctor" (a female M.B.B.S. doctor) who was not available at that time. She had to be rushed to Patna and undergo checkups by a gynaecologist who was able to control the bleeding. This caused her father, a daily wage worker, to go into debt to pay for her hospitalisation. The sad reality is that her condition could have easily been prevented for just under Rs 500 if she had told someone about it early enough.
Similarly, while working for the Delhi government, so many women would tell me that they have been suffering from persistent urinary tract infections but have been scared to go to a doctor because they are worried for their privacy and the links it may have to pre-marital sex. The truth is that ignoring a UTI can cause permanent kidney damage. It was incidents like these which woke me up to the dismal health-seeking behaviours of women and their family members.
When you dig deeper into these stories, the numbers are glaring! In India, there are nearly 360 million menstruators and only 70,000 registered gynaecologists. While only 6% of India is in the metros, nearly 90% of gynaecologists are concentrated there. Roughly, this means that more than 90% of Indian women are in areas that are either completely untouched or just about touched by gynaecologists. Additionally, when we surveyed women in areas that had gynaecologists, we realised that nearly 70% of the women we surveyed chose not to go to one when they had a reproductive health issue because of the social stigma, the taboo and the awkwardness that they felt when discussing these issues. So the reality is that apart from pregnancy and sometimes, for routine mammograms, most women just don't go to a gynaecologist!
At Pinky Promise, we believe in building a solution that not only allows women to get instant and high-quality care for just Rs 50, but also helps them connect to a supportive community, track their cycles and be more on top of their health. Firstly, all medicine is protocolised. This means that we can build a software that draws on these protocols and other data about the patient, to assist gynaecologists on Pinky Promise. This helps us reduce the time taken and the price points, so that women don't have to think twice about paying for their well-being.
Secondly, we realised that women were more honest to a completely faceless system than to even the friendliest and more approachable person. Therefore, we have a seamless and highly private intake system which helps our users to feel confident and open up about anything – be it an iPill they took which delayed their periods, a condom rupture or similar situations like these.
Thanks to the penetration of 4G internet-enabled smartphones in India, we are seeing our product take off at a very rapid rate!
What was your first milestone & how did you get there?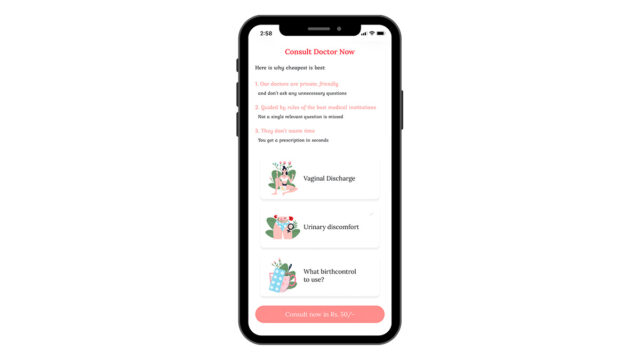 Our first milestone was achieved when we saw that our app was spreading organically through word of mouth, by women who had themselves used it and benefited from it. We actually built and launched our app in the Play Store with just around 4000 dollars of grant funding that we won during my time at Wharton. We coded the app in-house, tested it extensively, and launched it in beta version with just 70 women from India trying it and giving us feedback on an almost daily basis. This was in September 2021 for Android and January 2022 for iOS. At that time, we launched a free symptom checker and free chatrooms for different issues, where users could write about their issues and seek support anonymously.
In just three months, we had grown organically to more than 2,000 women trying the app and our numbers were doubling week on week. The symptom checker required a ton of R&D and repeat testing and modification because we had to be sure that each question was easily understandable and the results were highly accurate. When testimonials of women who had used the app started flowing in, that was when we felt like we had truly achieved our milestone. We felt so happy because we polled our users and realised that more than 60% had never been to a gynaecologist and our app was now their primary source for accurate, evidence-based information.
How long did it take you to monetise?
We started generating revenue in November 2022. It took us around six months after we had tested out the symptom checker, to build further on it and develop a software that could function as a reliable Gynecologists' assistant. We then tested and launched this system after onboarding and training our Consulting Gynaecologists. In our first month itself, with zero advertising, we noticed nearly 150 consultation enquiries come in every day. We launched pathology testing on our platform just a couple of weeks earlier and look forward to now providing a seamless care experience in our app from diagnosis and testing to management.
What are the price points of the products you offer?
Anyone can consult with a gynaecologist on our app for just Rs 50. The price of tests varies significantly from Rs 500 for a pregnancy test to Rs 6,500 for a Comprehensive Sexually Transmitted Infection (STI) panel. We have partnered with Metropolis Healthcare to bring the best quality tests to our customers.
How are you creating awareness and marketing your products? What kind of marketing strategies work best for your brand?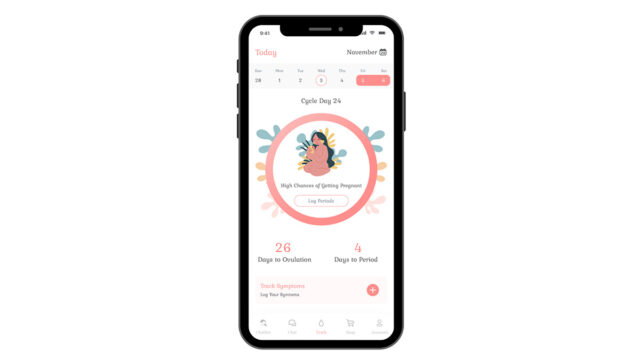 Our biggest channels of getting in touch with our target audience is through the word of mouth, SEO and social media. Our app is gamified to encourage its spread. App users can win points when their comments on chatrooms get upvoted, and also when they share the app with others who in turn sign-up using the referral code. These points can be redeemed against Pinky Promise branded wellness products. Additionally, we have an extensive repository of information on our website for frequently asked reproductive health questions, reviewed by our clinical lead Dr Reema Shah, that is SEO optimised. We have registered nearly 800,000 impressions in Google search in the past two months alone.
Finally, we make trending and informative reels on our Instagram page to bust myths and spread awareness about sexual and reproductive health. Each reel has between 10,000 and 2,00,000 views, and some of them even cross millions. We get more than 500 enquiries every week due to this, which then convert into paid users on our app.
Could you describe a typical user/buyer of your brand?
Our target audience is women between the ages of 18-28 from tier 2 and smaller areas of India. Most of our customers are not primarily English language speakers.
What are the distribution channels you use or wish to use?
We are primarily D2C on our own app. Our emphasis, therefore, is on making our app extremely accessible to a wide range of women in India and, therefore, we are currently in the midst of an exercise to translate it into Hindi (with some Hinglish), Tamil, Marathi and a variety of other regional languages. We go directly to our target audience instead of relying on advertisements and so on.
For example, we have recently launched a Campus Ambassador Program where students on college campuses are trained by us in basic scientific information pertaining to sexual and reproductive health. They serve as resources for their campus and community. Wherever and whenever required, they do the handholding for their community and onboard them onto the app, help them book consultations, tests and so on.
How are you differentiating your brand from the competition?
We believe that our proprietary software is more scalable and accurate than anything else in the market today. As a result, we are able to offer our consultations at a very low price point and not sacrifice the quality. Our consultations are priced at one-fourth the price of the cheapest competitor in the market, which ensures that our customer retention and engagement rates are extremely high. Secondly, we are targeting women in tier 2, tier 3 and smaller areas, who are otherwise untouched by reproductive healthcare services. Our customers come from places like Neemuch (MP), Patan (Gujarat), Pithoragarh (Rajasthan), Katihar (Bihar), and so on.
Open up like never before and participate in conversations about beauty, entrepreneurship, mental health, menstrual & sexual health, and more. Desi women, join our community NOW!