If you're someone (like me!) who wants a honeymoon full of different experiences and activities, Turkey is a destination you absolutely must consider. I did, and I don't regret it one bit. Right from the city of Istanbul, a melting pot of so many different cultures to the town of Cappadocia which is full of rocky mountains and caves to the beach town of Antalya, it never failed to surprise me how the country has so much to offer. 
As a honeymoon destination, I believe Turkey offers enough opportunities for you to spend quality time with your partner. Of course, you can plan your trip according to what you prefer as a couple. If both of you are fond of learning about history, art and culture, there are multiple places to see in Istanbul – the magnificent Hagia Sofia, the beautiful Blue Mosque and many other museums. If you like spending time on the beaches, you can spend a major chunk of time in the town of Antalya. Cappadocia is a natural beauty lover's haven. And of course, if you enjoy Middle Eastern food, all of Turkey in my opinion is a foodie's paradise! 
Here are a few recommendations from my own honeymoon in Turkey.
8 Must-Do Honeymoon Experiences In Turkey
1. The Hagia Sofia and Blue Mosque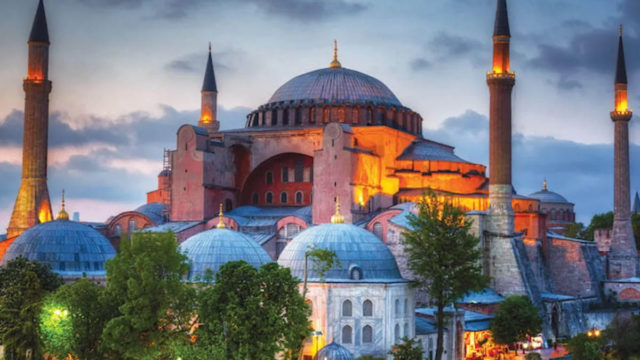 Even if you're not a history buff like me, these two are a must do, just to admire the sheer beauty of these monuments.
Quick tip: Do remember to wear modest clothing and carry a scarf to cover your head as these are necessary rules to visit most mosques in Turkey.
2. The Bazaar in Istanbul
While most of us in India are no strangers to streetside markets, open bazaars like the Grand Bazaar and Spice Bazaar often have fun experiences of shopping for traditional Turkish ceramics, spices, jewellery, clothing and even food like nuts and other Turkish delights.
Quick tip: Don't forget to use your best haggling skills; they'll come in handy when you're buying something you like in these no-fixed-price bazaars!  
Read: 5 Gorgeous Beachside Honeymoon Destinations (That Are Not The Maldives)
3. The Hot Air Balloon Ride In Cappadocia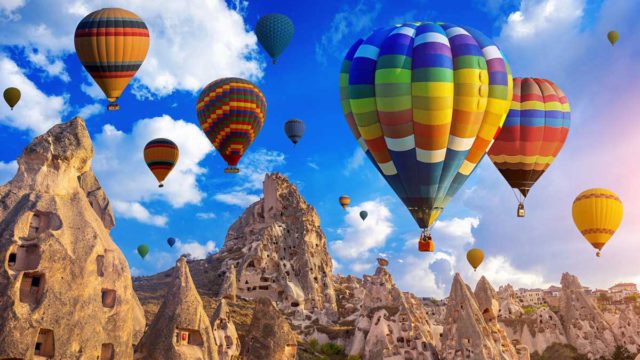 Can anything be more romantic than the two of you watching the sunrise as you float over the picturesque mountains and valleys? Even if you've seen pictures on your friend's Instagram, I promise you no picture does justice to the gorgeous view of hundreds of hot air balloons going up all at once. Once-in-a-moment lifetime, this is!
Quick tip: If you can, try staying in Cappadocia for an extra day or so. The hot air balloon activity is heavily dependent on local weather conditions. In case your ride gets cancelled owing to the weather, you have the opportunity to reschedule it for another day.
4. A Hammam Experience
The traditional Turkish spa (combined with a massage). While most hammams have separate chambers for men and women, some of them might be able to accommodate you as a couple in a private room. Spend some time relaxing with each other as you go through an entire experience of a spa, a foam bath and an oil massage, together. You won't regret it, I promise!
Quick tip: Prebook a hammam appointment, usually most spas are pretty busy. Also, there are many of these all throughout the country, so make sure you check a few to compare rates. 
5. The Sunset Bosphorus Cruise In Istanbul
Get your mini-Titanic moment, as you spend quality time on a cruise watching the sunset over the beautiful skyline of Istanbul.
Quick tip: Try an afternoon and an evening cruise experience as compared to one at night; the views in the sunlight are a lot prettier.
Read: 7 Best Honeymoon Destinations In India Jo Bade Hi Romantic Hai
6. Trying Turkish Tea & Coffee
If you like tea and coffee dates with your someone special, you're in the right place! Tea and coffee are both integral parts of Turkish culture. And you have countless cafes serving both of these. While they taste different from the regular tea and coffee you're probably used to having, they're definitely a must-try, in my opinion.
Quick tip: Packaged Turkish tea and coffee are also great gifts to bring back for friends and family back home!
7. Walking
One of my favourite things to do abroad is to walk and explore on foot, something we, unfortunately, do not do a lot in India. Thanks to mostly pleasant weather and proper walking streets, you can take advantage of this and walk hand-in-hand with your partner. Your 10,000 daily steps will be a cakewalk. 
Quick tip: Carry comfortable walking shoes, sneakers or flat walking sandals—they're ideal.
8. Trying Out A Completely Different Experience
During our trip, we tried our hands at learning multiple things. A beginner's lesson in pottery making. A Turkish cooking class. A scuba diving session. A walking tour of Istanbul. And, I believe, each experience helped us create memories we will cherish forever. I would definitely recommend this to a couple, and spending quality time doing or learning something new really helps create strong bonding time.
Quick tip: Pre-book activities. With a huge number of tourists visiting throughout the year, they are likely to get sold out.
5-Point Traveller's Guide For A Smooth Vacation In Turkey
One thing I found particularly strange is that in most restaurants, drinking water is not complimentary, which means you have to buy an entire bottle of water. Also, tap water is not drinking water in Turkey. What I'd suggest is to stop at a supermarket, pick up a few bottles of water for use on your trip and carry them around.
Use public transportation, especially in Istanbul. Much cheaper than getting taxis. Also, allowing you to travel truly like a local.
While in cities, you shouldn't have issues with the language. However, in smaller cities, you could. Use apps like Google Translate in case you need help talking to a local.
Most open bazaars don't have a fixed rate. Ensure you haggle, or else you'll just end up overpaying.
If you're shopping for food items to bring back home, you'll find much cheaper options in supermarkets as compared to souvenir shops.
Open up like never before and participate in conversations about beauty, entrepreneurship, mental health, menstrual & sexual health, and more. Desi women, join our community NOW!