For a country that has great reverence for the institution of marriage and believes in organising the multiple day event with all the taamjham and shosha that they can manage, Big Fat Indian Weddings is quite the thing. It is only in the past few years that the concept of an intimate wedding is becoming increasingly popular. However, that does not diminish the fascination for destination weddings.
Choosing a destination for your D-Day is special. Because it will invariably be a place that holds great meaning in your love story or has always been your dream destination to get married. Adding to the speciality is the "larger-than-life" celebration, which makes it more extravagant. Keep on reading this article to learn about some of the most exotic, romantic, or regal wedding destinations you can choose for your wedding.
7 Best Locations In India For A Destination Wedding
Coming to making a choice in picking the destination – you have a lot of factors to consider. India is a land of travel and offers you a plethora of options. Here are some of the most popular wedding destinations you can choose from:
1. Goa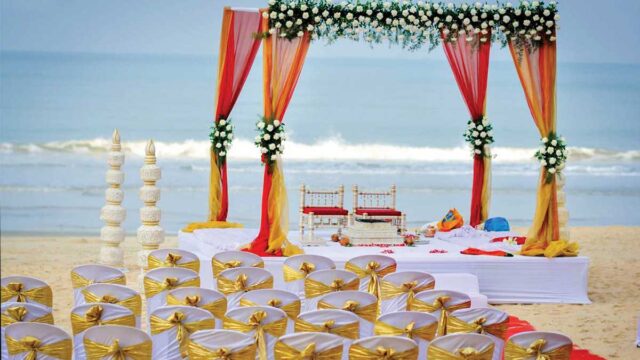 Goa – one of the most beautiful tropical destinations in India. Couples finalise the beach place as their destination wedding location for a lot of reasons. Imagine a minimalistic European or a crazily colourful bohemian decor, amidst the magical backdrop of golden beaches and the whisper of the pristine blue sea, while you take your pheras! Isn't it way too magical? It goes without saying that Goa is one of the most luxurious wedding destinations in India.
2. Udaipur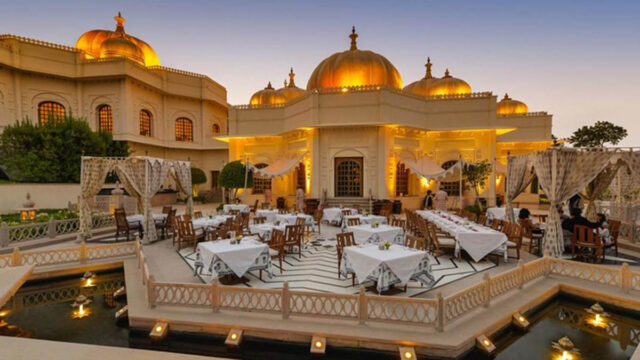 This regal city in Rajasthan has been a favourite wedding destination for not just Indians but celebrities from across the world. It has also been an integral part of weddings in pop culture, Yeh Jawani Hai Diwani, for instance. Yet another reason that makes the city one of the most popular and best destination wedding places in India. The myriad of resorts and palaces in Udaipur serve as exotic venues for a grand wedding.
3. Jaipur
Popularly known as the Pink City, Jaipur is yet another city in Rajasthan that experiences a surge in demand among couples planning a dreamy, royal wedding. Clearly one of the best destination wedding places in India. Rambagh Palace, Raj Palace, and the Jai Mahal Palace is the most stunning location to pick for a wedding. Udaipur is one of the destinations on the expensive side, however, Jaipur has some affordable options as well. Alsisar Haveli and Mandawa Haveli are some of the options for a low-budget destination wedding in India – budget-friendly locations that make your dreams come true.
4. Rishikesh
A completely decked-up mandap, surrounded by mountains, along the River Ganges, lined with glowing diyas – doesn't it seem to be the perfect wedding location? Well, that's Rishikesh for you! The mesmerising views of the mountains and the bank of the Ganges will give you a spiritual experience, surrounded by calm, peace, and tranquillity. Rishikesh has started becoming the choice of couples for not just pre-wedding shoots but for making wedding vows too, the best wedding destination in India, one among the recently emerging locations.
5. Agra
Taj Mahal, the monument which gives a definition to love. One of the seven wonders of the world (and quite rightly so!). There are so many resorts that you will be able to find a suitable location to take your vows. Go for a venue that opens up to the magnificent view of the Taj Mahal and you're sure to make memories of a lifetime. Need we say more when you're looking for the best destination wedding resorts in India to begin a new life?
6. Amritsar
If you want to keep your wedding lowkey and yet make a lasting impression with the show-sha, Amritsar may be the best pick for you. The typical North Indian wedding destinations in India where you would be able to enjoy the crazy wedding as well. If you are planning a temple-themed wedding in North India, Amritsar should top your list of the best wedding places in India.
7. Kerala
Another tropical yet charming destination for weddings in India is Kerala. If you're looking for a hatke wedding that is not set among the mountains, beaches, or the royal desert cities of Rajasthan, Kerala is one location you should definitely consider. And you might just realise that the backwaters in the state (perhaps in a South Indian temple) is one of the best destination wedding places in India where you may want to tie the knot.
5 Budgeting & Planning Tips For Your D-Day
Destination weddings are mostly an expensive choice to make. However, you can follow the tips below that will help you plan and set up the budget according to your choice.
Choose your destination and plan your other expenses first  – decor, caterers, photographers, makeup artists, and other basic yet most important categories. 
Research the theme well in advance and hire an event manager, who you know has the expertise to bring your plan to fruition.
Decide on the guest list. There are various factors you need to consider while finalising the number of guests you want to ignite on your special day – your budget is one of the most essential parameters.
Plan a pre-wedding function in your hometown where you can call all your guests, whom you may not want to invite to your destination wedding location.
Keep a little extra for miscellaneous expenses because you can take it for granted that you will have a few unforeseen expenditures.
"Hum ek baar jeete hai, ek baar marte hai, shaadi bhi ek baar hoti hai…Aur pyaar bhi ek baar hota hai." – SRK's dialogue that needs no introduction. Whether love and marriage happen only once is a debate that we'd like to keep for some other time. But now that you are getting married and are all ready to begin a new life with your partner, the above list of destinations is just what you need to start planning on your D-Day.
Open up like never before and participate in conversations about beauty, entrepreneurship, mental health, menstrual & sexual health, and more. Desi women, join our community NOW!