You cannot count the number of instances when someone gave you a stare down or when you were eve-teased or commented on by a stranger or even a family member for weaning something particular. You must have seen multiple videos shared by women when they were stopped from going to places because of the clothes they were wearing. Or take the most recent example of the student Jublee Tamuli who wasn't allowed to sit for an examination because she was wearing shorts and was forced to wrap a curtain before entering. But do the clothes put on by a woman actually make a difference in the way her character is deduced by the men who see her? Who decides what is decent and what is vulgar? No law ever allows dress policing! So, it's time for everyone to just stop and let women wear what they want to!
15 Real Women Share Views On Dress Policing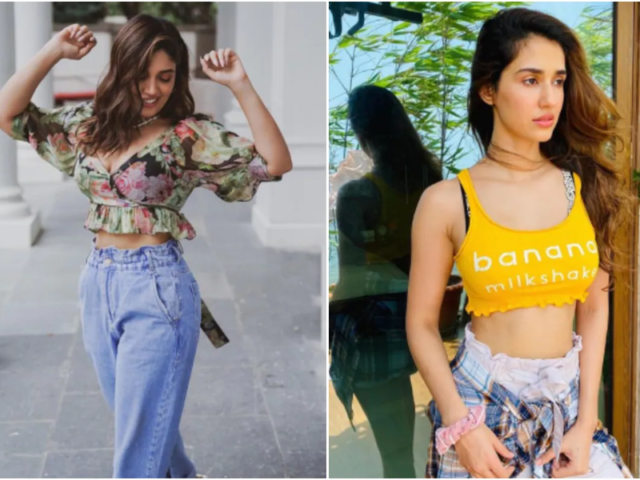 TC46 put out a post on Instagram here asking our followers what are their opinions about, "Can someone please tell us why saree blouses are sanskaari and but crop tops are ashleel?" And, here's what they had to say!
"Stop the hypocrisy right now! Clothes are clothes, it doesn't matter if they're western or traditional. It's not about sarees or jeans or crop tops or salwar kurta, it's all about the MENTALITY." – Aaisha*
"Now I wear crop tops with sarees and no society vaali aunty has an opinion about it because it looks just like a blouse!" – Oorvi*
"The distance between my pants and the crop top is THE SAME as the one between your saree blouse and navel. So quit telling me that one is sanskaari just because it's being worn for years and let me live in peace" – Anmol*
"No one is allowed to have a say in someone else's choice of clothing as there is no legal definition as to what is morally decent." – Yashika*
"Crop tops rock! They make me feel great, I look fantastic in them and would wear them all the time if I could. And I love sarees, kurtas, lehengas and all those gorgeous Indian clothes. And neither are ashleel. Just get over yourself." – Vaishali*
"This is what my friends and I call TOXIC SANSAKAARISM. Rather than teaching your girls what to wear, why not teach boys to behave?" – Saira*
"There's no answer to this question, just the fact that we live in a hypocritical society where clothes define a person, not personality, not anything else, just the physical appearance!" – Riddhi*
"These are the same people who will proudly look at their sons roaming around the colony with nothing but boxers. So just as you are okay with boys being shirtless and in barely-there clothes, set your misogyny aside and let women be!" – Meenal*
"Sharam pehenne vaale se zyaada dekhne vaale mein honi chahiye. Why are you even bothered to notice what someone else is wearing? This toxicity is harmful to every woman who decides to wear anything of her choice." – Prisha*
"You know what, the person wearing a saree can also be raped, so before calling someone ashleel, ek baar apne andar jhaak kar dekho. Niyat tumhaari hi kharaab hai." – Maira*
"Oh come on! It's 2021, no one is interested in what you think about other people's clothes. You do you and we will do what we please. THANK YOU, NEXT." – Archana*
"This mindset that what a woman wears affects how a person perceives her is BS! You shouldn't be looking at someone's clothes in the first place and it's not just for those men but also those aunties or even some women who like to judge others!" – Kalki*
"If you're willing to put women under a microscope in the name of tradition, then it's not like all men wear kurta or dhoti? If you want to criticise, then at least don't discriminate! Honestly, you have no authority to say anything about someone's choice of clothing." – Jeevika*
"Why is this moral policing even a thing? Like, just stop! We don't care if you like our clothes or think they are not "sanskaari" enough." – Sheena*
"Respect has nothing to do with clothing. You cannot call someone out or call them ashleel for wearing a particular clothing item!" – Raziya*
"We have had enough patriarchal oppression throughout our lives that we don't give a damn anymore. Ek kaan se suno, dusre se nikal do. None of this matters. If you love crop tops, wear them. Simple!" – Reva*
Some people try to justify moral policing by saying that wearing short clothes is an obscenity, but you need to set two facts straight. Firstly, as long as an act is not causing a public nuisance, it doesn't count as indecency or obscenity. Secondly, if one thinks that a person is causing a public nuisance, you call the police and do not take up the case yourself. Don't let anybody put you down for your choice of clothes and keep slaying!
Disclaimer: Please note that the responses have been translated and edited for clarity. Names have been changed to respect privacy.
Do you have a story to share or an experience you would like to highlight on TC46? Connect with us on Instagram today!