The struggle is real, women are supposed to not only work in an office but also at home. Ghar sabka toh kaam bhi sabka! When it comes to household chores, the division of labour is still gendered, with women shouldering most responsibilities. This means that while she has a partner who supports her decision to work, she still is left waging a lonely war on most of the unpaid chores when she gets home. A change needs to be witnessed and it needs to come from within. For now, read these awesome comebacks that will give you your mic-drop moment!
25 Real Women Share Their Comebacks On Sasu Maa Ke Typical Taane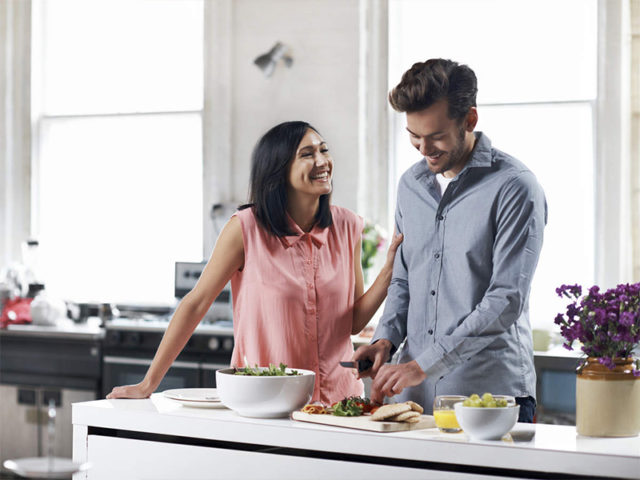 TC46 put out a post on Instagram here asking our followers what their response would be when you ask your husband for a glass of water and your sasu maa says, "Ungli pe nacha rahi hai mere bete ko". And, here's what they had to say!
"Nahi sasu maa. I am teaching your son some manners and how to act like a decent human being. Which of course, you haven't taught him!" – Veena*
"Patni poore parivar ki seva kare, itna hi nahi, ristedar aur pados ko pani, chai de. Jhuthe bartan bhi uthaye, toh ye bahu ka farz ho gaya.. to fir pati kyu nahi pani la sakta uski patni ke liye? Wife puri life change karti hai apne husband ke liye aur wife agar thoda sa bhi kam bata to maa ko bohot bura kyu lagta hai?" – Kashish*
"Just because I have a working husband doesn't mean that I don't work. Ghar ka kaam bhi kaam hai." – Priyanka*
"Pani pilana punya ka kaam hota hai, usse punya mileyga!" – Rubina*
"Apne bataya nahi ki apke bete ko dance bhi aata hai, I would've made him dance since the beginning of our marriage!" – Sonakshi*
"Jab woh mujhe paani lane bolta hai toh woh mujhe nahi nachata kya?" – Anamika*
"No. I'm just teaching your son how a woman should be treated." – Sameeksha*
"Main nahi toh aur kaun nachayaga?" – Aashi*
"I would ask my husband to get some water for my mother in law, to help her cool down." – Sonali*
"My sasu maa starts saying that my son doesn't know how to do household chores or he is not supposed to do this because it's a woman's work. I just tell her that household work is not gender-oriented, it's human-oriented and everyone should know these basic life skills." – Kaamna*
"These are literally basic life skills! How is giving water to a family member synonymous with ungli par naachna?" – Bhavika*
"If this is dancing then that means all the women do taandav, right?" – Tanishka*
"If we fulfil your requests then it's seva, but when it comes to your son, it's ungli pe nachana? Hypocrisy much?" – Mansi*
"Arrey aap bhi sasurji ko bolo paani laane ke liye." – Noorja*
"Aapka beta nahi nachaata ungliyon par? Jab wo humse bolta hai paani laane ke liye to hum bhi laaksr dete hain na." – Rishita*
"Ungli par nachaana is reserved for the bedroom, this is basic humanity and what an equal relationship looks like without gender roles." – Vanisha*
"No one says that on the face nowadays. They aim to become cool sasu maas in their own son's eyes. Passive aggression is a new player in the game. Just one look of disapproval, disgust. Or saying, nahi beta, tu baith mai lati pani hu bahu ke liye. Their thinking is the same, just the presentation has changed. Only the bahu understands this, feels bad and emotionally abused while the husband is oblivious." – Tanuja*
"He should know that in these thick and thin times I will be taking care of him so he needs to look after me." – Bharti*
"What is this weird logic maa? How is giving water counted to be some exceptional thing that a son cannot do?" – Gurmeet*
"Bas equality ka meaning samjha rahi hu jo shayad aap nahi samjha paaye…" – Rizwa*
"I won't dignify this with a response, just take the water given by my husband and get back to work." – Ruby*
"I am just teaching your son the basic human decency he should've been taught years ago." – Neelam*
"Daamad biwi ko paani de toh guni? Aur beta de toh joruka gulaam?" – Gurpreet*
"Ungli pe naachana hai toh aaj ka khaana bhi bana hi dena, if I have to listen to taane for water, at least zyaada kaam toh karaau." – Namisha*
"I'm sorry maa that you have been trained to think this way, the thinking is changing, men have equal work when it comes to home, it would be good if you also change for the better!" – Rizvana*
Husbands have started to take charge when it comes to positive change but that isn't enough. Every family member should consciously leave the backward thinking behind and embrace this positive change. Especially during the lockdown period when WFH is taking a toll and household duties of women have taken an all-time high. Support goes a long way, we should all help out at home and squash the gender discrimination at once!
Disclaimer: Please note that the responses have been translated and edited for clarity. Names have been changed to respect privacy.
Do you have a story to share or an experience you would like to highlight on TC46? Connect with us on Instagram today!