The unsurpassed bond between siblings is unique. You may fight with them all day but still have each other's back when the need arises. Raksha Bandhan is the day we celebrate in honour of the special bond shared between brothers and sisters. The day is all about pretty rakhis, gifts, sweets, food, and fun!
To add to the sweetness of this special day, how about making a handmade rakhi for your brother instead of simply purchasing one? Whether you are a DIY expert or not, this is something you can definitely try and easily ace.
History & Significance Of Raksha Bandhan
Raksha Bandhan or the 'bond of protection' is celebrated to strengthen the unique bond shared by a brother and a sister. On this day, sisters lovingly place a rakhi on their brother's hand as the latter takes a vow to always protect them and stand by them.
According to the Hindu calendar, Raksha Bandhan is celebrated in the month of saavan on a full moon.
There are several stories associated with this festival. According to the Mahabharata, Lord Krishna accidentally cut his finger and to help him, Draupadi tore a piece of cloth from her sari and tied it around the wound. Lord Krishna was touched by the gesture and considered the piece of cloth to be sacred.
Another popular story associated with the festival is when the queen of Chittor, Rani Karnavati, sent a rakhi to Mughal emperor Humayun in the hour of need.
8 Creative Handmade Rakhi Ideas To Add A Personal Touch To Your Celebration
Nothing beats the sentimental value of making a handmade gift for your loved ones. This Raksha Bandhan, surprise your brother with your love (and crafting skills) by making a DIY rakhi that he can keep and cherish forever.
1. Wool Rakhi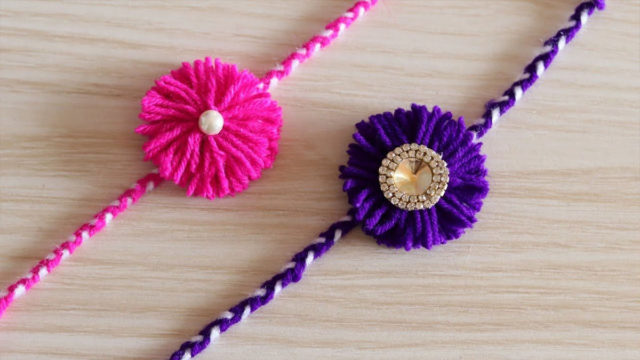 A simple and pretty woollen handmade rakhi can help make this festival a little more special for you.
Rakhi making material:
Red and yellow wool
A pair of scissors
Beads and sequences
Method:
To make a handmade flower rakhi, start by making a flower pom-pom out of wool threads.
To do this, simply wrap the wool around your palm 20 times. Then carefully pull it out. Tie it at the centre using thread. Now cut the end of the wool bow with scissors. Spread the loose ends of the wool and then press.
Place a wooden bead at the centre of your wool flower. You can also use sequences to decorate the flower.
Tie a wool strand at the back of the flower to make a rakhi. If you have used red wool to make the flower, make the strand out of yellow wool or vice versa.
Your creative handmade rakhi is ready.
2. Zari Motif Rakhi
Zari motifs come in several interesting designs, shapes and colours. You can find peacocks, flowers and geometrical designs. Simply go to a tailoring or crafts shop and buy a few pieces of zari motifs. Since they come with a fabric backing, you can easily stick them on a thread or a satin ribbon to make your very own creative handmade rakhi with zari motifs.
3. Making a Photo Rakhi
Next up on our list of DIY rakhi ideas is this amazing photo rakhi. Give your rakhi a personal touch by adding a passport-size picture of you and your brother to it.
Rakhi making material:
Fabric glue
Beads (rhinestone, kundan and zari)
Foam
A satin ribbon
Diamond chain
Photo
Method:
Cut a small circular piece from the foam sheet.
Use the beads and stones to make intricate and beautiful designs on it. However, make sure to leave a round space in the middle (for the photo).
Cut the photo so that it fits into the space you have left on the circular foam piece, right in the centre of your design.
Stick the satin ribbon at the back of the foam piece.
Your handmade rakhi is ready.
4. Jute Rakhi
A classy jute rakhi is another DIY rakhi idea you can try. Here is one of the simplest DIY rakhi ideas for you to follow.
Rakhi making material:
Stones
Colour spray
Jute rope
A thick paper
Glue
A pencil
A pair of scissors
Method:
Cut two small circles from the thick paper.
Now use glue and jute rope to make simple designs on one of the circular pieces. Start by covering it with circles of jute rope. Then make the designs with smaller pieces of the rope on the circular base.
Now on the second circular piece, stick a double jute rope that will be the dori of your rakhi.
Stick the decorated piece of paper on top so that the dori is carefully secured between the two circular pieces of thick paper.
Let it dry.
Add some colour or sequences to make your jute rakhi brighter and prettier.
Your DIY rakhi is ready.
5. Paper Quilling Rakhi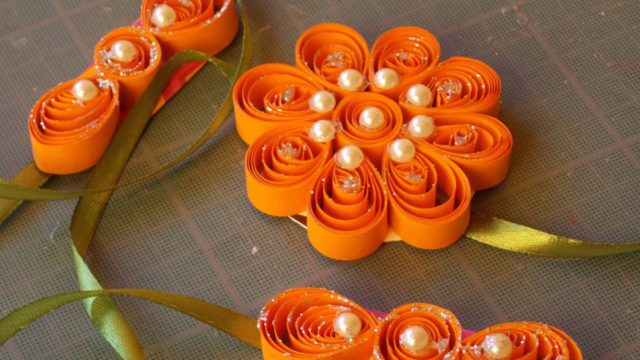 Quilling is a trending craft these days. And with the right tools and technique, making a pretty paper quilling rakhi can be quite easy.
Rakhi making material:
Quilling strips of different shapes and sizes.
Stone
A thin satin ribbons
Kundan stickers
Glue
Scissors
Slotted tool
Method:
Make a few paper quillings of various shapes and sizes. You can make a flower or any abstract shape. Stick to something pretty and easy.
Stick the kundan stones at the centre of the quilled paper.
Now place the stones with the quilled design at the centre of the satin ribbon.
Your handmade rakhi is ready.
6. Felt Rakhi
Felt paper is a hit among crafters and DIY lovers, thanks to its versatility. Here is how you can make a rakhi using felt
Rakhi making material:
Felt (any 2 colours of your choice)
A Satin ribbon cut to size
A pair of scissors
Needle and thread
A designer sticker, beads, sequences or any other decoration item of your choice.
Method:
Cut the felt into a small circle.
On this piece of felt, use what you have to make an interesting design.
At the back of this circular felt piece, stick the satin ribbon.
Now use a different coloured felt sheet to cut another circular piece. This piece should be slightly larger than the previous one.
Stick the second felt circle below the first one in a way that the satin ribbon is secure in the middle.
Let the glue dry
Your creative handmade rakhi is ready.
7. Ribbon Flower Rakhi
A brightly colored ribbon flower rakhi looks great and is quite simple to make. Follow these steps to make your own ribbon rakhi.
Things you need:
Ribbon
Needle and thread
Hard paper
Scissors
Glue
Braided thread or ribbon for the dori
bead
Method:
Cut the ribbons in 6.5 cm long strips.
Now fold the strip and run the needle through the ends so that the ends are sewed together. Move the petal towards the end of the thread and then run the needle through another folded strip. Repeat till you cover at least 5 strips.
Now cut the thread and tie the two ends of the thread together.
Pull the thread to bring the folded strip closer and give them the shape of a flower.
Cut out any excess thread.
Make two of these ribbon flowers and stick them on top of each other. You can go with the same color or use different color ribbons for different flowers.
Now two small circles (about 3 cm x 3 cm) out of the hard paper sheet and stick one circle in the middle of the bottom flower.
Stick the dori of your rakhi on this circle.
Now stick the other circle on top so that the dori is secure between the two circular pieces.
Stick a bead in the center of the top flower.
Your handmade flower rakhi is ready
8. Lego Rakhi
If you are planning to help your little one make a rakhi for her brother, this idea may help.
Rakhi Materials You Need:
Lego pieces
Colorful threads
Method:
Take a small rectangular lego piece and drill a hole on each end.
Braid together a few strands of colourful threads to make the dori. Make two of these. Each should be half of the actual size.
Now tie one end of the dori to the hole on the lego piece. Repeat on the other side.
You can either leave it be or take smaller lego pieces to make a design on the larger rectangular piece.
Your DIY lego rakhi is ready.
Little gestures go a long way in strengthening bonds and building relationships. A simple handmade rakhi can be your way of reminding your sibling how much he matters to you. These DIY rakhi making ideas are just there to nudge you in the right direction. #BeALittleMore experimental and let your creative juices flow to make that special rakhi that your bro will keep with him forever.
Open up like never before and participate in conversations about beauty, entrepreneurship, mental health, menstrual & sexual health, and more. Desi women, join our community NOW!