Aarya actor and single mom Sushmita Sen's brother Rajiv Sen and his wife Charu Asopa have frequently been under the harsh arc lights for quite some time now regarding the rifts in their marriage. News of their separation had been brewing since way before the couple had their first child, a daughter, about a year back. However, the marital discord continued after the little one was born. 
The couple has now decided to go their separate ways. Rajiv has accused his wife of not divulging the reality about her previous marriage and posed it as the reason behind their separation. But, Charu has explained that Rajiv was aware of her first marriage and had also appreciated her courage for being able to start life afresh. The couple tied the knot in 2019. 
In the excitement of getting married, couples often overlook discussing some important aspects of life. A disagreement on the opinions of these discussions may raise a red flag about their compatibility as a couple. Ignoring these discussions is akin to sidelining the red flags that may rear their head in the future, saari khushi mitti mein milane ke liye.  
So here are 7 questions you should ask before you decide to get married to #BeALittleMore cautious of what you're getting into.
7 Questions To Ask Your Prospective Partner To Eliminate The Red Flags Before Getting Married
1. Are you okay with staying with/without your in-laws?
In the age when nuclear families are increasing in number, discuss whether both of you would be comfortable with the idea of staying with your in-laws if that is what's on your mind. For women, it is about being open to staying with in-laws or separately immediately after marriage. For men, a similar situation might arise sometime in the future. Although a man staying with his in-laws is not common, an unfortunate situation like the elderly couple not being able to take care of themselves or one of them losing their partner might make the option of living with the daughter worth considering. Similarly, if you're more comfortable with a joint family setup, would staying without your in-laws work well for you.
Read: 5 Celeb Divorces In 2022 That Shocked Us
2. Are you compatible emotionally?
Human beings react to different situations in different ways. What hits your emotionality may not affect another person in the same way. No wonder, there is a thing called EQ or Emotional Quotient – a concept that people are often unaware of. For instance, something affects your emotions deeply, while your prospective partner finds it seriously funny. It might be because you don't connect with the other person emotionally on all levels. Ask yourself would you be okay adjusting to that throughout your lives? Aur uske basis pe decision lena.
3. Do you want children in the future?
Planning children is no longer a priority for all the millennials out there. Planning a family is not the reason that they have married for or want to get married in the future for. But, the question is, is your prospective partner at one with you on this? If not, would you be comfortable going the long haul and planning a family, despite your heart and brain telling you otherwise?
4. Does he/she have a history of violence?
"I was violent previously but you've changed it all, love" – don't fall into the spell of those sweet words because violence becomes a habit that is difficult to overcome. Unless someone gets himself/herself treated and makes a conscious effort to stay sober. Same for those with a history of drug abuse and such other behaviours that may pose to be detrimental for your physical and mental health in the long run. Don't ignore these warning signs now because they may burgeon to take a far more serious avatar in the future.
Read: 6 Tips On How To Overcome A Breakup
5. Would you be okay with pets/plants around?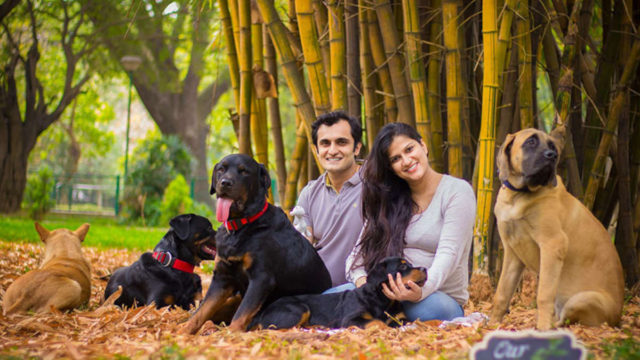 If you already have a pet and you want your partner to join the family, would he/she be okay with it or want you to get rid of it? If not, would it be all right for you to give up on your pet? Or, if you have always envisioned your life in the company of a pet(s), would you be open to compromise on that in case your partner would rather do without them? The choice is yours. Similarly, for plants too. Plants need care and your partner might be reluctant to share the responsibility, especially when you're not able to attend to them. Make sure that your partner does not see your pets and plants as a burden.
6. Are you okay with the personal sexual preferences?
Sexual identity and preferences define you and this is a subject that you should discuss in great detail rather than live a double life. If you identify yourself with the pride community, back away from getting married to someone who does not belong to it unless he/she is comfortable with the idea of marrying you despite your reality. Discuss your sexual preferences, irrespective of how weird society might consider them to be. As long as your prospective partner identifies with you on it, everything's good.
7. Do you behave the same way with money?
Some believe in FDs, while others go all out to invest in mutual funds and stocks. And still, others are comfortable with stashing their money in their bank accounts and letting it grow there. Which side are you on that does not complement well with that of your prospective partner? Money is essential for a comfortable living but it can also drive a wedge in your relationship if you don't agree with your prospective partner on how you save and spend your money. So, make sure that you both relate to how you want to treat your money. 
The above are just a few questions that you should definitely discuss with the person to whom you want to get married to. Some may reveal red flags while others may indicate that the other person is not the best match for you. So, make your list of queries based on what you expect from your partner and from life in general, and shoot your questions!
Open up like never before and participate in conversations about beauty, entrepreneurship, mental health, menstrual & sexual health, and more. Desi women, join our community NOW!