Indians are known for their lavish, extravagant wedding ceremonies. But times have changed and restrictions on the number of people who can attend your wedding, even if you are a Bollywood star, have forced celebrities to consider hosting an intimate wedding as well. Have no time to wait for the mehendi colour to come? We know how to get dark mehendi colour, check it out here.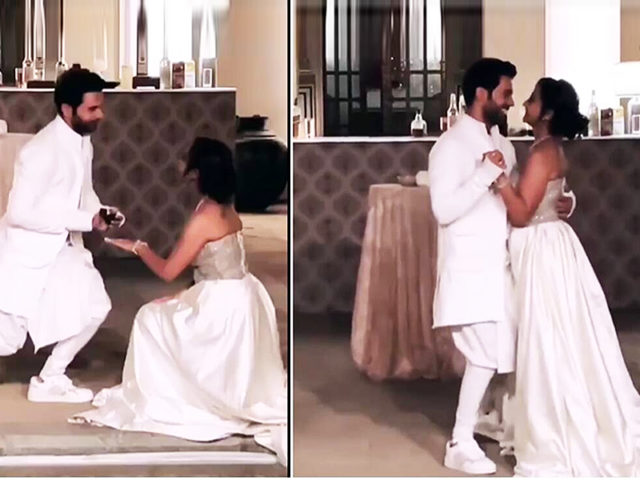 Actor Rajkummar Rao and long-time girlfriend and actor Patralekhaa got engaged in an intimate pre-wedding ceremony in Chandigarh on Saturday night, 13th November 2021. For the engagement ceremony, the couple was seen twinning in a white ensemble. Patralekhaa was a vision in a white and silver slit gown with a long trail, while Rajkummar looked charming in a white kurta, which he wore with matching sneakers. The couple danced to Ed Sheeran's Perfect after exchanging wedding rings. And on 15th November 2021, the couple got married in Chandigarh, in the presence of a few family members and friends. Planning a wedding? Here are some best wedding planning apps which might help you.
Sharing the pictures from the wedding on Instagram, Rajkummar Rao wrote: "Finally after 11 years of love, romance, friendship and fun, I got married to my everything today, my soulmate, my best friend, my family. Today there is no greater happiness for me than being called your husband Patralekhaa. Here's to forever .. and beyond." Patralekhaa wrote in her post, "I got married to my everything today; my boyfriend, my partner in crime, my family, my soulmate…My best friend for the last 11 years! There is no greater feeling than to be your wife! Here's to our forever…"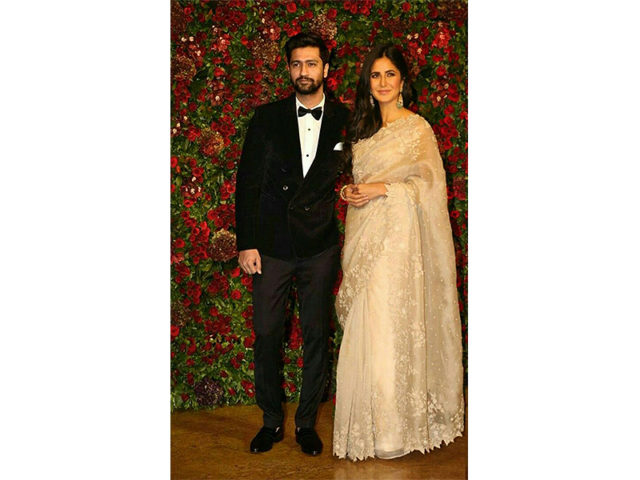 The news about Bollywood actors Vicky Kaushal and Katrina Kaif's roka ceremony taking place at director Kabir Khan's house has taken the internet by storm. This shaadi buzz refuses to die down with everyone awaiting the wedding celebrations to get inspired for the 2021-22 wedding season!
From a fun and casual haldi ceremony to a hatke wedding in Alibaug, Varun Dhawan and Natasha Dalal made the 2021 shaadi season a beautiful but private affair. And last year, Neha Kakkar wooed us all with her intimate and well-planned wedding as well. While you may be confused, uncomfortable or lost with the new rules of the pandemic, having an intimate wedding comes with many benefits.
Rhea Kapoor's Forever Love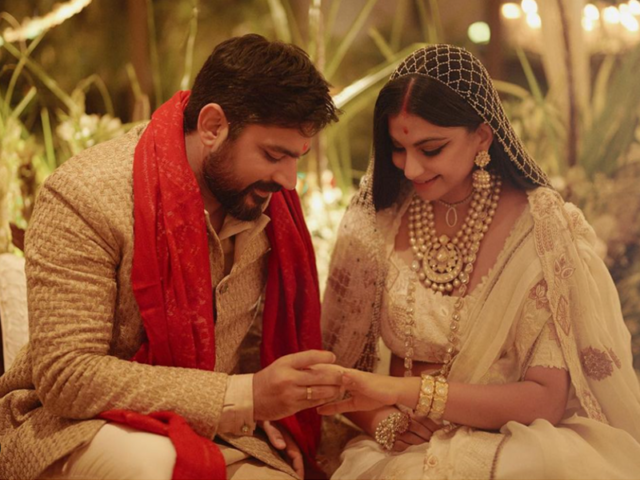 Anil Kapoor's daughter Rhea Kapoor, a film producer, got married to her longtime boyfriend Karan Boolani on Saturday, 14th August 2021 in Juhu, Mumbai. The duo exchanged vows in an intimate ceremony at Anil Kapoor's residence. Rhea choose to wear a heavily embellished ivory lehenga with intricate golden threadwork and embroidery all over it. Dazzling in the luxurious lehenga, she styled with a threadwork blouse in half sleeves and the fully beaded dupatta took the limelight with its perfect vintage vibe!
Rhea took to Instagram to post a picture of the intimate wedding ceremony and put in a heartfelt caption, "12 years later, I shouldn't have been nervous or overwhelmed because you're my best friend and the best guy ever. But I cried and shook and had stomach flips all the way through because I didn't know how humbling the experience would be. I'll always be that girl who had to come home to Juhu at 11 pm before my parents fell asleep. Only until now, I didn't know how lucky I was to feel torn. I hope we make a family so close that we have many, many loves in our life. Mine are @karanboolani @anilskapoor @kapoor.sunita @sonamkapoor and @harshvarrdhankapoor forever more."
10 Benefits Of Having An Intimate Wedding
The wedding will be very memorable
You get to cherry-pick what traditional elements you want
You surround yourself with people who love you and know you
You can save money or splurge more on whatever it is you value
You can have your pick of venues, even very unusual ones!
The wedding day can be a little shorter, giving you and your guests time to actually enjoy it
Your wedding guests will feel like participants, not mere spectators
You will experience less pressure because there is less expectation
You can cut down on waste and be more eco-friendly
You can pose freely for the wedding pictures without too many people around making it awkward
5 Ways To Host The Intimate Wedding You Want
1. Choose Your Venue Carefully
With the shaadi season still pretty chill, you get to choose the venue of your choice. And with past expectations and requirements of making room for thousands of guests, you can pick a venue that's perfect for you and fits your small guest list with ease. Varun and Natasha's Alibaug wedding is the perfect example of keeping it small and fab while still giving it a 'destination wedding' feels!
Choose An Outdoor Venue: Use this opportunity to look for venues that are amidst nature or simply serene. This will primarily reduce the pressure to be extravagant and be a break from routine for all your guests.
Use Your Terrace Or Clubhouse: Plan your mehendi, haldi, sangeet, roka and engagement in your house, terrace or clubhouse. A small guest list can be easily accommodated at these venues and help you not splurge on renting expensive spaces.
Go Even Smaller With A Family-only Event: Not everyone loves a big fat Indian wedding. If you want to go simple, keep the event limited to family and close friends. This can take place in your house or a farmhouse near the city.
Make Sure The Venue Adheres To The Rules: Currently, there is nothing more important than following the rules of the pandemic. While choosing the venue, make sure rules and regulations are put in place to maintain the safety of the guests as well as the staff.
2. Upgrade The Menu
With fewer guests and invitees, you get the chance to go big on the menu. While an OTT wedding with a huge guest list might limit the items you include in your wedding catering services, with an intimate wedding you can go all out. Now that you don't have to worry about your phupa's bade chacha's dietary restrictions, you can experiment as you like.
Try Local Restaurants: With the pandemic hitting the food business, especially local ventures, you can hire them to cater to your wedding. Choose a local business with high standards of hygiene and great quality food.
Go Lavish And Indulge: Instead of planning a four-course meal, you can upgrade to an indulgent seven-course meal with a variety of appetisers and snacks doing their rounds on the table.
Splurge On A Classy Option: An intimate wedding does not always equal a smaller budget, it can also mean that there is just more budget for your per-head count. A fancy dessert counter and a lavish open bar might just be perfect for your intimate wedding.
3. Make Elaborate & Personalised Invitations
Creating a thousand printed wedding invitation cards can be tedious, time consuming and wasteful. Also, this task is often handed over to professionals or done by another member of the family. In the case of intimate weddings, you can spend more time designing elaborate cards.
Experiment With Artistic Invites: Handwritten templates and handmade envelopes can make your wedding invitations stand out from the crowd. Impressive watercolour designs or plantable cards can be on your list.
Include Artisan Foods Or Gifts: One great way to invite your tauji who has always supported you is to send out a lavish wedding invitation with personalised gifts. Personalised favours curated for the particular guest receiving it can create a great impression.
4. Get Into The DIY Frenzy
A splendid idea for the family to come together and spend quality time is by jazzing up your wedding with DIY decorations. The amount of time you spent at home avoiding crowds and public places can be utilised effectively to unleash the creativity in you. This is a great option for those looking forward to conducting the wedding ceremony at home.
Upcycle, Recycle And Reuse: From reusing those bottles and cardboard boxes to creating DIY wall hangings, dreamcatchers and more, there's a lot you can do.
Make Your Own Jewellery: If flower jewellery is your go-to mehendi or haldi look, then make it yourself. A few YouTube tutorials, art and craft supplies and some creativity and you are good to go!
Play With Lights: If you are hosting a small wedding on your terrace, make sure to light it up using fairy lights and mirchi lights including some scented candles to make your space all dramatic and impactful. These lights can be bought online and you can take charge of decorating them as you please.
5. Make It Customised & Memorable
It is everyone's dream to make their wedding a special, unforgettable event. And you have the chance of doing so without spending too much or having to manage a long list of guests. The shorter and more intimate the wedding and the guests, the sweeter and more memorable it is.
Go Nostalgic: Make sangeet night a cosy affair with pillows and mattresses, just like 90s Bollywood movies. Plan those old-school wedding games which are much loved by our dadis and nanis to the little ones and make the most of your wedding celebration. 
Don't Miss Out On Wedding Entertainment: Who said you can't have fun at an intimate wedding? Borrow some speakers from your friends and set up your own DJ. Create your wedding playlist and let the music play!
Customise Your Booze: No celebration is complete without some chilled beers and tipsy cocktails. Create a signature cocktail that's a reflection of the bride and groom.
Major Highlights TC46 Loved From #VarunKiShaadi
1. Hatke Haldi
Pink glasses and abs for days is how Varun Dhawan made his haldi ceremony a fun time for everyone involved.
2. Keeping It Classy
Natasha Dalal's wedding look was awe-inspiring. Everything from the neutral choice of colour for her outfit to the dewy matte makeup for the big day was in line with the intimate nature of the wedding.
3. White Eleganza
A stunning choice of colour, both the bride and groom looked like angels in their matching white wedding outfits. Natasha's Manish Malhotra lehenga was a diamond among a sea of plain gemstones and Kunal Rawal gave Varun's sherwani the perfect hint of pastel with a blue tint in his dupatta.
Hosting an intimate wedding does not always have to be a modest affair. The privacy and exclusivity that an intimate wedding offers is a great way to celebrate the magical event namely a wedding. With only the closest people present to bless the couple, your big day can turn into an unforgettable experience for you and your guests. Intimate weddings have introduced a new realm of possibilities for you to experiment with and plan your wedding.