The day of love is just around the corner and if you haven't started planning how you'll celebrate it yet, this is your cue.
As if planning that perfect romantic gesture wasn't hard enough, the whole pandemic situation has made things even tougher. If you don't like the idea of going out to celebrate Valentine's Day, don't worry, we've got you covered. It's time to put your creative side to work and come up with a plan to celebrate Valentine's Day within the comfort and safety of your home.
Here are a few Valentine's Day decor ideas and recipes along with 10 Valentine celebration ideas at home to make this special day unforgettable for you and your partner.
3 Home Decor Ideas For Valentine's Day Celebration At Home
These quick and simple home decoration ideas will help you set the right mood this Valentine's day!
1. Keep It Colourful With Red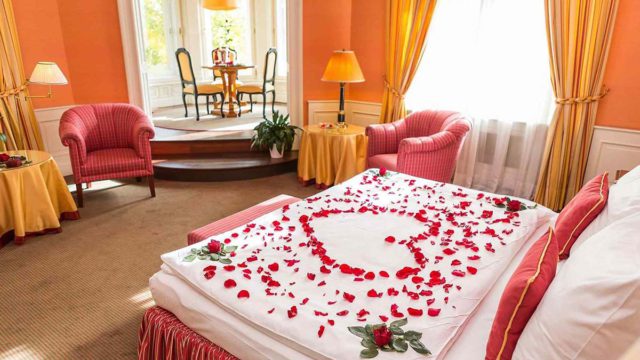 Colours play a significant role in affecting your mood. And when we think of Valentine's day, red is the first colour that comes into our minds. So in order to create an 'ideal mood' for this special day, add some red to your decor. You can use red curtains, flowers, balloons, decor pieces, banners, cutlery, etc. but remember, it doesn't take much effort to make red pop. So keep it subtle. While red is often associated with desire, passion and attraction, lighter shades like white can help bring out a sense of calm. So combine red with a light colour to set the right mood.
2. Use Lights To Set The Mood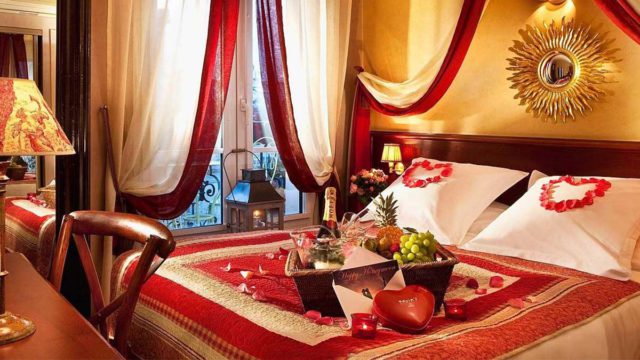 Like colours, lighting too can play a role in influencing a person's mood. Create a romantic atmosphere by using dim lighting. If you don't mind splurging a little, go for lights that can be controlled through a phone app. This way, you can easily alter the lighting as the evening proceeds. If you don't plan on spending much, go for the classic fairy lights that can be used to create a distinct atmosphere anywhere and anytime. You can put these up behind sheer curtains, windows or in empty wine bottles or jars to make a tabletop decor piece.
3. Put Up A Few Printables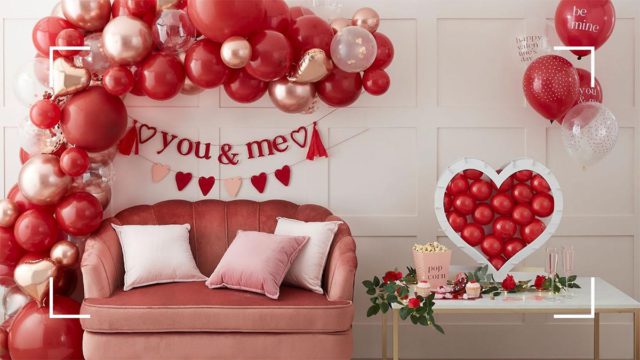 Add Valentine's day themed printables to your display! This decor idea is quick, quirky and quite inexpensive. You can print out beautiful images, meaningful symbols and romantic images and put them up in 'not-so-obvious' areas of your house to create a sense of excitement. The internet is flooded with free V-day printables this time of the year. You can also add a personal touch to it by printing out your pictures or romantic text exchange between you and your partner.
2 Meal Ideas For Valentine's Day
You don't have to be a MasterChef to prepare a romantic Valentine's day meal for your partner. Try out these easy-to-follow recipes to make V-day a little more special for your partner. 
1. Waffle Heart Sandwiches
Make your Valentine's Day celebration ideas at home more special by adding this sweet delight to the menu. This amazing sandwich can be prepared in under 10 minutes and makes for a perfect breakfast in bed recipe on Valentine's day.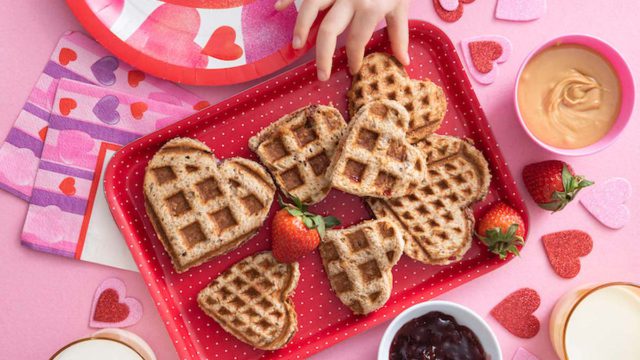 Ingredients:
Whipped cream cheese -2 tablespoons
Sandwich bread – 4 slices
Honey – to taste
Fresh Raspberries – 6 to 8
Steps:
Preheat the waffle iron.
Use a heart-shaped cookie cutter to cut the bread into adorable hearts.
On one heart-shaped piece of bread, spread half of the cream cheese.
Drizzle with honey.
Flatten 3-4 raspberries and place them on top of the cream cheese.
Now put a plain piece of heart-shaped bread on top of it.
Place this sandwich in the waffle iron for about 4-5 minutes (it will turn golden brown when done).
Your waffle heart sandwich is ready to serve.
2. Berry Heart Parfaits
If cooking is not your strong suit, try this super easy, no-cook recipe that your partner is bound to like!
Ingredients:
Blueberries – 1 pint
Large strawberries (stemmed) – 8
Plain greek yoghurt – 2 cups
Strawberry preserves – 1 tablespoon
Steps:
Equally, divide the blueberries between 4 small cups
Give the strawberries a heart shape by slicing them lengthwise and then cutting a notch in the top.
Place 5 heart-shaped strawberries inside each cup.
Take a bowl and pour in the yogurt and the preserves. Stir to mix well.
Now put this yogurt mixture into the small cups.
You can add some chocolate chips and an additional strawberry heart at the top. Your Berry Heart Parfaits are ready!
10 Romantic Ideas For Valentine's Day Celebration At Home
1. Go Classic With Breakfast In Bed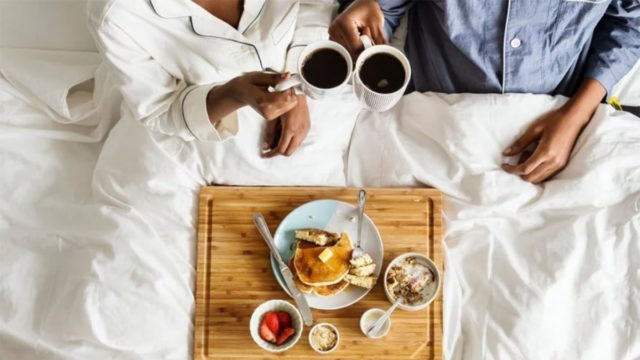 This idea for Valentine's Day celebration at home is perhaps as old as time but still, nothing compares to pampering your partner with breakfast in bed. Set the mood for the day by serving them an assortment of food items they love. If possible, include a few heart-shaped food items (like waffles and pancakes) in the menu. Don't forget to put in some fresh flowers to make the whole arrangement look more special!
2. A Relaxing Massage/Spa Session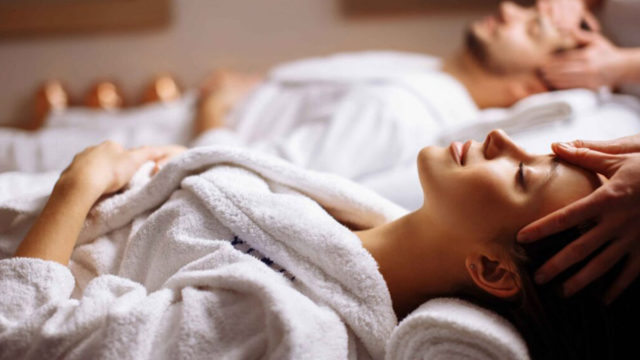 There's nothing better than unwinding together at a couple's massage session right in the comforts of your home. Perhaps one of the most hassle-free Valentine's Day celebration ideas at home, this gesture will give you and your partner some much-needed couple's time. Contact a well-rated local massage therapist to see if an in-home massage session can be arranged. If that option isn't available, trade-off giving each other messages. All you need are exotic bath salts, hydrating face masks and stress-relieving oil to prepare for a spa session at home to get that Valentine's glow!
3. Indulge In Adventure With A Scavenger Hunt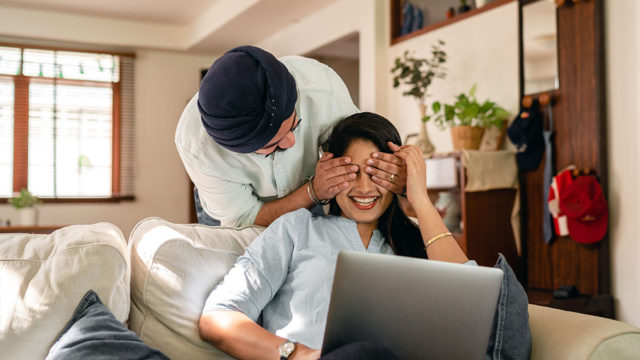 This idea regarding Valentine celebration at home may sound a bit goofy but a little in-home adventure can really help spice up your evening on V-day. Hide special items and sentimental Mementos around the house and send your partner on an adventurous trail by giving them tricky clues. It's a great way to celebrate your love by taking a trip down memory lane. Want to spice things up? Write-up adult-only hints that lead to steamy rewards that'll leave your partner asking for more.
4. Enjoy A Picnic Indoors
The pandemic may have disrupted your plan to take your partner on a romantic getaway. However, you can still create the same magic and celebrate Valentine's Day at home! Arrange for a gourmet spread along with your favourite bottle of bubbles, move away from the furniture and turn your living room floor into an in-home picnic spot. Add a little magic by hanging putting up strings of ferry light or hanging up pictures of your memorable moments together. 
5. Get Creative With Online Classes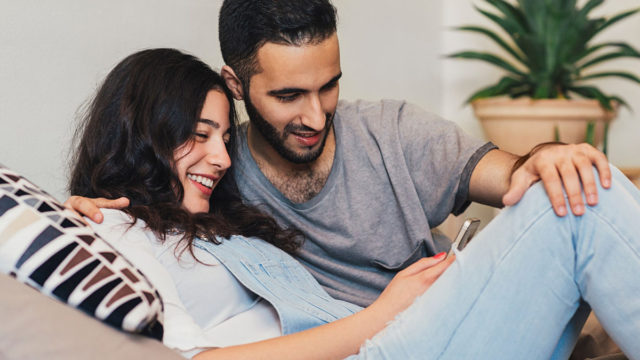 If you are planning to spend the day of love learning something new with your partner, sign up for an online class. Prepare a lavish meal by enrolling on a cooking class or learn how to make exclusive drinks by taking up a cocktail making class. You can also take up a dance lesson or an art class, depending on your mood.
6. Go On Your First Date… Again!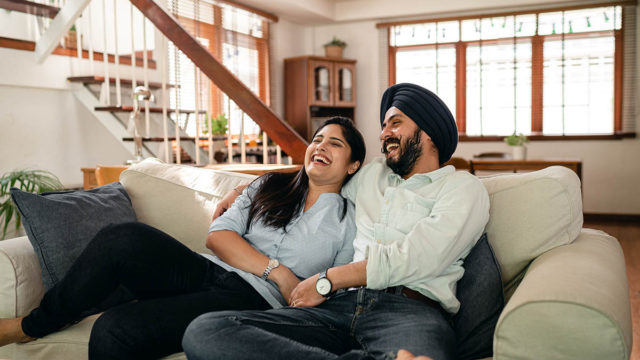 Go big by recreating the first time you went on a date with your partner. If it was a coffee shop, arrange for some artisanal coffees. In case you had a movie date, make plans for a movie night. Those who went on a romantic dinner at a restaurant, bring back precious memories by printing out a menu or preparing one of the dishes you had back then. Live all those special moments all over again this V-day. Make it more special by sharing with your partner the things you loved about them on your first date.
7. Everything's Fair In Love, War and Game Nights!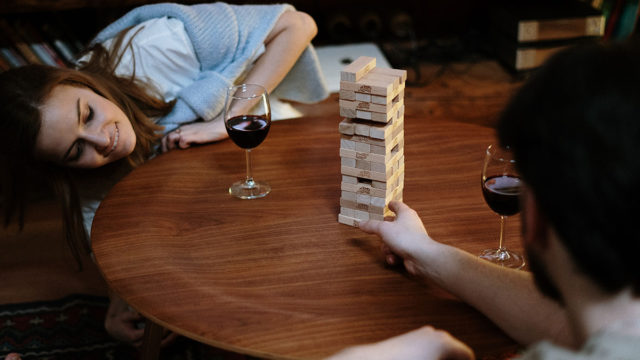 For those of you who have a rather competitive partner, this idea will work like a charm. Celebrate Valentine's Day at home by indulging in a fun-filled game night along with a treat of your favourite cocktail and snacks. 
8. Combine Romance With A Little Productivity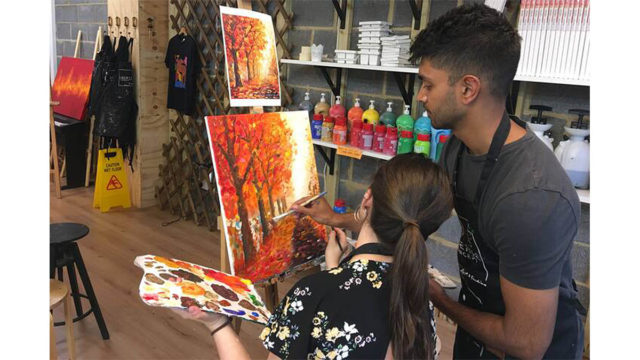 Is there some home improvement project that you have been putting off for weeks? Well, now is the perfect time to do it! Choose a task that both you and your partner have been wanting to undertake. Be it painting a room or rearranging the living room furniture. A little bit of hard work, a splash of romance and a bottle of champagne to end the day with…that's all you need for a perfect day together.
9. Date Night Beneath The Stars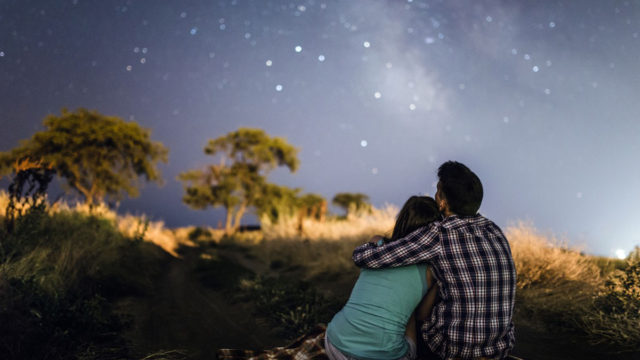 By February, the weather gets somewhat pleasant. You have the better part of harsh winter behind but it's still a little chilly. This makes it the perfect time to enjoy a romantic dinner date beneath the stars. Decorate your garden or backyard with fairy lights and balloons and cook or order a few delicacies that you and your partner like. And don't forget to bring out your best bottle of wine. If the weather is a little too chilly, you can also build a fire to enjoy the warmth and toast some marshmallows!
10. Connect While You Binge-Watch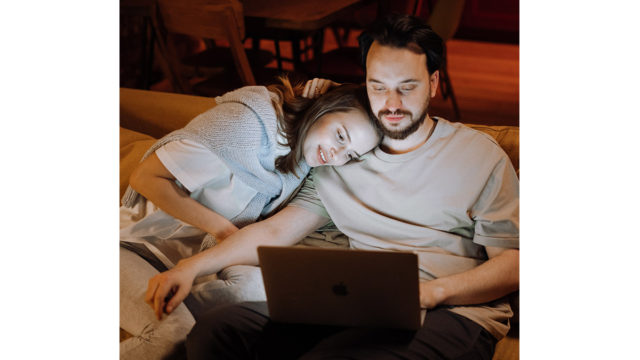 Movie nights will always be one of the most popular things among couples who want to spend some quality time together. To make things special for your partner, choose their favourite movies or TV series and plan an all-day movie marathon. Don't forget to include lots of snacks and drinks. 
At the end of the day, it's the thought that counts. You don't need a grand gesture to woo your partner. A little planning and effort go a long way in giving the love of your life the perfect Valentine's Day celebration at home that they'll cherish forever!