India is a country where we believe in Atithi Devo Bhava, but is that responsibility reserved only for women? Even if we count guests coming over as some special occasion, women are even expected to do all the work when it comes to their family members. Most women do not have support from their husbands or sons, the same is carried forward for their daughters. You must have witnessed your mother always eating after everyone else is finished with their meals and wonder why. Waiting over meals is a ritual in almost every Indian household. In fact, it's somehow considered rude and inappropriate for women to eat before men in the family. Honestly, we never understood the logic and TC46 connected with real women to share comebacks to the typical 'serve your male family members first' taana.
15 Women Share Their Comebacks To 'Serving Food To Men First'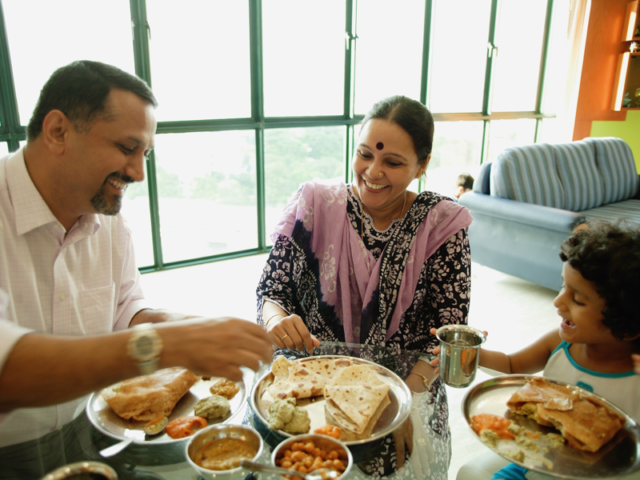 TC46 put out a post on Instagram here asking our followers what their response would be if, "After a long hour in the kitchen cooking food, you dadaji says Beta pehle apne bhai ko paroso, kabse ruka hai bechara." And, here's what they had to say!
"Dadaji aap hi paros lo bhai ke liye khaana." – Avanshika*
"Dada vo khudse bhi le sakta hai aur use bhi khana banana sikha hi do. While I love cooking for my loved ones, it shouldn't be my sole responsibility because of my gender. It's time we teach boys these essential life skills that EVERYONE should learn." – Pragya*
"Acha hai na, patience toh seekhega at least." – Laavanya*
"Jaldi jaldi kha lo dadaji, bhai ko bartan dhone hai woh kab se ruka hua hai. If I cook, he cleans. If I go run errands, he takes care of the house. Chores are chores, it doesn't matter if a ladka does them or a ladki!" – Nihaarika*
"I would calmly try and make him understand that the times have changed and everyone shares responsibilities now, he's a sweet person living according to his generation. Hopefully, he will be able to change positively." – Kashish*
"Meri mehnat hai, pehle main toh swaad le lu aur uske haath hai na, voh khud le lega." – Bhavya*
"Kya usne apne haatho mein mehendi laga rakhi hai? Gone are the days when 7, 8 year old girls would be told to serve grown-up men who can easily do it all. Ab sab same hota hai. Sabko kaam karna padta hai aur mere bhai ko bhi karna hoga. Nahi toh nahi hona iska vyaah." – Avani*
"Self-service ka concept suna hai dadaji? Vohi applicable hai iss ghar mein. Hum sab saath mein khaana lagate hai aur saath mein khaate hai." – Gauhar*
"Khaana banau bhi main aur parosu bhi? In fact usse bolo ki voh sabke liye khaana serve kare. We aren't eating kisika jootha or kal ka bacha hua. And neither are we going to wait on men who can take care of themselves, THANK YOU!" – Firoza*
"Sorry dadaji but hamaare yaha equality chalti hai, maine khaana banaya hai toh voh parosega. And jab voh banayega, tab main paros dungi." – Dhriti*
"I wouldn't even need to say anything, our parents taught us right, my brothers themselves cook our meals most times, and when it comes to someone being rude or illogical, they would just tell me to ignore, keep my head high and move on." – Chahat*
"Kyu? Yeh konsa zamana chal raha hai? Voh kya kahi ka King hai?" – Harshita*
"Kaho toh apne haath se khilaa bhi du?" – Rizwaa*
"Dadaji aap bhool rahe ho ki main bhi insaan hu, I also get tired and usne thodi koi pahaad todhne ka kaam kiya hai?" – Jannat*
"I would just ask my brother if he's listening to what dadaji said and he can take the conversation forward because it's not worth it for me." – Ahaana*
Food tastes better together than at lonely tables and the best conversations are over meals, stuff that makes memories for later. In many Indian households, women aren't allowed to eat with in-laws out of respect for men or whatever reasons. It is time for women to take the lead and break down barriers. And what better manner than eating together to bridge distances of heart and fostering a spirit of respect at mealtimes.
Disclaimer: Please note that the responses have been translated and edited for clarity. Names have been changed to respect privacy.
Do you have a story to share or an experience you would like to highlight on TC46? Connect with us on Instagram today!