Govardhan Puja focuses on worshipping Lord Krishna. Cereals like rice, wheat, leafy vegetables, and curry of gram flour are offered to the Lord while performing his puja. Govardhan parvat is also worshipped on this day by making small hillocks from cow dung. While still others make a small idol of Lord Krishna, decorate it with candles, and then worship it. The women of the family keep a day-long fast. 
However, in certain communities, Lord Vishwakarma, the God of machines is worshipped. The women in the household worship all the machines in the house and put a tilak on each of them. The ritual is followed by offering prayers to Lord Krishna. There is also a custom of gifting money to the womenfolk of the house. This year, this festival is on 26th October. It is held on the fourth day of Diwali.
Origin Of Govardhan Puja
According to Vishnu Puraan, the Hindu legend, the inhabitants of Gokul in Mathura believed that it was Lord Indra who had granted their wish of making rains a reality for the town. However, Lord Krishna informed them that it wasn't Lord Indra but the Govardhan parvat at Braj, near Mathura, which had caused the rain. Hence, they started worshipping the Govardhan parvat after the revelation by Lord Krishna. 
Lord Indra was infuriated when the residents of Mathura did not worship him. He retaliated by bringing heavy rains to the town. Lord Krishna came to their rescue and after offering incessant prayers and offerings to the parvat, he was able to lift it up on the little finger of his right hand. He then brought the mountain over the town of Mathura, which acted as a shelter over the heads of the inhabitants, saving them from the ravages of the heavy showers. From then on, Lord Krishna was given the respect of being called Giridhari or Govardhandhari.
Govardhan Puja History – 3 Historical Significances
Govardhan Puja is celebrated in different ways across India. Here are 3 popular ways in which the day is celebrated, which are an integral part of Govardhan Puja history.
1. Annakoot
Govardhan is also referred to as Annakoot, which literally means "mountain of food". It is a tradition to prepare 56 or 108 varieties of dishes as an offering for Lord Krishna. This is referred to as the bhog. Deities in the temples, especially at Mathura and Nathdwara, are given a milk bath and then dressed in elaborate, shimmery outfits and expensive jewellery made of rubies, pearls, and diamonds. They are then worshipped and offered the bhog. This bhog is arranged in front of the deities in the shape of a pyramid to make it appear like a mountain, defining Govardhan Puja significance.
2. Gudi Padwa
Some communities in India celebrate Gudi Padwa on this day. Wives put a tilak on the forehead of their husbands and then garland them, praying for their long life. In return, the husband offers a gift as a token of showing their love and affection. There is also a tradition to invite newly married daughters, along with their husbands, to a grand feast and are then presented with gifts and sweets.
3. Bali Pratiba Or Bali Padva
Govardhan Puja significance in Maharashtra and South India is that the day is celebrated as Bali Pratiba, Bali Padva, or Bali Padyami. It is believed that Lord Vishnu pushed the demon King Bali to hell or patal lok on this day. Some other legends believe that it is on this day that King Bali left behind patal lok and started ruling over Bhoo lok, given to him as a boon by Lord Vishnu. As a result, the day is referred to as Bali Padyami. 
3-Step Govardhan Puja Vidhi
Heaps of cow dung are made to resemble the Govardhan hill, which is then worshipped.
Cows or bulls are cleaned and decorated with flowers, garlands, and saffron.
56 or 108 types of foods are prepared and offered to Lord Krishna, again in the form of a heap. This Govardhan Puja vidhi is believed to bear spiritual benefits. 
Govardhan Puja Vidhi, Rituals & Bhog Recipes
As per Govardhan Puja vidhi, fruits, vegetable dishes, and cereals like rice and wheat are offered to Lord Krishna. Annakut ki sabzi is a popular vegetarian delight that is an integral part of the food offered to the Lord.
Sweets and other savoury items are also offered. Some of these include ladoo, kheer, suji halwa, panchamrit, kaju barfi and makhan.
56 food items or chhappan bhog are prepared, much like the traditions of Janmashtami.
2 Traditional Bhog Recipes For Govardhan Puja
1. Annakut Ki Sabzi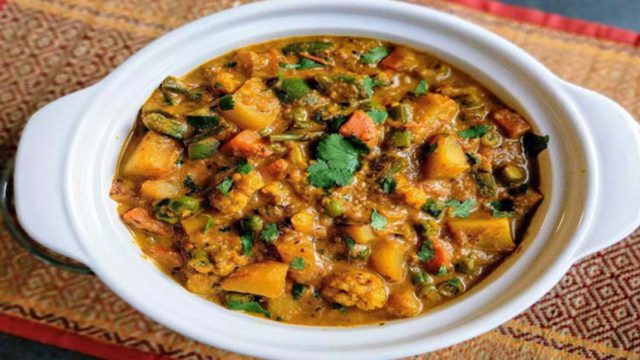 Preparation Time: 5 minutes
Cooking Time: 35 minutes
Ingredients
1 medium-sized potato
¼ cup cauliflower florets
1 medium-sized mooli (radish)
2 small baingan (brinjal/eggplants)
¼ cup matar (peas)
1 cup chopped palak (spinach)
1 cup chopped methi (fenugreek leaves)
2 medium-sized tomatoes
2 hari mirchi (green chillies)
1-inch adrakh (ginger)
1 tsp rai (black mustard seeds)
1 tsp jeera (cumin seeds)
¼ tsp hing (asafoetida)
2 tsp lal mirch powder (red chilli powder)
½ tsp haldi (turmeric)
1 tsp dhania powder (coriander powder)
1½ tsp garam masala
Salt to taste
1 tsp cooking oil
Method
Heat cooking oil in a heavy, flat-bottomed kadhai. 
Once the oil is hot, lower the what and add mustard seeds to it. When you hear the crackling sound of the seeds, put cumin seeds and fry for a couple of seconds.
Next, add the red chilli powder, hing, and turmeric powder to the kadhai.
Add minced ginger, green chillies and all the chopped veggies like cauliflower, potato, brinjal, and radish, along with peas.
Add salt and saute the vegetables for a few minutes.
Then, add coriander powder and garam masala.
Add the chopped leafy vegetables like spinach and fenugreek leaves and give it a good mix.
Add chopped tomatoes and then cover the lid.
Allow the vegetable to get cooked in the steam for about 10 minutes, but don't forget to stir at frequent intervals.
Turn off the gas when the vegetables become soft and edible.
Offer it as prasad to Lord Krishna and then serve it with roti or poori. 
2. Panchamrit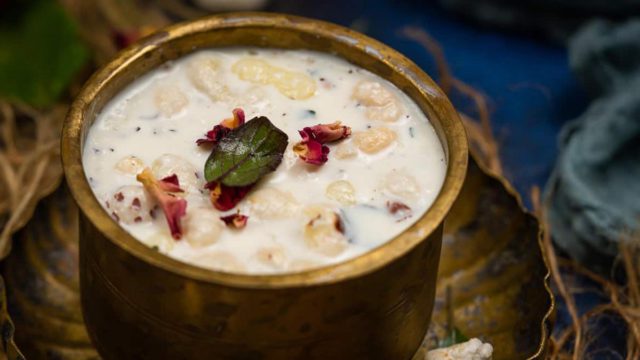 Preparation Time: 1 minute
Cooking Time: 2 minutes
Ingredients
500gm fresh curd
½ cup cold milk
50gm sugar
1 tbsp shahad (honey)
10-12 makhane (fox nuts)
8-10 tulsi leaves
Method
Take the curd in a big bowl.
Pour milk, honey, and sugar and stir it till the sugar completely dissolves.
Chop each makhane into 4 pieces and add them to the above mixture.
Chop the tulsi leaves and add them to the above.
Offer it as prasad before serving it to your guests.
Govardhan Puja may be observed in slightly different ways among various communities in India. But what remains the same is the essence of the pious day – that of paying respects to the act of kindness of Lord Krishna or Lord Vishnu towards mankind. So, pay your obeisance to the deities and usher peace into your lives.
Open up like never before and participate in conversations about beauty, entrepreneurship, mental health, menstrual & sexual health, and more. Desi women, join our community NOW!