If aam is falon ka raja then the khubsoorat gulab is fulon ki rani. No garden is ever complete without beautiful roses. Why not make the most of this aromatic flower in your desserts?
Rose water has been an integral part of Middle Eastern cuisine and some Indian recipes as well for centuries. The flower made its entry as a hand sanitiser in the form of rose water because of its antibacterial property. From there, it made its way into skincare regimes and our plates. Truly multipurpose!
Rose water retains its flowery mahek that is subtly sweet and invigorating. It can be used to balance savoury spices or be added to sweet delights as a flavouring. These meethi recipes are what we're going to explore today. Here are 5 dessert recipes with rose water that you can make at home.
1. Muhalbiyah With Rosewater
A very popular Middle Eastern milk pudding that is easy to make and delicious to eat. You can make these for your summer desserts and enjoy them in the heat.
Prep Time: 20 mins
Total Time: 20 mins
Ingredients:
1-litre full-cream milk
80g castor sugar
70g cornflour
2 tbsp rosewater
100g pista, toasted and chopped
fresh raspberries, to serve
300g fresh or frozen raspberries
50g caster sugar
1 tbsp rosewater
Directions:
Step 1: In a medium saucepan over medium–low heat bring the milk and sugar to a boil.
Step 2: In a bowl mix cornflour with some water to make a mix and slowly add it to the boiling milk.
Step 3: After the consistency is thick, add in some rose water and keep stirring.
Step 4: Transfer the mix into small glasses and let it cool in the fridge.
Step 5: Blend your fresh raspberries and some sugar and simmer it in a pan for a few mins with some water.
Step 6: Add in some rose water and let it cool.
Step 7: Serve the pudding with the sauce on top and garnish with pista.
Read: 11 Monsoon Beverage Recipes That Are A Match Made In Heaven
2. Rosewater Rhubarb Dessert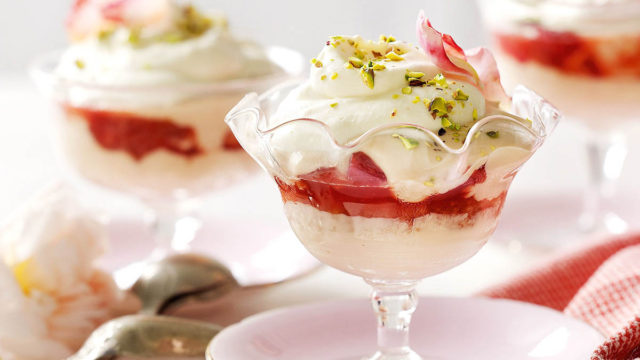 It's rhubarb time! You won't believe how easy this recipe is, you can make this in between one of your fav TV shows!
Prep Time: 5 mins
Total Time: 10 mins
Ingredients:
350g rhubarb, chopped
1/4 cup caster sugar
2 tbsp water
1 tsp rosewater
2 x 200g tubs vanilla yoghurt
1/3 cup shelled pista, chopped
Directions:
Step 1: put your rhubarb in a pan and add some sugar to sweeten it. Add some water and cook for 5 mins.
Step 2: Allow it to cool for a few mins and add some rose water.
Step 3: Divide the mix into glasses and top it up with a layer of yoghurt. Add some pistas for crunch in the end.
3. Rose Kheer
Roz kheer ho toh how fun would it be? You all know kheer right? This recipe is the same as the flavourful rose water. Also this kheer could be a good addition to ganesh chaturthi prasad items. So do give this recipe a try!
Prep Time: 10 mins
Total Time: 25 mins
Ingredients:
2 cups coconut milk
2 cups milk
3 tsp white sugar
½ cup Basmati rice
¼ cup kishmish
½ teaspoon ground cardamom
½ teaspoon rose water
¼ cup sliced badam, toasted
¼ cup chopped pista
Directions:
Step 1: In a large saucepan, add the coconut milk, milk, and sugar and let them boil.
Step 2: Add your Basmati chawal and let it simmer on medium-low heat until the rice is cooked.
Step 3: Add in your kishmish, cardamom and rose water, and cook for a few more minutes
Step 4: Serve the kheer hot and yummy, garnished with badam and pista.
Read: 4 Gin Cocktail Recipes From Top Restaurant Mixologists In Mumbai
4. Rose Pavlova Cakes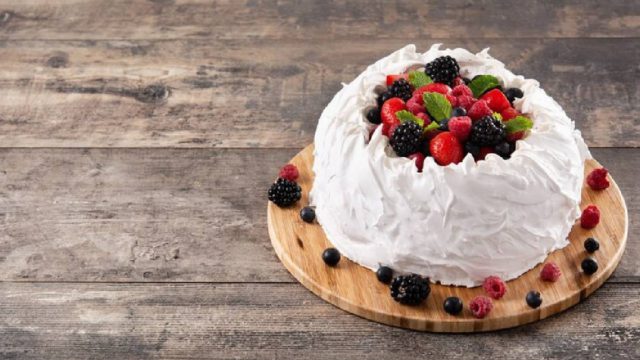 Going international, we're here with a dessert whose origin is highly debatable. Some say it originates from New Zealand whereas some say it comes from the US. No matter where it comes from, these cakes are so very delicious and can be stored for a long in air-tight containers.
Prep Time: 25 mins
Total Time: 1 hour 15 mins
Ingredients:
3 egg whites
1 tsp dried rose petal powder/ rose water
½ cup white sugar
1 tsp vanilla
1 tsp cornstarch
1½ tsp cream cheese
1 cup heavy whipping cream
2 tsp white sugar
Directions:
Step 1: Preheat your oven to 225 degrees and line with parchment paper.
Step 2: In the bowl of a stand mixer, whisk together the egg whites and rosewater until soft peaks form. Gradually add ½ cup of sugar. Beat until firm, glossy peaks are formed. Combine the vanilla and rose extracts in a mixing bowl. Using a spatula, carefully add cornstarch to the meringue.
Step 3: Fill your piping bags with the mix and pipe out individual rounds.
Step 4: Bake in the oven till they look dry. Leave them for a few more mins and then let them cool at room temp.
Step 5: Make the whipping cream by beating cream cheese and adding in heavy cream and sugar.
Step 6: Decorate the cooled pavlovas and garnish them with rose petals.
5. Rose Gulab Jamun
We can see you drooling from over here. Who wouldn't? Naam sunte hi you start craving these syrupy delights.
Prep Time: 10 mins
Total Time: 1 hour
Ingredients:
2 cups water
2 cups white sugar
½ tsp ground cardamom
2 drops rose water
1 pinch kesar (Optional)
½ cup instant dry milk powder
2 tsp all-purpose flour
¼ tsp baking soda
1 tsp unsalted butter
2 tsp plain yoghurt
2 cups vegetable oil for frying
Directions:
Step 1: In a saucepan, combine the water, sugar, cardamom, rose water, and saffron; bring to a boil. Reduce heat to low and cook for 5 to 10 minutes, or until the consistency is syrupy.
Step 2: In a mixing dish, combine the milk powder, flour, and baking soda until well blended. Slowly add the butter and yoghurt to the dough until it all comes together. Allow it to rest for a few mins. Then take the dough and make small balls.
Step 3: Heat the oil in a deep fryer or a big saucepan. Drop a little piece of dough into the oil to check the temperature. The oil is ready when it settles at the bottom of the pan for 1 minute before rising to the surface.
Step 4: Put in 2 to 3 gulab jamuns and fry them till they turn dark golden brown on all sides. Keep stirring carefully. Drain them on a platter lined with paper towels. Repeat with the rest of the gulab jamuns.
Step 5: Bring syrup back up to a boil and drop in fried gulab. Remove from heat and let them soak in the syrup for about 45 mins to an hour.
Step 7: Serve them cooled down or warm with rose petals as garnish.
Wasn't this a delight? There are so many amazing, easy rose water recipes you can try at home. Every culture has adopted this wonderful liquid into their dishes and made something incredible. Why not try some out? #BeALittleMore with the taste of gulab on your platters.
Open up like never before and participate in conversations about beauty, entrepreneurship, mental health, menstrual & sexual health, and more. Desi women, join our community NOW!