"Aaj khane me kya hai, Mamma?" is every child's song as they waddle back home from school. And every day is the constant thought battle of "Ab kya banau?". We understand that and that's why we've bought you 15 yummy-yummy after-school snacks that you can make at home for your kids.
1. Waffles With A Twist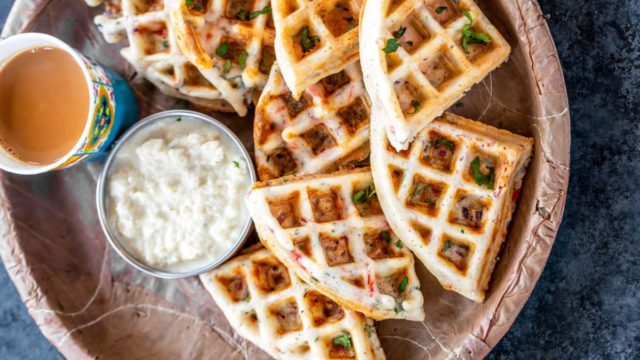 All the kids love waffles! And who doesn't drool at the name of crispy dosa. A combination of both could only be heavenly.
Prep Time: 12-14 hours
Cooking Time: 10 minutes
Steps:
Prepare your dosa batter like you would normally.
Pour the batter into the waffle maker and serve with a tasty chutney.
2. Naan Pizza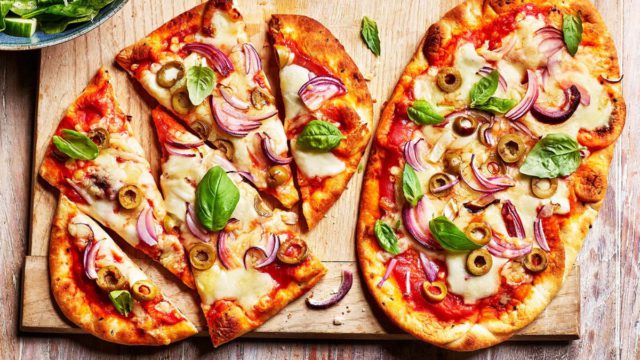 Everyone loves pizza, so this dish is going to be a hit among kids for sure.
Prep Time: 40 minutes
Cooking Time: 1 hour
Steps:
Use leftover naan as the pizza base.
Spread a layer of sauces that you kid likes.
Next, spread a layer of paneer butter masala or any leftover sabzi.
Top it with onion slices, bell pepper, cheese and other favourite toppings.
Bake in an oven or cook on a pan until the cheese melts.
Sprinkle oregano and chilli flakes (if your child can handle that!) on top.
3. Sweet Potato Fries
Just what your kids need to refresh their tired minds and body.
Prep Time: 30 minutes
Cooking Time: 40 minutes
Steps:
Fry your sweet potato strips in a pan
Season them with garlic powder and other seasonings of your kid's choice.
Serve with ketchup and a side glass of nourishing homemade juice.
4. Classic Sandwich
Easy to make and even easier to finish. Make these Indian style paneer/veggie/chicken sandwiches to cheer up your kids.
Prep Time: 30 minutes
Cooking Time: 45 minutes
Steps:
Spread a layer of mayo or butter on one slice and a layer of dhaniya (coriander) chutney on another slice
Spread a layer of the stuffing of choice.
You can prepare the filling in advance, so when the kids come you only have to assemble and grill the bread.
Serve with their favourite ketchup and chutney.
5. Yoghurt Sandwich
Yet another yummy snack that kids cannot have enough of!
Prep Time: 2 hours
Cooking Time: 30 minutes
Steps:
To make this, allow the yoghurt to strain for an hour to thicken.
Soak thinly sliced onions in lemon juice to lessen the strong flavour
Add finely diced cabbage, shredded carrot, coriander, green chilli paste, salt, and black pepper in a bowl.
Then add thick yoghurt to the mix.
Fill your bread with the filling and toast it lightly with butter.
6. Samosa Chaat
Have leftover samosa from the last chai party? Here's how you can make a lip-smacking snack for your little one.
Prep Time: 45 minutes
Cooking Time: 15 minutes
Steps:
Reheat the frozen samosa.
Chop onion, coriander, tomato, and carrot while the samosa is getting heated.
Cut the samosa into small pieces and mix with the vegetables, yoghurt, a pinch of sugar, your preferred chutney, boondi, and chaat masala and serve it right away.
7. Burrito Bowl
For days when your kids come home thake hare, you need to feed them something filling. This bowl is perfect for that and what's more? You can add pretty much anything you have ready at home and DIY it.
Prep Time: Can vary
Cooking Time: 10-15 minutes
Steps:
Take a bowl of rice – freshly cooked or leftover.
Throw in some nachos, beans, veggies, salsa, cream and avocados for the most delicious bowl of goodness.
8. Apple Sandwich With Peanut Butter
It's nourishing, it's yummy and super duper easy to assemble.
Prep Time: 5 minutes
Cooking Time: 10 minutes
Steps:
Layer in your peanut butter on the bread slices.
Place two slices of apples between the two slices of bread
To turn this into a crunchy bite, add some granola in between.
9. Energy Bite Balls
After a tiring day of playing and learning, kids need a boost of energy. These small but energy-filled bite balls are perfect for this.
Prep Time: 30 mins
Cooking Time: 45 mins
Steps:
Combine a variety of ingredients such as peanut butter, chocolate chips, granola, flax seeds, and honey, etc.
Roll them into small balls.
10. Fruit Bowls
This has to be the easiest and most healthy snack on this list. All you need is a variety of fruits.
Prep Time: 10 mins
Cooking Time: 5 mins
Steps:
Chop fruits into biteable pieces
Throw them into a bowl with some black salt and, voila, the after-school healthy snack is ready!
11. Fruit And Yoghurt Popsicles
Want a healthier alternative to ice cream for summers? Try these yummy yoghurt and fruit popsicles. They look so pretty and taste even better.
Prep Time: 30 minutes
Cooking Time: 2-4 hours
Steps:
Mix yoghurt with some heavy cream.
Throw in your kid's favourite chopped fruits.
Freeze them in the fridge until they're set.
Serve when your kids plop down on the sofas after a hot day.
12. Fruit Smoothies
Another yummy way to get your kids to eat fruits and veggies. Yes you heard it right, veggies! In the mix of sweet and savoury fruits, it's hard to distinguish the taste of veggies such as spinach.
Prep Time: 15 mins
Cooking Time: 5 mins
Steps:
Throw in a variety of seasonal fruits and veggies with some milk in a mixer and blend it thoroughly.
Serve garnished with more fruit (Don't be shocked when they ask for more!)
13. Rava Pancakes
This desi variation of pancakes is super easy to whip together. All you need is sooji, dahi and crunchy-fresh veggies. This does not require fermentation, matlab not much time needed.
Prep Time: 30 minutes
Cooking Time: 30 minutes
Steps:
Mix your sooji, dahi and veggies like onion, carrots, and dhaniya.
Pour a small amount of water to make the batter.
Now make the pancakes on a pan and serve warm with yummy dips.
14. Chapati Roll
There's always some leftover rotis at home. Why not turn them into a sumptuous treat for your little one? This requires almost no cooking and is thus easy to make.
Prep Time: 15 mins
Cooking Time: 10 mins
Steps:
In a bowl take mayo, add in finely chopped lettuce, tomato, coriander, cucumber and other crunchy vegetables that you have at home.
Spread a sauce of your kid's choice evenly on one surface of the roti and then spread the veggie mix.
Cut the roll in two and you have your mouth watering dish ready in minutes.
15. Buttered Masala Corn
For this yummy dish, all you need are makai ke dane, butter, black pepper and lemon juice to garnish.
Prep Time: 10 minutes
Cooking Time: 5 minutes
Steps:
In a non-stick pan, heat some butter.
Then add the corn and pepper and saute them for a few minutes.
Turn off the flame and squeeze some lemon juice for a tangy aftertaste. Make sure you leave this step for last. You can also sprinkle some chilli powder to make it spicier (if your kid can take that)
Whipping up new dishes every day can seem like a daunting task but nothing is impossible with a little effort and creativity. With these 15 yummy and healthy snacks you can #BeALittleMore without breaking into a sweat. And the beauty of the recipes is, you can customise them as per your kid's preferences and serve them as not only snacks but for breakfast too.
Open up like never before and participate in conversations about beauty, entrepreneurship, mental health, menstrual & sexual health, and more. Desi women, join our community NOW!