Navratri fasting forms an important part of the festival. Devotees keep a partial fast during these days to show their respects to all the nine avatars of Goddess Durga. However, the fasting ritual may vary to some extent among the devotees in terms of the days and hours of fasting, along with some other widely accepted rules, which we will discuss here.
If your question is – what can we eat during fasting, this article will enlighten you about the dos and don'ts of Navratri fasting, the benefits of fasting, and recipes that you can prepare with ease.
Procedures Of Navratri Fasting & Navratri Upvas Fasting Rules
Devotees observe partial fasting as per the applicable Navratri fasting rules. As per Navratri upvas fasting rules, some devotees eat light snacks throughout the day every 2 to 3 hours, while some others eat once a day after performing the evening puja. Still some others, fast only on the first two days and the last days of the 9-day long festival. Some break the fast on the eighth day of Navratri, while others break it on the ninth day.
8 Types Of Navratri Foods That Can Usually Be Consumed
Navratri fasting rules may differ between different states. However, below is the list of Navratri vrat foods that are largely believed to be acceptable as a part of Navratri fasting rules.
Fresh fruits, eaten whole or in the form of juice, according to Navratri vrat rules
Vrat snacks dominantly comprise aloo, sweet potato, sabudana, makhana (fox nuts), etc. – all of which can be cooked only with one condiment – sendha namak or rock salt. Some examples of snacks include sabudana tikki, sabudana vada, kuttu (buckwheat flour) pooris, potato curry, and sweet potato halwa, just to name a few
All types of nuts and dry fruits can be incorporated into your diet
Desserts prepared with sabudana and makhana are also common
Only certain grains like water chestnut flour (singhare ka atta), amaranth flour (rajgira ka atta), and buckwheat flour, which can be used to make khichdi and dhoklas can be consumed
While sugar is allowed, consumption of iodised salt is discouraged while fasting for Navratri
As per Navratri vrat rules, milk products like yoghurt, paneer, malai, lassi, buttermilk, and ghee can be taken
Navratri food needs to be cooked in ghee or peanut oil as opposed to seed-based oils
Wondering what not to eat in Navratri fast? Everything else, apart from the list of foods above, are generally not consumed while fasting during the festival. Devotees can have one meal after breaking the fast at the end of the day.
5 Interesting Benefits Of Fasting
1. Improves Blood Sugar Level
Keeps blood sugar under control by reducing resistance to insulin, which is especially beneficial for those who are at risk of diabetes.
2. Controls Inflammatory Conditions
Navratri vrat food helps fight inflammatory infections and chronic inflammatory conditions like cancer, heart diseases, and rheumatoid arthritis.
3. Boosts Heart Health
Fasting is known for improving the levels of blood pressure, cholesterol, and triglycerides, all of which are necessary for securing the health of your heart.
4. Improves Metabolism & Encourages Weight Loss
Fasting is proven to encourage weight loss without breaking down your muscle tissue, while at the same time improving your metabolism.
5. Helps Gain Muscle Strength
Apart from helping in building up muscle tissue, fasting enhances muscle strength as well. Fasting can increase Human Growth Hormone (HGH) levels, which is a protein hormone that is responsible for growth, weight loss, metabolism, and muscle strength.
2 Delicious Recipes For Navratri Vrat Ka Khana
Here are 2 recipes for Navratri vrat ka khana, taking into consideration the ingredients and things prohibited during Navratri.
1. Vrat Ki Khichdi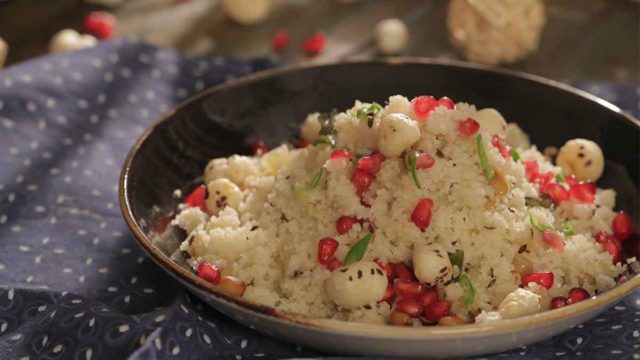 Preparation Time: 15 minutes
Cooking Time: 15 minutes
Ingredients
2 tablespoons peanuts (fried till golden brown & then powdered)
1 tablespoon Ghee or 1 tablespoon peanut oil
½ teaspoon cumin seeds
1 green chilli – chopped or 1 teaspoon chopped
½ inch ginger – finely chopped
2 potatoes medium-sized, chopped in small cubes
1 cup buckwheat groats (kuttu)
2 cups water or add as needed
1 teaspoon sugar to taste
Rock salt to taste
1 to 2 tablespoons chopped coriander leaves
Lemon juice (optional)
Method
Wash the wheat in water thoroughly and keep aside.
Heat ghee or peanut oil in a kadhai and fry the cumin in it till they make a crackling sound.
Add green chilli and ginger, and sauté for a couple of seconds.
Chop the potatoes into cubes and saute them on medium heat for 2 to 3 minutes, stirring them frequently till they become crisp on the edges.
Next, add ground peanuts and sauté for half a minute, then pour the buckwheat, and sauté for a minute or two on low or medium-low heat.
Add sugar, water, and rock salt and blend well.
Cover the kadhai and let the khichdi get prepared on its own on low or medium-low heat. Keep checking every now and then to ensure that the khichdi doesn't become too dry or remain half-cooked.
Sprinkle coriander leaves, squeeze in some lemon juice (optional), and stir well.
2. Dry Fruit Ladoos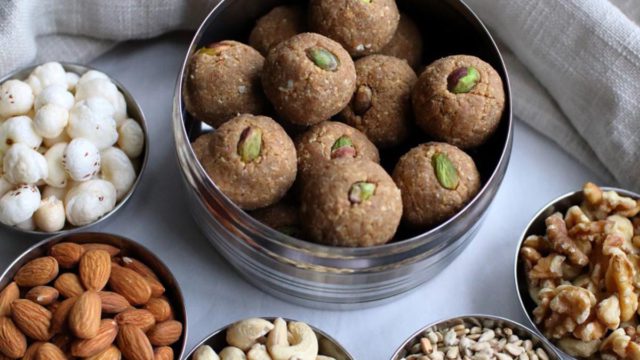 Preparation Time: 15 minutes
Cooking Time: 5 minutes
Ingredients
1 cup chopped dates
3 tablespoons almonds
2 tablespoons raisins
2 tablespoons cashews
8 dried figs
1 tablespoon desiccated coconut (optional)
2 green cardamoms in powdered form
Method
Roast the almonds in a skillet till they turn golden brown. Set them aside.
Chop the dates and figs roughly and keep them aside.
Add the chopped dates, cashews, figs, desiccated coconut, and almonds in a grinder.
Make small ladoos shapes from this mixture using your hands.
Store them in an air-tight container and keep them refrigerated for them to last for a few weeks.
8 Critical Do's & Don'ts Of Breaking Navratri Fast
Start with a light and simple meal.
Break your fast with fresh, seasonal fruits, devoid of sendha namak or sugar.
Incorporate green, leafy vegetables that you are not allowed to consume while you're fasting.
Have a bowl of yoghurt after breaking a fast as it is full of nutrients and probiotics.
Introduce lentils, other grains, and non-vegetarian food into your diet gradually as they may be difficult to digest if you consume them immediately after breaking your fast.
Hydrate yourself with water half an hour before or half an hour after your meal time. Remember water cannot be replaced with fruit juices.
Don't break your fast with fried foods and high-calorie desserts as they may cause constipation and/or acidity.
Make sure not to overeat.
The Navratri fasting food list offers you a clear understanding of the food to eat during Navratri fasting. The recipes take you one step further towards helping you cook up some vrat recipes in a matter of a few minutes, enabling you to get all geared up for keeping your fast. So, maintain your diet as per the Navratri fasting rituals and enjoy the festivities to the core. Happy Navratri!
Open up like never before and participate in conversations about beauty, entrepreneurship, mental health, menstrual & sexual health, and more. Desi women, join our community NOW!