Tum Biryani bolo or hum Hyderabadi na bole? Impossible! We bet your mouth is already watering after hearing it once. Sit with a napkin in hand to control your drool before you start reading the list of top 8 places in Hyderabad for a slip-smacking Hyderabadi biryani.
Legend has it that our beloved biryani has its roots in Persia. The word 'biryani' comes from the Persian word, 'birian', which means fried before cooking and another word, 'birinj, which means rice. Some historians believe the Mughals brought this scrumptious dish to India. But, hey, we're not here for a history lesson and your stomach is grumbling.
Coming to a very controversial topic of types of biryani, people usually say there is mutton/chicken and vegetarian biryani (not going to dive into that), but it's not limited to just these. There are over 26 types of biryani found in India alone!
No matter its origin, Hyderabad took it under its wing ages ago and made it theirs. And who's complaining? No one.
Fun Fact: Sofiyani biryani, also known as safaida because of its white colour, is a lightweight and delicious dish that's not heavy on your stomach. The recipe is top secret and closely guarded by a few khandani families in Hyderabad.
Bohot ho gayi baatein, now it's time to #BeALittleMore experimental and try out all the best biryani places in town.
1. Paradise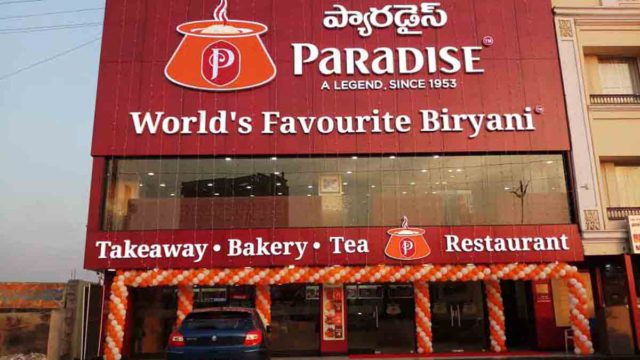 True to its name, this famous restaurant serves heavenly biryani that you'll want to try again and again. It's so hyped up and for a good reason, it has several outlets throughout the city and all of them make the best biryani out there. You should definitely try the mutton biryani here, made with long daawat Basmati rice and filled with aromatic spices and juicy chunks of mutton. So much so that you'll fall right in love with the place.
Find Them At: SD Road, Sappu Bagh Apartment, Jogani, Ramgopalpet, Secunderabad.
Also Try: Royal Chicken Biryani, Chicken Tikka Kebab and Chicken Garlic Kebab.
Cost For One: Rs 400
2. Jewel Of The Nizam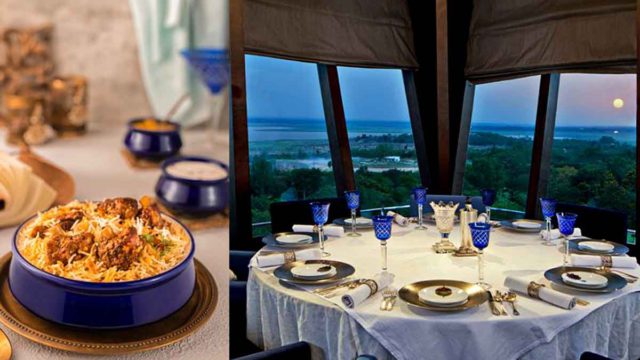 Big fan of fancy dining? Visit the lush and royal place of the Nizams themselves. If you're visiting the city, you need to experience the richness of the Nizam for sure. Gilded walls and chandeliers will transfer you into another reality altogether. Situated 100 ft above ground, the dining offers a beautiful view of the Osman Sagar Lake. The view of the sunset here is phenomenal. You should definitely try Kacchi Dum Biryani, which is slow-cooked with spices in a sealed degh.
Find Them At: Sagar Mahal Complex, Gandipet, R R District, Near Osman Sagar Lake
Also Try: Tandoori lobster, Minar–e–khaas kebab platter and Hyderabadi subz seekh.
Cost For One: Rs 1,200
3. Chicha's
Find yourself a nice comfortable seat at the tables and enjoy the scene of Hyderabadi local monuments and roads. Hyderabadi mutton biryani is a staple in households, be it weddings or simple family get-togethers. People grow up surrounded by this yummy dish. And this place will give you the authentic taste of Hyderabadi culture in its food. The food is richly flavoured but light on your stomach. You can also try the Shaadi Ka Red Chicken and the sweet delight, Double Ka Meetha.
Find Them At: 6-2-39, AC Guards Rd, opposite Kun Hyundai, Veer Nagar, Lakdikapul.
Also Try: Gulfaham Gosht Kebab, Mutton Shikampur and Qubani Ka Meetha.
Cost For One: Rs 400
Read 5 Biryani Recipes You Simply Can't Resist
4. Hotel Shadab
Placed amid the bustling streets of Charminar's Ghansi Bazaar, Hotel Shadab is more than what meets the eye. If you're willing to overlook the old walls and the shabby tables, you'll be surprised by the food served here. You have to try its chicken biryani. It comes in a copper pot overflowing with mouth-watering biryani and garnished with an egg on top like a crown. It's one of those places that you're sceptical of trying at first and then visit every week.
Find Them At: 21-1-140-144, Near High Court, High Court Rd, Madina Circle, Charminar, Ghansi Bazaar, Hyderabad
Also Try: Veg Biryani, Fish Biryani and Prawns Biryani.
Cost For One: Rs 250
5. The Spicy Venue
As the name suggests, the food is indeed spicy. Drawing a lot from Andhra culture, the place serves dishes spicier than most. A lot of dishes originated in Telugu kitchens and now adorn your plates in Hyderabad. And this is one of those places. The biggest star here is the MLA Potlam Biryani, which comes wrapped in a very thin and stretchy omelette, the dish is filled with mutton and prawns to the top. You can also try the crab fry made in hot Andhra masala called Kakinada Peethala Iguru.
Find Them At: 265/S, Near Diamond House, Road 10, Jubilee Hills, Hyderabad.
Also Try: Chicken Chilli Pakora, Special Chicken Biryani and Ulavacharu Mutton Biryani.
Cost For One: Rs 400
Read 10 Mumbai Restaurants That Serve The Financial Capital's Most Iconic Bhojan
6. Bawarchi Restaurant
The place is so renowned for its mutton biryani that dupe restaurants have been appearing on the map. But don't be fooled, the OG has no other outlets besides this one. They take their food very seriously, and it is reflected in the dishes they serve to you. If you're planning to pay a visit, make sure to wear loose pants because you won't stop eating even after you're filled to the brim. The Tandoori Chicken they make is not one to be missed, so definitely try that.
Find Them At: Plot No. 44, RTC Cross Rd, Opposite Sandhya Theatre, Chikkadpally, New Nallakunta.
Also Try: Tender Lamb, Bawarchi Biryani, Mutton Dum, Fry Prawns, Authentic Hyderabadi Biryani and Grill Chicken.
Cost For One: Rs 350.
7. Meridian Biryani
A place where you don't need to worry about what to order because anything that comes on the plate here is divine and wonderful. The food is to drool for and will leave your soul satisfied but craving for more. The saalan that is served with biryani is a guarded recipe and can only be experienced when you show up at the restaurant physically. So what are you waiting for? Get packing and visit today!
Find Them At: 6-3-697 & 6-3-694/1, Panjagutta, Hyderabad.
Also Try: Mirch Ka Saalan, Bheja Fry, Hyderabadi Chicken, Authentic Hyderabadi Biryani and Tangdi Kabab.
Cost For One: Rs 300
8. Taj Mahal Hotel
Don't worry dear vegetarians: we've got your back. The Taj Mahal Restaurant is a vegetarian eatery with a former era's elegance and has a special place in the hearts of Hyderabadis. Did you know, it was once MF Husain's favourite haunt? Even a purist would find it tough to find fault in their Hyderabadi Subz Dum Biryani, which is slow-cooked in its own juices of fresh veggies and herbs. Wrap up your dinner with a round of TMH Basundi, and you're good to go.
Find Them At: 5-9-502, Gun Foundry Street Number 1, Gun Foundry, Abids.
Also Try: Button Vada, Palak Paneer Dosa, Filtered Coffee, Sambhar, and Masala Dosa.
Cost For One: Rs 400
Already craving a plate, aren't you? From high-end dine-in to affordable street places, this list has it all. Book a ticket this season to take a round trip to this shahi city and eat its delicate and aromatic dishes. Have you tried Hyderabadi biryani? Where did you have it and how was it? Share the delicious details in the comments below.
Open up like never before and participate in conversations about beauty, entrepreneurship, mental health, menstrual & sexual health, and more. Desi women, join our community NOW!