Everyone has a reason to include a bowl of dal with their meal, whether it's for the unparalleled feeling of fulfilment or to meet the recommended daily intake of protein for bodybuilding. There is a dal in every traditional Indian cuisine and it wouldn't be an exaggeration to say that meals remain incomplete without a bowl brimming with dal whether they are served as Sambhar, Dhan Saak Dal, Trevti Dal, or Dal Fry. Each region has its preferred days for the varied varieties of lentils, but khane mein dal toh banta hai.
In collaboration with The Channel 46, Chef Harpal Singh Sokhi from Karigari, lists 5 dal recipes that you can try at home.
1. Dal Karail
Story behind the recipe
"Karayal or Karail" is the name of this dish in Uttar Pradesh. It is prepared with a split white lentil paste that is then shaped into vadas and deep-fried before being simmered in gravy with powdered onion, ginger, garlic, and spices. After that, they are either soaked or gently simmered in a somewhat spicy curry.
Traditionally, this easy-to-make but the filling dish was made in the summer or monsoon seasons when veggies were in short supply. Even though there is no shortage of veggies on the market right now, this dal dish is a fantastic choice if you don't have much time for grocery shopping. With rice or roti, it's a really quick and satisfying dinner.
Ingredients
2 cups broken moong chilka green dal
1 tsp chilli powder
1 tsp haldi (turmeric) powder
1 tsp dhania (coriander) powder
1 tsp garam masala powder
10 kaju (cashew nuts)
8 curry leaves
1 tsp sarson (mustard seeds)
2 pinches of hing (asafoetida)
1 tbsp dhaniya patti (coriander, chopped)
2 glasses water
Oil
Method
Soak the dal in water overnight, peel it the next morning and then grind it.
Divide it into the proportion of 1:3. Take the larger portion in a kadhai and add chilli powder, turmeric powder, and hing.
Beat it thoroughly. Ensure that the batter is thick in consistency.
Heat oil and make small pakodis from this batter.
Add 2 glasses of water to the rest of the dal.
Heat oil in a kadhai and add mustard seeds, curry leaves, hing and cashew nuts. Saute till they turn golden brown and keep aside. Thesis is your dal tadka.
Add this to the watery dal and stir continuously for 15 minutes on low heat. Add salt.
Next, add the pakodis and cover the kadhai for 10 minutes.
Add the dal tadka and mix well.
2. Tadka Dal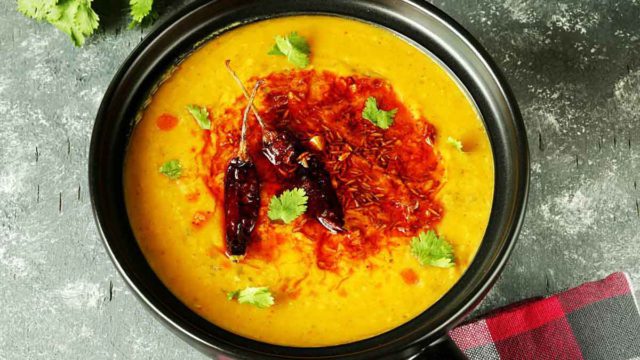 Story behind the recipe
Indian lentil dish known as Dal Tadka is calming, flavourful, and filling. Lentils are referred to as "dal" in Hindi, and tempering is referred to as "tadka." Thus, "dal tadka" refers to lentils that have undergone a tempering process. This dal recipe is so simple to make at home that after just one bite, you'll realise it's simpler than you realised to prepare restaurant-quality meals at home.
A common Indian meal called dal tadka consists of cooked, hot lentils that are then topped with a ghee/oil and spice mixture known as tempering. It can be made by combining a variety of boiling dals with cumin, asafoetida, onion, tomato, ginger, garlic, and green chillies, as well as several spice powders. Lemon juice, finely chopped coriander, butter or ghee, and the dal's flavours are added for extra flavour.
Served well with butter naan, tandoori roti, steamed basmati rice, or jeera rice, this zesty stew is a favourite of many Indian culinary connoisseurs. An Ajay Chopra recipe for dal tadka is provided below.
Ingredients
1 cup/200gms tuvar dal (arhar dal or split pigeon pea lentils) or ½ cup tuvar dal + ½ cup masoor dal (split pink lentils)
1 to 2 green chilies
½ cup chopped onions
1 cup finely chopped tomatoes
1 tsp finely chopped ginger
½ tsp haldi (turmeric powder)
½ tsp garam masala
1 pinch hing (asafoetida, optional)
2½ cups water
1 or 2 tbsp low-fat cream (optional)
2 tbsp chopped dhaniya patti coriander leaves
Salt as required
For Tempering Or Tadka
3 tbsp oil/ghee
1 tsp jeera (cumin seeds)
5 to 6 medium garlic cloves (chopped)
2 to 3 dry red chilies
A pinch of hing (asafoetida, optional)
1 tsp crushed kasuri methi (dry fenugreek leaves, optional)
½ tsp red chilli powder
For Garnish
1 tbsp chopped dhaniya patti (coriander leaves)
Method
Thoroughly wash dal with water and add them to a 3-litre pressure cooker.
Add 1 cup chopped tomatoes, ½ cup chopped onions, ginger, and green chillies.
Add water, stir well, and let it pressure cook for 7 to 8 whistles or until the dal turns creamy.
Mash the dal with a spoon or whisk.
You may add cream if you wish, along with garam masala, salt, and chopped coriander leaves.
Simmer this for 3 to 4 minutes.
Switch off the flame and give the dal a good mix before adding tadka.
3. Dal Shahjahani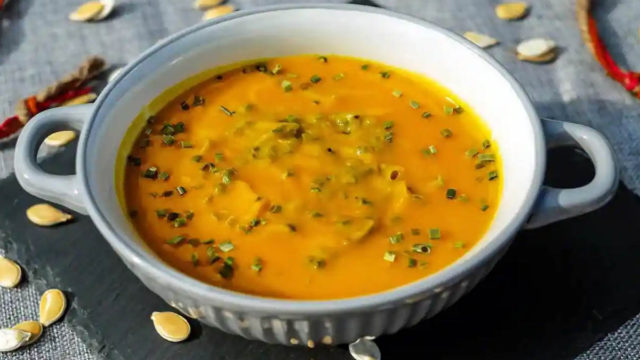 Story behind the recipe
The Mughals were aristocratic people who enjoyed a lavish lifestyle. It is commonly known that they adored art and culture. Above all, their love of fine food has had a big influence on the various regional cuisines of India. The extravagant nature of Mughal food, however, only persisted until Shah Jahan's reign because Aurangzeb, Shah Jahan's son, did not value luxury, pomp, or display.
Shah Jahan was held captive at the Agra Fort by Aurangzeb, who only permitted his father to select one food item for his meals. Shah Jahan chose chickpeas because of their versatility in preparation and repurposing. Thus, "Shahjahani dal" was created and is today one of the dishes that define North Indian cuisine.
Chickpeas are boiled, mashed, and then cooked in a creamy sauce. Spices and herbs with strong aromas are added to improve flavour. To make it creamier, coconut milk is frequently added. It is typically served with paratha or hot rice.
Ingredients
1½ cups boiled chickpeas
Water as required
2 tbsp ghee
1 tsp kalonji (nigella seeds)
1 tsp ajwain (caraway seeds)
1 tbsp chopped garlic
1 tbsp chopped ginger
1 chopped onion
1 tsp turmeric powder
1 tsp red chilli powder
1 tsp coriander powder
1 tsp cumin powder
1 tsp garam masala powder
½ cinnamon stick
2 bay leaves
12 to 15 black pepper
1 tsp cardamom powder
1 cup coconut milk
¼ cup fresh cream
Cream (for garnishing)
Chopped coriander (for garnishing)
Salt to taste
Method
Boil chickpeas and put them in a mixer with water and blend them.
Heat oil or ghee in a pan and add caraway seeds, nigella seeds and saute well.
Add chopped garlic, ginger and chopped onion and saute until translucent.
Next, add red chilli powder, turmeric powder, cumin powder, coriander powder, and garam masala and saute.
Add the chickpeas with dal water and stir well.
Once this comes to a boil, add coconut milk.
Add fresh cream and salt, and mix well.
Let this simmer for a couple of minutes before switching off the heat.
Garnish with coriander leaves and cream before serving.
4. Dal Makhani
Story behind the recipe
Many people enjoy making Dal Makhani, a traditional Punjabi dish that is simple to make at home. Sardar Singh created the first version of the Dal Makhani recipe, which has since become a traditional dish in Indian cooking.
Whole black urad dal (black lentils) and rajma (red kidney beans) are used to prepare this filling lentil dish. It thickens after hours of low-heat slow simmering. This dal recipe also calls for cream, butter, and ghee. For menus of important occasions like weddings and celebrations, the rich, spicy, and creamy dal is a particular favourite. It is served with rice, naan, or paratha and is slathered in butter.
Ingredients
¾ cup or 140gm whole urad dal (whole black gram)
¼ cup (40 grams) rajma
3 cups water for pressure cooking
½ cup finely chopped onions
1 tsp chopped green chilies
2 tbsp ginger garlic paste
2 large tomatoes (pureed)
½ tsp cumin seeds
2 to 3 cloves
2 to 3 green cardamoms
1 black cardamom
1 inch cinnamon
1 small to medium tej patta (Indian bay leaf)
½ tsp red chilli powder
2 to 3 pinches nutmeg powder
Water as required
¼ to ⅓ cup low fat cream
¼ tsp crushed kasuri methi (dry fenugreek leaves, optional)
3 tbsp butter
Salt to taste
Method
Soak the rajma and urad dal for at least 8 to 9 hours and drain them off the next morning.
Thoroughly rinse the lentils with water.
Drain the water off again and add them to a 3-litre pressure cooker.
Pressure cook for 18 to 20 whistles on a high flame or until both the lentils turn soft and edible.
Heat butter in a pan and then add cumin seeds, green cardamoms, cloves, cinnamon, balck cardamom, and a small to medium bay leaf and saute for a few seconds till the spices start splattering.
Add onions and cook on low or medium-low heat till they become golden brown.
Next, add ginger garlic paste for a few seconds.
Add green chillies and saute for a minute.
Then, add tomato puree and blend well.
Add grated nutmeg and red chilli powder.
Stir and saute on low to medium heat.
Lastly, pour the cooked urad dal and rajma, along with the stock.
Let this simmer uncovered on low heat.
Stir at frequent intervals so that the dal doesn't stick to the bottom of the pan.
Add salt once it starts thickening.
Continue to cook and stir on low heat for about 25 minutes. Add water if the gravy looks too thick.
Add cream, followed by crushed kasuri methi and then mix again before serving.
5. Gujarati Dal
Story behind the recipe
This classic Gujarati Dal recipe, which combines regional ingredients and spices, has a distinctive sweet and sour flavour and is extremely representative of the Gujarati culture. Although tuvar dal in Gujarat is a common dal, it has a festive flavour when peanuts and yam are added. To achieve the greatest flavour for such grand occasions, Gujarati toovar dal is repeatedly boiled.
To make this Gujarati Dal recipe successful, keep in mind that finding the proper ratio of sweet to sour is an art that can be mastered with experience.
Notes on the recipe for Gujarati dal.
Ingredients
¾ cup arhar dal (tuvar dal or pigeon pea lentils)
2 to 2½ cups water or as required
1 chopped medium-sized tomato (optional)
1 or 2 green chilies
½ inch ginger
½ tsp turmeric powder
½ tsp coriander Powder (ground coriander)
½ tsp cumin powder
½ tsp red chili powder
3 to 4 dried kokums (optional)
1½ to 2 cups water or add as required, to be added later
1½ to 2 tbsp jaggery powder
1 to 2 tbsp chopped coriander leaves
2 tbsp oil/ghee
½ tsp mustard seeds
½ tsp cumin seeds
¼ tsp fenugreek seeds (methi dana)
2 to 3 dry red chilies
8 to 10 curry leaves
1 pinch of hing (asafoetida)
3 to 4 cloves
1 inch cinnamon
Salt to taste
Method
Thoroughly wash the lentils with water and drain off the water.
Add the dal to a 3-litre pressure cooker, add water, and pressure cook for 7 to 8 minutes on medium to high flame.
After completely cooked, use a whisk or a large spoon to mash the lentils.
Add turmeric powder, red chilli powder, ginger paste, chilli, coriander powder, cumin powder, tomato, jaggery, kokum, and salt.
Add water and give it a good mix to get a medium to medium-thin consistency.
Bring the dal to a simmer on low heat for 7 to 8 minutes and keep stirring at regular intervals.
To prepare the tempering, heat oil or ghee in a pan and saute cumin seeds and mustard seeds till you hear them spluttering. Next add curry leaves, hing, cloves, cinnamon, cloves, red chillies, and fenugreek seeds. Fry till the red chilies change colour.
Pour this over the simmering dal, add fresh coriander leaves and mic well before serving it hot.
P.S:
1. Add water as necessary to make the dal thinner if you prefer. 2. Stirring sporadically, add the jaggery, combine thoroughly, and simmer for 10 to 12 minutes. For the Gujarati dal, it adds the required sweetness. Kharek, which also offers a delightful sweetness, can be added.
Open up like never before and participate in conversations about beauty, entrepreneurship, mental health, menstrual & sexual health, and more. Desi women, join our community NOW!