What is your imagination of the ultimate Christmas theme decorations? Or rather the ultimate Christmas package? We are sure, it isn't just the Christmas tree, but the complete vibe of the festivities. Along with the tree, lights, the festoons, and all the Christmas party ideas, the whiff of sweet cakes and muffins, and savoury pot pies in the air announces that the festive season has arrived and how! Add a few Christmas party games and you have a helluva happening party. One emotion that stays for a longer period is the FOOOOOD.
So, #BeALittleMore enthusiastic and try your hands at these awesome Christmas special foods that are worth a mention, especially during this time of the year.
1. Sheet Pan Citrus-Glazed Chicken
If you are non-vegetarian and would love to have a really special Christmas dinner for your house party, the special citrus-glazed chicken is the one for you! The marinated thighs have to be roasted right and on the sides, you can add brussels sprouts that will make your Christmas dinner ideas the best ones! The sides and the dinner combination will make your dinner menu the favourite one for Christmas night. One tip that we would make you stand out is when you can reserve some of the marinaded aside. You can brush over the chicken in the end once the baking is done. This technique will make a sweet, sticky, and downright irresistible glaze for the Christmas Eve dinner menu!
Preparation Time: 15 minutes
Cooking Time: 1 hour 25 minutes
Ingredients
6 bone-in, skin-on chicken thighs
Black pepper (kosher salt)
Juice of 2 medium oranges
Juice of 1 lime
¼ cup of honey
2 tbsp low-sodium soy sauce
2 tbsp dijon mustard
2 tsp rosemary (freshly chopped)
2 tsp freshly chopped thyme
Pinch crushed red pepper flakes
1 lb. brussels sprouts
1 tbsp extra-virgin olive oil
1 tsp cornstarch
Kosher salt
Method
Trim the thighs and marinate with salt and pepper.
Take the orange and lemon juice, mustard, rosemary, thyme, soy sauce, honey, and a pinch of red pepper flakes in a small bowl.
Pour half of this over the marinate, keeping the rest aside.
Marinate the chicken at room temperature for about 30 minutes.
Preheat the oven to 425°C and, meanwhile, line a large baking sheet with foil.
Place brussel sprouts on the tray and sprinkle with oil.
Pour the remaining marinade into a small saucepan on medium heat and keep simmering till it is reduced into half.
Take cornstarch in another small bowl, pour a couple of tablespoons of sauce and stir well till it dissolves completely.
Pour this mixture back into the saucepan and continue to simmer for about 2 more minutes or until it thickens.
Sue this sauce to brush the thighs and bake again for 10 more minutes or until the internal temperature reaches 165°.
Garnish with rosemary and thyme before serving.
2. Stuffed Cabbage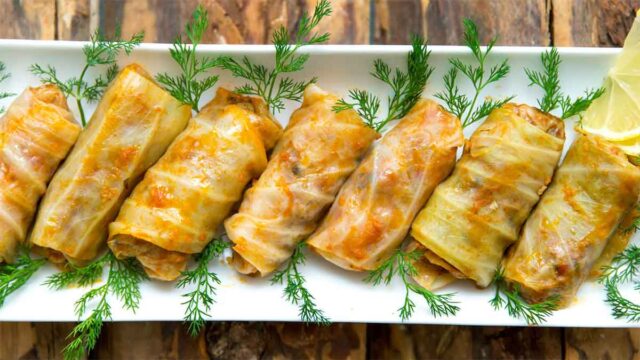 Now, there are a lot of times when you want the dinner to be simple yet stand out from the others, the stuffed cabbage is the one! The stuffed cabbage is based on a Polish dish. In this, you have boiled cabbage where you have the filling of minced chicken or beef. Along with the chicken or beef, you add rice and onions for that extra soft taste and crunch. One of the things that we love about Christmas recipes and Christmas menu dishes is that the main ingredients – beef, chicken, rice, and cabbage alone additionally together make a great taste.
Preparation Time: 10 minutes
Cooking Time: 1 hour
Ingredients
1 large head cabbage
1 pound lean ground meat (chicken or mutton)
1 egg (beaten)
1 onion (finely diced)
¾ cup cooked white rice
300 gms of tomato soup
Salt and pepper to taste
Method
Freeze the cabbage overnight.
Thaw it and then peel the leaves the next morning.
Preheat the oven to 175°C.
Meanwhile, combine the egg, rice, salt, pepper, and meat of your choice and mix them well to get an even paste.
Make small balls out of this with your hands and place one each at the centre of a cabbage leaf.
Place seam down on a baking dish.
Blend the tomato soup with ½ can water and then pour over stuffed cabbage.
Bake uncovered at 175°C for 1 hour. Remember to baste it with sauce every once in a while.
3. Fish Pie
Mostly what happens is that people go for an apple pie, mango pie, or some cream cupcakes, while mostly for chicken-based food when it comes to Christmas eve dinner recipes. However, what is special about Christmas is that you have some best and most authentic Christmas eve desserts and dishes. Fish pie is a seafood dish that is dipped in cream sauce and then topped with mashed potatoes. This is kind of an inspiration from Greek cuisine. What we can do additionally is that you have to add dill and lemon on the top!
Preparation Time: 15 minutes
Cooking Time: 45 minutes
Ingredients
1kg potatoes (peeled and halved)
400ml milk
25gm butter
25gm plain flour
4 spring onions (finely sliced)
320g-400g fish pie mix, comprising salmon, cod, and other sea fish)
1 tsp English or Dijon mustard
25g chives (finely snipped)
Frozen sweetcorn (handful)
Grated cheddar (handful)
Method
Heat the oven to 200°C.
Take a saucepan and put the potatoes and enough water to cook them. Cover and bring it to a simmer.
Next, drain thoroughly, mix milk, and a knob of butter, and pepper and smash them together.
Put 25gm butter, 25gm plain flour, and 4 finely sliced spring onions in a separate pan and heat on low heat for 1 or 2 minutes or until the butter has melted, stirring frequently.
Whisk in 400ml of milk gradually on the mixed fish, along with 1 tsp of the mustard, chives, and sweetcorn. Spoon this into an over tray or 6-8 ramekins.
Spoon the potato on top and sprinkle cheddar cheese.
Finally, put it in the oven again for about 20 to 25 minutes or until you see the fish has turned golden brown and is bubbling along the edges. Alternatively, you can cover and freeze it to safely store it for a later time.
4. Homemade Chicken Pot Pie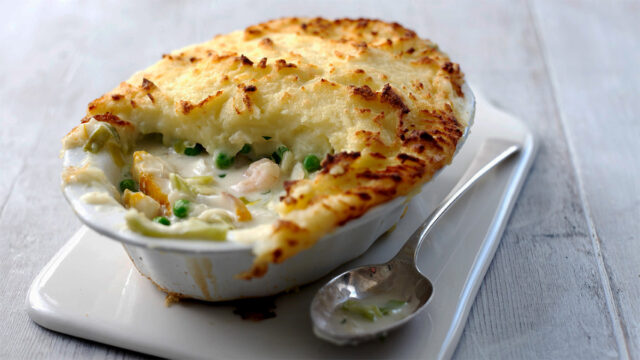 What is comfort food for you? Is it that one dish you had at a special restaurant? No? Well, a homemade food delicacy that can be made quickie and satisfy your taste buds instantly. So, the chicken pot pie – a buttery crust with dried chicken, onions, carrots, and a lot of veggies – mixed with the creamy sauce. While it's a dish that you can easily find pre-made in almost any grocery freezer aisle, we strongly believe that making your own is worth it, especially for Christmas dinner!
Preparation Time: 30 minutes
Cooking Time: 1 hour 5 minutes
Ingredients
2 refrigerated 9-inch pie crusts, at room temperature, divided
1 tbsp olive oil, or as needed
2 boneless, skinless chicken breasts, pounded thin
2 tbsp minced fresh rosemary
2 tbsp minced fresh parsley
⅔ cup chicken broth
⅓ cup butter
1 clove garlic (minced)
⅓ medium onion (diced)
½ tsp salt
¼ tsp ground black pepper
⅓ cup all-purpose flour
1¾ cups chicken broth
⅔ cup milk
250gm frozen mixed vegetables (thawed)
Aluminium foil
Salt and ground black pepper to taste
Method
Preheat the oven to 220°C.
Lay one pie crust in a 9-inch pie plate and poke holes at regular intervals at the bottom of the crust.
Bake the crust in the preheated oven for about 5 minutes and then keep it aside to cool.
Take a medium skillet over medium-high heat and season both the sides of the chicken breasts with parsley, rosemary, pepper, and salt.
Place these chicken pieces to the skillet and saute for 2 to 4 minutes per side or till they turn golden brown.
Reduce the heat to medium-low and pour ⅔ cup of chicken broth and simmer for 10 to 15 minutes, making sure not to overcook.
Transfer this chicken onto a plate for 15 minutes, so it cools down completely.
In the meantime, let butter melt in a large skillet on medium heat, and then add the above pan drippings and garlic.
Saute for 30 seconds to release the fragrance of the garlic and then add onions, pepper, and salt and cook till the onions become translucent.
Whisk in flour to get a thick paste.
Next, add milk and ⅔ cup of flour, pouring one cup of liquid at a time, stirring constantly. Take this off the heat once the chicken begins to thicken.
Slice chicken to bite-sized pieces, and pour the thawed veggies and broth mixture around it.
Pour the above into a pre-baked pie crust, make slits in the remaining pie and place the same on the top of the pie.
Put the pot pie into the oven and bake for 30 to 40 minutes or until the crust turns golden brown. Keep checking every once in a while and cover with aluminium foil if the pot pie starts browning more than you want it to.
5. Christmas Plum Cake
Ah, the aroma of freshly baked traditional christmas cake! Unparalleled, isn't it? Christmas cake, especially the classic Christmas fruit cake made with an exciting blend of dried fruits, literally completes a 25th December dinner. If you don't prefer the dry cakes or would like to introduce more variety to the menu, think of the yule log cake.
Preparation time: 10 minutes
Cooking Time: 50 minutes
Ingredients
750 gm mixed dry fruits like raisins, prunes, figs, cranberries, and plums (of course!)
200ml rum, brandy, or red wine (optional)
1 lemon zest
1 orange zest
¼ tsp clove powder
½ tsp ginger powder
½ tsp cinnamon powder
50 gm tooti fruity
250gm butter
200 gm brown sugar
½ tsp baking powder
100 gms almond powder
1 tsp vanilla essence
4 eggs
Icing sugar
Method
Take all the fruits in a pan, pour your choice of alcohol in it, and let it boil. Cover the pan and keep aside overnight for the fruits to soak in the alcohol completely. Slip this step if you choose to make your Christmas plum cake without alcohol.
Next morning, preheat your oven to 170°C and, in the meantime, sift flour, almond powder, and baking powder in a bowl. Add all the spice powders and sift again.
Take a medium sized bowl and beat the eggs in it.
Cream butter and brown sugar in another bowl. And then add orange and lemon zest.
Pour the eggs in the bowl above, add vanilla essence, and then mix it all thoroughly.
Next, add the powder mix and whisk well again.
Add tooti footi and mix again, and then add the alcohol-dripping dry fruits.
Pour some orange juice and give the batter a good mix again.
Grease your baking pan, pour the batter, knock your pan on the kitchen counter a couple of times to make the batter sit evenly.
Place in the oven and bake for 40 to 45 minutes.
Poke a toothpick into the cake and if it comes out clean, it implies that the Christmas plum cake is baked to perfection.
Drizzle icing sugar on top and the cake is ready to be served.
Serve an Insta-worthy spread of Christmas delicacies, right from traditional Christmas recipes to Christmas plum cake and/or chocolate Christmas cake, and a few Christmas drinks to wash down the food. Thrown in a few Christmas party games and, ta-da, you'll be all ready to host a memorable evening. Merry Christmas in advance!
Open up like never before and participate in conversations about beauty, entrepreneurship, mental health, menstrual & sexual health, and more. Desi women, join our community NOW!